When passengers disembark their ship at the cruise pier in Puntarenas, they can expect to be greeted by a friendly local couple and handed a self-guided walking tour brochure with a map. Martha and Cabell Cropper are proud of their town and want day visitors to appreciate it, too. That's why they had the brochures printed and why they set up an information table to welcome passengers and point them in the right direction.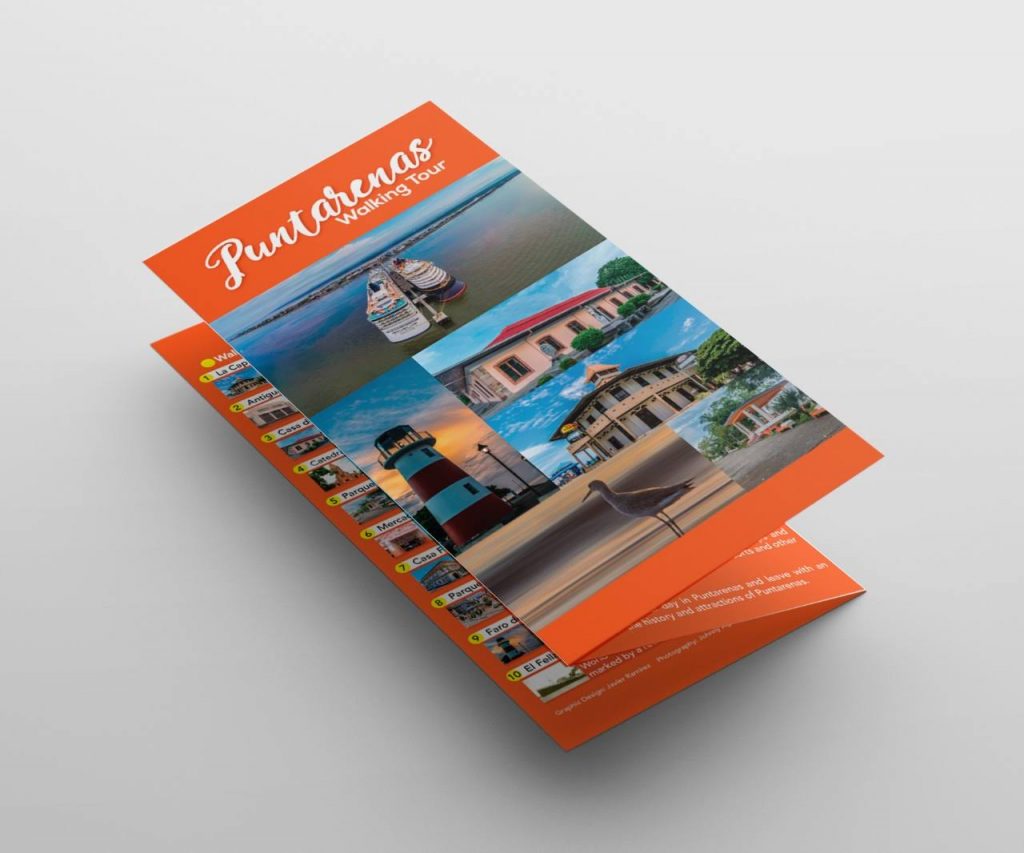 Conveniently for cruise guests, ships drop anchor in the heart of Puntarenas, so most points of interest are just steps from the pier. A commercial fishing port, the city of 122,000 is situated on a narrow spit of land that juts into the Gulf of Nicoya, which feeds into the Pacific Ocean.
Only five streets wide at its broadest point, Puntarenas is included on many Panama Canal cruises that visit Caribbean and Pacific ports on fall, winter and spring itineraries that begin or end in California or Florida. In its heyday the town was a thriving coffee-exporting center and a favorite weekend escape for residents of the capital city of San Jose, about 70 miles inland. Puntarenas has been through some hard times, but things are starting to turn around. To better the economy, it is pinning its hopes on tourism.
Puntarenas will receive 77 cruise ship calls this season. Among the lines are Azamara, Carnival, Holland America, Norwegian, Oceania, Princess, Regent Seven Seas, Silversea and Royal Caribbean. Instead of calling at Puntarenas, some ships (such as those of Windstar, Lindblad and Star Clippers) dock at Puerto Caldera, a modern cargo facility about 10 miles down the coast.
Many passengers who arrive in Puntarenas immediately get on tour buses or boats for beach visits or eco-tourism adventures and never spend time in town. But others like the idea of sticking close to their ship and touring by foot. These are the people that Martha and Cabell Cropper, former residents of the United States, enjoy helping.
"When Martha and I took up permanent residence in Puntarenas in early 2017, we knew we wanted to be involved in efforts to strengthen tourism in Puntarenas," Cabell said. "We had always heard that cruise ships in Puntarenas did not contribute much to the economy of Puntarenas since cruise ship passengers purchased packaged tours that took them to other places of interest in Costa Rica.
"To see for ourselves, we observed people coming off the cruise ships who did not purchase packaged tours. There was no information available about attractions in Puntarenas, so most people looked at the souvenir stands and perhaps purchased something to drink in one of the restaurants near the pier so they could use Wi-Fi, and then returned to the ship."
When the Croppers decided to develop a brochure, they shopped the proposal to various public institutions responsible for tourism development in Puntarenas but with no success.
"Along the way, we affiliated with a new NGO (non-governmental organization), Puerto Puede, a group of Puntarenas residents working to improve the quality of life in Puntarenas," Cabell said. "To pay for printing we set up a GoFundMe site (www.gofundme.com/puntarenasonthemove). With donations to the GoFundMe campaign and financial support from the National University of Distance Education (UNED), we printed 3,250 brochures and began greeting visitors from cruise ships in October 2018." (A redesigned brochure the Croppers started distributing this season includes drug stores, supermarkets, banks and other services in addition to historical/cultural places.)
Thanks to these efforts, "the community and public agencies began to realize that 'no cruise ship passengers stayed in Puntarenas' was a false narrative and have offered to collaborate with us on offering a more welcoming environment to international visitors," Cabell said.
Before setting out on a walking tour of Puntarenas, be prepared for the intense heat. You'll find air-conditioning in some areas of the Parque Marino del Pacifico, an aquarium attraction and conservation center a few blocks from the cruise pier. The biggest exhibit tank (with a sea turtle and shark, among other creatures) focuses on marine life found at Isla del Coco, a remote island off Costa Rica's Pacific coast and one of the world's top diving spots.
Another stop on the tour route is a large plaza dominated by Puntarenas Cathedral, a handsome stone landmark built in 1902; its porthole-style windows reflect the town's maritime heritage. A little park north of the church has shaded benches for taking a break. Nearby is La Casa de la Cultura, a former police station and jail that offers art exhibitions and theater performances.
Before or after seeing the sights, cruise visitors may want to check out the seafront promenade, Paseo de los Turistas (Tourists' Walk). Alive with food and souvenir vendors, it extends about 20 blocks from the cruise pier to the red-and-white-striped lighthouse at its westernmost point. (Puntarenas means "sandy point" in Spanish). The pedestrian boulevard borders a palm-lined beach that looks out across the gulf to the Nicoya Peninsula. It's a popular gathering spot at sunset and well into the night.
The Croppers, who live near the Paseo, had resided since 1985 in northern Virginia before retiring to Puntarenas, where Martha was born and raised. She met Cabell in 1971 while participating in a multinational volunteer project in Panama. They were married in Puntarenas in 1972 and moved to the U.S. the next year.
For a local treat, the Croppers recommend a Churchill. Sold at the Paseo's food carts, food trucks and kiosks, this concoction of shaved ice with cherry syrup, powdered buttermilk and perhaps fruit is topped with sweetened condensed milk. Some versions add ice cream and cookie topping. According to local legend, the sweet treat dates back to at least the 1940s. The original creator smoked a cigar and bore a striking resemblance to the wartime leader of Great Britain, Winston Churchill. Another snack might be a carton of vigoron—crunchy fried pork rinds on a bed of cabbage slaw with boiled yucca, topped with diced tomatoes.
Some of Puntarenas' best restaurants face the Paseo. From the front porch of Casa Almendro, for example, you can enjoy views of the water along with arroz con mariscos (rice with seafood), pulpo a la parrilla (grilled octopus), ceviche, shrimp and a variety of freshly caught fish. Frequently found on menus are red snapper, sea bass, mahi mahi and tuna. Do like the locals and order a beer with ice cubes—it's refreshing, keeps the beer cold in this muggy climate and doesn't affect the taste.
Another way to eat local: dig into a casado, a filling, home-style combo plate that typically includes rice, beans, cabbage, fried plantains and an entree of chicken, pork, beef or fish. Casado plates can be enjoyed at small eateries called sodas, Costa Rica's equivalent of diners.
National parks and private wildlife sanctuaries are among the country's chief tourist draws, and Puntarenas is a prime jumping-off point for trips into nature. One popular tour goes to Natuwa Sanctuary, which operates a captive breeding program for two endangered macaw species and also cares for rescued macaws. Inhabiting large, enclosed spaces are scarlet macaws, found in the Pacific region, and the Caribbean coast's great green macaws. Though it started as a macaw reserve, Natuwa, located near the village of Aranjuez, expanded to include other rescued, injured or neglected animals. Visitors also get close-ups looks at jaguars, sloths, ocelots, tapirs and several kinds of monkeys.
A 90-minute boat ride from Puntarenas across the Gulf of Nicoya takes cruise passengers to Tortuga Island, an uninhabited paradise blessed with clear turquoise waters, coconut palms and powdery, white-sand beaches. Tour participants spend the next few hours splashing in the surf and relaxing in loungers under umbrellas set among tropical almond trees. Optional activities include beach volleyball, kayaking, jet skiing, snorkeling and banana boat rides.
A Celebrity Cruises shore excursion combines Tortuga Island with a tour of the abandoned prison on San Lucas Island. What was once the most dreaded prison in the Costa Rican penal system today is a national park site with crumbling buildings, rusted metal and grounds overgrown with vegetation. Peeks into the old cells reveal well-preserved graffiti, some of it X-rated.
From 1871 to 1992, Costa Rica's answer to Alcatraz housed up to 300 prisoners. Tales of the harsh conditions were chronicled by former inmate Jose Leon Sanchez (now 94 years old) in his book La Isla de los Hombres Solos (The Isle of the Lonely Men), available in English as God was Looking the Other Way. He spent 30 years in the jail for a crime he didn't commit.
Whether you prefer to poke around Puntarenas or make it a launching pad for adventures farther afield, it's comforting to know that little Costa Rica is a safe, stable country that welcomes North Americans. Many retirees from the U.S. and Canada call it home. The tourism infrastructure is well-developed, and many locals know English. The national currency is the U.S. dollar.
Puntarenas makes a good introduction to the charms of Costa Rica and its central Pacific coast. Expect a fun, low-key day in port and look for the smiling faces of goodwill ambassadors Cabell and Martha Cropper when you get off the ship and venture into their town.
For more information, check out the Costa Rica Tourism Board's website, www.visitcostarica.com/en.
By Randy Mink
Senior Editor