Our cover story, "6 Great Florida Beach Towns," offers quick takes of tourist highlights in sand-fringed hotspots on both the Atlantic and Gulf coasts. Making the list: Daytona Beach, Sanibel Island, Panama City Beach, Sarasota, St. Augustine and Cocoa Beach.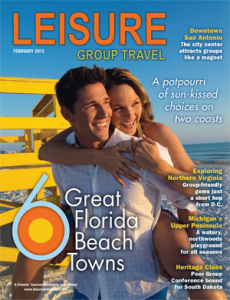 Coastal destinations comprise several other features in the February issue. "Connecticut's Mystic Coast," for example, includes classic sights like Mystic Seaport and Mystic Aquarium. The article on Michigan's Upper Peninsula covers everything from winter activities like skiing and dog sledding to Soo Locks boat tours in Sault Ste. Marie and cranberry harvesting at Whitefish Point. In her cruise industry forecast for 2013, Leisure Group Travel's Cindy Bertram interviews three cruise executives for their take on recent homeport developments and the re-emergence of Mississippi River travel.
Three articles spotlight group-pleasing destinations in the Southwest. "Deep in the Heart of San Antonio" concentrates on sights in downtown and adjacent neighborhoods, from must-sees like the River Walk and Alamo to historic homes in the King William district. The Albuquerque story focuses on shopping opportunities in Old Town and elsewhere in New Mexico's largest city. Nostalgia for the golden days of auto travel flavors "Get Your Kicks on Oklahoma's Route 66," a look at vintage attractions along the iconic highway that once carried motorists from Chicago to California.
Readers also get a glimpse of two oft-overlooked areas. Central Missouri, for example, often is overshadowed by St. Louis and Kansas City, yet group-friendly sights abound in Columbia, Jefferson City, Fulton and the Lake of the Ozarks. In the shadow of Washington, D.C. countless historical attractions draw groups to Northern Virginia's Prince William and Fairfax counties.
Group travel professionals can update themselves on bank travel clubs in the feature on Heritage Clubs International, the nation's oldest bank marketing organization. Coverage includes an interview with HCI's president and a preview of its upcoming Peer Group Conference in Rapid City, S.D.
In On the Record, the magazine's reader-response column, travel planners tell about their favorite factory tours. Among the top choices: a chocolate maker in Seattle, Milwaukee brewery and an auto plant in South Carolina.
Columns