Midwest accommodations are raising the bar on your group's lodging experience in 2015. Take a look at these 24 hotel renovations and take advantage of new amenities.
Brand new ballrooms, latest technology, thrilling attractions, expanded space, full-service spas and more beckon groups to enjoy higher hotel standards in the Midwest.
1. The Sheraton Chicago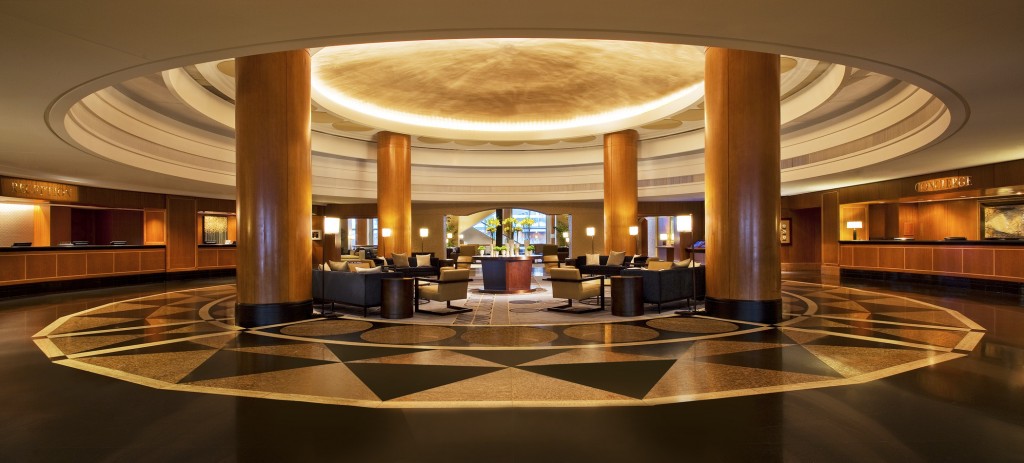 The Sheraton Chicago has completed a full renovation as of 2015; the guest rooms, lobby, fitness center and club lounge were refreshed and redecorated.
2. Bavarian Inn Lodge
Frankenmuth, Michigan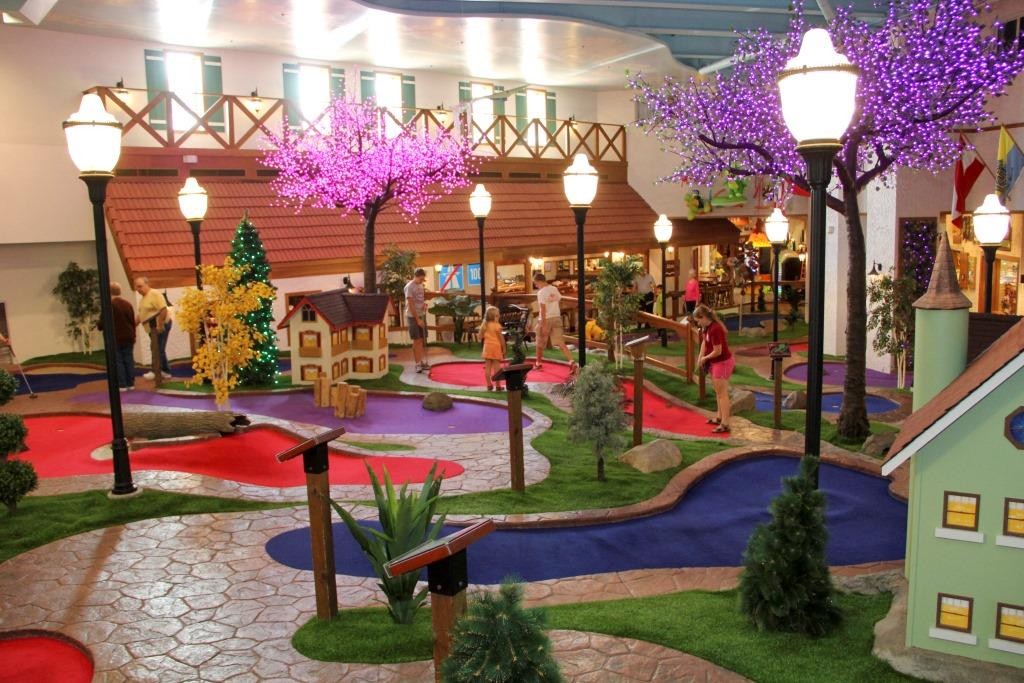 Tee it up in Frankenmuth; Bavarian Inn Lodge revamped its mini-golf course, Willy's Kingdom. The 18-hole course has new colors, features, foliage and lighting.
3. Grand Hotel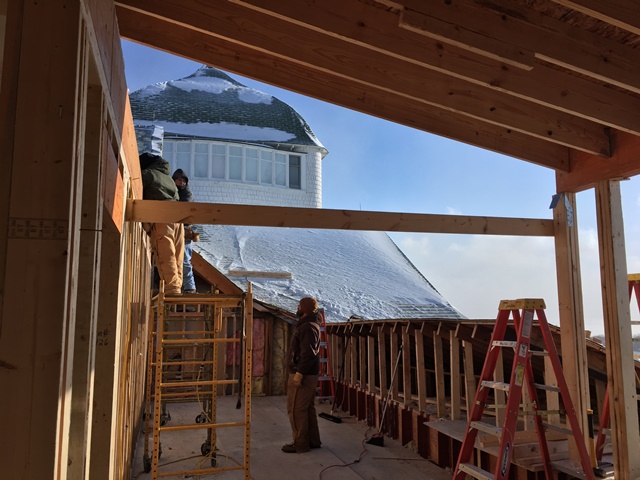 Grand Hotel is bringing back its original architecture from the early 1900s and adding two bedroom suites. The new Cupola Suites will each have a bedroom with a king bed, a parlor and the option of connecting to a bedroom with two queen beds.
4. Arrowwood Resort & Conference Center
Arrowwood Resort & Conference Center is adding more rental cottages in 2015 to offer larger units that groups can share, cook in, etc. These will include a one-bedroom honeymoon unit, a two-bedroom unit, a four-bedroom cottage and two six-bedroom cottages.  The center is also renovating its ballrooms with new carpet and wall vinyl.
5. Radisson Blu Mall of America
In fourth quarter of 2014, Solimar Spa at Radisson Blu Mall of America opened. Located on the second floor of the two-year old property, the full-service spa offers guests, visitors of the Mall of America and locals the opportunity to relax. A few of the standout services offered at the spa include treatments and massages; hydrotherapy soaks; Vichy shower as well as a series of Ayurvedic body treatments. Additionally, Solimar features extensive skin care and cosmetic services, hair treatments and hand and feet services.
6. Beacon Pointe Resort
Duluth, Minnesota
Beacon Pointe Resort has new sound abatement in interior walls and a new interior décor: carpet, paint, top-of-bed linens and pillows, living room furniture, lighting and wall art.
7. East Bay Suites
Grand Marais, Minnesota
East Bay Suites installed AC with in-room temperature control, exterior siding and painting, upgraded furnishings in units and gathering space, new carpet, a resurfaced parking lot and lakeshore landscaping.
8. Caribou Highlands Lodge
Lutsen Mountains, Minnesota
Caribou Highlands Lodge has new indoor décor updates, indoor pool humidity control system and free Wi-Fi with a system utilizing high-speed fiber Internet. On two condo buildings, there is a new roof, siding, decks, windows, patio doors, hallway carpet and interior décor.
9. The Commons Hotel
Minneapolis, Minnesota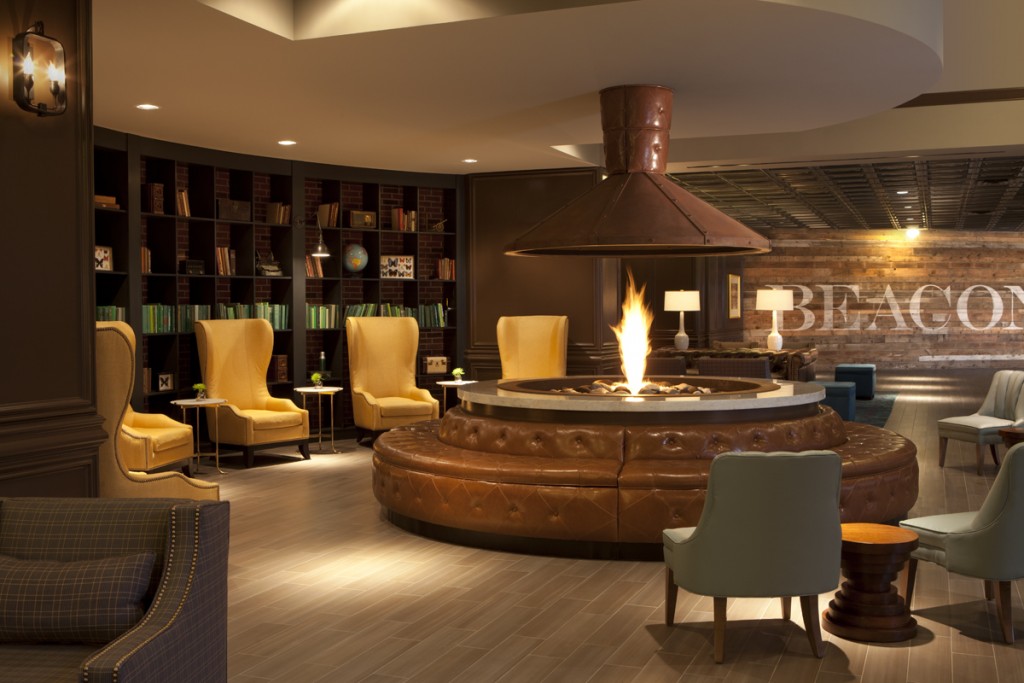 Formerly known as Radisson University Hotel, the 304-room Commons Hotel and signature gastro-pub, The Beacon Public House, recently underwent a nearly $15-million renovation in property transformation. Located in downtown Minneapolis on the University of Minnesota campus, the property's industrial schoolhouse design and geek-chic vibe incorporate a theme inspired by its collegiate ties. The hotel also has more than 20,000 square feet of redesigned meeting space, with two ballrooms, 10 individual meeting rooms and two outdoor patios.
10. Comfort Inn North/Polaris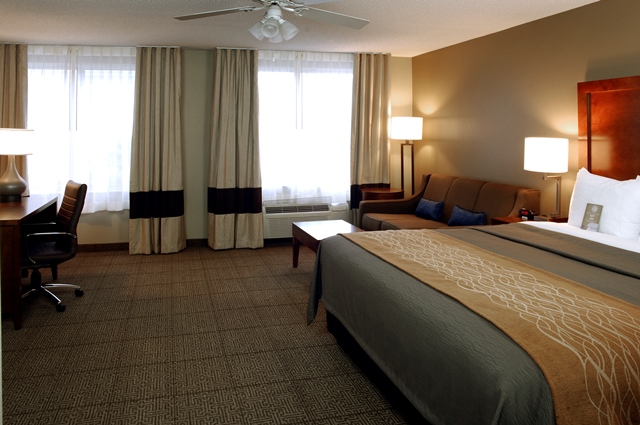 Comfort Inn North/Polaris is renovating its lobby and breakfast area to provide more room for travelers. There will be more seating, more living space and a modern look to the reception area and business center. The fitness center is getting new equipment, and rooms have new carpet, furniture, beds and granite vanities. In fall 2014, the hotel replaced all wall vinyl and carpet throughout the public space and corridors.
11. InterContinental Cleveland Hotel
Cleveland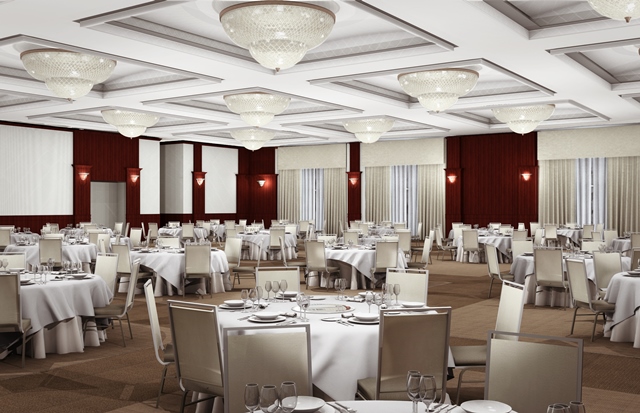 In February, the InterContinental Cleveland Hotel underwent a meeting space renovation to aesthetically improve the area as well as provide select technological updates. The Conference Center renovation included a 500-seat Bank of America Amphitheater; an 8,800-square-foot Founders Ballroom; and eight general meeting rooms. The complete meeting space renovation includes new lighting, carpet, paint, wall treatments, drapes, linens, furniture (including chairs and tables), artwork and technology.
12. The Lodge at Geneva-on-the-Lake
Geneva-on-the-Lake, Ohio
In the fourth quarter of 2014, The Lodge at Geneva-on-the-Lake updated its lounge with added seating, high-top tables for better views of Lake Erie, flat screens to view more games, a fireplace, new carpeting and a re-finished bar.
13. Nationwide Hotel and Conference Center
Lewis Center, Ohio
Nationwide Hotel and Conference Center (formerly NorthPointe Hotel and Conference Center) has enhanced more than half its existing event space to feature state-of-the-art technology. The new area is called World Class Training Academy as it will offer a backdrop for a group or business team. Phase two of the renovation and expansion project will provide an additional 74 guest rooms along with ample opportunities for relaxation, exercise and recreation in the new 5,400-square-foot wellness center.
14. Kalahari Resorts
Sandusky, Ohio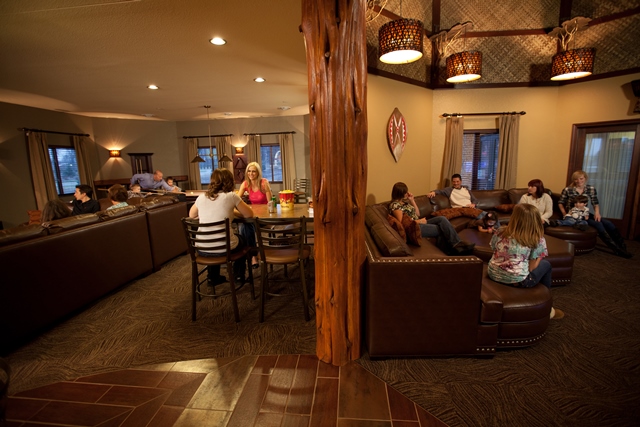 Kalahari Resorts Sandusky property underwent renovations to add new restaurants, attractions and remodel the main entrance, adding a revolving door and making the resort more open with an accessible floor plan. In addition to America's Largest Indoor Waterparks, Kalahari has one of the largest arcades in the state (20,000 square feet). Updates include the renovated Madagascar Black Light Mini Golf; XD Dark Ride, a virtual reality simulator; and Crystal Ruins Laser Tag. Kalahari also revamped its dining options, adding Ivory Coast Restaurant and Great Karoo Market Place & Restaurant.
15. Comfort Suites-Appleton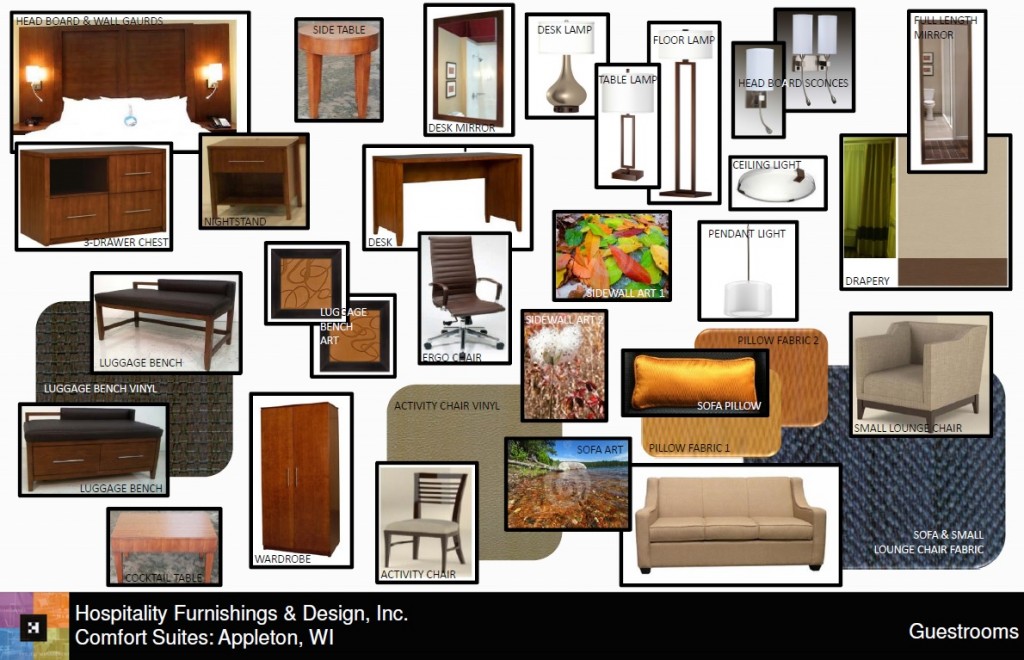 Comfort Suites-Appleton's $2-million renovation started off with new guest room bathrooms—new tile floors, black granite tub surrounds and counter tops, dark cherry vanity, fixtures, lighting and toilets.  The second phase included a new, dark cherry front desk with black granite counter, new sconces and wall lettering.  In phase three, the hotel installed new carpet in all public spaces, furniture in all guest rooms (luggage bench, armoire, dark cherry head boards, night stands and sofa sleepers), lighting, window coverings and draperies, bedding, pillows and artwork.  The lobby also has all new furniture, carpet and tile floor.  The final phase saw a new elevator.
16. Rowley's Bay Resort
Although Rowley's Bay Resort is a vintage resort property, it just completed a five-year renovation of all 75 rooms in the lodge, including upgrades of all beds, TVs, lamps, and redecorating every amenity in the lodge. Also, another fish boil has been added to the Rowleys Bay Restaurant schedule (four nights a week) complete with historical re-enactment.
17. Radisson Hotel & Conference Center-Green Bay
Green Bay, Wisconsin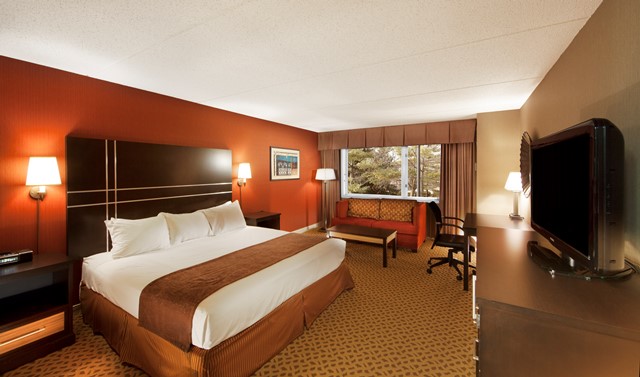 Radisson Hotel & Conference Center-Green Bay completed a remodel of its Tower 1 section. Rooms received new carpet, new furniture, wall vinyl and upgraded features in bathrooms. The latest renovation consisted of converting the rooms in Tower 1 to a superior room type.
18, 19. Wisco Hotels
Fond du Lac, Wisconsin
Holiday Inn
Holiday Inn is scheduled to finish renovating bathrooms and update vanities and mirrors, as well as redo hallway and public space carpet. An elevator is also going to be put in sometime this year. The biggest addition is the Conference Center, almost doubling current space. The two rooms will together span 6,250 square feet and hold 1,000 people for theater seating; 450-600 for a banquet. There will also be pre-function and foyer space of 1,400 square feet.
Holiday Inn Express & Suites
Holiday Inn Express & Suites, set to open in June, will be an 86-room hotel with deluxe suites. All rooms will have refrigerators, microwaves and complimentary WIFI. There also will be an indoor pool, whirlpool and fitness center. The hotel will be pet-friendly and have an onsite boardroom.
20. Fairfield Inn & Suites Madison West/Middleton
Middleton, Wisconsin
Fairfield Inn & Suites Madison West/Middleton underwent a $4-million dollar renovation to its interior and exterior with a new public space and guest room design. This is the first Fairfield Inn & Suites in the area to feature the brand's new design and décor, which focuses on a warm and welcoming environment.
21. Ambassador Hotel
Milwaukee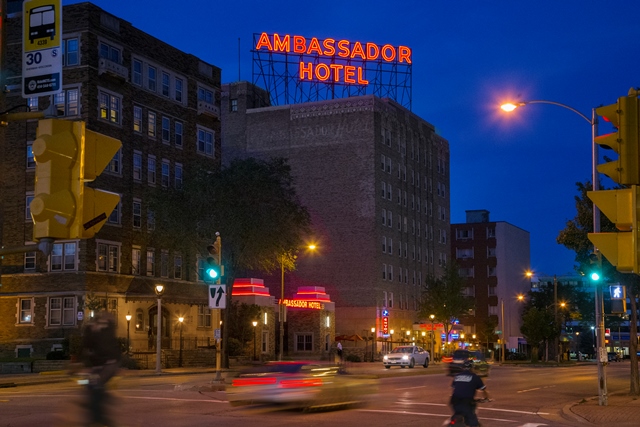 As a Milwaukee landmark, Ambassador Hotel completed restoration of its historic neon rooftop sign, which has beckoned visitors to downtown Milwaukee since the 1920s.
Milwaukee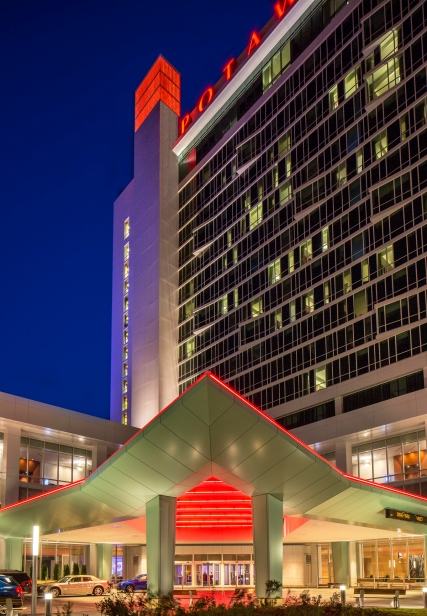 Potawatomi Hotel & Casino opened its 281-room, 19-story hotel complete with restaurants, a lobby bar and lounge, coffee bar, more than 12,000 square feet in new meeting space, and refined furniture and fixtures. A new lighting system, Color Kinetic System, can produce about 16.1 million different colors and provide custom light for any special occasion. It can simulate sun breaking through trees, thunderstorms, raging fires and more. Lighting in the hotel's elevator bays on the first and third floors can also be programmed to set a variety of moods.
Sheboygan, Wisconsin
Blue Harbor Resort has invested approximately $2 million in renovations recently. The Riptide, the only indoor double surf simulator in Eastern Wisconsin, is a new attraction. The resort updated and expanded the fitness center and Reflections Spa and Salon. There is a new bar, The Wheel House, a new gazebo and new indoor mini glow golf.
24. Wilderness Resort
Wilderness Resort is adding Wooly's Subs, Snacks and Smoothies to accommodate guests' request for more low-calorie options, and revamping Wooly's eatery in the Wild Water Dome. Also, a two-year renovation resulted in all 444 guest rooms getting an updated northwoods look. Each room received new flooring, paint, beds, flat-screen TVs, dorm-size refrigerators, bathroom fans, USB charging ports in the outlet by the table. Half the rooms received new linens and the remaining will receive them in May.
Now what? If you're planning a group trip to the Midwest this year, contact any of the 24 listed hotels and resorts to lodge in fresh luxury.