Bursting with unique antique shops, abstract art galleries and family-friendly farmers markets, Joplin is an ideal shopping locale for travel groups.
Located along original Route 66, downtown Joplin has all the charm and warmth one would expect from a quaint Midwestern town. Visit Joplin, or as the locals call it, JOMO, for an exclusive and relaxing shopping experience.
Downtown Delights
As the heart and soul of JOMO, the city's downtown area will transport group travelers to a Pleasantville-like state-of-mind with picturesque boutique and antique shops. Blue Moon Boutique has been named "a modern boutique with a vintage soul," and carries trendy clothes, accessories, gifts and home décor. Popular brand-name finds include Urban Mango dresses and Good Work(s) Make A Difference leather wrap bracelets. Located on the same street as Blue Moon Boutique, Sophie is known around JOMO as the "candy store for shoe addicts," but offers much more than just shoes. Although it carries popular shoe brands at affordable prices (Volatile, Naughty Monkey and Chinese Laundry), it also offers a wide variety of handbags, accessories and a boutique clothing section, making it a one-stop-shop for finding that perfect outfit.
Antiqued, Repurposed, Vintage
Disputably one of the best parts about shopping in Joplin is its many antique, repurpose and vintage shops; it will be easy to lose track of time in these dazzling local gems. An urban vintage market, That One Place contains a variety of antiques, rehabbed furniture, boutique clothing, handmade items and even has a special "Weekend Markdowns" sale each week. Just down the street lies another JOMO favorite, Simply Vintage. With the store motto being "a market where everything has a new purpose," Simply Vintage combines fashionable vintage and repurposed items. Featuring over 100 dealers in 24,000-square-feet of antiques, collectibles and gifts, Southside Antique Mall has an abundance of items including antique furniture, tools, military, elegant and depression glassware, primitives, books, vintage jewelry, Coca-Cola collectibles, gas pumps and seasonal items.
Art at your Fingertips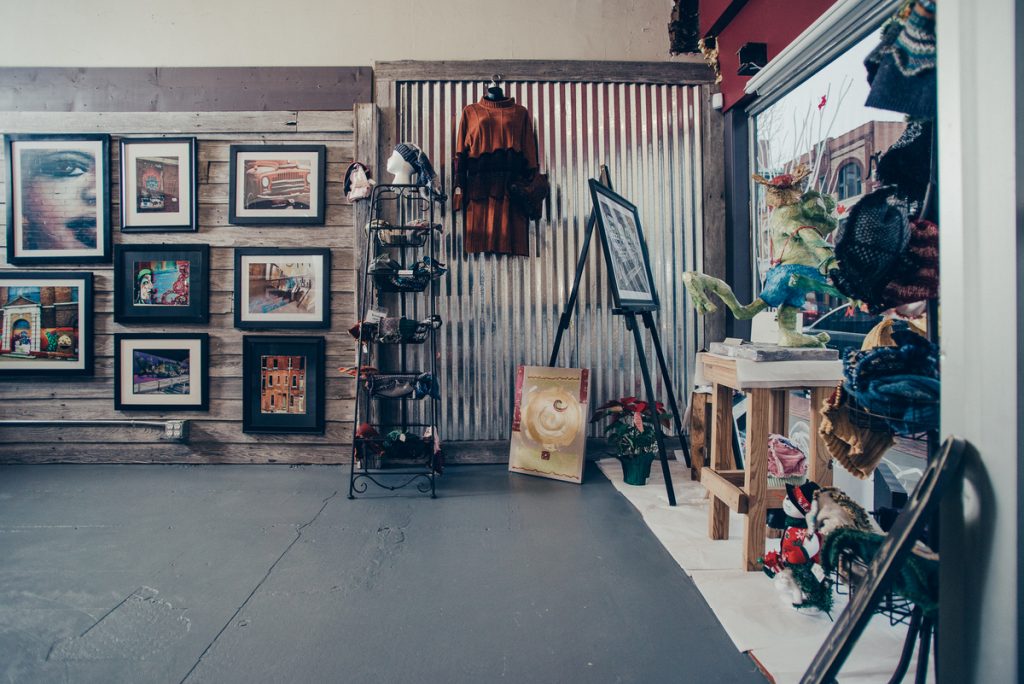 For art aficionados, Joplin's local art galleries have everything from paintings and pottery to jewelry, furniture and more. Where the mantra of the gallery is "where the unusual is the norm and the norm is unusual," Joplin's Urban Art Gallery contains locally-made works ranging from street art to landscape photography, paintings, jewelry, ceramics, fiber art, papier mache and sculpture. For a fun-filled Saturday afternoon that requires getting your hands a little dirty, take your travel group to Crackpot Pottery and Art Studio for a drop-in pottery class, and check out the selection of local handmade pottery in the gift shop. Located three miles west of the pottery studio, travel groups will find Local Color Art Gallery and Studio, a collective of artists' exhibits with various mediums including jewelry, pottery, wood turning, furniture, glass art, watercolor, acrylic and oil paintings. All artworks are for sale to the public.
A Magnificent Mall
For a traditional shopping experience with a wide-range of stores, visit Northpark Mall. Established in 1972, the 600,000-square-foot shopping center contains 60 stores, restaurants and other services with household names such as JC Penny, Macy's, Sears and TJ Maxx. Specialty stores unique to Northpark Mall include Vintage Stock, an entertainment store filled with rare comics and memorabilia, Mystique Boutique, a trendy and affordable women's clothing store and The Hitchin' Post, an Oklahoma-based boutique with apparel, jewelry, accessories, rustic furniture, boots, saddles, tack, ropes and cowhides. The mall also offers a full food court and TILT, a fully-equipped arcade to occupy the kids while the adults relish in a day of shopping.
Joplin Gems
The Secret Garden: For an inimitable shopping, visual and dining experience, Sandstone Gardens offers remarkable accessories and décor for interior design and garden landscapes. Explore the estate's 50,000-square-foot showroom featuring cast-stone home and garden décor, eclectic collections of timeless furniture, permanent botanicals, home and body aromatherapy and boutique accessories. Groups are also welcome to enjoy gourmet lunches and handmade desserts at the Sandstone Bistro, awarded "Best Restaurant" in its opening year by 417 Magazine.
A Quilter's Dream: Striving to provide the highest quality fabric at a fair price in a friendly environment, Bittersweet Quilts carries an inventory of 2,900 bolts, including Janome and Elna sewing machines. The store's goal is to teach, inspire and encourage customers, while passing on the love and knowledge of quilting. The store even has a repair technician located onsite.
One Man's Junk is Another Man's Treasure: 2 Friends & JUNK, where the world's finest junk can be found, is a traveling expo that comes to Joplin two weekends out of the year, once in February and once again in August. The event features 130 to 200 booths containing architectural salvage, industrial, vintage and retro items, boutiques, antiques and repurposed crafts.
Fresh and Friendly Farmers Markets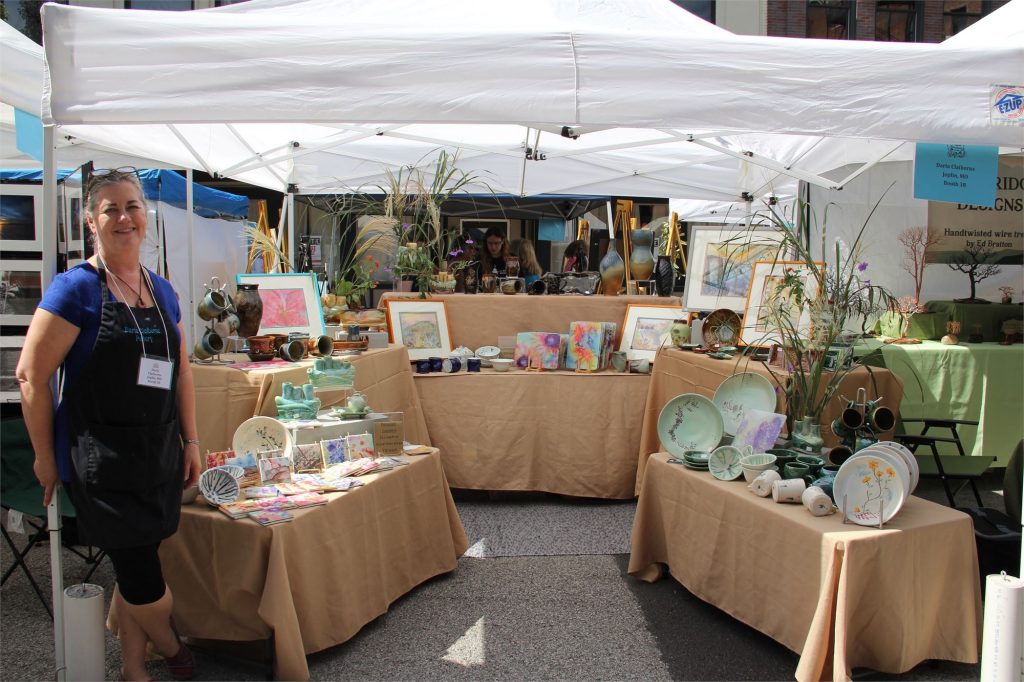 If visiting Joplin during summer months, travel groups wouldn't be getting the full experience of JOMO without visiting one of its many farmers markets. You'll have to wake up early, though! Most farmers markets run from the early morning (around 8a.m.) until the early afternoon (around 1p.m.). Four State Farmers Market, Joplin's newest farmers market, takes place May through October on Saturdays from 8:30a.m. to 1:00p.m in the Ernie Williams parking lot on Range Line. The market offers fresh foods, locally made products and live music from local artists. Voted one of the best farmers markets in the south by Southern Living magazine for two consecutive years, Webb City Farmers Market is a producer-only market where local farmers can be found vending personally-grown produce. Open year-round, Webb City Farmers Market takes place on Tuesdays, Thursdays and Saturdays during spring and summer months and Saturdays only during fall and winter months.
Crafty Collections
A curated indie-craft market, Hip Handmade Market offers a variety of handmade goods by local and regional artists and crafters. The market features an assortment of crafts including, paper goods, vintage finds, accessories, photography and paintings, and strives to showcase original handmade art that is different from other markets in the area. Besides shopping, travel groups can enjoy giveaways and local eateries. The market is held in late fall, just in time for holiday shopping.
A Local Favorite
As the largest arts festival in southwest Missouri, Joplin Arts Fest displays work from over 100 artists who come to Joplin's historic Route 66 to sell their work. The fest features painting, pottery, sculpture, drawing, photography, woodworking and jewelry. The second annual Joplin Arts Fest is expected to draw thousands of art enthusiasts to JOMO's illustrious downtown area and will be held on Saturday, September 17. In addition to the artist booths, there will be a stage for performing arts activities, where live music will be held until 10p.m.