A trip East will lead you to a variety of delicious destinations
From 2016 to 2019, the number of food halls in America has almost doubled, and this growth has continued into 2021. Food halls are unique for their wide selection of food styles and flavors from local and international cuisine. For group travel, food halls are the perfect spot to grab a meal. These seven food halls on the East Coast, some old, some new, are sure to fulfill a group's desire for a fun culinary experience.
Faneuil Hall Marketplace, Boston
Faneuil Hall Market place is located in a bustling promenade, bursting with more than 200,000 square feet of retail space. It also features both local and national shops. This market is also home to New England's largest and most historic food hall: Quincy Market Food Colonnade.
As for food, there is nothing more to be desired when considering the wide array of cuisine that its 12 restaurants and pubs offer. The Salty Dog is a Faneuil original, providing the most authentic Boston seafood experience for patrons looking for a casual dining setting. Boston Chowda Co. is the place to be if you want to taste award-winning New England clam chowder with a side of lobster rolls.
Quincy Market also has plenty of restaurants that incorporate cuisine from far beyond the Boston harbor, like Ned Devine's Irish Pub and Steve's Greek Cuisine.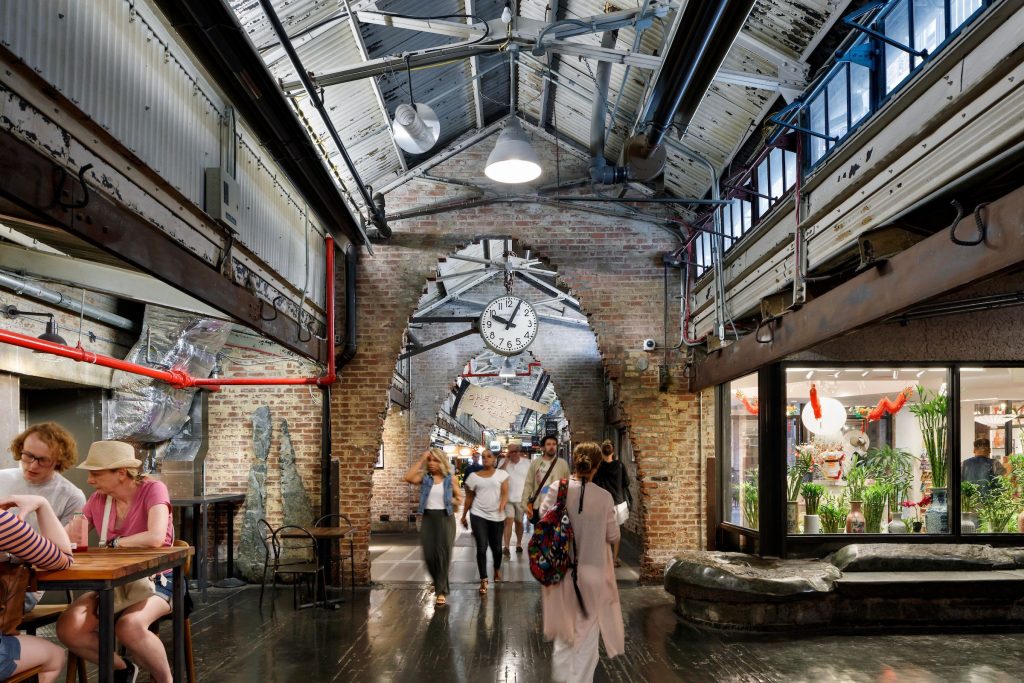 Chelsea Market, New York City
Located in NYC's Meatpacking District, Chelsea Market has its roots in the center of the city's produce capital. It imports the finest meats, fish, cheeses, and dry goods from across the nation and around the world.
This bustling market and food hall are unique in the sense you can both buy quality products from specialty vendors or choose to dine in at one of the many restaurants. There are many restaurants to choose from that are distinctly New York, like Pearl River Mart, Dickinson's Farmstand, and Creamline. But, the food offerings are as diverse as the people of NYC, offering French, Mexican, Korean, Jamaican, Italian, German, and Chinese cuisine.
High Street Place, Boston
Opening in March 2022, High Street Place Food Hall is a highly anticipated location built out of one of Boston's most historic buildings. World-class designers were brought from around the world to re-imagine this space as one made to explore.
For groups looking to grab a drink, High Street will have multiple bars: Bubble Bath Champagne & Wine Bar, Daiquiris & Daisies, and Newburyport Brewing Co. As for food, any cuisine you can think of is offered, from pizza at Tenderoni's to tacos at North East of the Border to Jewish deli sandwiches at Mamaleh's Delicatessen.
Gansevoort Liberty Market, New York City
Gansevoort Liberty Market is located in the modernly designed Oculus in the Westfield World Trade Center.
Just as the location is ultra-modern, most restaurants located within the market take well-loved dishes and reimagine them with sleek presentations, like Los Panchos, K-Pop Haus, and Umai Fish. There is also plenty of traditional comfort food offered from Sal Anthony's, Momo, and Cebichelsea. Or, if you're in a rush, Gansevoort has made it easy to order take-out from any of its restaurants and combine it all into one order, eliminating the challenge of choosing a restaurant everyone will enjoy.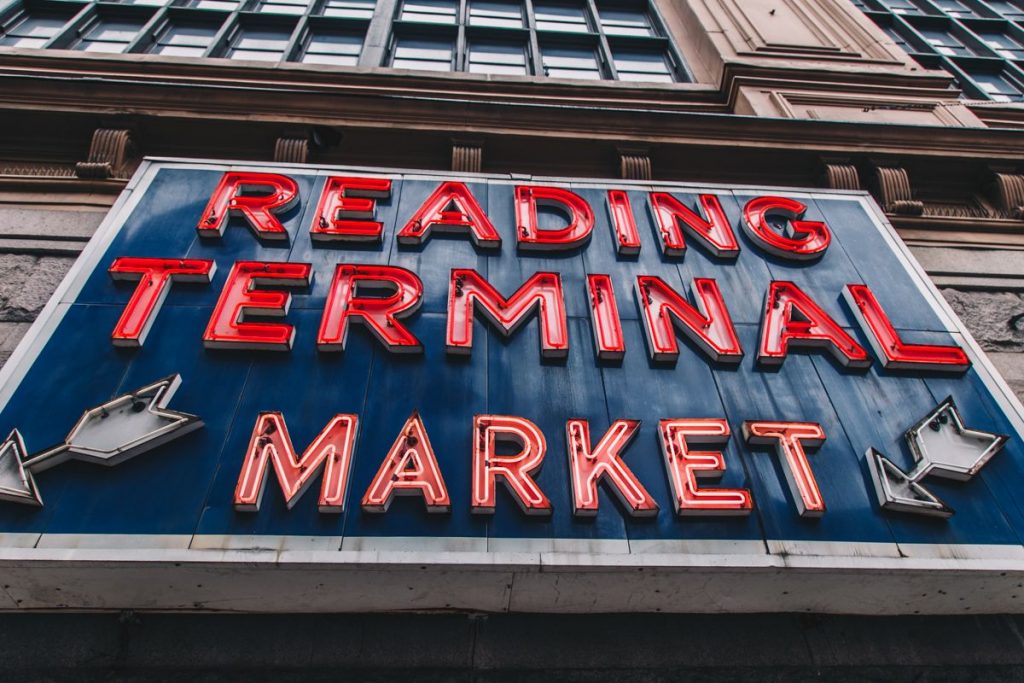 Reading Terminal Market, Philadelphia
Since 1893, Reading Terminal Market has been providing the Philly area with the best local produce and confections. The market offers visitors everything they could need to create a memorable meal at home or have an amazing dining experience at one of the many restaurants under one roof.
Carmen's Famous Italian Hoagies & Cheesesteaks is the place to go if you haven't already gotten a taste of Philadelphia's traditional meal. Fox & Son Fancy Corndogs and Careda's Caribbean Cuisine are perfect for groups on the go looking for walkable meals. For dessert, Profi's Creperie and Bassetts Ice Cream are perfect stops to satisfy a sweet tooth.
Lexington Market, Baltimore
Lexington Market is undergoing a huge structural transformation after more than 200 years of serving the Baltimore area. The East Market is open during the entire reservation, where most vendors reside. But the new South Market is set to open in 2022. This new section, redesigned in an open concept, modern fashion, will be a community space for the city with a walkable plaza that will be a hub for farmers' markets and other public gatherings for years to come.
Vendors at Lexington Market range include restaurants, delis, bakeries, museums, and outlets, satisfying a group's every need in one location. Your group has the opportunity to try something new, like interesting baked potatoes at Dancing Potato, or stick to the classics at Hominy Kitchen and Park's Fried Chicken. Many of these vendors take you back in time with their neon signs and classic East Coast vibes, like Krause's Lite Fare, Perfect Gentlemen Barber Shop & Salon, or Kofman's Shoe Repair.
Soon to be the perfect mix of old and new Baltimore, Lexington Market is a must-visit on your group trip to take in the culture of Charm City.
Union Market, Washington D.C.
Union Market has a culture of entrepreneurship and ingenuity, helping local businesses grow and creating a space where the community can flourish. With more than 200 years of serving the D.C. area under its belt, the market hopes to build on existing tradition while paving the road ahead for the future of food markets across the world.
The food choices are just as innovative as the market's mission. Last Call combines late-night dive bar dining with the beautiful presentation of food and drinks. Shouk is an award-winning modern Israeli street food vendor that is completely plant-based. Moreover, Michelin Star-winning Masseria transports guests to the Italian coast with its simple Italian farmstead cuisine.
For other great food stories that will whet your appetite , visit https://leisuregrouptravel.com/5-great-east-coast-food-markets/ and https://leisuregrouptravel.com/flavors-of-japan/
By Isabella Wilkes