Summer is here, and scores of people are flocking to the great outdoors. While some enjoy lounging by the pool or grilling up burgers, others love to hit the hiking trails and find their inner mountain man or woman at campsites. The following six accessories and gadgets will help make your next outdoor adventure a successful one.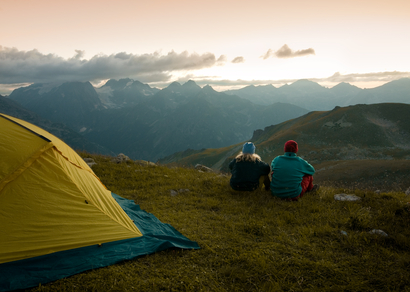 Pocket Shower
When you are out camping in the wilderness, chances are good that you won't have any convenient showers nearby. Fortunately, thanks to a handy pocket shower device, you can still get in a good shampoo and scrub down, even out in the middle of nowhere. The Sea to Summit Pocket Shower holds 2.6 gallons of water. To use, simply fill it up with H2O, set it out in the sun for awhile and then hang it from a tree to enjoy a fresh shower.
Stove and Charger Combo
Camp stoves with built in USB chargers allow campers to cook tasty meals in the great outdoors while also charging their electronics. Sure, there are purists who contend that iPods and iPhones don't belong at campsites, but for folks who want to check in with their kids or monitor weather conditions, it's handy to have a way to charge up these devices. As a bonus, these stoves tend to operate off the grid, using a combustion chamber to heat up and cook food.
Emergency and First Aid
One of the biggest mistakes hikers or campers can make is to assume that they will not need an emergency kit during their trip. Do yourself a favor and bring along a first aid kit that not only contains the essentials for cuts and scrapes, but plenty of additional items that will get you through your trip safe and sound. Water purification tablets, pain medication, allergy medication, and bug spray are just a few of the must haves. Eye protection is important in the outdoor exposure. To perform a repair on your sunglasses while you are out in the wilderness, make sure the emergency kit includes easy to use replacement lenses.
High Quality Sleeping Bag
Online adventure community Active notes, a 40 degree down sleeping bag is the ideal weight and temperature setting for just about any type of camping during the year. Even on ultra hot nights when it's hard to snooze, the down bag is comfy and provides campers a great place to lie down and rest their tired bodies.
An Awesome Flashlight
Campers and hikers alike should take flashlights with them, even those who are heading out for a day hike might encounter unforeseen weather conditions that might delay their return and keep them out in Mother Nature longer than they intended. The NiteCore Tiny Monster 3500 Lumen LED flashlight is small, powerful, and easy to carry. Made of aircraft aluminum, the flashlight can withstand some pretty harsh conditions, and it's also waterproof.
Wind-Up Radio
For those who feel strongly that hiking and camping require leaving anything that plugs in at home but still want to know the weather conditions while they are away should consider taking along a wind-up weather band radio. Many models run on solar power, batteries or hand-cranking, which means they will continue to work no matter what power source is available.