From the veteran adventurer to the rookie traveler, there are always extra hints to help streamline the packing process and ensure a smooth trip. We hope these time-saving tips will help you as you get set for your next excursion.
1. Make a packing list
This may seem trivial, and even a no brainer, but making a list really does help you cut down on over packing and, even more importantly, make sure you don't forget anything. The best way to make a list is to start compiling what you need on paper early in your planning process. That way you can ponder what else you may be forgetting on your list as you discuss, think and dream about your journey.
2. Keep your toiletries organized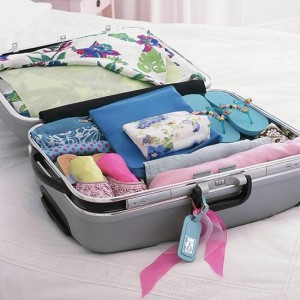 Using a toiletry bag will not only help you streamline your packing before the trip, but it will make moving from hotel to hotel one step simpler. You can find a bag that will hold all your bathroom needs in one place, instead of spreading them throughout the nooks and crannies of your bag. And packing up your products is as simple as tossing it in your suitcase as you move to your next destination.
3. Mix and match your outfits
Clothes take up the most space in your bag. But if you know your itinerary well before hand, you can pack outfits you can mix with other pieces of clothing. For example, with formal wear, guys can pack two dress shirts and a few different ties. Gals, you can toss a scarf or jacket in your bag to put on over your evening wear one night, giving the impression that it's a new outfit.
4. Durable and useful footwear
Chances are you're going to be doing a lot of walking during your trip. But to cut some space in your packing, find a durable, but nicer, pair of shoes you can wear both at dinner and while out shopping. Or, for the ladies, bring a pair of "Quick Flats" you can throw in your purse for long walks. If you want to wear your nice heels, but will have to walk to your destination, you can fold up a pair of Quick Flats in your bag and just take them out when you need to.
5. Carry one bag
For some this is a hard task to accomplish. But when moving through airports and bus stations, having only one suitcase will pay dividends as you can move quickly and gracefully, instead of fumbling around awkwardly with two or three suitcases. Now this isn't always possible, but instead of taking a second bag, bring a bigger purse or laptop bag with extra pockets for you to pack those items that otherwise wouldn't have a home during your trip.