Despite the complete or partial closure of several tourist destinations worldwide, people still find opportunities for safe travel. Irrespective of whether you're a digital nomad, travel blogger, or a group travel organizer, it's time to refresh your travel tech gadgets for 2022. Most of these devices make great gifts for seasoned travelers that might need to add some spice to their next adventure.
1) Travel Sound Machine
Traveling takes a toll on the bodies of light sleepers who find it difficult to adjust to the time difference or sleep in unfamiliar places. If you want to escape this nightmare, pack a travel sound machine with other belongings. These light and portable machines have very long battery life and offer a wide range of sound options to soothe your mind.
Of course, your smartphone can act as the source of soothing sounds. There are white noise apps that can help you block out other unwanted sounds. It also helps keep your luggage filled with essentials only.
2) UV Light Sanitizer Wand
The pandemic has been a huge learning curve for everyone, and now we know how the virus spreads. Hand sanitizers keep us safe from the virus by sanitizing places frequently used or touched by others.
However, you can't sanitize everything with a hand sanitizer. For such objects or places, UV light sanitizer wands come in handy. You can swipe this over a hotel bed, plane seat, or anything you wish to sanitize. There's a wide variety of UV light sanitizer wands available in the market, so choose the one that suits your needs.
3) Fingerprint Padlock
Probably one of the most fantastic inventions of the 21st century, the fingerprint padlocks come with a rechargeable battery, waterproof and stainless body. Thus, you don't have to carry those silly-looking keys or remember confusing passwords.
4) Kindle Paperwhite
E-readers are a lifesaver during long flights or road trips. Every wanderer knows the importance of owning a decent e-reader. The latest Kindle Paperwhite from Amazon is a cool gadget to possess this year, so order it or request a friend for this unique gift.
5) Cable Organizer
Using too many varieties of chargers for your phone, camera, laptop, etc., might make your bag extremely cluttered. Thus, you will find it extremely difficult to pull out a charger of your choice during an emergency. A cable organizer is an excellent accessory that would make packing and unpacking super-convenient while traveling. This compact and functional accessory is available in a wide range of colors.
6) Wired Headphones
Well, wireless headphones are prohibited by multiple airlines worldwide. Thus, if you wish to listen to your favorite music, podcast, or binge-watch a Netflix series, it's better to carry your wired headphones. Advantages of using wired headphones include battery-less operation and low cost.
7) International Adapter with USB and PD Ports
It is one of the most sought-after gadgets of 2022 as it comes with adapters for the UK, EU, and North America outlets and includes two USB ports and a PD-enabled USB-C port. Delivery or PD is the latest fast charging technology that effectively reduces your waiting time while charging your phones and other accessories.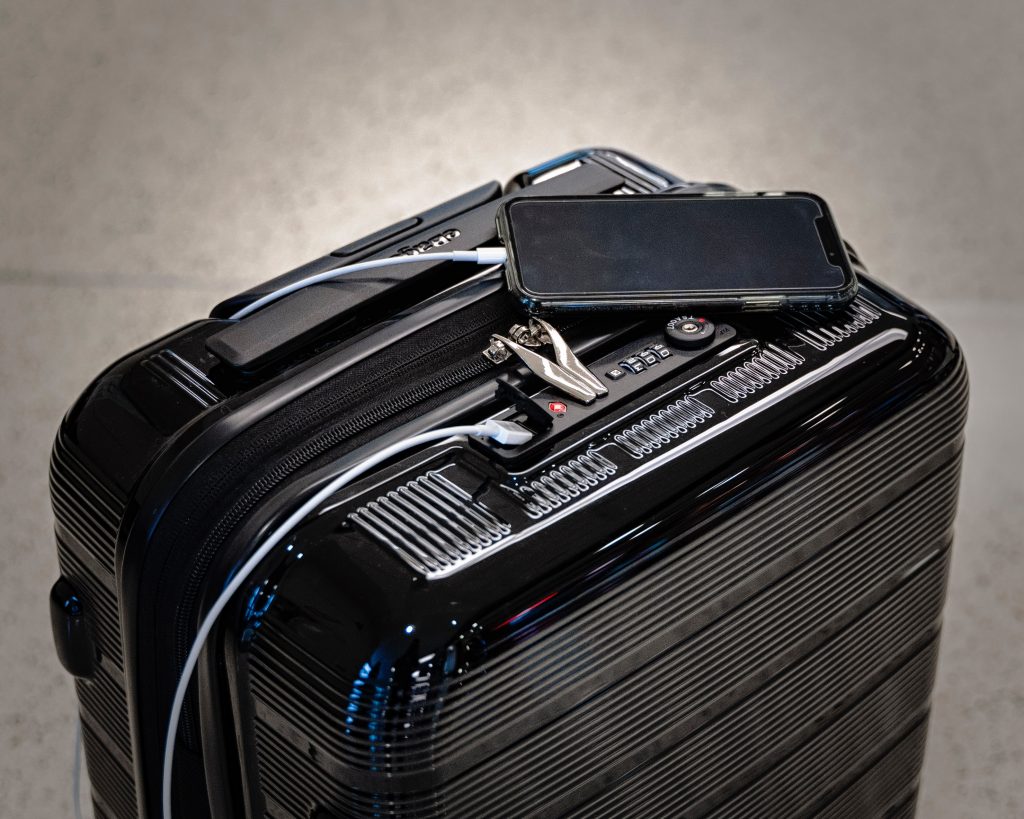 8) Portable Charger
It's a must to pack in a portable charger while traveling because every time you listen to your favorite podcasts or use GPS, you will be left with a drained phone battery. Thus, if you want to avoid the inconvenience of walking around with a dead phone, order a portable charger today.
9) Virtual Private Network (VPN)
Don't risk losing valuable personal data while using unsecured public Wi-Fi hotspots. A Virtual Private Network protects you by creating an encrypted connection between your device and the server. Thus, all your valuable data remains protected from external threats. Never forget to enable a VPN before connecting to Wi-Fi at your hotel!
Furthermore, a VPN is an excellent application for unblocking websites when staying abroad. For instance, some services or websites might be unavailable in the country you visit. Thus, changing your IP address to your home country will allow you to access the internet as if you were still there. There is no need to miss a match or TV series finale just because you are currently staying abroad.
10) Longer Charging Cables
It might sound a bit silly for many travelers, but extra long charging cables come as a savior when the charging port is placed far away from the bed in hotels. At times, you can even find these cables helpful while charging your phone at an airport. So, the next time you feel like ordering something online – just place one for a long charging cable.
Traveling is a joy when you've all the necessary things in your bag to make it comfortable and enjoyable. There're several cool travel gadgets in the market to transform your journeys into incredible experiences. We've presented you with a list of unique devices for traveling, and you can pick the ones you need for your next trip.