Magazine Features
Planning Intelligence
Whether your group is in the mood to see a Broadway show, be wined and dined or take a behind-the-scenes tour, these theaters have something for everyone.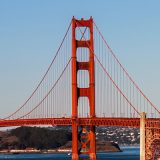 California has something for everyone. There are a lot of beautiful beaches to explore. It is home to Hollywood and some of the finest stars of the entertainment industry. California is also where you will find Silicon Valley and the best startups in the world.
Take 5 Interviews
Jennifer Puga parlayed her experience as a wedding planner to launch her home-based travel agency specializing in group travel. Learn how she's mastering the art of group cruises in this edition of Take 5.
Tour director turned tour operator Kelly Cooke saw an opportunity in an...