Magazine Features
Planning Intelligence
Las Vegas-bound groups are venturing outside the casinos and finding plenty of immersive activities to their liking
With the new year here upon us, you should have your schedule of 2017 trips set up and ready to go. All you need is the travelers to fill them.
Industry News
With the upcoming Tremé Fest, Restaurant Week and a crowded slate of...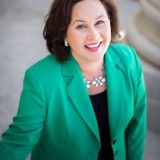 Wisconsin Tourism Secretary Stephanie Klett has been recognized as one of 45 "Top Women in Travel" by Women in Travel and Tourism International.