Magazine Features
Planning Intelligence
Guided tours enhance the experience by providing an introduction to the passionate craftsmen, their stories, and behind-the-scenes looks at the art and production of the tasty brews.
Here we are in February already. Are you all set for your groups' travel schedule for the year? If not, it's high time you schedule, book, price and announce your trips if you hope to have a successful year.
Take 5 Interviews
Tour director turned tour operator Kelly Cooke saw an opportunity in an...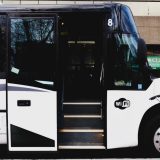 At the intersection of technology and transportation are disruptive companies like Uber and Lyft that are changing the way we travel.