Culinary & Spirits

Affinity Travel

Cruise

History & Heritage

Live Entertainment

Outdoor & Adventure
Recent Magazine Editions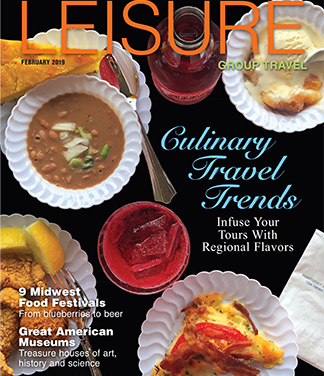 Group itineraries with a culinary theme are becoming more and more common, and the February issue of Leisure Group Travel picks up on this trend with some taste-tempting articles and mouthwatering photos.
Read More
Take 5 Interview Series
With over 163,000 members in all 50 states, Osher Lifelong Learning Institutes may be the largest...
Read More
This northern Mississippi county has a long history and a longer list of reasons to visit
Colonial Williamsburg is an 18th century city complete with historic re-enactors and nearly 100 reconstructed buildings. Enter the homes (there's even a royal palace) of tradespeople, business owners and Nation Builders and immerse yourself in the culture of the dawn of America.
NTA's annual Travel Exchange—hosted this year in Milwaukee—was a successful industry event that...