Magazine Features
Planning Intelligence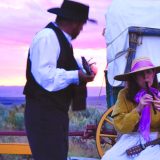 Today, groups can relive this epic journey on the Covered Wagons to Covered Bridges (CW2CB) tour route while enjoying modern accommodations, new attractions, unique restaurants and wineries.
Whether you hail from a blue state, red state or you're in a red-white-and-blue state of mind, one thing's apparent this election year – everyone's vote counts.
Industry News
World Travel Market London, the leading global event for the travel...
Rare items from the Abraham Lincoln Presidential Library and Museum in Springfield, Illinois are now on display in a special exhibit running through Jan. 29, 2017.