Engaging museums, cultural sites and plenty of regional food and drink can be found in the Eastern Shores region of Wisconsin
From the Gilded Age mansions of Lake Geneva to the enchanting coasts of Door County, the Eastern Shores region has group-friendly opportunities for every interest. Learn about manufacturing history, enjoy an authentic fish boil and sample Wisconsin's famous dairy products.
Duration: 4 days
Available: Year-round
Ideal for: Everyone
DAY 1: Regional wine tasting and traditional fish boil in Door County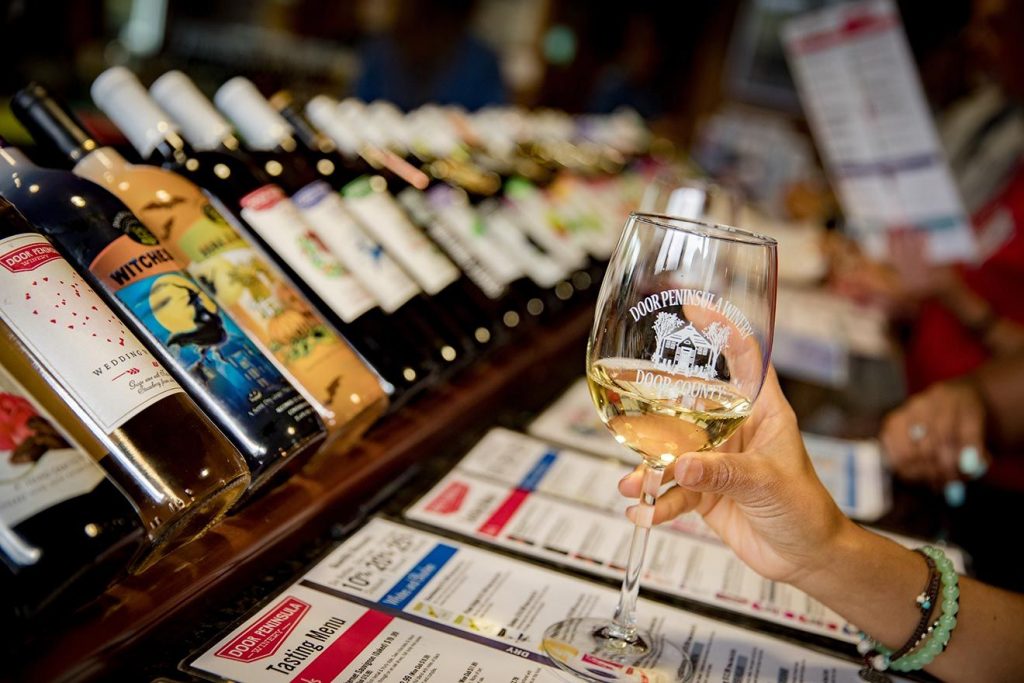 Begin your Eastern Shores journey in Door County, a scenic peninsula located between Green Bay and Lake Michigan that has beckoned vacationers for generations. Nicknamed "The Cape Cod of the Midwest," this region offers 300 miles of shoreline to explore, 11 historic lighthouses to admire, and seemingly endless orchards that provide the area with its signature cherries. Spend your afternoon at Door Peninsula Winery in Carlsville, where you can sample delicious creations like the Blackberry Merlot and Cherry Mimosa. Groups can register for tours that include stops in the 19th-century schoolhouse where the winery was established and the tasting room. Afterward, browse for locally made spreads, cheeses, and olive oil.
For a picturesque sunset dinner, savor a fish boil at Rowley's Bay Resort. This Door County tradition involves whitefish and red potatoes coming to a boil in an iron cauldron placed over an open fire. The flash of flames causes the fish oil to boil over, resulting in a tasty stew typically paired with potatoes as a side and cherry pie for dessert. Fish is only one element of Rowley's buffet menu, which includes prime rib and sumptuous treats from Grandma's Swedish Bakery.
DAY 2: Interactive farm exhibits, a fourth-generation cheese factory and more things to do in Wisconsin's Eastern Shores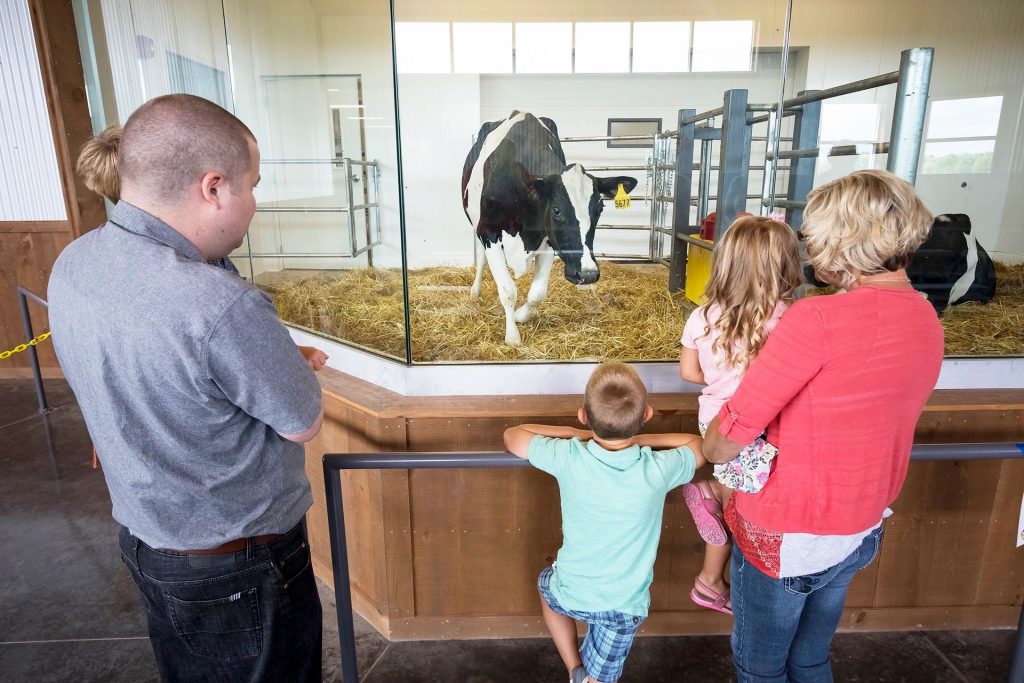 Start your day at AriensCo Museum in Brillion. Housed in the company's original factory building, this museum features equipment, artifacts, and memorabilia that date back to AriensCo's founding in 1933. Historic vignettes transport visitors to an 1890s factory, 1930s farm, and 1960s backyards, and interactive stations demonstrate how gears, belts, and pulleys power machines. Continue to Manitowoc and the state-of-the-art Farm Wisconsin Discovery Center, where you can explore interactive exhibits that demonstrate how scientific breakthroughs have reimagined food production in the 21st century. Guests have the opportunity to witness a live cow birth at the Land'O Lakes Birthing Barn. An on-site staff member will explain the care mother and calf receive before, during, and after the birth, and you can enjoy local dairy products at the Wisconsin Café. Groups can also register for a local farm tour to learn how new technology assists family-owned farms throughout the Midwest.
Afterward, stop by Henning's Wisconsin Cheese, a fourth-generation cheese factory, store, and museum near Kiel that's been in business since 1914. Visit on a weekday morning to taste cheese curds at their freshest and squeakiest. The popular snack is mild in flavor and sold by the bag, but Henning's also makes many cheddars and specialty cheeses.
DAY 3: Horse-drawn carriages, restored historic buildings and more activities in Eastern Shores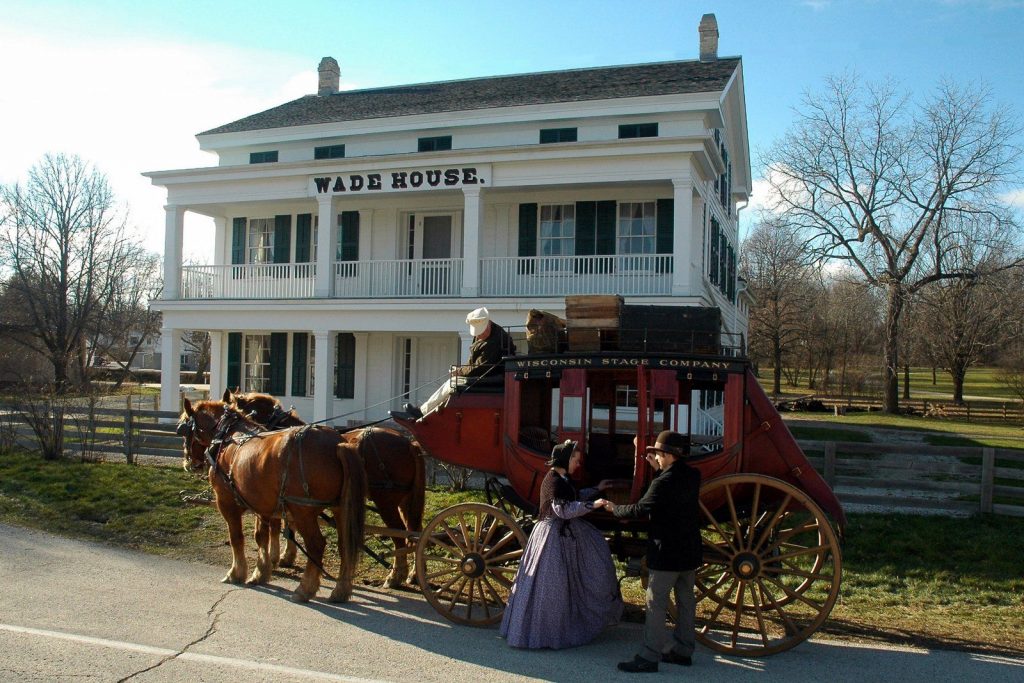 Spend your morning at the Wade House Historical Site. This preserved 1849 Greek Revival building served as a stagecoach inn for those traveling between Fond du Lac and Sheboygan, and you can see over 70 horse-drawn and hand-drawn vehicles in the property's Wesley W. Jung Carriage Museum. Groups can register for a tour to learn about 19th-century hotels, watch a blacksmith and ride a horse-drawn buggy.
If you are visiting Sheboygan for the holiday season, spend your evening at Making Spirits Bright. This festival, which runs from Thanksgiving to Christmas, takes visitors through the winding trails of Evergreen Park to admire thousands of lights festooning trees, with shapes from gingerbread houses to the Eiffel Tower. Additional activities include a visit from Santa Claus, Christmas carols sung by local choirs, and hot cocoa.
Tonight, enjoy dinner on the shores of Lake Michigan and one of the many restaurants found in the historic town of Port Washington in Ozaukee County. Other attractions in the county include Cedar Creek Settlement and Harrington Beach State Park. Take a step back in time at Pioneer Village in Saukville, which is operated by the Ozaukee County Historical Society. A collection of over 24 restored buildings dating back to the 1840s to early 1900s are in a natural village setting. You can also tour the Port Washington Light, which was a Coast Guard Station and now houses a collection of preserved Great Lakes maritime artifacts.
DAY 4: Travel back in time at these history-focused places in Wisconsin's Eastern Shores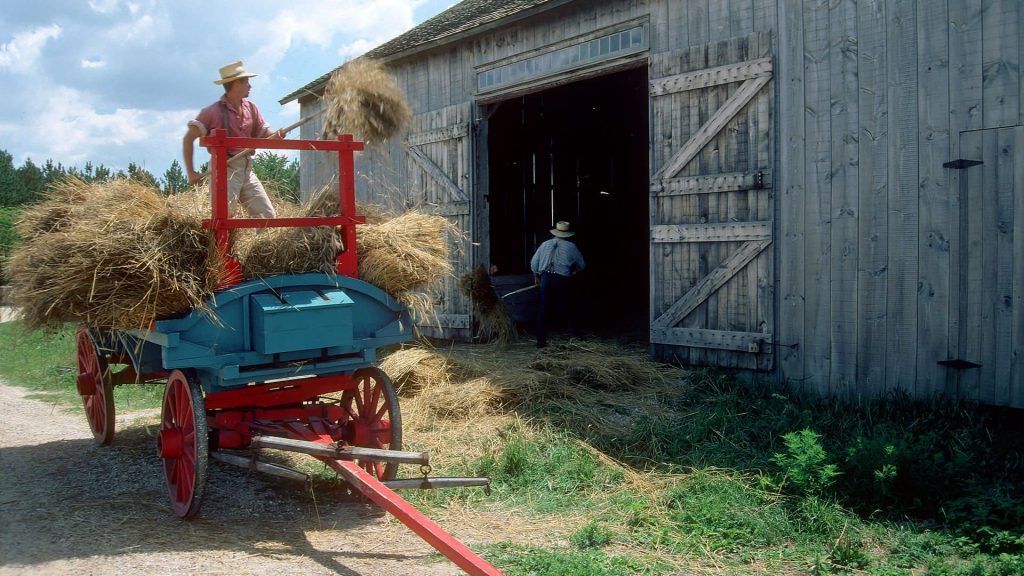 Spend your morning exploring the charming town of Cedarburg, located 20 miles north of Milwaukee. Artists, antique collectors and more do business in 70-plus shops on and near Washington Avenue in downtown Cedarburg, and the city's two business districts contain over 200 structures deemed historically significant. Located in the historic Hilgen & Schroeder Mill Store, the Cedarburg History Museum recreates a general store with authentic foodstuffs, kitchen utensils, and cash registers.
Head west out of Milwaukee to Eagle for a step back in time at Old World Wisconsin. Your group will be immersed in historical environments including eight ethnic working farms featuring German, Scandinavian, Swedish immigrants, and more, village shops, and heirloom gardens. Get hands-on with history by doing farm chores, attending a one-room school, or riding a replica 1890s bicycle. Enjoy snacks, lunch, ice cream, and shopping at a general store.
Embark on a cruise or hike to admire the ornate mansions that dot the Lake Geneva shoreline. Black Point Estate, built by a Chicago beer baron, is one of the finest examples of Queen Anne architecture and Victorian furnishings. Outside, wander the massive lawn and take a group photo on the bluff that overlooks Lake Geneva.
For activity ideas on your next trip Subscribe for FREE to our newsletter.
Discover what else the Badger State has to offer with the Circle Wisconsin 2022 Group Tour Planner!