Known for having the highest concentration of waterparks in the world, Wisconsin Dells also offers groups a variety of adventure, entertainment and scenic beauty.
Splash into Wisconsin Dells Waterparks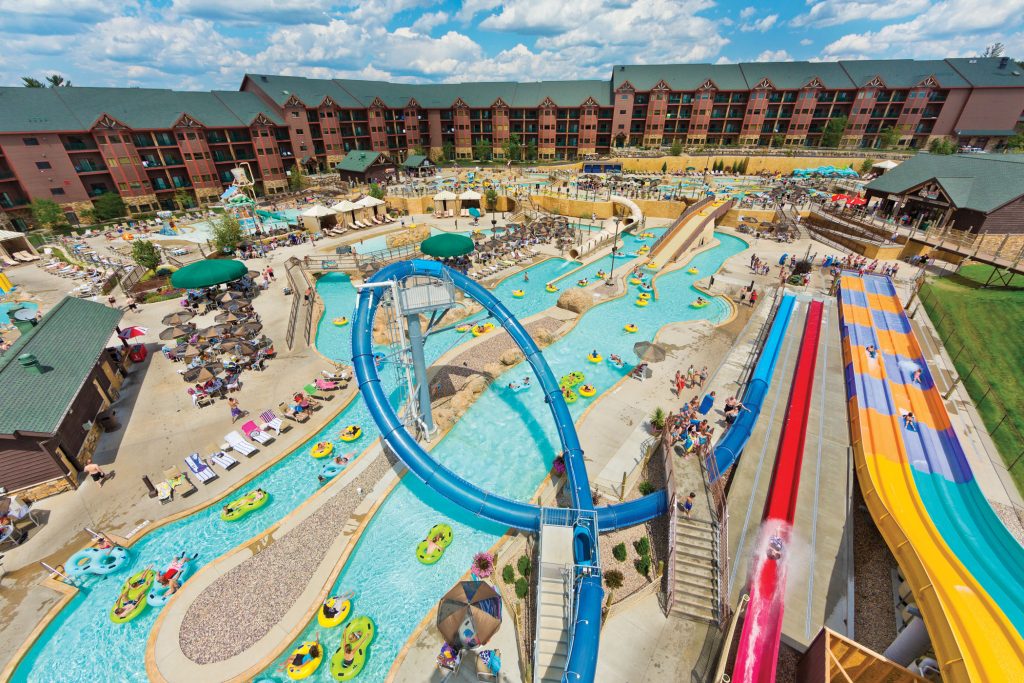 Deemed "The Waterpark Capital of the World!®", Wisconsin Dells' indoor and outdoor waterparks attract tourists year-round. In fact, these splash kingdoms are a fundamental reason many visitors venture to the Dells in the first place. The indoor waterparks are open 12 months a year, so even in winter groups can book a wet  ̓n' wild getaway. For new, multi-level indoor and outdoor waterparks, visit Chula Vista Resort Waterparks. With 200,000 square feet containing 26 waterslides, a wave pool and several lazy rivers, Chula Vista's parks provide endless excitement for all ages. Float along the Rio Rapids action river, race your friends on the Matador Mat Racers or get lost in Mount Montezuma's enormous rain forest at Lost Rios indoor waterpark. Other outstanding indoor and outdoor waterparks in the Wisconsin Dells include Mt. Olympus Water & Theme Park, Kalahari Resort Waterparks and Noah's Ark Waterpark.
Adrenaline Junkie Adventures
Wisconsin Dells, an ideal location for adrenaline junkies and thrill seekers, is packed with amusement parks and rides, such as Big Chief's Go Karts, Kalahari Indoor Theme Park, Timber Falls Adventure Park, Wild Fun Zone and Wilderness Canyon Zip Line Canopy Tour. Open from mid-May to late October, Big Chief's Go Karts provides excitement at affordable prices, making it possible to ride the go-karts over and over again. At Kalahari Indoor Theme Park, visitors can take a ride on the six-story Ferris wheel or the magnificent African-themed carousel, challenge their physical capabilities on the ropes course or climbing walls, blast through a game of laser tag or enjoy 24 lanes of bowling, a high-definition golf simulator and elevated go-karts. Soar through the treetops over Lost Canyon with Wilderness Canyon Zip Line Canopy Tour, which spans six towers and a length of over eight football fields. Whichever type of thrills your group members are seeking, Wisconsin Dells is sure to have what you're looking for.
Inimitable Outings for Animal Lovers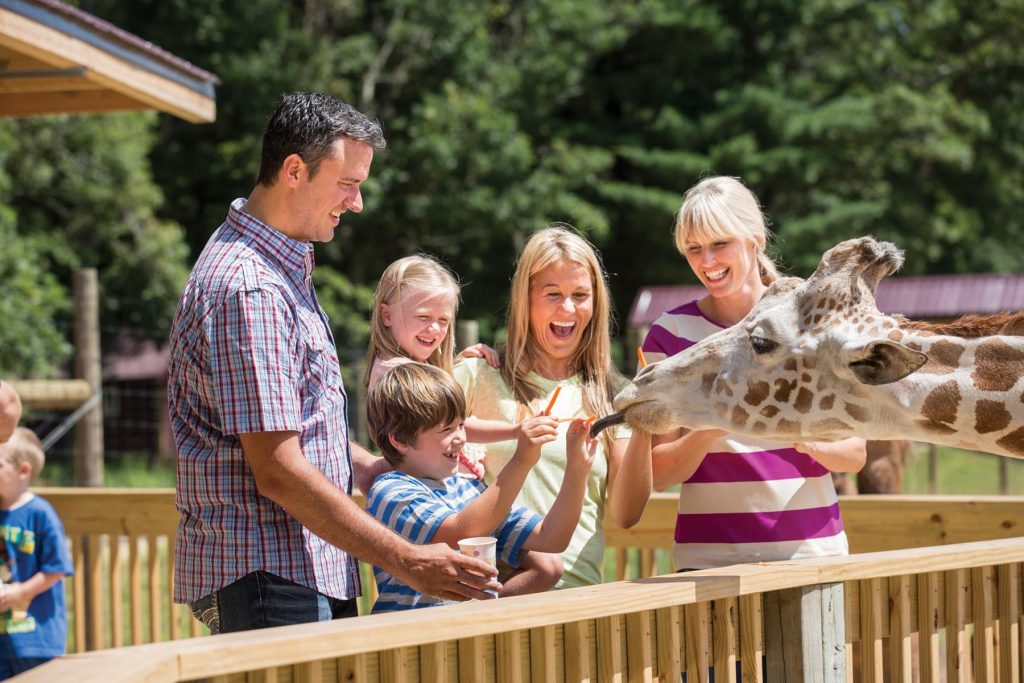 From petting zoos and horseback riding to circus acts and deer parks, there are plenty of activities for animal lovers in the group. At Woodside Ranch, Red Ridge Ranch Riding Stable and Canyon Creek Riding Stables, group members can ride through breathtaking scenery. Circus World features big-top circus performances, magic shows, concerts, acrobats and jugglers. There are elephant and camel rides, guided tours and hands-on programs for kids and adults. Timbavati Wildlife Park provides guided tours for groups, including supervised interaction with over 70 animal species; ride a camel, feed a giraffe or watch a pig race. For a unique experience, visit Wisconsin Deer Park. Established in 1952, the park allows visitors to stroll through 28 acres of lush forests to observe and have the chance to feed many species of deer and other wildlife.
---
---
You Can Always Go Downtown
For delicious food, fun shopping or lively entertainment, downtown Wisconsin Dells caters to your group's needs. For those with an irresistible sweet tooth, pop into Belgiis Waffle Bar, Candy Connection or Cheesecake Heaven Deli Restaurant for Wisconsin's only Liege waffles, homemade candies and chocolates made from natural ingredients, or cheesecake frozen on a stick. Entertainment options include Capone's Original Old Time Picture Studio and Chalet Lanes and Lounge bowling alley. Built in 1909 and located in a Wisconsin Dells historic home, A Homespun Heart is filled with one-of-a-kind items like curtains, bedding, placemats, hand-crafted signs and hand- made gifts. If looking for some original Wisconsin Dells souvenirs, head to 38 Broadway for a wide array of T-shirts, sweatshirts, casual jewelry, toys and a large selection of children's clothing.
Entertainment at Your Fingertips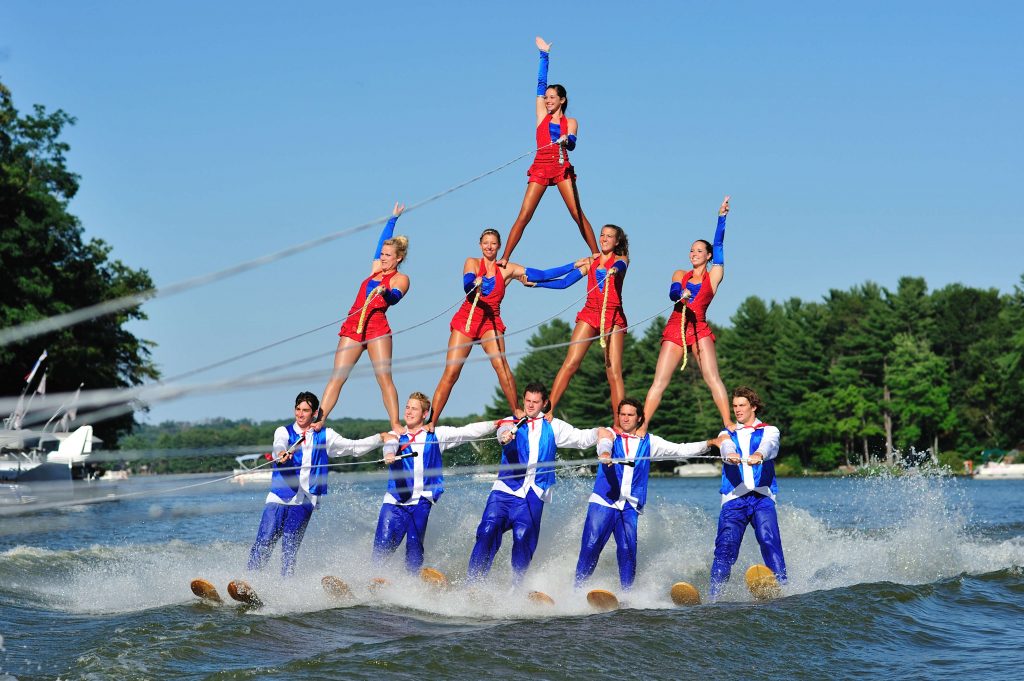 After long days at amusement and waterparks, groups can sit back, relax and enjoy live entertainment at many venues in Wisconsin Dells. During summer months, the Tommy Bartlett Show is a popular choice; its 90-minute, action-packed water ski show features some of the best water skiers performing fast-paced trick skiing, barefooting, jumps, flips and high-powered boat maneuvers. Dells Lumberjack Show presents a combination of age-old lumberjack competitions and extreme sports entertainment. Other live entertainment hot spots include Wisconsin Opry, Rick Wilcox Magic Theater, Big Sky Twin Drive-In Theater and Crystal Grand Music Theatre.
Magnificent Museums
Besides a wide array of live entertainment and water and amusement parks, Wisconsin Dells has a number of museums and interactive exhibits that are especially popular amongst younger group members. For the strange, unusual and bizarre, be sure to check out Mr. Marvel's Wondertorium. Gaze upon abnormal animals, come face-to-face with shrunken heads or watch contortionists bend in ways unimaginable. Tommy Bartlett Exploratory & Interactive Science Center offers hands-on fun for all ages. Visitors can ride the High Wire SkyCycle on the world's thinnest bike trail, a one-inch cable 12 feet in the air, or experience an authentic Russian Space Station MIR core module. Other museums and interactive activities include The Bowman House, Mid-Continent Railway Museum, H.H. Bennett Studio and Paint It! Pottery Shop.
Take a Walk with Mother Nature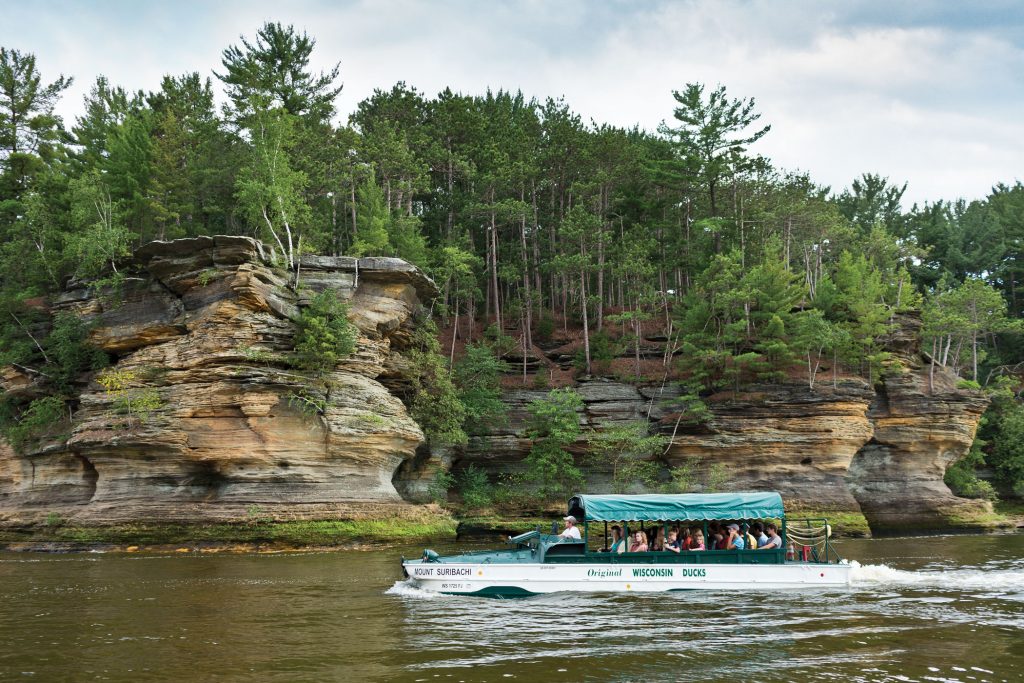 A trip to Wisconsin Dells wouldn't be complete without taking advantage of its many scenic tours. Take a boat tour with Original Wisconsin Ducks®, which has been in continuous operation since 1946. Chimney Rock Park Zip Line Tours – Vertical Illusions offers groups the chance to zip off cliffs, over canyons and through the canopy of Chimney Rock Park. For a mixture of beautiful scenery, live entertainment and fine dining, Dells Boat Tours takes visitors on a trip with stunning backdrops of sandstone cliffs and rock formations along the Upper Dells of the Wisconsin River. Passengers can also take a leisurely stroll through the torch-lit paths of Witches Gulch. Other scenic tours not to be missed are Dells Trolley Tours, Lost Canyon Tours and the Princess Key Paddlewheel Riverboat.
Fun for Adults
The Dells' championship golf courses wind through beautiful, natural landscapes and meet the needs of golfers at any level. Christmas Mountain Village Golf Course, Cold Water Canyon Golf Course at Chula Vista Resort and The Woods Executive Course at the Wilderness are just a few of the most popular courses. For a relaxing spa day, check out Elements Spa Salon at Great Wolf Lodge, La Petite Salon and Spa or Spa Serenity. To venture from the hustle and bustle of downtown Wisconsin Dells, take a 20-minute trip to Baraboo Bluff Winery for panoramic views and a lovely hillside picnic along Baraboo Bluff Range. For year-round entertainment, gaming, food and fun, check out Ho-Chunk Gaming, Wisconsin Dells for slots, poker, blackjack, roulette and craps. Whatever sort of fun adult group members are seeking, they're sure to find it in Wisconsin Dells.