His idea of a winter cruise was a tropical swing to Grand Cayman and Cozumel, not snowbound ports above the Arctic Circle, places with strange names like Tromsø and Honningsvag.
In the months before my departure on Hurtigruten's 822-passenger MS Trollfjord, I had my own doubts. Would my teeth be chattering every time I got off the ship? I knew about summer's glorious Midnight Sun in these northerly climes—and the opposite phenomenon in winter—so would short periods of daylight put a damper on things? Would it rain and snow on my parade?
Those of us on the seven-day/six-night voyage from Bergen did indeed endure our share of snow and ice—onshore and ondeck—not to mention brief encounters with choppy seas. Admittedly, an off-season cruise to the northern tip of Europe—venturing within miles of Russia—is not everyone's cup of (ice) tea. But for adventurous, well-traveled types willing to embrace winter, it's magical. For me, this cruise (my 34th) was one of the best ever. It obviously was no ordinary cruise, but Hurtigruten is no ordinary cruise line.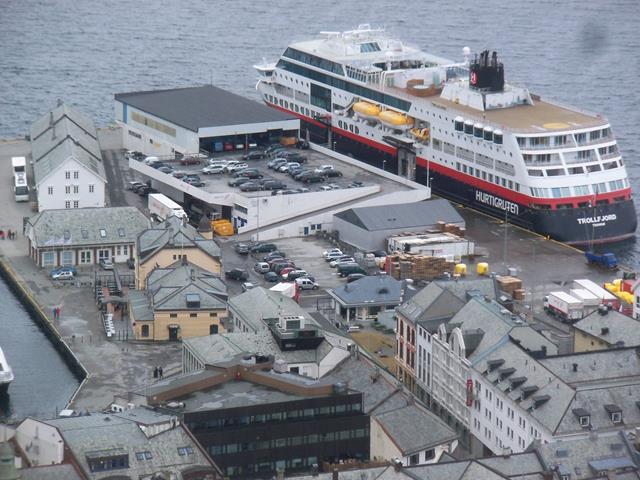 Since 1893, Hurtigruten coastal ferry company has served as a nautical lifeline linking towns along Norway's jagged, island-dotted coast, which stretches nearly 1,100 miles from the North and Norwegian seas in the Atlantic to the Barents Sea in the Arctic Ocean. Once known as "mail ships," Hurtigruten vessels no longer deliver letters but they still carry cargo, cars and Norwegians hopping from town to town. The fleet's bread and butter, though, is the tourist trade.
One of 11 Hurtigruten ships leaves Bergen every night of the year northbound for Kirkenes, a small port town at the very "top" of Norway, just four miles from the Russian border. And daily there's a ship from Kirkenes in reverse. The full itinerary touches 35 ports, but certain stops are only about 30 minutes, often in the wee hours. In cruising, there's nothing else quite like it.
Americans would be most comfortable on one of Hurtigruten's larger, more recently built ships. Besides the Trollfjord (launched in 2002), these would include the 1,000-passenger MS Finnmarken (2002) and MS Midnatsol (2003). Specially built to navigate the coastal fjords of Norway, the vessels offer amenities found on any first-rate cruise ship. Just don't expect rousing nightlife, multiple restaurants and a crowded list of activities. To Hurtigruten's destination-minded travelers, nature is the entertainment. The route is justifiably promoted as the "world's most beautiful voyage." The winter trips are marketed as "Hunting the Light" voyages because of the strong possibility of seeing the Northern Lights once you're above the Arctic Circle.
The focus on Norway is a strong selling point for Hurtigruten. Instead of flitting from one country to the next, you come away with a real feeling for a land and its people. Almost all Hurtigruten crew members are Norwegians, a hardy stock fabled for their seafaring heritage. They do this cruise day in and day out, so you know you're in good hands. With safety always an issue, I found their knowledge of the waters, weather and local conditions reassuring. Except for a few stretches of open ocean, most of the journey takes place in sheltered passages, so there's usually land in sight—a comforting thought.
Ålesund, the fishing capital of Norway, was our first sightseeing stop. We had three hours to explore the fairy-tale town, a photographer's dream with scenic canals and Art Nouveau buildings accented by turrets, cupolas and onion domes. Also worth a photo are cod fishermen who gladly pose with their catch.
With daytime highs around 30 degrees, it wasn't that chilly in Ålesund. The influence of the North Atlantic current warmed by the Gulf Stream tempers the climate along Norway's entire coast, making it milder than would be expected at these latitudes. The warming effect keeps coastal waters free of ice, allowing ship traffic year round. So don't let visions of icebergs or blizzards throw cold water on your vacation—just bundle up, boots and all.
Another misconception that might deter winter visitors: constant darkness. Because we took a March cruise, the days were becoming longer. In fact, we enjoyed daylight (usually gray) from breakfast time to late afternoon. In early winter, though, travelers can expect plenty of darkness north of the Arctic Circle, where, from late November to late January in some towns, the sun never peeks over the horizon.
Trondheim, Norway's third largest city (pop. 170,000) and site of its most important church, was our next day's stop. An excursion took us to Nidaros Cathedral, a massive Gothic structure where the kings of this Lutheran nation are crowned. Adjacent to Scandinavia's largest medieval structure is the fortress-like Archbishop's Palace, where one wing exhibits the Norwegian crown jewels.
Calm, glassy waters greeted us on our third full day, a leisurely day at sea. Some people were out taking pictures of the quaint farms backed by snow-dusted mountains that looked like mounds of powdered sugar. Others admired the winter wonderland through floor-to-ceiling windows in the lounges. Many passengers were older British couples, but I also met Germans, Japanese and Chinese, plus a few fellow Americans.
Crossing the Arctic Circle on our day at sea, we passed a tiny island with a metal globe at the imaginary line that circles the earth at 66° latitude north, a line that marks the southernmost point at which there's constant daylight on Midsummer Night's Eve, the longest day of the year. Soon after we crossed, the crew initiated willing passengers in a ceremony that called for a ladle full of ice cubes poured down our backs. Following the "baptism," I went to my room, changed into my swimming suit, bounded back to the top deck and slid into the outdoor hot tub.
On the first night above the Arctic Circle, our hopes of seeing the Northern Lights were realized. An announcement during late-sitting dinner practically emptied the restaurant as people dashed out to get their coats and cameras and headed to the icy top deck, intent on bringing home images of the cloud-like swaths arcing across the starry skies. Caused by streams of electrically charged solar particles entering the earth's atmosphere, the Aurora Borealis (the optical phenomenon's scientific name) is visible on clear nights from October to March in Arctic areas. While the lights normally appear white or a faint green to the naked eye, in rare cases they can be bright green or even reddish. The camera-savvy know to use time-lapse photography, boosting exposure time to 30 seconds to intensify the colors, turning murky white into a vivid green.
In the Arctic Ocean port of Tromsø I chose the dog sledding excursion. Before taking off for a ride across the tundra, we had time to visit with the Alaskan huskies in their kennel. With a musher in back and two passengers per sled, a 10-dog team took us over snowy fields and a frozen lake.
Continuing northward, the Trollfjord arrived at noon the next day in Honningsvag, the jumping-off point for North Cape, the continent's northernmost point. We were all ready for the 22-mile trip to the rocky plateau rising from the Arctic Ocean, but the tour was cancelled because of snow-covered roads. At least we had a few hours to poke around Honningsvag's harbor, watch school kids sledding at recess and browse in a souvenir store selling reindeer skins.
That evening, from the fishing village of Kjøllefjord, we embarked on a thrilling excursion entitled "Snowmobile Trip in Lapland." Outfitted with helmets and thermal suits, we manned our own vehicles, making four stops to hear our guide talk about the Northern Lights and Sami people (formerly called Laplanders and best known as reindeer herders). The light show on this outing was spectacular as the sky filled with billowing white forms.
In Kirkenes you're on the cusp of the frontier. It's the end of the line for Hurtigruten, not far from the borders of Russia and Finland. In addition to dog sledding and snowmobiling, Kirkenes shore excursions include "The Russian Border," with a stop at the border station between Norway and Russia, and a tour of Kirkenes Snow Hotel. After the cruise, our group stayed a night in the seasonal hotel made of ice blocks and decorated with artistic carvings, braving 25-degree temperatures in polar-ready sleeping bags (and dreading that middle-of-the-night trip to the bathroom building).
While the "normal" traveler would not give much thought to winter in Norway, an off-season cruise above the Arctic Circle is just the ticket for those beckoned by the call of the wild. Bundle up and let the fun begin.
Per-person/double occupancy fares for a six-night Hurtigruten winter cruise start at $1,430. Summer cruises are much more expensive.
For information, contact Hurtigruten, 866-552-0371, hurtigruten.us; and Innovation Norway, 212-885-9700, visitnorway.us.