Discover some of Indiana's treasures with your group. From dunes to bridges to wineries, these are just a few of the things that make Indiana unique.
Indiana Dunes National Lakeshore
While many imagine open prairies and old-growth forests among Indiana's national wonders, there are also miles of pristine beaches in the Hoosier State's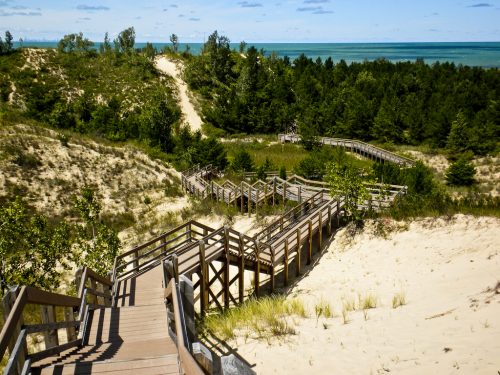 northwestern corner. Recently declared the state's first national park, Indiana Dunes National Lakeshore hugs Lake Michigan for 15 beautiful miles with its signature sand dunes. Formed over 10,000 years ago by receding glaciers, they are considered some of the best examples of moraine geography in the world and give the park a coastal landscape unique to the Midwest. The native Hopewell people enjoyed these dunes for thousands of years, and so can your group.
Sport and sunbathing opportunities await groups along the water at seven available beaches, while hiking and biking trails pass through Miller Woods and the Great Marsh. Interested in history? Your group can tour the Bailly Homestead, a popular rendezvous for Canadian fur traders, and Chellberg Farm, a historic farmstead that grants a peek into Swedish immigrant life in the 19th century. Of course, groups will want to spend time exploring the dunes themselves. The tallest, Mount Baldy, rises 140 feet above the beach and is now under restoration. An expansive system of boardwalks lets visitors traverse the mounds and see neighboring Illinois and Michigan on clear days.
Bridges to the Past 
With 31 rustic bridges spanning creeks in little communities throughout the pretty countryside, Parke County lays claim to being the Covered Bridge Capital of the World. Located in Western Indiana, 55 miles west of Indianapolis and 165 miles south of Chicago, the county offers five color-coded touring routes ranging from 24 to 33 miles. Each route has four to six covered bridges, some of them dating back to the mid-1800s.
The Parke County Covered Bridge Festival (October 13-22, 2017) is Indiana's largest festival and one of the Midwest's top fall events. The annual celebration is centered on the Rockville Courthouse Square, which turns into a marketplace for arts and crafts and food vendors. The brick-lined streets of downtown Rockville abound with specialty shops, including a new antique mall.
Throughout the festival, nearby towns like Bridgeton, Mansfield and Montezuma beckon travelers with vendors, community-wide yard sales and history tours. Noteworthy bridges across Big Raccoon Creek include the one in Bridgeton, a town famed for its waterfall and working 1823 gristmill that offers freshly made flour and cornmeal for sale. The majestic 1867 Mansfield Covered Bridge is the site of the historic Mansfield Roller Mill.
---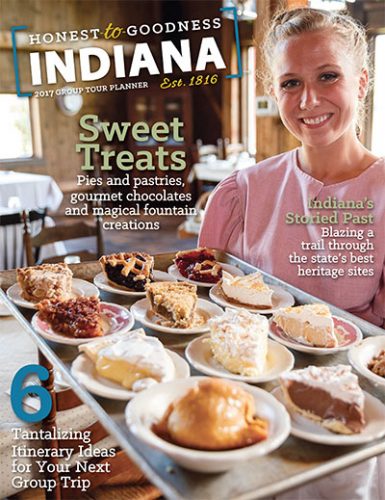 ---
Head to Carmel For Arts & Cuisine
Just 30 minutes north of downtown Indianapolis is Carmel, a growing city of 90,000 and an expanding center for arts and cuisine. Visitors will want to first experience the Carmel Arts & Design District, a portion of downtown dedicated to gallery space and studios for local artists. Your group can take a beginner pottery workshop, browse through priceless antiques and enjoy an artesian latte all within a few blocks and in a welcoming atmosphere. For true style mavens, the Clay Terrace Lifestyle offers dozens of designer clothing brands and home furnishings outlet stores.
Group members interested in music or theater can see a ballet or symphony at the Center for the Performing Arts, an immense campus with three separate stages. The Palladium is a 1,600-seat theater that has welcomed performers such as Dionne Warwick and Neil Sedaka, the Tarkington is a more intimate stage for drama productions and the Studio is a small black space to catch local artists.
Carmel is also quickly becoming a foodie destination. Sample everything from exceptional pub food at Dooley O'Tooles to Mediterranean specialties at Cooking Greek Deli. Groups looking for a communal dining experience can try the small plates at Divvy or the ice cream creations at Bub's Burgers and Ice Cream, featured on the Discovery Channel's Man v. Food.
National Model Aviation Museum
Muncie's best kept secret, the National Model Aviation Museum and library is dedicated to collecting and preserving significant pieces of aeromodeling history.
Built on the 1,100-acre campus of the Academy of Model Aeronautics, the worldwide association dedicated to the hobby of model aviation, the museum has been welcoming visitors since 1993. Among its collection of 11,000 objects are hundreds of unique model airplanes, vintage radio systems, engines and equipment, plus historical memorabilia such as patches, stickers and clothing.
The institution is going through a renaissance of sorts. A new exhibit about the Wright Brothers, including a reproduc-tion of the Wright Flyer 3, is opening in late 2016, and the recreated 1950s hobby shop is a walk down memory lane.From a layman's perspective, what's cool and interesting about the museum is that it articulates the science behind model aviation and applies it directly to full-scale aviation.
Groups can explore the main galleries at their own pace. Experience the hands-on gallery by trying model flight simulators, computer games and wind tunnels, and watch a 20-minute movie that introduces model aviation as a hobby. Private tours for groups are available before hours with amazing volunteer docents, including a personalized experience that includes building a balsa wood model airplane for everyone in your group.
Grape Getaways in Southern Indiana
One of the most pleasant ways of getting to know the river towns and rolling countryside of Southern Indiana is to travel the Indiana Wine Trail, making stops at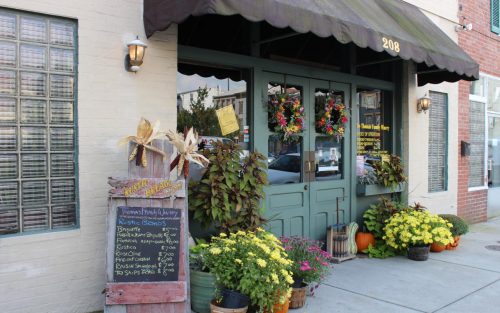 some or all of its six artisan wineries. Though a new attraction, the trail reflects a history of winemaking that goes back more than 200 years.
Actually, the southeastern part of Indiana is the birthplace of the American wine industry because it was in the town of Vevay that a Swiss immigrant founded the first successful winery in America. Jean Jacques Dufour harvested his first grapes sometime around 1806 or 1807, and in the early 19th century the Ohio River Valley was the largest wine-producing region in North America. The wine industry rebounded in the 1960s and today helps to fuel tourism in the region. Tastings, along with tours of the wineries and grounds, can be arranged for groups.
Three of the six wineries are in the history-drenched Ohio River town of Madison. Thomas Family Winery, housed in an 1850s stable and carriage house, serves its handcrafted wine, ciders and hearth-baked breads in a pub-style tasting room and outdoor patio. Attractions at Lanthier Winery include French country gardens and the Loft Art Gallery, while Madison Vineyards Estate Winery has a charming bed and breakfast. Also on the trail: Ertel Cellars Winery and Restaurant in Batesville, Stream Cliff Farm Winery in Commiskey and Vevay's Ridge Winery Tasting Room, whose open deck affords stunning views of the Ohio River.