From historical treasures to scenic pleasures, the Lewis and Clark pioneer trail offers endless discoveries to groups venturing to Montana.
The story of Montana is really the story of Lewis and Clark and the American West. It's a tale told through the state's great historical attractions and wide-open spaces. A tale that will regale your tour members as they visit sites that reveal glimpses into Native American culture. Explore the colorful chapters in the saga of intrepid explorers and settlers along historic pioneer trails. Sprinkle your Montana group itinerary with museums, forts, battlefields and ghost towns, along with recreational activities and places of unsurpassed natural splendor.
In the Footsteps of Lewis and Clark
Under President Thomas Jefferson, the United States in 1803 purchased the vast Louisiana Territory from France, adding a huge chunk of land to the country's western flank. Setting out from St. Louis in May of 1804, Meriwether Lewis (Jefferson's personal secretary) and Captain William Clark were tasked with leading a 45-man expedition through the uncharted new territory in search of a safe trade route from Missouri to the Pacific Ocean. The Lewis and Clark Expedition, also known as the Corps of Discovery, entered what would be the state of Montana in April of 1805. Lewis and Clark would follow the Missouri River to its headwaters near the present-day town of Three Forks. They continued down the Bitterroot Valley and over the mountains through Lolo Pass near the Montana-Idaho border. After reaching the Pacific, the Corps backtracked through Montana in June of 1806, splitting into two parties for a time.
Great Falls, Montana
Lewis and Clark National Historic Trail Interpretive Center in Great Falls provides a good introduction to the explorers' trailblazing journey through unbroken pioneer trails. Perched on a bluff overlooking the site of the Corps' portage of the five waterfalls of the Missouri River, the center is one of the state's best museums. It features a two-story diorama of the portage, exhibits on encounters with Plains Indians, impressive videos by Ken Burns and others. There are also ranger-led programs and a network of self-guided trails. One trail leads to Giant Springs State Park, where Lewis and Clark discovered one of the country's largest freshwater springs. The Corps spent one month portaging around the great falls, which Lewis called a "supremely grand spectacle," to reach navigable waters again. Views of the cascades can be enjoyed from scenic overlooks for vehicles.
Meet Sacagawea in Fort Benton
Northeast of Great Falls, the largest city in central Montana, stands the Lewis & Clark Memorial on the levee beside the Missouri River in Fort Benton. The heroic, larger-than-life-sized statue—a great photo op—depicts the explorers gazing out at the waterway with their young Shoshone Indian guide, Sacagawea, and her son. Visitors can tour the Old Fort, a past fur trading post. Peruse exhibits on natural and cultural history in the interpretive center of Upper Missouri River Breaks National Monument, famed for its breathtaking landscapes, geology and wildlife.
Explore Near Helena and Whitehall
Gates of the Mountains, a spectacular Missouri River canyon north of Helena, was named by Lewis for the steep limestone cliffs that create the illusion of a gate that seems to open as you approach them. Narrated two-hour boat tours showcase the splendor of these 1,200-foot-high stone walls, which are guarded by bighorn sheep and mountain goats. South of Helena, the quaint town of Whitehall is worth a stop for the variety of vibrant murals depicting Lewis and Clark in Montana.
Captain William Clark Left His Mark
Pompeys Pillar National Monument, 25 miles northeast of Billings, preserves the only remaining physical evidence of the momentous expedition along the entire Lewis and Clark National Historic Trail. On a prominent sandstone butte that towers over the prairie, Clark, on his return journey through the Yellowstone River Valley in July of 1806, carved his name on the face of the rock. His looping longhand signature is still clearly visible and can be viewed by those who negotiate a series of steep stairways. Travelers can also view the signature on video in the visitor center, which houses many interesting exhibits relating to the expedition. Numerous petroglyphs previously had been carved into the butte, a landmark for early trappers and explorers traveling the pioneer trail.
Montana Ghost Towns
Some 60 ghost towns throughout Montana offer another peak into the state's colorful past. Almost half of them are in southwest Montana, where miners caught gold fever and flocked in the 1800s with hopes of striking it rich. These settlements went from boom to bust in a short period, but some still have intact buildings and are maintained as open-air museums steeped in Old West lore.
Virginia City Montana Ghost Town
In Virginia City, the most "alive" Montana ghost town, more than 130 early buildings have been preserved, and others have been reconstructed. Some function as a hotel, restaurants, and shops. Walking the wood-plank sidewalks, you can visit the state's first newspaper office, a period-accurate pharmacy, Wells Fargo office, and general stores carrying 1860-1880 merchandise. In summer, there are bawdy cabaret shows at Gilbert Brewery, and the Virginia City Players stage melodramas and variety show at the Opera House. Visitors can pan for gold, see the gold mining museum, and experience living history exhibits scattered around the sites. The narrow-gauge Alder Gulch Short Line Railroad, featuring a 1910 locomotive, offers a scenic train ride to nearby Nevada City. This Montana ghost town contains buildings that remain virtually unchanged from the glory days of the 1860s gold rush along Alder Creek.
A National Historic Landmark, Virginia City (population 200) boasts the finest collection of boomtown buildings on their original sites. Paired with Nevada City, it's the largest collection of Western memorabilia outside the Smithsonian. Soon after gold was discovered there in 1863, thousands flooded in, and the prosperous settlement served as the territorial capital for 10 years. By 1875, however, mining activity in the region had abated and the population had dwindled to less than 800.
First Gold Discovered in Bannack Ghost Town
Bannack State Park, 70 miles from Virginia City, comprises what many consider to be the best of all Montana ghost towns. Bannack was the site of Montana's first major gold discovery (July 28, 1862, at Grasshopper Creek) and first territorial capital. More than 50 log and frame buildings, many in excellent condition, still stand along Main Street in a town that is well preserved but not commercialized. Nearly all the weathered buildings can be explored by visitors on their own through self-guided tours. Highlights include the mid-1860s Graves House, the first frame house in the Montana Territory; Masonic Temple, whose first floor served as a school; a saloon; a jail; and the Meade Hotel, originally the Beaverhead County Courthouse. Free walking tours of the National Historic Landmark are conducted from the visitor center.
Montana's Hidden Gem at Garnet Ghost Town
Garnet Ghost Town, tucked away down a gravel road 56 miles east of Missoula, is an unspoiled, well-restored 1890s gold camp named for the semiprecious ruby-colored stones found in Montana's Garnet Mountain Range. Though most of the original buildings have collapsed, some 30 structures, including cabins, stores, a saloon and hotel, have remained intact and are open to visit on guided and self-guided tours. Social life was more civilized here than in other mining towns, as men were encouraged to bring their families, and schools were in place for children. After the 1930s, the town fell into disrepair and by 1950 it was deserted.
State Parks in Montana
While Montana may lay claim to two of America's most famous national parks—Glacier and Yellowstone—its cornucopia of outstanding state parks should not be overlooked. These protected enclaves, 55 in all, offer the same kind of scenery and activities as their federally funded counterparts, happily without the crowds. Consider them for nature-based experiences like wildlife watching or active pursuits such as hiking, fishing and boating. Some state parks showcase cultural treasures along with spectacular scenery.
Montana State Parks in the Southwest
Lewis and Clark Caverns State Park, near Whitehall, is Montana's first state park. Easily accessible off I-90, it is one of the largest limestone caverns in the Northwest. Guided tours reveal a wonderland of stalactites, stalagmites, columns and other dazzling formations decorating the vaulted chambers.
North of Dillon, two parks have Lewis and Clark connections. Beaverhead Rock State Park is named for a rock resembling the head of a swimming beaver. When Sacagawea recognized the natural landmark, it gave the expedition hope that they were in the vicinity of her relatives, from whom they would acquire horses. Clark's Lookout State Park, located above the Beaverhead River, is where Clark viewed the route ahead on August 13, 1805. Interpretive signs explain the expedition's navigational methods along the pioneer trail with a monument showing Clark's compass readings.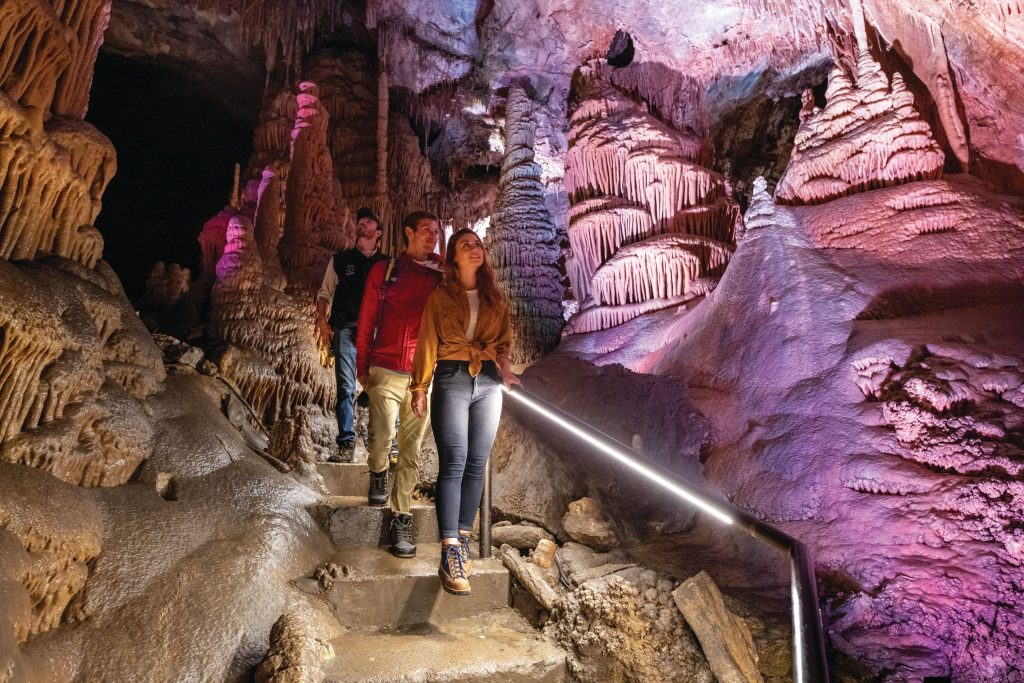 Lewis and Clark Caverns State Park is a spectacular natural wonder.
Southeast Montana State Parks
Pictograph Cave State Park features faded pictographs (rock paintings) of animals and humans made by peoples who inhabited area caves over 2,000 years ago. Pirogue Island State Park, a Yellowstone River island near Miles City, is a haven for waterfowl, bald eagles, and white-tailed and mule deer. The island can be reached by fording at times of low water.
Makoshika State Park is Montana's largest state park (11,538 acres). Located on the eastern edge of the state near Glendive, this land of eroded buttes has yielded fossils of the Tyrannosaurus Rex, Triceratops and other prehistoric life. Scenic drives and hiking trails lead to overlooks affording views of the pine- and juniper-studded badlands formations. The expanded visitor information center has excellent geology exhibits and fossils on display. Visitors to Makoshika also will find an outdoor amphitheater, a disc golf course and a group picnic area. No digging, collecting or removal of fossils and artifacts is allowed.
A State Park in Central Montana
At First Peoples Buffalo Jump State Park, an archaeological site near Ulm in central Montana, groups learn about the method Native Americans used to kill herds of buffalo. They will spot bone fragments at the foot of the mile-long sandstone cliff from which the bison were stampeded to their deaths for more than 2,000 years. The education center explores buffalo culture in depth, and there is also an interpretive trail to explore. In his journal, Meriwether Lewis described the buffalo kills in great detail. From the top of the cliff are panoramic views of the Rocky Mountain Front, Missouri River Valley, and distant buttes and grasslands characteristic of the Great Plains. 
Montana State Parks in Yellowstone Country
Madison Buffalo Jump State Park, northwest of Bozeman, also sheds light on the Indians' ingenious technique of killing the beast for its meat and hides.
In Yellowstone Country, Greycliff Prairie Dog Town State Park protects another black-tailed prairie dog community that Lewis and Clark referred to as "barking squirrels." Interpretive displays tell the story of the comical critters that entertain onlookers as they dash from hole to hole and sound their chirpy alarms.
Missouri Headwaters State Park, the site of the explorers' encampment in 1805, is where the Madison, Jefferson, and Gallatin rivers join to become the mighty Missouri. Fishing, hiking, and biking are among the outdoor activities available.
Glacier Country Montana State Parks
In the Bitterroot Valley town of Stevensville, Fort Owen State Park (only 1.9 acres) commemorates the spot of some Montana firsts. Stevensville, founded in 1841 by Jesuit missionaries, was the state's first permanent white settlement. It claims Montana's first Catholic church, first sawmill, first grist mill, first school, and first agricultural development. Period furnishings and artifacts are displayed in the restored rooms of the east barracks. 
Several state parks occupy land where Lewis and Clark camped. Travelers' Rest State Park in Lolo preserves a large grassy area with a tree-lined creek where the explorers stayed in 1805. They camped here before setting out on the grueling pioneer trail through the Bitterroot Range and stayed there again in 1806.
Also in Glacier Country in northwestern Montana, six state parks offer water fun on sparkling Flathead Lake. Measuring 28 miles long and nearly 15 miles wide, the sprawling body of water is the largest natural freshwater lake (by surface area) west of the Mississippi. Breathtaking views of the snow-capped peaks of the Swan and Mission mountains add to the allure of one of the West's favorite playgrounds. Wayfarers, West Shore, Big Arm, Finley Point, Yellow Bay and Wildhorse Island state parks provide a variety of options, from fishing, swimming, hiking and camping to kayaking, sailing and stand-up paddle boarding.
By Randy Mink
Main Photo: Methodist Church in the ghost town at Bannack State Park