Five Midwestern winegrowing regions cater to newcomers and connoisseurs alike
American wine drinkers typically imagine the West Coast as the premier location for tastings and tours, from the Chardonnays of the Pacific Northwest to the Zinfandels of Napa Valley. While the Golden State may lure the most visitors, savvy travelers are quickly realizing the bounty of vineyards in America's heart-land. The Midwest boasts winery tours that rival the great winegrowing regions of Europe for quality, and often at significantly lower prices. Friendly growers and winemakers are on hand to demystify the process for those new to wine, and the exceptional offerings from these local outfits will impress even the snobbiest aspiring sommelier in your party.
Shawnee Hills Wine Trail, Illinois
These 12 wineries, based in and around the Shawnee National Forest of southern Illinois, evoke everything from the Tuscan countryside to Scandinavian spa country. The only certified American Viticultural Area (AVA) entirely in Illinois, this winemaking territory takes advantage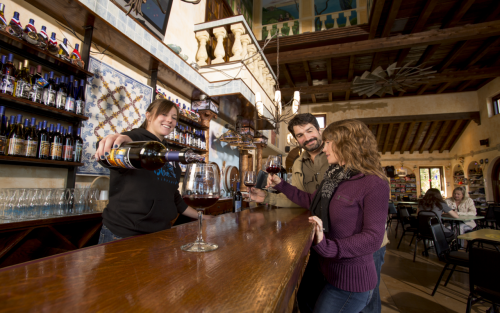 of its environmental features. The rich soil formed from the convergence of the Mississippi and Ohio rivers mixes with a milder climate to provide the perfect conditions for an abundance of grape varieties. Drinkers who prefer their vino more robust and peppery can enjoy a hearty Cabernet Franc, while those who prefer more subtlety and citrus notes will want to try the area's acclaimed Riesling harvest.
Throughout the year, the trail's members open their doors to groups for weekend wine and food pairings, offering fixed-price progressive tastings. Local cheeses and fruits are paired with the wineries' specialties, and the event gives each participant a souvenir glass and tasting cards to write personal reviews throughout the weekend. Especially popular in the winter is the area's Passport program, where groups receive discounts at every member winery and have the pleasure of touring during the off-season. The longer winter nights are a perfect time to the sample the region's apricot brie or a bottle of Chardonel, a late-ripening hybrid grape uniquely suited for the Midwestern climate.
---
---
Lake Erie AVA, Ohio
Less than an hour east of Cleveland lies the Lake Erie AVA, a long-established resort destination and a rapidly emerging market for Midwestern wine connoisseurs. The primary grape in the region is the Concord, often associated with jelly or juice, and many wineries in the area survived Prohibition by selling their crop to companies like Welch's. With the 18th Amendment far behind them, many growers are taking advantage of the Concord's versatility and are attracting inter-national attention with the nearly two dozen other varieties grown here.
Large parties looking to sample a wide swath of Lake Erie's offerings can best explore the area with The Lodge at Geneva Wine Shuttle. With a sober driver and access to many nearby wineries, your group can sample the signature Pinot Noir of M Cellars or fruity Merlot of Ferrante Winery without worrying about the return trip. Of course, the local growers are welcoming no matter your mode of transport, and almost all work with the Ohio Wine Producers Association to coordinate tastings with local bed and breakfasts and resorts. Whether your group prefers antiquated Victorians or luxury resorts, the region is sure to provide the right accommodations (and tastes).
Hermann, Missouri
German immigrants first planted grapes on the lush hills along the Missouri River in the 1830s, and with the innovations of early American wine developer George Husmann, Hermann became one of the largest wine-producing towns in the world. Husmann's move to the West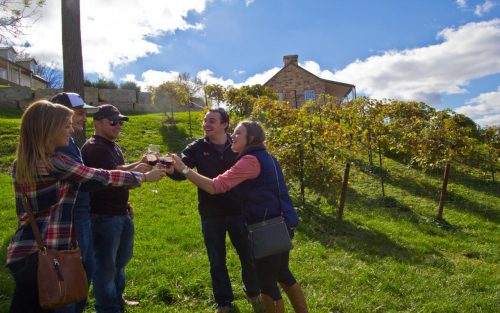 Coast and anti-German sentiment during World War I would eventually see most production shift to California, but what Hermann lacks in quantity and land, it more than makes up in charm. The region now produces 10 varieties, including the Norton, a full-bodied red hybrid unique to Missouri. The seven members of the Hermann Wine Trail often feature cozy patios or Alpine architectural features that perfectly capture a Missouri sunset, and many are happy to grant groups a walk through the fields for an in-depth look at the grape-growing process.
There are many notable stops along the trail, including the Adam Puchta Winery, now in its fifth generation of owners and crafter of the signature 1855 blend, a fortified after-dinner drink with caramel and nutty notes. Located in historic downtown, Hermannhof houses 10 cellars in one of the city's oldest buildings and ferments every-thing from Vidal Blanc to champagne created in the traditional "méthode champenoise." Throughout the year, the wineries offer food and wine pairings perfect for large groups, from the Chocolate Wine Trail on Valentine's Day weekend to bacon pairings in May, and special group tours can be arranged with many of the producers.
Indiana Wine Trail
The early settlers of Switzerland County were the first Americans to cultivate wine grapes, and the tradition still runs through the six established wineries along the Ohio River in southeastern Indiana. When nearby Cincinnati was the largest wine exporter in America, the region developed its soil for Cabernet Sauvignon and Chardonnay, and today groups can sample those varieties and many others at the trail locations. Highlights of the area include the Thomas Family Winery, housed in an 1850s stable and carriage house, and Lanthier Winery, modeled after French countryside estates and complete with gardens and an art gallery. Both spcialize in sweet wines, and you'll want to sample Thomas' Vidal Blanc, with its pineapple and honey notes, and Lanthier's Native American Blush, which features strawberry and watermelon flavors. Group members interested in local horticulture will want to stop at Stream Cliff Farm, which in addition to its 15 wine varieties also offers quilt-shaped flower gardens and three charming gardening shops on a Civil War-era farm owned for six generations.
Several area wineries offer packages with nearby bed and breakfasts, where groups receive weekend accommodations along with souvenir red or white bottles to bring to family back home. In addition to complimentary breakfast, you can sample the exceptional local cuisine at Ertel Cellars Winery Bistro, which integrates local cheeses and fruits with European-inspired entrees.
Lake Michigan Shore AVA, Michigan
Well known for its beautiful lake views, fine dining and casinos, southwestern Michigan is in the heart of the Lake Michigan Shore AVA, which produces more than half the state's wines. In addition to sampling an aromatic Gewürztraminer or a spicy Syrah, your group can spend time in the numerous antique stores and galleries in lakeshore towns like South Haven. Ideal for large groups is the Grape and Grains Tour, a private operator that picks up parties from New Haven or St. Joseph for a full-day, chartered bus tour of the region. Your group will sample the wines from four local producers and experience a gourmet lunch at the Round Barn Winery, a stunning post-and-beam Amish structure built in 1881. Other stops on your tour will include Domaine Berrien, which specializes in boutique reds such as Marsanne and Roussanne, and Lemon Creek, which offers sweet dessert wines with cherry and green apple flavors.
With 19 distinct winegrowing regions, the Midwest is a cornucopia of options for travelers looking to take the vino plunge. Whether you want an intimate experience in a family-owned cellar or an expansive bus tour through an entire area, there is certain to be a Midwestern wine itinerary perfect for your group.