Northern Indiana Amish County delivers all the expected pleasures plus a punch of colorful surprises, no matter the season.
Groups touring the towns of Northern Indiana Amish Country could easily spend all their time going from one shop or market to another, looking for special foods, art treasures and one-of-a-kind crafts. For a change of pace, however, a good itinerary will make some detours from the commercial corridors and focus on historical attractions.
Nappanee
Start your excursion in Nappanee.  "Embrace the Pace" is the motto of this little city with its cozy downtown of 19th century storefronts.  A stop at the Nappanee Center reveals the town's colorful past and profiles its native sons and daughters from celebrated cartoonists to generations of cabinet makers.
Nappanee's cabinet making story is told in nearby Coppes Commons.  The building once housed Coppes Cabinets, makers of the famous Napanee Dutch Kitchenette or "Hoosier" cabinet.  Today this renovated factory is now a marketplace for things hand-crafted and freshly made.  Take in the fascinating history of Coppes while sampling the wares of marketplace vendors such as creative ice-cream concoctions (flash frozen using liquid nitrogen) at Rocket Science Ice Cream or made-from-scratch whoopee pies from the Nappanee Bakery & Treat Shoppe.
Amish Acres
Probably the area's best-known tourist attraction in Indiana Amish Country, Amish Acres Historic Farm & Heritage Resort in Nappanee serves up a full plate of sightseeing, shopping and dining, with a nighttime theater performance to top it all off. The Inn at Amish Acres provides overnight accommodations, and a sister property, the Nappanee Inn, is a half mile away.
A well-preserved, 140-year-old farm started by the first Amish family to settle in Indiana is the centerpiece of Amish Acres. In addition to original buildings, 18 relocated and restored structures surround the farm's pond, such as a blacksmith shop, ice shop and mint mill (for pressing leaves into mint oil). Guided tours of the 80-acre working farm include walking across the oak floorboards of the main house. Buggy and wagon rides are available, too. Guests will see antique farm equipment, an apple orchard, horses in paddocks, barnyard chickens and geese, even a llama. Craft demonstrations include lye soap and broom making, rug weaving and quilting, plus seasonal activities like maple syrup, cider, apple butter and sorghum molasses making. Documentary films discuss Amish history and customs.
Plain and Fancy, the 1955 Broadway musical comedy about Amish life and love, is a permanent fixture in the 400-seat Round Barn Theatre. The resident repertory theater company this year will also produce Hello Dolly! and Ring of Fire (the songs of Johnny Cash), among other shows. The performance space is a 1911 barn that was moved from a nearby farm.
A highlight for many at Amish Acres is an all-you-can-eat meal under the hand-hewn timbers of a cavernous, century-old barn. The family-style Threshers Dinner features fried chicken, ham and roast beef, plus thick ham and bean soup, hearth-baked bread with apple butter, mashed potatoes, giblet gravy, sage dressing, beef and noodles, and sweet and sour cabbage salad. Save room for shoofly pie. Other tempting pie choices: chocolate, pecan, blueberry, peanut butter and coconut cream. And bring something home from the restaurant's bakery, like cinnamon rolls or whoopie pies.
The Wine Tasting Loft above the restaurant presents a great option for groups. Indiana and Michigan wines are featured. (800-800-4942, amishacres.com)
Shipshewana Flea Market
Bargain hungry shoppers head northeast of Nappanee to Shipshewana for the Shipshewana Flea Market. Tuesdays and Wednesdays, May through October, avid deal seekers cruise row after row of vendors offering a variety of goods ranging from purses and wallets to tools and housewares.  Fall is the perfect time to browse the Flea Market; the crowds have diminished and there are bargains aplenty.  An added bonus, motorcoach drop off is at the front gate and parking is ample.  For antique lovers or just the curious, the antique auction held each Wednesday on the Flea Market grounds offers plenty of action and lively bidding.
Das Dutchman Essenhaus in Middlebury
Just a few miles west of Shipshewana, Das Dutchman Essenhaus in Middlebury is the place to go in Indiana Amish Country when it's time to relax and chat over a good meal.  This friendly, family-owned restaurant is renowned for its family-style dining featuring platters piled high with chicken and roast beef, bowls of noodles, mashed potatoes and vegetables, fresh-from-the-oven rolls, and flaky-crusted pie in more than 30 varieties.  It's all welcome fare on a brisk fall day.
After dinner, the Essenhaus Village Shops invite browsing a gamut of goods from quilts to fashionable clothing and home décor. And each Thursday night, May through September, their Classic Car Cruise-In with live entertainment and door prizes, offers nostalgic fun.  Spend the night at the welcoming Essenhaus Inn & Conference Center with its tasteful country décor, generously sized rooms, indoor pool and lovely views.
Historic Downtown Goshen
Of course, any trip to Amish Country calls for a stroll down a city Main Street. Historic downtown Goshen, positioned at the center of Amish Country, is laced with eclectic shops, specialty boutiques, galleries and eateries.  Drop into the early 1900s era Olympia Candy Kitchen for hand-dipped chocolates.  Olympia's chocolates have been served at presidential inaugurals.  Or enjoy a perfect fall lunch — a mile-high sandwich on artisan bread accompanied by a steaming bowl of home-made soup — at family-run Mattern's Butcher Shop & Corner Deli.
Kercher's Sunrise Orchard
Get a true taste of fall at Kercher's Sunrise Orchard located a few miles south of downtown Goshen.  It's the largest apple orchard in the state of Indiana.  Board a haywagon and ride into the orchard with an expert guide who tells all about different types of apples and what it takes to plant and grow the trees.  Sunrise Orchard also produces some of Indiana's best apple cider, and it's interesting to watch the process.  Sampling is encouraged!
Menno-Hof
This barn-shaped museum in Shipshewana brings to life the story of the Amish and Mennonite people of Northern Indiana, starting with Anabaptist movements in 16th century Switzerland. The Anabaptists were persecuted by Catholic and Protestant authorities for their belief in voluntary adult baptisms at a time when the state allowed only infant baptism.
Exhibits on the guided tour include a dungeon where Anabaptists were tortured and a 17th century ship they took on their journey to America and freedom. Visitors learn the differences between Mennonites and Amish, and also about the Hutterites, a communal Anabaptist group that survives today in Canada, the United States and Japan. You learn that today's Mennonites drive cars and dress and live much like their neighbors. The Amish, meanwhile, have resisted most modern conveniences.
The Tornado Theater at Menno-Hof replicates the power of a tornado and explains how Amish and Mennonite crews respond to cleanup efforts following disasters. The Mennonite Church, with more than a million members in 66 countries, is known for its relief projects, commitment to world peace and the principle of nonresistance. More than half of its members are non-white. The name Mennonite comes from Menno Simons, a Dutch priest who joined the Anabaptist movement in 1536 and became its most influential leader. (260-768-4117, mennohof.org)
Shipshewana is best known for the Shipshewana Flea Market. Held every Tuesday and Wednesday from May through October, it is the Midwest's largest flea market.
Bonneyville Mill
Perhaps the most photographed building in Elkhart County, the red-painted Bonneyville Mill is Indiana's oldest continuously operating grist mill. Dating back to the 1830s, it still grinds flour the old-fashioned way by harnessing the power of water.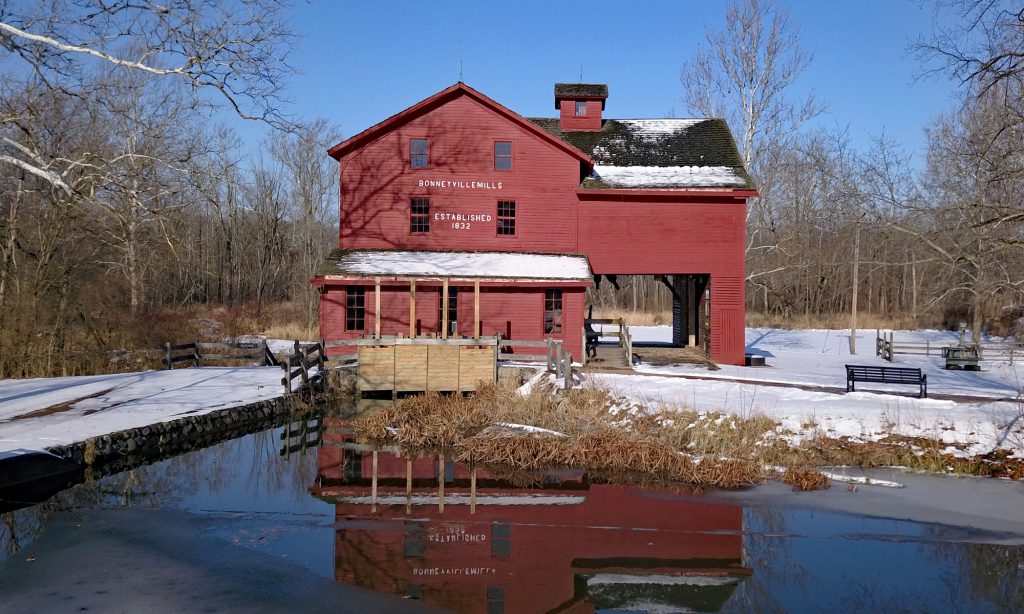 Located on the Little Elkhart River in Bonneyville Mill County Park in Bristol, the mill sells bags of stone-ground corn, wheat, rye and buckwheat flour. Tours explain the milling process. The mill is open from May through October. Nearby is the Bonneyville Mill Dahlia Garden, another photo-worthy subject. The best viewing time is mid-August to mid-September.
The county park has miles of woodland trails and picnic areas, including five reservable shelters. (574-535-6458, elkhartcountyparks.org)
Ruthmere
Overlooking the St.Joseph River in Elkhart, this 1908 Beaux-Arts-style mansion provides a peek into the Gilded Age. The elegant home of Albert and Elizabeth Beardsley, once the centerpiece of Elkhart society, was named after their only child, who died in infancy. (He made his fortune as general manager of the company that became Miles Laboratories, known for over-the-counter products like Alka-Seltzer, One-A-Day Vitamins and Bactine.)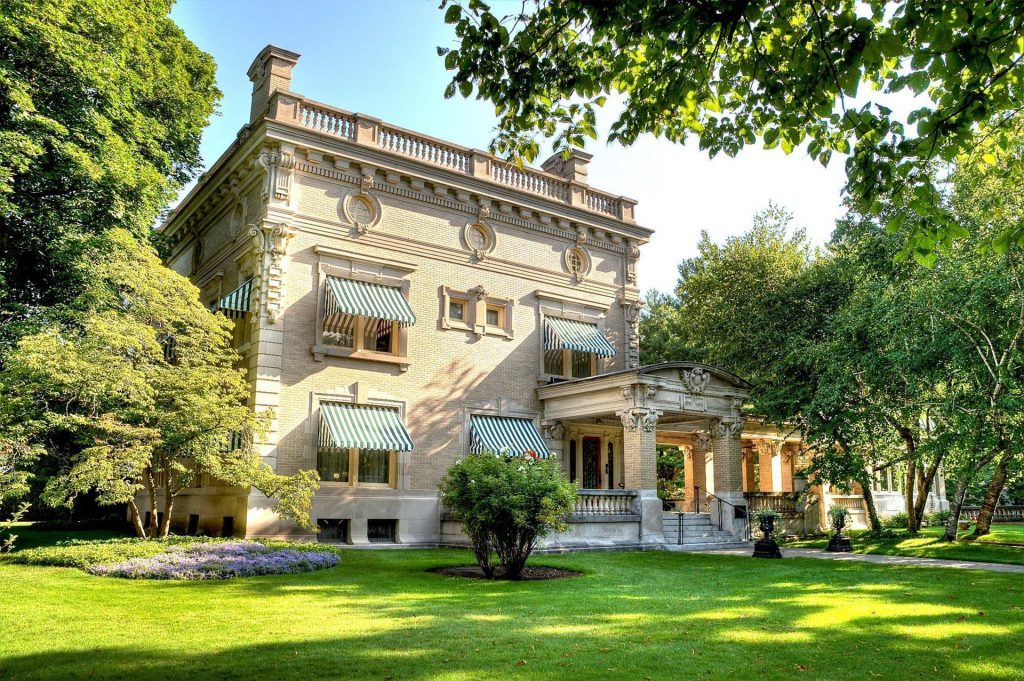 Cuban mahogany paneling, Italian marble fireplaces, wall and ceiling murals, gilded woodwork and exquisite plasterwork reflect the home's sumptuousness. Music from the Choralcelo, a combination player piano/organ in the front parlor, is piped into library. Also a museum of antiques, decorative art and fine art, Ruthmere counts Rodin sculpture and Tiffany lamps among its prized possessions. The grand piano in the game room is a 1951 Steinway that was a practice piano for Arthur Rubenstein (not owned by the Beardsley family).
The garage in back, built with a turntable, houses vintage automobiles—a 1912 Pratt, 1917 Cadillac and 1916 Millburn Electric Car. On the grounds is one of the 18 gardens featured on the area's Quilt Garden Tour.
For groups, Ruthmere can arrange a lunch or coffee on the terrace, or piazza. The plush game room, decorated with leather and red velvet, also can accommodate group meals. (888-287-7696, ruthmere.org)
---
Check out these Northern Indiana Amish Country's annual events:
Quilt Gardens along the Heritage Trail – May 30 thru October 1

Elkhart, Bristol, Middlebury, Shipshewana, Goshen, Nappanee & Wakarusa, IN
Voted tops by ABA for a fifth consecutive year, this event delivers eye-popping views of 19 quilt patterned gardens loaded with nearly 1,000,000 blooms and 20 artist-painted outdoor quilt murals. Quilt gardens and murals blanket seven communities along Amish Country's Heritage Trail, and all are viewable free of charge.  There's nothing else like it.
Annual Elkhart Jazz Festival – June 20-23
Downtown Elkhart, IN
Jazz lovers converge in downtown Elkhart's A&E District to celebrate 26 years of musical entertainment and enjoy the sounds of top-name jazz artists. Concurrent performances take place in variety of downtown venues including the magnificently restored Lerner Theatre, and folks relax at fun indoor and outdoor dining spots.  Ticket prices vary.  Free outdoor Main Street stage.
Shipshewana Quilt Festival – June 26-29
Shipshewana, IN
200 juried quilts from around the nation are showcased along with vendor displays; workshops to learn the latest quilting techniques; a Shop Hop to the area's best quilt and fabric stores; and noted featured speaker Libby Lehman shares her quilting knowledge.
Annual Amish Acres Arts & Crafts Festival – August 1-4
Amish Acres, Nappanee, IN
300 juried artists and crafters from across the country display and sell their wares around the pond on Amish Acres' historic farmstead listed on the National Register.  Wagon and swan boat rides, 4 stages of continuous entertainment, and festival foods like the famous breaded Hoosier tenderloins round out the fun at this five time ABA Top 100 rated event.
Essenhaus Quilt and Fiber Show – August 23-24
Essenhaus Conference Center, Middlebury
Nearly 100 beautifully hand-crafted quilts and fiber art works are on display.  Free educational seminars, quilting demonstrations, plus vendors offering fabrics, notions, patterns, books and more make this a must for quilt loving groups.
For all the latest events, visit https://www.visitelkhartcounty.com/events/