Texas rolls out its legendary hospitality in big measure for groups who visit this historic small town in the center of the state.
Fredericksburg, a German enclave founded in 1846 by a group of 120 hardy settlers, has morphed over the years into a travel destination that has something for just about everyone. Originally the town was just an "improvised solution" for German settlers who were promised other Texas land that turned out to be located in the heart of Comanche territory. Now Fredericksburg has so much to offer that last year it attracted an estimated 200,000 visitors.
Situated 75 miles from Austin, and 70 miles from San Antonio, the town draws people to its 700 historic buildings, its eclectic downtown stores and its relaxed atmosphere. To top it all off, some 20 wineries on Texas Route 290, a fast-growing wine destination, attracts those who want to taste the fruit of the vine.
HISTORIC DISTRICT
Start your group's tour in the 10-block-long historic district. Here you'll find dozens of stores, including boutiques, craft brewers, candy and chocolate shops, home furnishing outlets, quilt stores, an old-fashioned general store, Texas leathers, an antique mall, art galleries and an Amish market. You'll also find plenty of restaurants and bars, including Der Lindenbaum ("The Linden Tree") where your group can have an authentic German meal or snack; on the menu are Rinderbraten, a variety of schnitzels and Black Forest cake.
Also in the district is the Vereins Kirche ("Society Church"), where German settlers came to worship on Sunday. It also served as the village hall, a schoolhouse and a fortress for protection against the Indians. The original 1847 church was replaced in 1935.
The Pioneer Museum is a gathering place for those who want to research history about the town and Gillespie County. On the site is the historic Kammlah house, store and property, which includes a smokehouse and a barn. The museum encompasses three acres and 11 buildings, and there are some 40,000 artifacts in its collection. It also features hands-on demonstrations and family and group activities. Special tours and rates are available for groups of 15 or more.
One unique structure at the museum is the Weber Sunday House, a small wooden structure used by the Weber family, who came to town on weekends from their farm to shop, go to church and attend funerals. Sunday houses are scattered throughout Fredericksburg, with one of the more famous ones the 1898 Metzger House, which has been in the same family for 100 years.
POPULAR ATTRACTIONS
One of the most popular attractions in town is the must-see National Museum of the Pacific War, built to honor Fredericksburg native Fleet Admiral Chester W. Nimitz. The 33,000-square-foot space, featuring 40 media presentations, 900 artifacts and hundreds of photographs, celebrates its 50th anniversary this year. The museum sits on a six-acre campus and includes three galleries, one of which is the beautiful Japanese Garden of Peace. Many events are scheduled at the museum throughout the year, and WWII veterans are admitted free. Special entrance fees are available for groups.
At the First Friday Art Walk each month, artists show their new works, special exhibits are available for viewing, and art demonstrations and artist receptions are held. During these times the town's art galleries have special hours, and many serve refreshments. Artisans, Cate Zane, Cowboy Bronze, Dan Pfeiffer Gallery and the Fredericksburg Art Gallery are among those that participate.
If your group is interested in wine, the Fredericksburg area is teeming with fashionable wineries, restaurants and tasting rooms. The first vineyards in the Texas Hill Country were established by Franciscan priests in the 1600s, but the region was hit hard by Prohibition and it took years to get back on its feet, says January Wiese, executive director of Texas Hill Country Wineries. "Compared to Napa and other well-known regions, we're relatively young," adds Wiese, noting that the area started to rebound in the 1970s and was named as one of the 10 Best Wine Travel Destinations by Wine Enthusiast in 2015; the second-fastest growing wine destination in the nation by Orbitz and one of the best places in the U.S. to visit in 2017 by Lonely Planet.
The region grows a variety of grapes including Cabernet Franc, Cabernet Sauvignon, Chardonnay, Merlot, Muscat, Petit Verdot, Pinot noir and others. Becker Vineyards on Becker Farms Road, the largest winery in the area, offers wine tastings, barrel tastings and cheese pairings.
To get around town and the area, groups of 20 or more can hire their own trolley from Fredericksburg Tours, LLC.
SEE WILDFLOWERS IN SEASON
A trip to scout out the Texas Hill Country wildflowers in season is also in order. Poppies, Texas bluebonnets, zinnias, sunflowers, Indian blankets, Indian paintbrush and Drummon phlox dot the area. Groups can visit the largest family-owned wildflower farm in the U.S. at nearby Wildseed Farms, run by John and Marilyn Thomas. More than 300,000 people stop by their 200-acre farm on U.S. 290 every year to enjoy the colorful, eye-popping fields and learn more about wildflower seeds and plants.
Groups also will enjoy a tour of the Lyndon B. Johnson State Park and Historic Site, where they can visit the rustic, turn-of-the-20th century Sauer-Beckmann Living History Farm, walk a nature trail or explore a visitor center with exhibits and a theater. Groups can also rent some of the park's facilities.
At Lyndon B. Johnson National Historical Park, groups can take a guided, ranger-led tour of LBJ's "Texas White House" ranch, where the 36th president entertained many foreign heads of state. Besides the ranch house tour, you can see President Johnson's one-room school he attended, the Johnson family cemetery, LBJ's grandfather's home and the ranch's Show Barn.
North of Fredericksburg on Route 965 is Enchanted Rock, a large pink granite dome that stretches 1,825 feet skyward and draws thousands of hikers and climbers yearly. It is the largest such pink granite monadnock in the United States.
Fredericksburg's list of festivals and special events is long. It ranges from a chuckwagon cook-off, antique machinery show, wildflower run and a county fair to Frontier Days, a film festival, twice-a-year Indian artifact show and the Crawfish Festival.
One place your group will enjoy is Luckenbach, "Where everybody's somebody." This tiny Hill Country hamlet—a general store, bar, post office and dance hall— was first established as a trading post in 1849, making it one of the oldest settlements in Gillespie County. Made "famous" in a song by Willie Nelson and Waylon Jennings, this laid-back wide spot in the road features live music daily. Everyone wants their picture taken on the steps of the old wooden post office.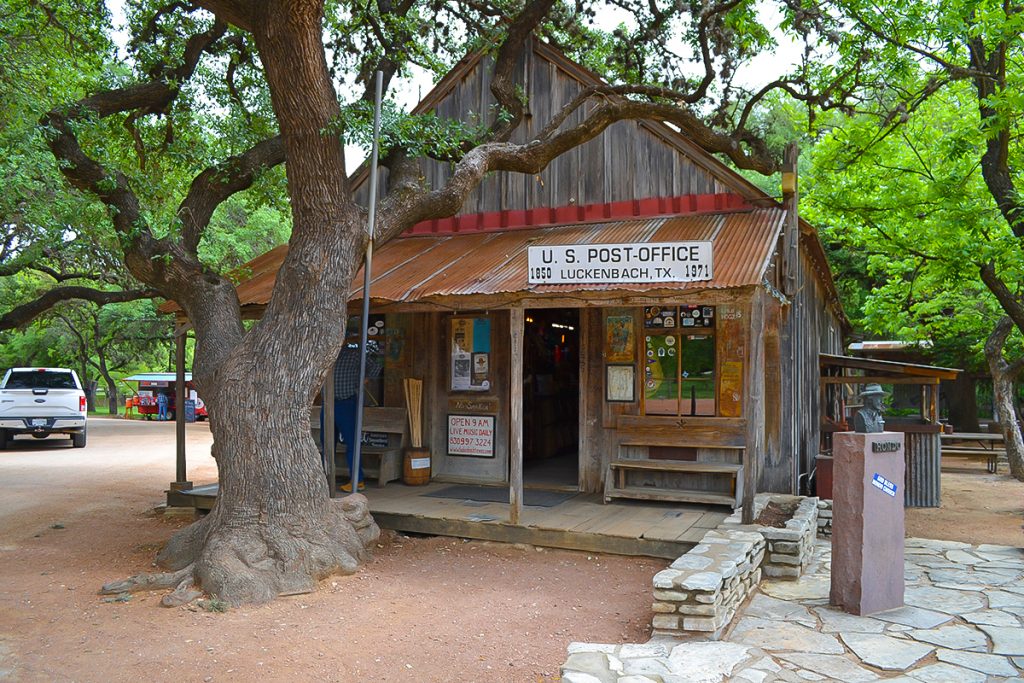 Lodging in Fredericksburg may be a bit different than other towns. There are more than 400 bed and breakfasts, guesthouses, inns and guest ranches in the area. Former German settlers' homes are available for rent from one of several B&B reservation services in town. There are also a number of hotels as well as nearby RV parks and campgrounds.
For more information, go to visitfredericksburgtx.com.
By Don Heimburger
Photos by the author