A retro vibe and old school trappings flavor these classic Midwestern eateries
For many people outside the Upper Midwest, the term "supper club" is an unfamiliar one. Though it may offer some low-key entertainment on weekends, a supper club is not a nightclub. It's not a country club either. Actually, it's not a club at all—you don't have to be a member, and there are no dues to pay.
A supper club is simply a homey, old-fashioned restaurant with rustic decor and a meat-and-potatoes American menu that has stood the test of time. It's a comfort zone where locals gather to socialize and have a night out or to celebrate a special occasion in relaxed surroundings.
Supper clubs thrived in the 1950s and '60s and often were located on the edge of town or out in the country, perhaps with views of woods, a lake or a river. ("Supper" is what many people in the country call dinner.) Some supper clubs are now in their third generation of family ownership, and you're likely to meet one of the owners or their children while you dine.
Back in the day, these eateries may have been a little dressier and were more likely to feature live music and dancing. They always had a bar, and many guests would start their evening at the cocktail hour. Soft lighting set the mood, as did design elements like wood paneling, stonework and fireplaces. Happily for groups seeking nostalgia, the Midwest's remaining supper clubs still deliver the old-time magic. And no two are alike.
The white cloth napkins and tablecloths may suggest a nod to the upscale, but the ambience is casual and down-to-earth. There's a feeling of warmth and coziness that's not unlike being in a friend's dining room. Families are welcome.
Food-wise, supper clubs emphasize home cooking. This is the place to get a good juicy steak with all the trimmings. The menu also will feature seafood and chicken, with walleye often a popular entree as well. The Friday night fish fry is a staple, and some clubs have prime rib Saturdays. Besides meat, the meal includes a soup or salad, a basket of bread or rolls, and choice of potato (baked, hash browns, au gratin, french fries). Many guests start with a classic relish tray of fresh veggies and dip.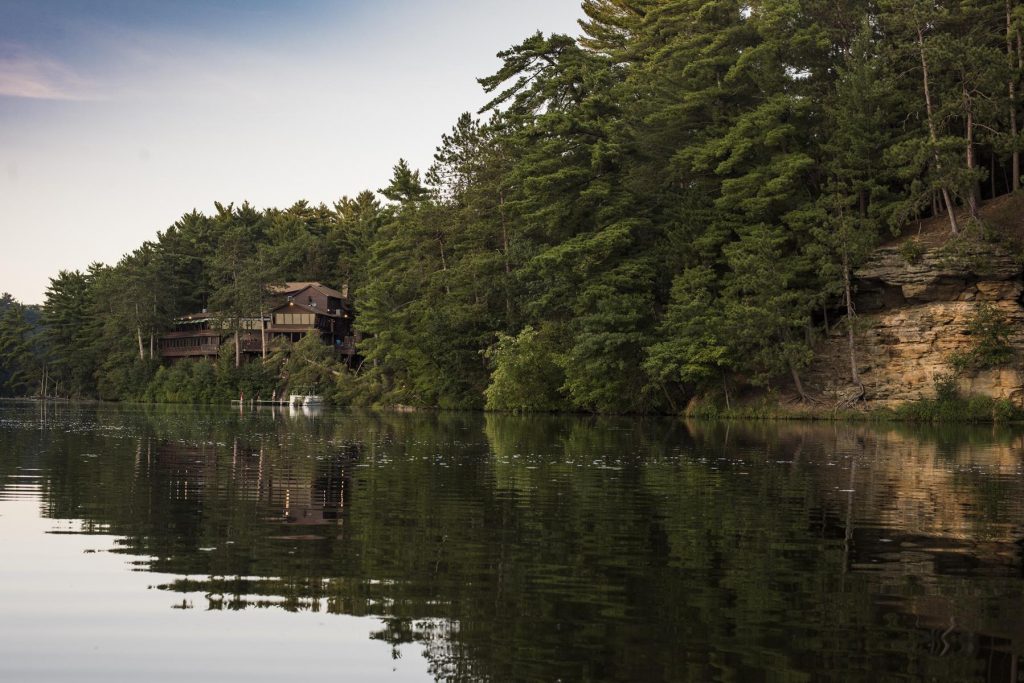 Wisconsin claims the most supper clubs, and the Wisconsin Dells vacation area is blessed with three great ones. A road through meadows and forests leads to Ishnala, an enchanted haven of fine dining in the middle of Mirror Lake State Park, just west of the Dells. A 1950s-era canopy sign spelling out "Ishnala" (a Winnebago Indian word meaning "by itself alone") and a tepee signal that you have arrived. Situated on former Winnebago ceremonial grounds, the building's core was once a log cabin that served as a Native American trading post and later became a private residence. The stone fireplace in the lounge area is part of the original 1909 cabin, as is the entrance staircase. Ishnala looks forward to its 68th season in 2021.
Ishnala's Arrowhead Bar, shaped like an arrowhead, is the perfect spot to relax over a brandy old-fashioned, the unofficial state cocktail. Made with brandy instead of whiskey, this Wisconsin supper club favorite derives its flavor from a bitters-soaked sugar cube that is muddled with orange slices and maraschino cherries, then topped with a splash of Sprite or 7-Up.
Every table at Ishnala has a view of placid Mirror Lake and surrounding bluffs. The dining room floor is covered with 76 tons of flagstone, and two giant Norway pines grow through the roof. Popular combo meals are steak or prime rib with lobster tails, butterfly prawns or fried shrimp. The oven-roasted duck is served with orange cognac sauce and brandy cherry sauce, along with sage dressing.
Tender, hickory-smoked baby back ribs bathed in a secret sauce is the signature item at House of Embers, a fixture on Wisconsin Dells Parkway since 1959, when Wally and Barbara Obois opened their doors. Today the late couple's son Mike Obois (a graduate of the Culinary Institute of America) and daughter Deb Christensen run the place with the same precision and gusto. In a specially designed smokehouse, the ribs are smoked over hickory logs for a half hour before being basted and slow cooked in an oven for three hours. The restaurant uses a dry spice blend and adds ingredients to that blend based on the meat being cooked. Barbara's cinnamon rolls, a scrumptious standby, are served before dinner.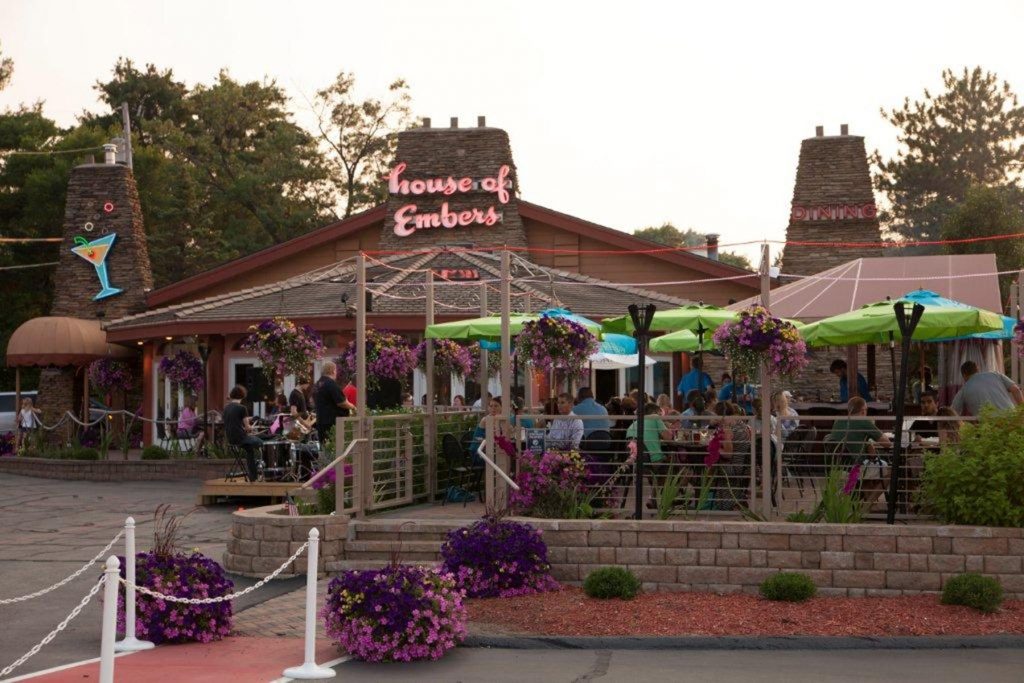 The House of Embers has multiple dining rooms, including the Tiffany Room with its dual-sided fireplace. Intimate themed rooms for two to eight people are named after movie stars of yesteryear—Humphrey Bogart, Rudolph Valentino and Omar Sharif. The latter, with a table for two, has witnessed some 500 wedding proposals.
Across the road from House of Embers, the Wimmer family has been feeding folks at The Del-Bar since 1943. Many of the employees have been there 20 or 30 years. The menu standout is the prime-aged steak, followed closely by the pan-fried walleye. A Friday fish fry features North Atlantic cod (batter-fried or panko-broiled).
The Del-Bar's Prairie-style architectural touches reflect the genius of Frank Lloyd Wright protégé James Dresser, who designed the wood-paneled rooms adorned with geometrical details. Accenting the stylish interior are vintage black-and-white photos of The Del-Bar and paintings by Mary Alice Wimmer, the aunt of current owner Amy Wimmer.
While supper clubs tend to be the treasures of small towns, some are in urban areas. Steak is the star at Smoky's Club in Madison, the capital of Wisconsin. Founded in 1953 by Leonard "Smoky" Schmock and his wife Janet, Smoky's is still going strong under the leadership of sons Larry and Tom, who grew up above the eatery and worked there as janitors, bookkeepers, dishwashers and cooks.
All steaks at Smoky's are seared on cast-iron grills and served on 500-degree sizzlers that lock in the flavor and juices. The filet mignon is so tender that you can cut it with a butter knife. Many guests start with the relish try, which consists of raw carrots, celery, radishes and green onions. Another prize appetizer: vodka-battered Wisconsin cheese curds with buttermilk ranch dip. The hash browns, a favorite side, are round patties with a crisp, golden top. Other time-honored sides are Janet's cottage cheese, Janet's pickled beets and hand-breaded onion rings.
Jax Cafe, a third-generation eatery in Minneapolis, takes pride in traditional ambience, not to mention its premium cuts of beef and seafood that's flown in fresh from around the world. From a little stream on the patio, you can catch your own rainbow trout and have it cooked for dinner. Another quirk: each guest receives a personalized matchbook cover embossed with a name or message.
A Twin Cities institution, Jax Cafe serves up a variety of entrees, including meatloaf and chicken pot pie. The sliced prime rib dinner sandwich is served on a pumpernickel bun and topped with mushrooms and onions, with horseradish aoli on the side.
In the northwest Minnesota town of Ottertail, folks find good eats at the Otter Supper Club & Lodge on Otter Tail Lake, one of the state's largest lakes. They flock there on Friday and Saturday nights for the prime rib. The Parmesan-crusted walleye is another favorite. Adjacent to the log restaurant is a 15-room lodge, and there's a liquor store on the premises.
Walleye also takes center stage within the knotty pine-covered walls of Fisher's Club in Avon, Minnesota. Overlooking Middle Spunk Lake, the restaurant is known for its breaded-walleye dinners and walleye sandwich. There's a walleye BLT, too. Start the meal with the hors d'oeuvres tray laden with homemade meatballs, liver pate, pickled herring, and assorted crackers and fresh vegetables.
In the Tri-State area where Illinois meets Wisconsin and Iowa, locals know a special dining experience awaits at Timmerman's Supper Club, a destination restaurant that opened in 1961. Sporting a huge sign atop a bluff in East Dubuque, Illinois, it offers dramatic views of the Mississippi River through a wall of picture windows. Timmerman's slogan: "Where food and beverages are as spectacular as the view."
The menu at Timmerman's runs the gamut, from steak and lobster to fried chicken, roast duck, pork chops, barbecue ribs, catfish and fettuccine Alfredo. All entrees are accompanied by rolls and a soup or salad (choose between fresh greens, fresh fruit with banana dressing, coleslaw or cottage cheese). Besides the main dining room, there are two private spaces. The Patio Room accommodates up to 30 and has an outdoor deck, while the Palisades Room (with private bar) holds up to 100.
Across the river in Dubuque, Iowa, the Moracco Supper Club has been family-owned and -operated for 55 years, with many recipes handed down from generation to generation. The location originally was occupied by the Moracco Truck Stop, but nobody knows where the name came from and why it's not spelled like the North African country of Morocco. Menu highlights include steaks, ribs, beef tips, pork tenderloin sandwiches and the World's Best Chicken Dinner.
---
by Randy Mink