It could be a peaceful day of canoeing on a lazy river, an exhilarating bike ride through pine forests or fishing for walleye in the secluded channel of a vast reservoir. Perhaps your idea of adventure in South Dakota's wide-open spaces is spotting birds you've never seen before or hiking to the highest point in the state. For a real adrenaline rush, try rock climbing.
While tour planners can create a South Dakota itinerary devoted exclusively to tourist magnets that bring to life the state's Wild West past, explore Native American culture and spotlight scenic beauty, there are alternatives to passive sightseeing. It's easy to add a dash of soft adventure to your program and still see Mount Rushmore. For young and physically active groups, the whole trip can revolve around outdoor recreation.
South Dakota abounds with state parks and recreation areas, national parks and wildlife refuges, dozens of lakes and rivers, and hundreds of miles of hiking and biking trails. Overnight options in the parks range from campgrounds and air-conditioned cabins to lodges with the comforts of home.
Custer State Park, one of the country's largest state parks, is a chief draw for outdoor enthusiasts in the Black Hills region of western South Dakota. A kingdom of towering pines and massive granite outcroppings, the park is best known for its herd of nearly 1,300 free-roaming bison and 18-mile-long Wildlife Loop Road, where motorists are rewarded with sightings not only of buffalo, but prairie dogs, mule deer, mountain goats and panhandling burros as well. Buffalo Safari Jeep Tours are a must for groups.
The park also can be explored on foot via one of 11 hiking trails, all of which allow mountain biking (rentals available at the park). One trail goes to the top of 7,242-foot Harney Peak, the highest point east of the Rocky Mountains as well as highest point in the state. Those who make the 6.6-mile trek, a four- to five-hour roundtrip, relish a four-state panoramic view from a stone lookout tower. The more daring can sign up with Sylvan Rock Climbing School & Guide Service for a rock climbing adventure that tackles a few of the granite spires in the park's Needles-Sylvan Lake district.
Custer State Park's four lakes are well-stocked with trout, crappie and perch, and all offer swimming beaches. Park accommodations include eight campgrounds, 50 camping cabins and four historic resort lodges. Ranger-guided nature walks and evening programs are available.
Traversing sections of the park is the 68-mile-long Peter Norbeck Scenic Byway, a narrow and winding route that can be driven in four hours. Be aware, however, that most motorcoaches cannot fit through the tunnels. Three trailheads in the park provide access to the Centennial Trail, popular with bicyclists.
The George S. Mickelson Trail, a rails-to-trails project that attracts hikers, mountain bikers and horseback riders, traces an abandoned Burlington Northern line through the Black Hills National Forest. The 109-mile trail from Deadwood to Edgemont offers a high-quality surface of gravel and crushed limestone, with mostly gentle grades, though a few portions are considered strenuous. There are 15 trailheads, so it's possible to do bite-size segments. The trail passes through prairie, meadows, and stands of pine and spruce. Many old railroad trestles are still in place, and there are four rock tunnels.
For those who like their fresh air on the fairways, the Black Hills has 19 golf courses. Prime among them is Southern Hills near Hot Springs, a course highly rated by Golfweek and Golf Digest. Set among creeks and ponderosa pines, it offers stunning views from every tee. In Rapid City, The Golf Club at Red Rock was rated by Golfweek as the No. 1 public course in South Dakota.
Badlands National Park, a stark, other-worldly realm of buttes, pinnacles and gorges just east of the Black Hills, lures hikers and backcountry explorers. All areas are open for hiking, but there are several marked trails. The shorter ones can be completed in 20-30 minutes, while the mostly level Castle Trail is a 10-mile roundtrip that takes about five hours.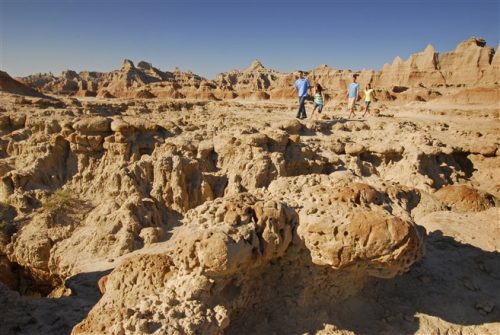 Central South Dakota, known as the Great Lakes region, is dominated by the Missouri River and its four dam-created reservoirs—Lake Oahe, Lake Sharpe, Lake Francis Case and Lewis & Clark Lake. Fishing, boating and birding options abound, and there are lodges, resorts and marinas all along the lakes.
Birders know the Missouri valley as the major North American migratory waterfowl flyway, a vast area where many of South Dakota's 400 bird species can be spotted. The Great Lakes Birding Trail runs on both sides of the river. On areas of open prairie you might find the greater prairie chicken or burrowing owls in prairie dog towns. Barn owls nest and roost in burrows dug in cliff faces along the river. Novice and experienced birders flock to Fort Randall on the first weekend in May for the South Dakota Birding Festival, where activities include bird banding, bird identification and guided field trips.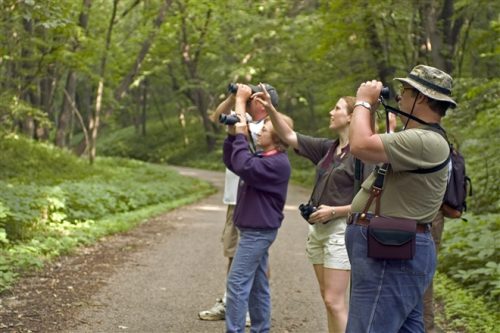 Missouri River anglers enjoy remote channels and bays as well as endless expanses of open water. Walleye reigns supreme on all four reservoirs but is followed closely by smallmouth bass and channel catfish. Lake Oahe, the largest lake at a whopping 232 miles long, is the only one with a big population of northern pike and the only one with salmon, a result of yearly stocking. Besides fishing, water sports include sailing and windsurfing (especially on Lewis & Clark, with its tree-covered shoreline and chalky bluffs), kayaking, canoeing, waterskiing and swimming. Hikers and bikers take to many trails located in communities, parks and public lands along the river.
In northeastern South Dakota, the Glacial Lakes & Prairies region also attracts birdwatchers. Thousands of migratory birds make stopovers at the Sand Lake and Waubay national wildlife refuges, which are among 38 sites on the Glacial Lakes & Prairies Birding Trail.
The Southeast tourism region of South Dakota encompasses the Missouri National Recreational River, part of the nation's Wild & Scenic Rivers System. Forming much of the border between South Dakota and Nebraska, it is a meandering river with no dams or channelization. Bluffs along some stretches provide scenic backdrops for anglers, kayakers and canoers. Paddlers in the Southeast also find contentment on the Big Sioux, James, and Vermillion rivers, while Split Rock Creek is one of the state's best streams for whitewater enthusiasts.
Southeast playgrounds include Lewis & Clark Recreation Area, a prime camping, hiking and mountain biking destination on the banks of Lewis & Clark Lake and the Missouri River, west of Yankton. Newton Hills State Park, near Canton, has an exceptional trail for birdwatchers and an observation tower that affords breathtaking views, especially during fall color season. Palisades State Park, near Garretson and a half hour from Sioux Falls, is a geologic wonder overlooking Split Rock Creek; the prairie oasis, noted for its sheer cliff walls and red quartzite spires, ranks as one of the Midwest's premier rock climbing sites. Sioux Falls, the state's largest city, makes a good base of operations for touring the Southeast and offers five first-rate golf courses.
Everyone knows South Dakota as the land of Great Faces and Great Places. Those who relish a shady campsite, a woodland trail or a relaxing day on the water appreciate it for something special − the great outdoors.