2023 Sightseeing Cruise Guide
Relax on board these magnificent ships that feature fabulous food, glorious amenities and incredible views
Celebration River Cruises ~ The Celebration Belle
Celebration River Cruises is the perfect option for anyone who wants to have fun and explore the Mississippi River. This family-owned and operated business is in its 39th year of cruising, providing customers with unforgettable experiences.  There is a cruise option for everyone from lunch, sightseeing, dinner, theme cruises and more!  All meals are freshly prepared onboard.
The Narrated Lunch and Sightseeing cruises feature some of the river's rich history including The Rock Island Arsenal and Colonel Davenport's Home amongst other locations.  While the Captain narrates on this cruise, there are great photo opportunities.   For music lovers, Celebration River Cruises has their popular themed lunch cruises, including Classic Oldies, the Hits of the Decades, Broadway & Movie Tunes and Fall Foliage Cruises. Each of these themed lunch cruises lasts four hours and includes Celebration's famous homemade sticky rolls and fruit and a full hot 2-entrée lunch buffet.  Coffee and ice tea are included with all meal cruises, but there are fully stocked bars onboard to purchase additional beverage choices.  We can't forget their Captain's Dinner Cruise; this is a great option to take in the beautiful sunset views along with their famous prime rib dinner and entertainment.
Looking for a longer cruise on the river?  Celebration River Cruises offers their All Day Cruises.  Become Tom Sawyer or Huck Finn on this day long cruise on the Mississippi between the Quad Cities and Dubuque, Iowa.  Relax, enjoy, take in the beautiful scenery and wildlife, as the captain narrates, while you cruise to your destination.  Inside, on your dining deck, you can enjoy live entertainment, dance or partake in one of the activities during the day.  You need to come hungry, as you will enjoy three full meals this day (breakfast, lunch and their famous prime rib dinner) For your groups looking for an all-day outing, this is a perfect day on the river!  
Fall is a great time to cruise.  In addition to their cruise above, you can take a Fall cruise to Prairie du Chien, WI or a enjoy a five-hour Dubuque to Savanna, IL, which both you will enjoy meals and live entertainment onboard. The experiences only get better as the tours get longer. Climb aboard their grand paddlewheel boat, the "Celebration Belle" for endless fun and entertainment.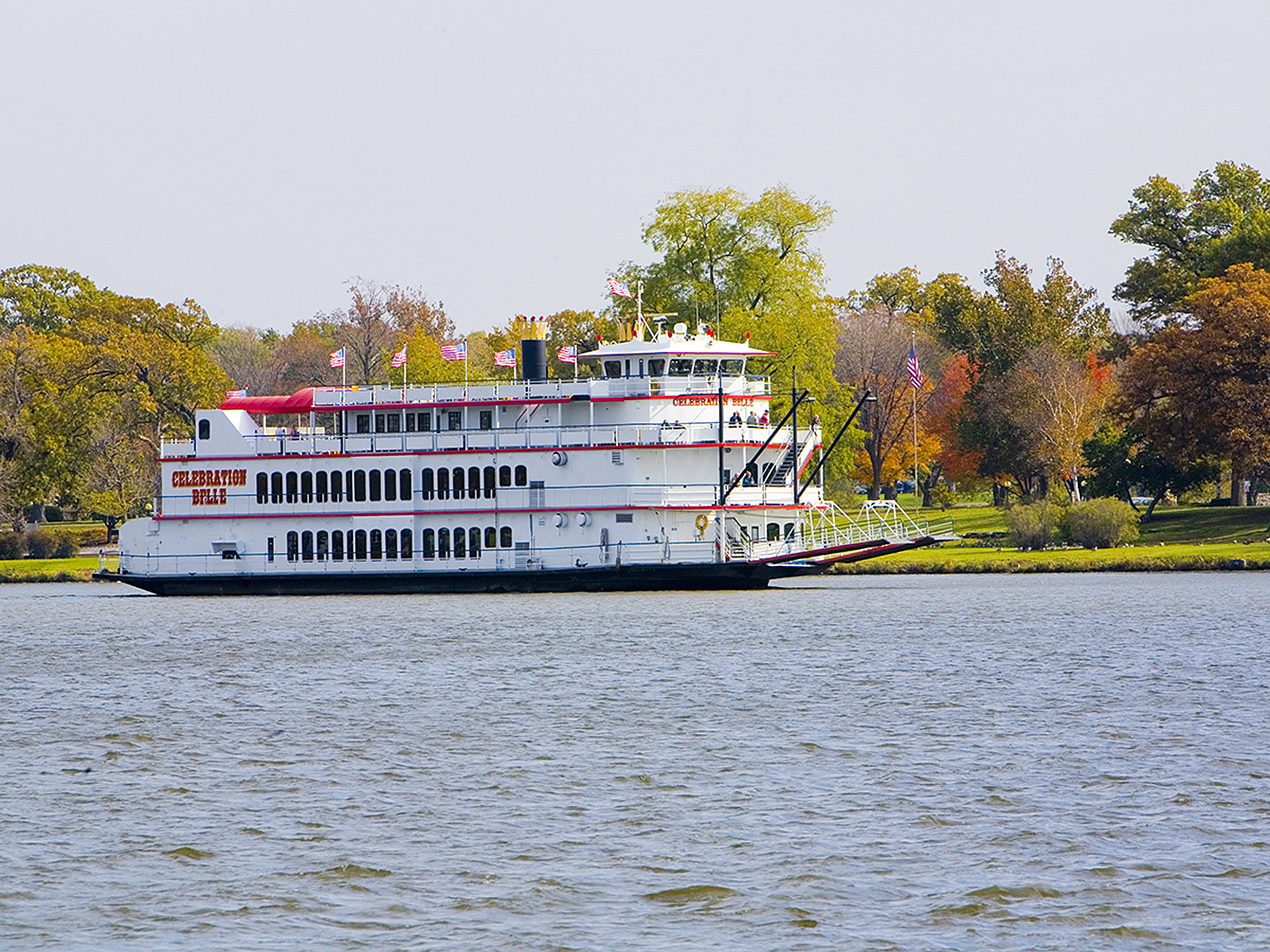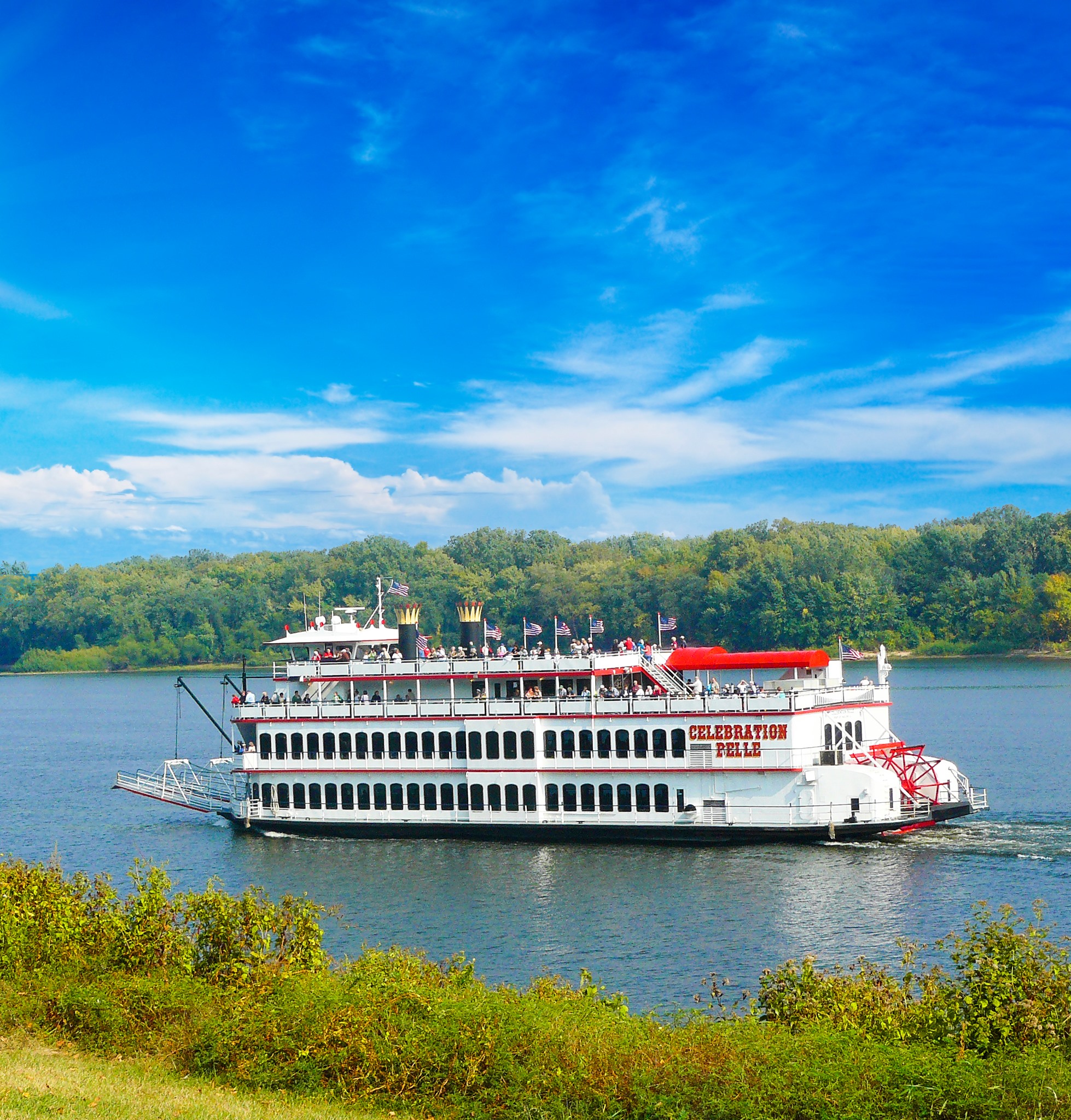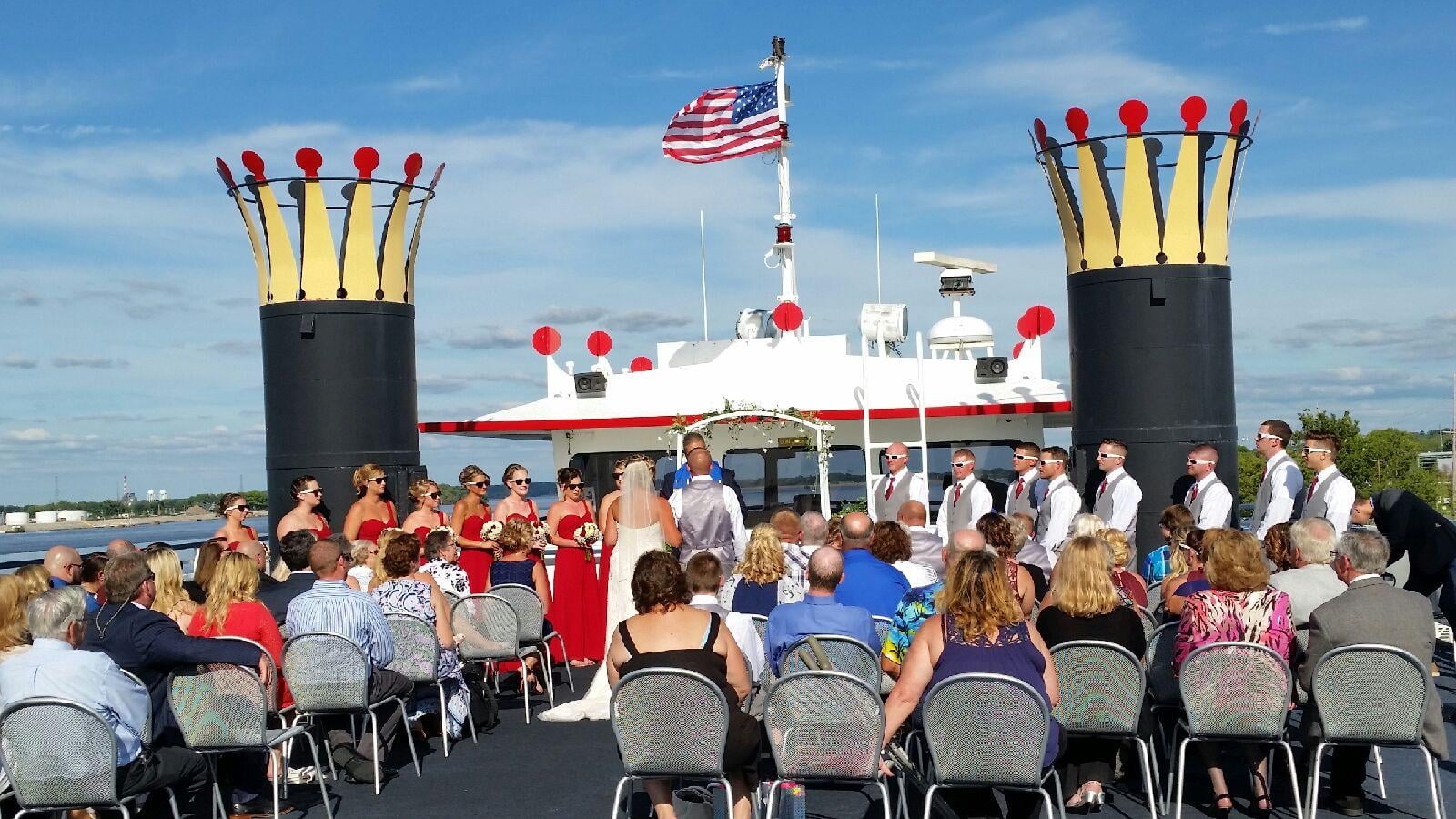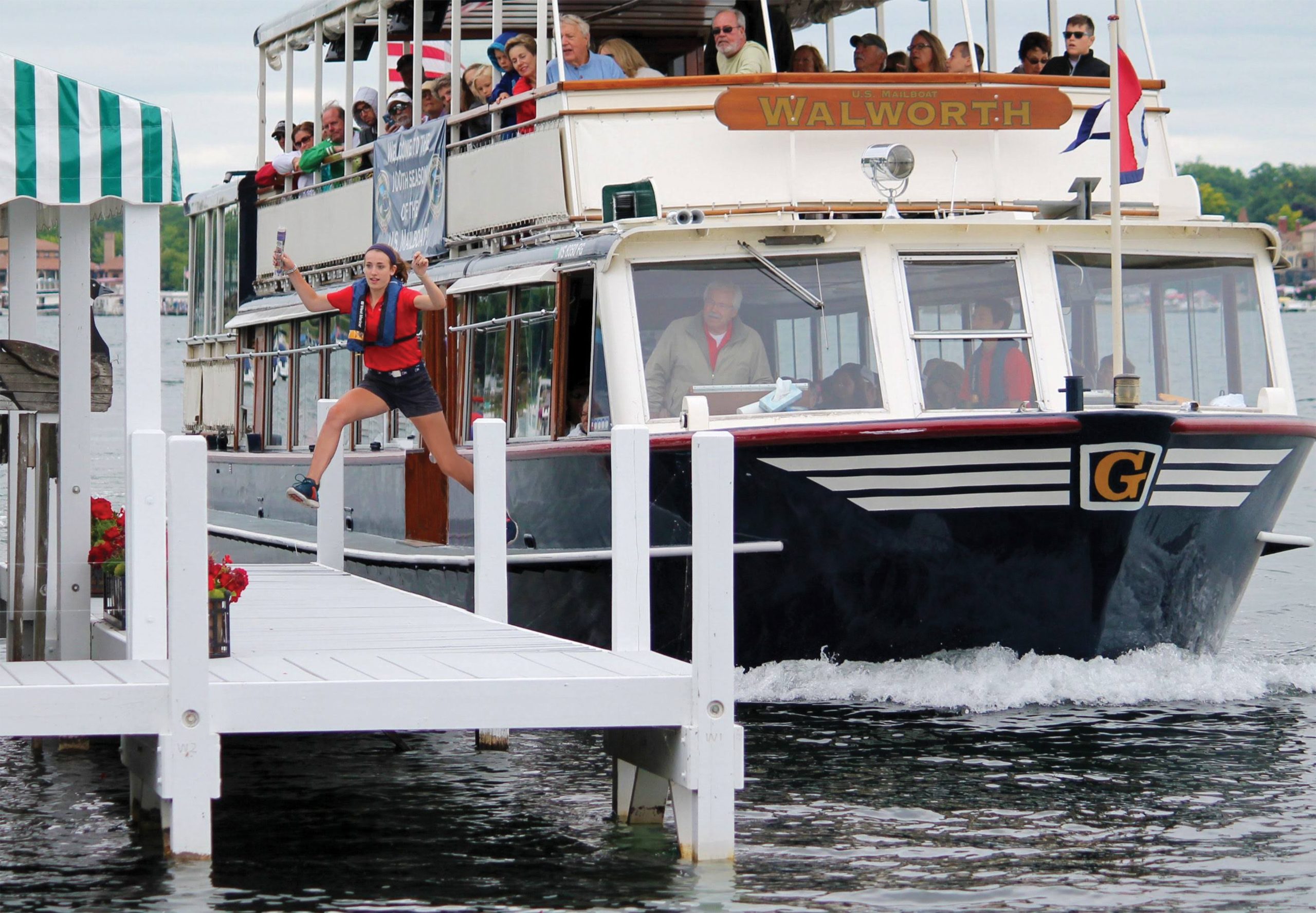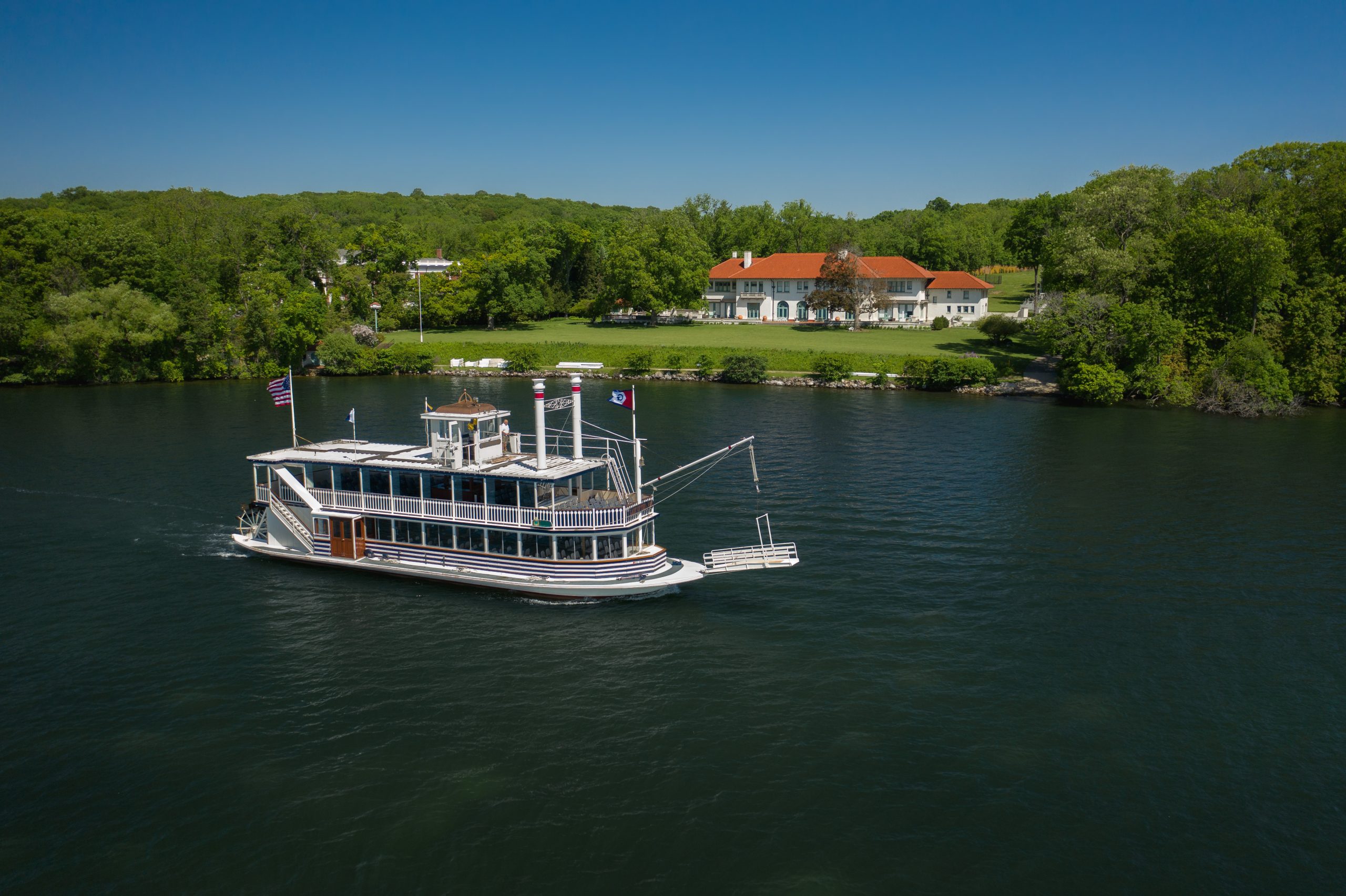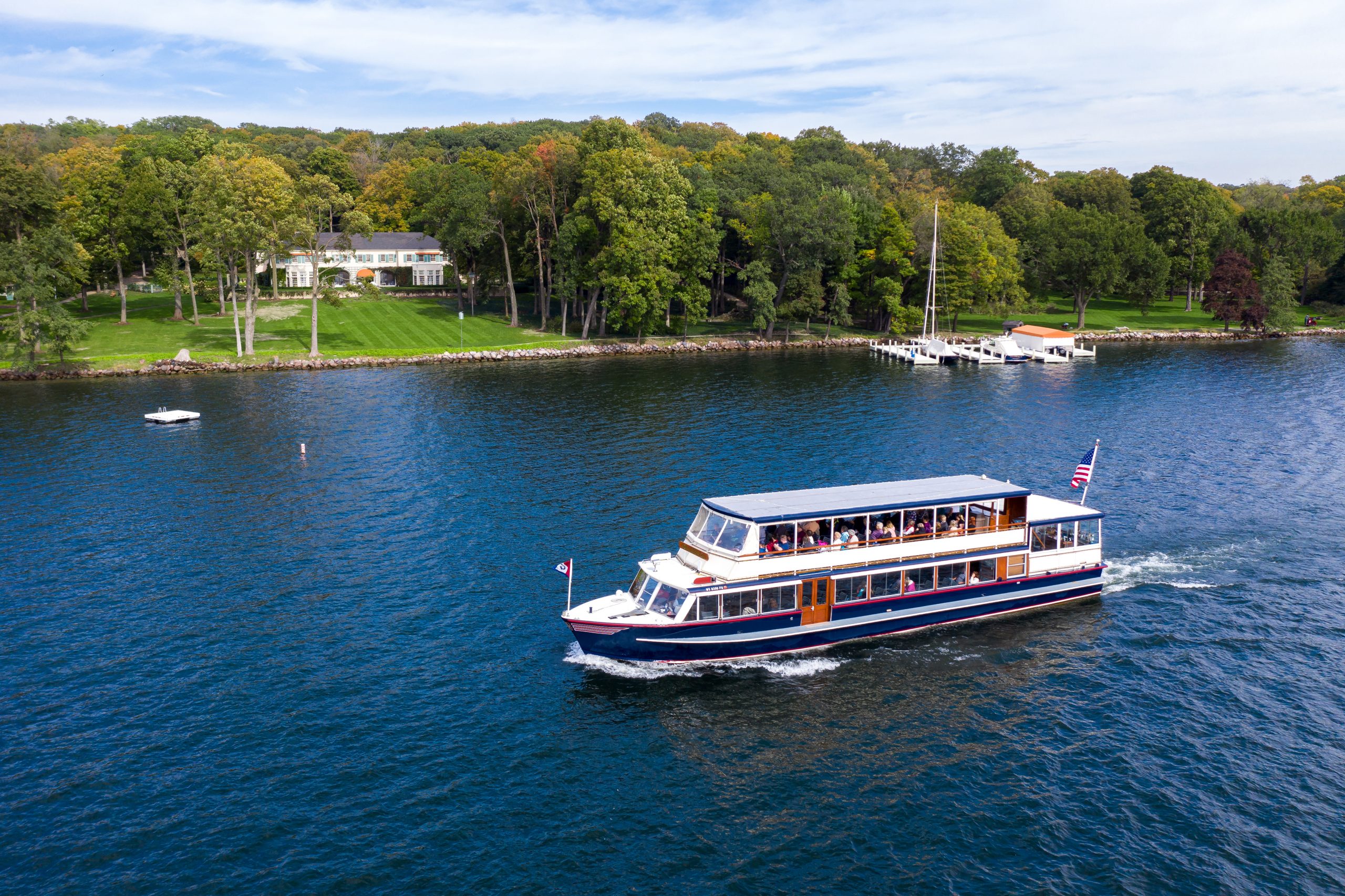 Lake Geneva  Cruise Line
Lake Geneva Cruise Line offers an unforgettable group outing out on the lake! Experience the history and beauty of the lakeshore homes in the resort town of Lake Geneva. Your group will love the comfort and amenities aboard Lake Geneva Cruise Line's fleet of classic boats, offering a wide variety of narrated boat tours and meal cruises.
Step aboard the paddleboat named the Lady of the Lake as you view multi-million-dollar historical mansions, some built as early as the late 1800's by wealthy families fleeing the great Chicago Fire. With nearly one thousand estates lining the shore, you will see such names as Wrigley Complex and Wacker Home on your one- to two-hour boat tour. If you want an even closer look at the historical lakeshore estates, Lake Geneva Cruise Line also offers the Black Point Estate Tour, which also gets you inside one of the oldest homes on the lake.
Looking for a little more excitement? Watch the mail jumpers deliver the mail from a moving boat to the mailboxes on the piers on their US Mailboat Tour!
For those groups looking for more, Lake Geneva Cruise Line also offers meal cruises such as Sunday Brunch, weekday Luncheon Cruise, and Dinner Cruises! Try a new take on the classic Wisconsin dinner with a Supper Club Dinner Cruise – don't forget to order your brandy old fashioned!  
But the fun doesn't stop when summer ends! Take their Fall Foliage Tour to see the beautiful leaves surrounding the lake. Or start a new holiday tradition aboard their Santa Cruise. Running late November through December, you'll travel to Santa's secret hideaway while viewing lakeshore light displays.
With over fifty years of group tour experience, the team at Lake Geneva Cruise Line will make planning and executing your group outing a breeze! Discount rates for groups of 10-19 and 20+ plus. Let the team at Lake Geneva Cruise Line help you plan the perfect group outing sure to please your entire group!
St. Lawrence Cruise Lines (Ontario)
This family-built and operated Canadian business has been serving the public for 40 years. This experience helps St. Lawrence Cruise Lines provide the best possible river cruising experience for its guests. Guests will explore the most scenic, calm water rivers in this part of the world. A professional, highly trained all-Canadian crew will spoil you with exceptional cuisine and genuine Canadian hospitality. More importantly, you will experience first-hand the tremendous beauty and rich history of the St. Lawrence and Ottawa Rivers.
Guests will enjoy this trip on a classic Canadian riverboat, the Canadian Empress. This grand ship has a warm and friendly personality, and the size and design of the vessel serves to enhance the intimacy of river cruising. The exterior of the ship emulates the classic steamboats of the Victorian era, while the interior is a mix of charming early heritage style, with brass handrails and ornate metal ceilings, and contemporary fashion. This classic riverboat style is combined with modern technology to provide all of the safety, comfort, and amenities expected by today's travelers. All staterooms are above the waterline and include daily maid service.
The St Lawrence Deck is the main accommodation level on the Canadian Empress. The St. Lawrence, Sterling and Premier Category staterooms can be found on this deck. All staterooms on this deck are above the waterline with opening windows to the fresh river air. All eight Ottawa category staterooms are accessed from the Ottawa Deck as are both outdoor observation decks. It is also on the Ottawa Deck where you will find the Grand Saloon, featuring turn-of-the-century warmth where all meals are served and nightly entertainment is enjoyed. On the Sun Deck, groups can sit back relax and enjoy some of Canada's most beautiful scenery. From your comfortable deck chair or lounge watch as each scene unfolds. Join your cruise director on the sun deck for some fun activities including shuffleboard or kite flying.
Cruises visit such beautiful locales as Montreal, Ottawa, Kingston and 1,000 Islands and Quebec City.