These six Great Lakes villages combine quaint downtowns with plentiful outdoor amenities
The Great Lakes shorelines are populated with metropolitan sprawl and protected wetlands, but their largest draws for groups are the inviting towns that dot the coastline. These villages often feature main streets bursting with boutiques and cafes, and the lakeshore location ensures easy access to local beaches and outdoor activities. While places like South Haven and Mackinac are tourist perennials, we highlight six Great Lakes towns that boast Midwest hospitality and charm on a friendlier budget.
Charlevoix, Michigan
The isthmus separating Lake Charlevoix from Lake Michigan has developed into an easygoing and family-friendly beach town. Bridge Street is lined with quaint boutiques and galleries, while the bustling harbor along nearby Round Lake features water-front dining and walking paths. For a touch of whimsy, pay a visit to the Earl Young Mushroom Houses. Also known as the Hobbit Houses, these stunted structures are squashed, asymmetrical homes composed of stone, sloping roofs and circular windows. Walking tours are available, and you can learn about eras in Charlevoix history as you pass through these bizarre homes.
---
For a secluded respite outside downtown, consider the winding trails of Fisherman's Island State Park. Six miles of unspoiled Lake Michigan shoreline are interspersed with rolling dunes and bogs of cedar and black spruce, while over 60 campsites can accommodate groups who want a rustic vacation experience. Looking for a sweet treat? Simonsen's Bakery and Cafe serves coffee and homemade scones in an airy space modeled after French pâtisseries, while Celeste Murdick's Fudge boasts five generations of confectionery experience behind its signature chocolate creations. (visitcharlevoix.com)
Grand Marais, Minnesota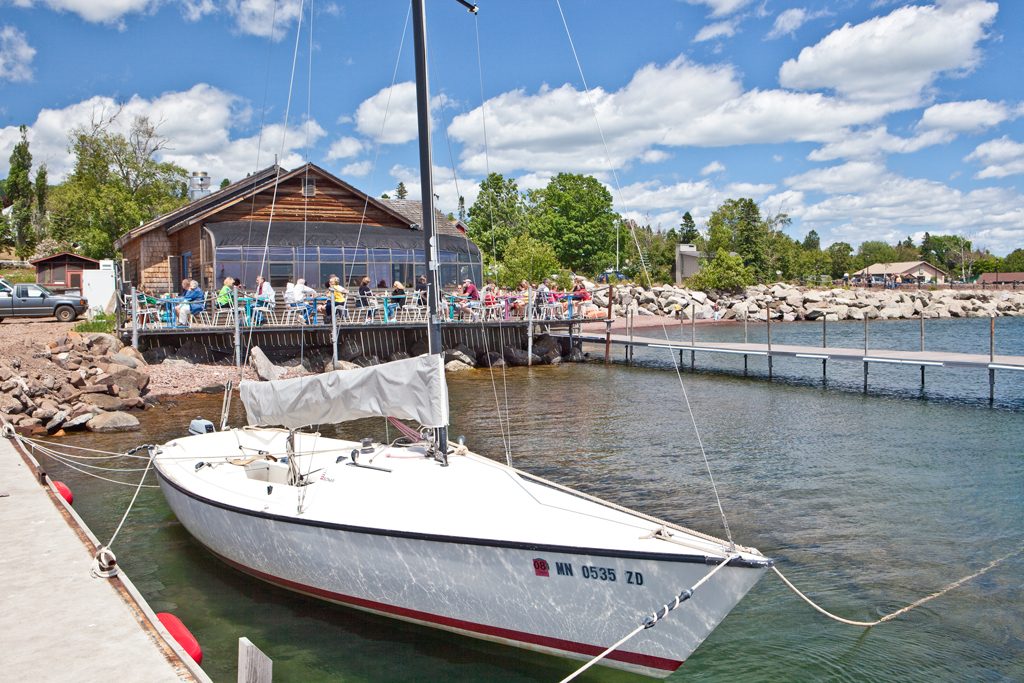 Originally a fishing village strategically settled between Lake Superior and inland trading routes, this city remains an intersec-tion of culture and commerce. In contrast to the high-end glamour of other Great Lakes resort towns, Grand Marais' charm comes from its rugged North Woods architecture and French voyageur history. You can explore that fur-trading past at the North House Folk School, an artist co-op originally built as a warehouse by the Civilian Conservation Corps during the Great Depression. Your group can take classes not only in the traditional disciplines of painting, jewelry-making and photography but also pioneer skills like blacksmithing, woodcarving and basketry.
Groups looking for an outdoor adventure should hike the Gunflint Trail, a 55-mile route that begins along the lakeshore and ends in the Boundary Waters Canoe Area Wilderness on the Canadian border. Along the way you can paddle on glacier-carved lakes, fish the pristine waters of a meandering creek or stop by the Chik-Wauk Museum and Nature Center, which highlights the area's natural history. After working up
an appetite in the backwoods, your group can dine at the Angry Trout Café, which specializes in lake fish grilled, fried or in chowder, or Loon Lake Lodge, which serves up hearty homemade meatloaf and baby back ribs. (visitcookcounty.com)
Chesterton, Indiana
This small town, located near the southernmost edge of Lake Michigan, offers easy access to one of the Midwest's great natural wonders: the Indiana Dunes. These giant slopes of sand and earth were formed over 10,000 years ago by receding glaciers, and they are considered one of the best examples of kettle moraine geography in the world. Within the state park boundaries, your group can trek 16 miles of hiking trails, climb the 250 stairs to the top of the West Beach boardwalk and ascend the 192-foot summit of Mt. Tom. In between adventures, your group can take advantage of the numerous picnic and camping areas scattered along the lakeshore.
A few miles inland, the city of Chesterton holds its own charms. Stop by the European Market, which welcomes over 150 growers, bakers and artisans May through October, or the Port Drive-In, which has served its old-fashioned root beer floats and hot dogs since 1953. Take some time to explore the city's charming downtown, where your group can chow down on burger creations and delicious desserts at the Octave Grill or the homemade sandwiches at Red Cup Café & Deli. (indianadunes.com)
Geneva-on-the-Lake, Ohio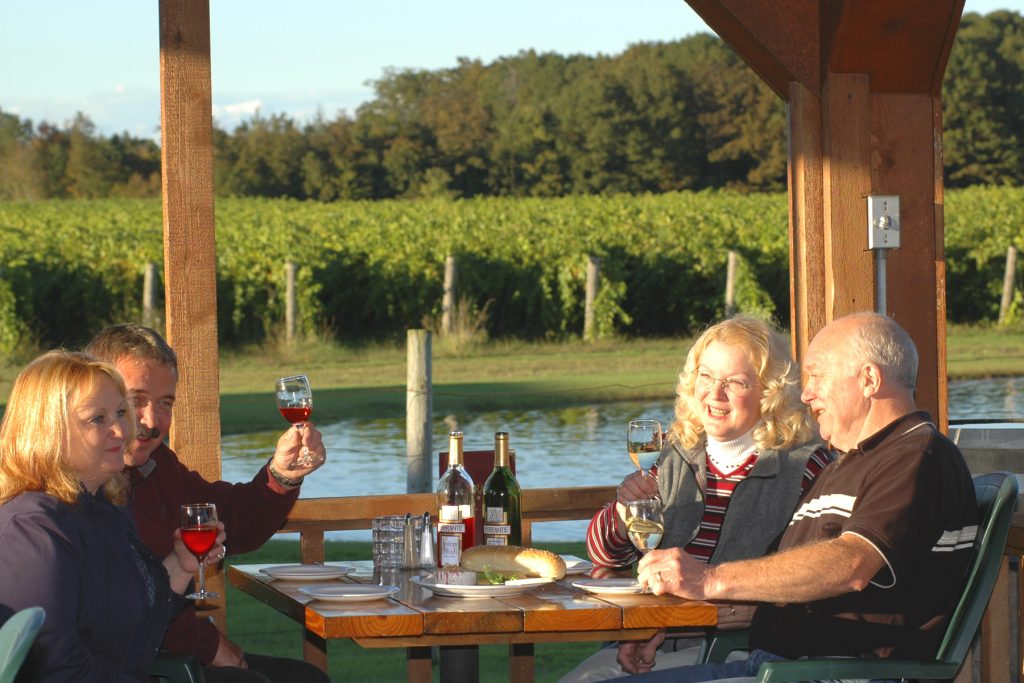 Vacationers started flocking to this lakefront village in the late 1800s, when Ohio businessmen Cullen Spencer and Edwin Pratt purchased state land and created picnic grounds with beach access. Soon, an entire vacation industry developed along State Route 531, which follows the Lake Erie shoreline. The road is dotted with '50s-style diners, art studios and taverns, with hotels ranging from economy to luxury. On the high end of the spectrum is the Lodge at Geneva-on-the-Lake, a gorgeous four-star resort with reception space, fine continental dining and beachfront cabins that sleep six. The resort's wine shuttle will provide your group with a sober driver and access to eight wineries in the region, where you can sample the Pinot Noir of M Cellars or the signature merlot at Ferrante Winery. Groups who want even easier access between their accommodations and alcohol should consider the Lakehouse Inn & Winery, which includes a full-production winery, farm-to-table restaurant and an eight-room bed and breakfast.
Head west from town to explore Geneva State Park, which remains an outdoor destination nearly 150 years after Spencer and Pratt preserved it. The marina can dock vessels of all sizes, and local stores sell bait and supplies for fishermen who want to drop a line in the "Walleye Capital of the World." Group members looking for a more relaxing experience can sunbath and swim along the park's 300-foot beach, which also permits picnicking and sand volleyball. Children of all ages will enjoy Rees' Corner, an authentic soda fountain that serves malts, shakes and hot fudge sundaes. (visitgenevaonthelake.com)
Bayfield, Wisconsin

This rocky harbor town lies on the Bayfield Peninsula (Wisconsin's northern-most point) and near the stunning Apostle Islands National Lakeshore. This cluster of 21 islands and 12 miles of shoreline on the Lake Superior coast features jagged cliffs and eerie sea caves— cliff towers sculpted over millions of years from ancient sandstone river deposits. Guided ferry tours provide beautiful views of the beaches and boreal forest, and your group can hike through the park's bird-mating grounds and protected hemlock groves. The peninsula is especially stunning in autumn, when the blazing fall colors bring a tapestry of warm colors to the area's maple trees.
The city of Bayfield, which sprawls over the hilly shoreline, consists of charming Victorian homes and modern eateries, like Wild Rice Restaurant. Housed in a contem-porary structure of sheet metal and glass, the five-star dining experience specializes in hearty Upper Midwest cuisine with gourmet flair. Favorites include the cheese plate from local dairies and the prosciutto-wrapped beef with mascarpone mashed potatoes.
To learn why the region is called the "Berry Capital of the Midwest," consider touring one of the area's 14 agritourism attractions. Your group can wander a red delicious orchard at the Bayfield Apple Company, sample tart raspberries at Blue Vista Farm and taste fresh blueberries at Rocky Acres Berry Farm. (bayfield.org)
Saugatuck, Michigan
This friendly seaside village is an artists' haven with over 40 galleries and studios. From contemporary sculpture in the Water Street Gallery to Native American jewelry at Indian Summer, there are potential vacation keepsakes in nearly every storefront. North of town lies the Belvedere Inn, which features 10 luxurious guest rooms in a restored 1913 mansion. Your group can relax in the elegant ambiance and indulge in crabmeat bisque and steamed Prince Edward Island mussels in the parlor-turned-restaurant. For more tastes of the region's agricultural bounty, consider the Delicious Drive Culinary Tour, which takes visitors to farms and foodie attractions along the Lake Michigan coast.
Groups looking for a more outdoor experience should beeline to the Saugatuck Dune Rides and board a five-row Dodge Power Wagon equipped with aircraft tires. From there, you'll experience 40 minutes of tight embankments and drops as the vehicle speeds through the sand dunes along Lake Michigan. Along the way, your helpful guide will discuss local history and the glacial movement that created the dunes. For a more relaxing beach experience, drop by Oval Beach, rated one of the best beaches in the world by Condé Nast Traveler. Your group can take advantage of the area's picnic tables and grills for an outdoor meal or explore the preserved natural grasslands along the lake.(saugatuck.com)