For more than 30 years Rob Scheer has been producing lumberjack competitions. In addition to being a champion timber sports competitor, he has introduced the original extreme sport throughout the United States and Canada and as far away as China and Australia. From 1981 through today Scheer has provided thrilling lumberjack competitions at festivals and events.
In 1999 his company's first permanent arena was established in Ketchikan, Alaska. The Pacific Coast city has a rich history of salmon fishing and timber production. For cruise ship passengers in Alaska, the Great American Lumberjack Show was the perfect place to experience the skills of these athletic woodsmen.
With the Ketchikan venue's success Scheer began considering other locations to establish a permanent show. Pigeon Forge, Tennessee with its full timber history proved to be an ideal spot for a theater. The storyline was compelling.
In the early 1900s logging concerns discovered what is now Great Smoky Mountains National Park. By 1930 almost 67 percent of the land was clear-cut. Although logging brought money and employment, it was destroying the land. The national park movement began and more than half the mountaineers accepted payment for their land. Timbering was no longer allowed.
In 2011 the Lumberjack Feud Dinner Show opened in Pigeon Forge. The show begins with a Lumberjack Feast that will satisfy any appetite. "Cookie" has outdone himself with herb-roasted chicken breast, a slow- roasted pork loin with gravy, mac and cheese, Southern-style green beans, dinner rolls and an applejack fritter for dessert. Yet, there's trouble brewing on the horizon as two legendary logging families, the Dawson and McGraw clans, cannot seem to agree on much of anything.
The stage is set to settle the argument the only way both families know, lumberjack competition! Ranger Black, the Great Smoky Mountain National Park's first ranger, is set to referee 16 exciting events pitting lumberjacks from each family and their high-flying lumberjack dogs. With talent coming from both professional lumberjack events and college programs, the level of skill and spirit will certainly amaze and entertain. It's a fun show for any age. Still, there's another side of the Lumberjack Feud Dinner & Show that the audience doesn't see, but deserves to know.
Giving back to the community is an important part of the owner's commitment and the company's culture. "Growing up in a poor, large family you recognize the good things people do and appreciate them," Scheer said. That thought has been a guiding light throughout his career. More than a thought, it's a commitment.
Without the means for more expensive sports, some youngsters miss the opportunity to participate. To fill the void Lumberjack Feud introduced a youth log rolling program. There is no cost to the participants and they travel to compete. It's a complete volunteer effort with lumberjacks donating their time to help the kids train.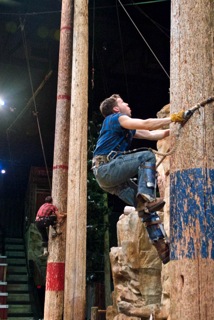 Lumberjack Feud is proud to be a part of the Pigeon Forge community and appreciates its support. Once a year they do a function for a local charity where local volunteers train to compete, while others function as guest servers. The Lumberjack Feud staff donates its time and labor. In just two years more than $75,000 has been raised and donated to local charities. Area police and firemen squared off most recently and put on quite a show.
How do you collect and donate two tons of food? Again, Lumberjack Feud stepped forward and offered a discounted ticket to every guest that brought two cans of food to the show. It added up quickly.
With half of the Lumberjack Feud competition showcasing talents in sawing and chopping, it stands to reason there's a significant amount of chopped wood. In fact, there are eight semis of wood per year and it all goes into the Warming Hearth program. Lumberjack Feud has reached out to area churches and social services to identify families in need that heat with wood. They coordinate delivery of four loads per week, ¾ cords per home resulting in 100 homes a year being heated. As you can see from the developing pattern, this is an all-volunteer effort from the show's cast.
Scheer describes his company as a "small company." For the contributions they've made and the lives touched, there's nothing small about their heart. Meet Scheer and the crew online at lumberjackfeud.com.