The new luxury cruise line will have a total of five ships sailing the rivers of Europe by 2024. The Riverside Mozart has started her Danube program.
Riverside Luxury Cruises, a new cruise line, just launched its first ship, the Riverside Mozart. 
A surprise christening was held on March 17, 2023 at the ASTA River Cruise Expo in Budapest. The beautiful ceremony delighted the travel advisors who were staying onboard the Riverside Mozart during the Expo.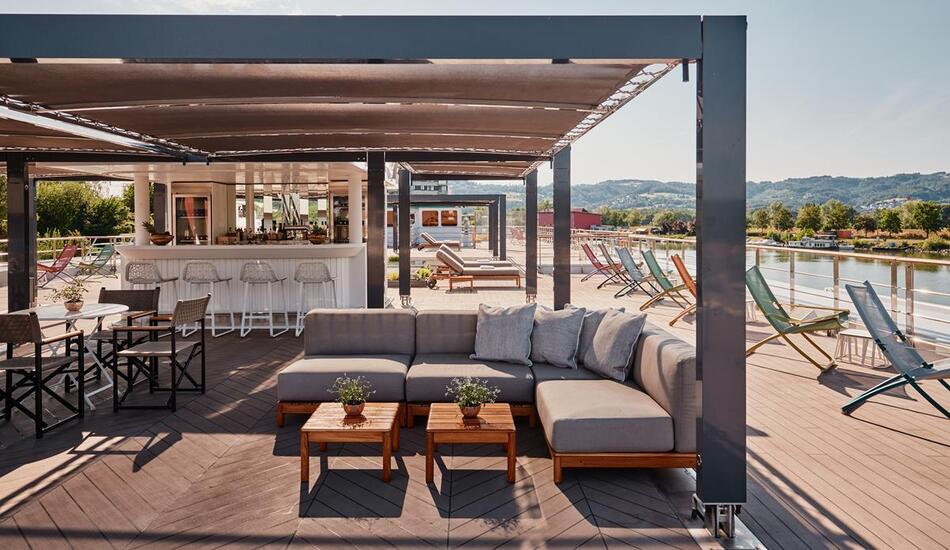 Riverside Cruises' New Ship Christening and Godmother
Jen Halboth, CEO of Riverside Luxury Cruises' North American operations, said, "The River Cruise Expo seemed like the perfect time to christen the ship as so many travel advisors were present, a group who we know will be so pivotal in our success. Many of the advisors onboard had never had the chance to experience a christening firsthand and we were so delighted to share this very special moment with them."
Tiffany Hines, CEO and president of Global Escapes, is godmother of the Riverside Mozart. She has been in the travel business her entire career and is a second-generation travel agency owner, having taken over from her mother, the founder of Global Escapes. Hines has worked at growing the company and found ways to give back to the travel industry, something she is passionate about. As a national director on the ASTA Board, she works with individuals and business owners to grow career opportunities.
Hines declared, "I was so honored to be the godmother of the Riverside Mozart, a beautiful ship that shines as a beacon to all who seek enlightenment through experience."
More About This Luxury Cruise Ship 
The Riverside Mozart is the first of five ships that Riverside Luxury Cruises is launching. Sailing on the Danube, she is double width, measuring 75 feet across. Each of the 81 staterooms has a king-sized bed, the fitness center has two rooms and Technogym equipment, and the spa is one of the largest on a river ship.
The spa has a hot tub, pool, lounge area, massage treatment rooms and changing rooms. The area also has steam rooms, saunas and a salon.
The Riverside Mozart's extra space allows for an exemplary culinary program with several dining options. Bistro Mozart is a casual dining venue serving light bites, fruits and pastries, and has its own full-service bar. Waterside Restaurant offers gourmet a la carte meals. Blue Bar Grille, which overlooks the water, features burgers, wraps, pasta, salads and sandwiches. Guests feast on grilled fish specialties and steaks at Vista Grill and Vista Bar.
Riverside Luxury Cruises' Game Plan
In November 2022, the owners and operators of Seaside Collection, which has 11 boutique properties located in Europe and the Maldives, announced they were expanding into river cruising by purchasing the Riverside Mozart. The ship had been owned and operated by Crystal Cruises until the company went bankrupt in early 2022.
Riverside Luxury Cruises has another ship coming out this year, the Riverside Ravel. She will take passengers along the Rhine, Rhône and Saône rivers. Three additional ships—the Riverside Debussy, Riverside Bach and Riverside Mahler—make their debuts in 2024, giving the line a total of five ships. Itineraries for those three ships will be announced later this year.
The line's shore excursions will focus on the active, experiential and historical, providing a wide range of options.
How are Riverside Luxury Cruises Different?
Riverside Luxury Cruises is focusing on attracting a younger, more affluent and international crowd. Besides a wide variety of shore excursions, the line will offer new culinary programs. The Riverside Mozart has an herb garden on the sun deck that will supply ingredients for cocktails and meals.
Also, Riverside is offering shorter cruises. There are a number of three- and four-day Danube sailings aboard the Riverside Mozart. The Riverside Ravel will offer shorter itineraries as well. 
Riverside Luxury Cruises is definitely one to consider for your next group cruise.
For more information on river and ocean cruises, you can subscribe to Leisure Group Travel for FREE
By Cindy Bertram
Cindy Bertram has 15+ years of cruise industry expertise in marketing, content creation, sales and training as well as social media. Her MBA from Loyola University Chicago complements her high creative edge and liberal arts BA. 
Lead photo – Riverside Mozart on the Danube River