The halls are alive with the sound of music at Budapest, Hungary's best boutique hotel.
Striking a chord with discriminating guests who appreciate genres as diverse as opera and rock and roll, the new Aria Hotel Budapest seems to be a harmonious fit for a city rich in musical traditions. Located in the historic city center on the Pest side of the Danube River, it's been getting rave reviews—in fact, the Aria has been ranked #1 hotel in the world in the 2017 TripAdvisor Travelers' Choice Awards.
The Aria Hotel's 49 guest rooms and suites are divided into four wings, each with its own elevator and each celebrating a major musical genre—Classical, Opera, Jazz and Contemporary—through decor, art and sound. Each individually decorated nest honors one of the world's great musical legends with a caricature portrait on the wall and other effects. It's the kind of place you can't wait to tell people about.
I stayed in the Jazz Wing's Frank Sinatra room, where a mirror-framed rendition of Ol' Blue Eyes and recording of his music greeted me as the assistant manager pointed out features of my plush quarters. On the marble fireplace mantel above the TV was the biography Sinatra: A Complete Life by J. Randy Taraborrelli.
All rooms in the Jazz Wing, including those dedicated to B.B. King, Benny Goodman and Ella Fitzgerald, have vaulted ceilings and partitions made with the original bricks from the 19th century bank building that stood on this site. (Three floors were added to the building's original three floors, but construction of the hotel had to faithfully mimic the historical style.) Rooms in the Contemporary Wing are named after stars like Michael Jackson, the Beatles, the Rolling Stones and Elvis Presley, while you might commune with composers such as Liszt, Rachmaninoff or Tchaikovsky in the Classical Wing. In the Opera Wing, one can indulge in the opulence of the Madame Butterfly and Maria Callas Suite, among other suites. Caricatures of music icons are found throughout the hotel as well as in the guest rooms.
My room (#310) was eclectically furnished with pieces like a chartreuse couch, a black-and-white-checked settee and a klieg-light floor lamp mounted on a tripod that illuminated my rivet-studded metal desk, with nightstands in the same industrial-chic style. I loved the remote-controlled blinds.
Bathrooms have Italian onyx showers with silver chandeliers, a grand setting for singing in the shower. One night, while soaking in a standalone tub just steps from the bed, I accessed my room's digital music library and listened to some of the 136 titles from the four acts of Carmen. Besides opera, guests can select music from 27 genres, from soul and rock to blues and Big Band. All rooms are surrounded by double noise protection to allow guests the freedom to enjoy their music.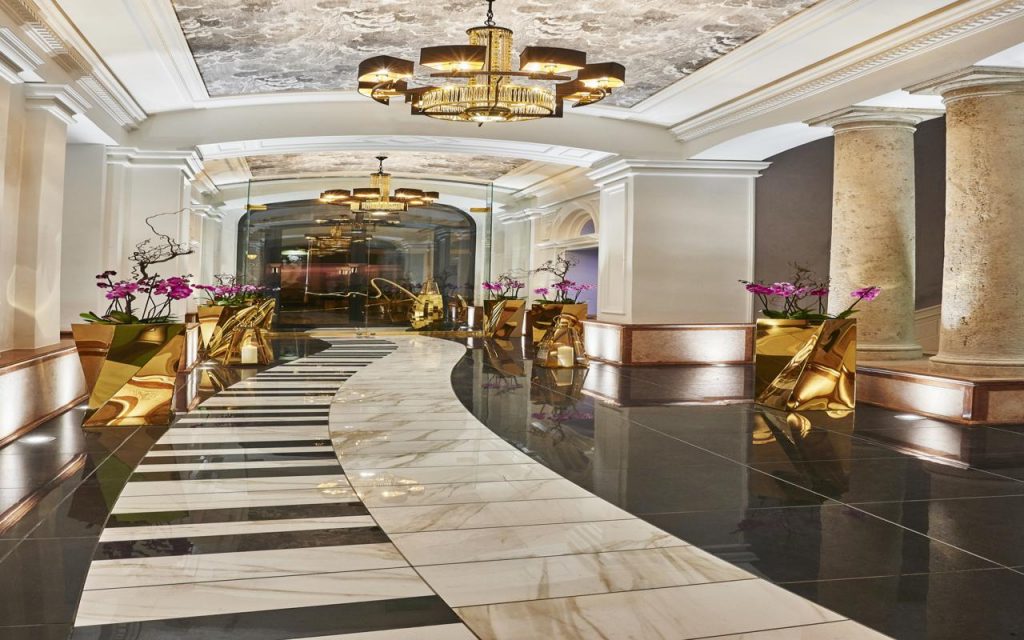 The Aria Hotel has a musical director (Kornel Magyar) who not only chooses the music heard in the elevators and lounges but can provide guests with CDs and DVDs to enjoy via their room iPad and 55" flat-screen TV set within the marble fireplace-style mantelpiece. He also acts as a musical concierge who can recommend operas, ballets and other performances in town.
The majority of guest rooms have open-air balconies that overlook the glass-covered Musical Garden courtyard, which serves as the hotel's lobby/social center. A tiled piano-key path on the floor, decorative gold harp fixtures and a grand piano set the tone of this smart space that hosts the breakfast buffet and late-afternoon wine and cheese reception. Adjacent is the 40-seat Stradivari, a bistro-style dining room festooned with violins. And nearby, right inside the main door, is Satchmo's Bar and Lounge with a colorful painting of Louis Armstrong. There are orchids everywhere—in public rooms and guest rooms.
The limestone-clad, seven-story Aria reaches a crescendo at the High Note SkyBar, an indoor-outdoor rooftop lounge and dining spot that offers 360-degree views of the city and looks directly out on the domes and towers of St. Stephen's Basilica. The hotel is located steps from a charming pedestrian plaza with high-end shops and eateries and within a five-minute walk of the Danube's renowned Chain Bridge and Budapest State Opera House on tree-lined Andrassy Avenue.
Budapest's Gerbaud Cafe, a coffee house famous for its traditional Hungarian dishes and decadent pastries, recently took over the Aria's food and beverage operations. With its vaulted ceilings, crystal chandeliers and ornate plasterwork, Gerbaud is a popular meeting place in central Budapest and a bastion of Old World flair founded in 1858. It also operates neighboring Onyx, a Michelin-starred restaurant celebrated for its innovative, contemporary cuisine.
Other hotel features include Teatro Aria, which features evening entertainment curated by the musical director; and Harmony Spa, which has treatment rooms, an indoor heated pool, cabana lounges, a fitness center, sauna, steam room and Jacuzzi. Treatments, using thermal mineral water and Hungarian natural herbs, even include music tailored to each guest's preferences.
The Aria is part of the Library Hotel Collection, the creation of innovative hotelier Henry Kallan. The group includes the Aria Hotel Prague, which has four wings celebrating the same musical genres featured in the Aria Budapest, and four Manhattan properties—the Library Hotel, Hotel Giraffe, Casablanca Hotel Times Square and Hotel Elysee. Under development is the Hotel X Toronto at Exhibition Place, a lakefront resort in downtown Toronto.