Group Guide to Scenic Rail
Is your group looking to enjoy a relaxing, scenic ride through the many different landscapes our country has to offer? If so, the 2023 Scenic Rail Guide has you covered. Each of these railways will take your group on a journey unlike any they have experienced before. Groups can enjoy the country's beauty through one of its oldest, and most relaxing, modes of transportation.
Alaska Railroad
Anchorage, Alaska
The Alaska Railroad believes the journey should be as spectacular as the destination. And with places like Denali National Park, Kenai Fjords National Park, Seward, Talkeetna and more, the railroad will transport you through some of Alaska's most pristine and remote landscapes on your way to sites and communities where you are sure to make memories.
Built to link the Pacific seaport of Seward with the interior before there were highways, the railroad offers 500 miles of track. The flagship train, the Denali Star, operates daily between Anchorage and Fairbanks, but there are also trains such as the Coastal Classic, Hurricane Turn and Glacier Discovery. By traveling aboard the railroad, visitors can discover the "real" Alaska in the comfort of a railcar, enjoying dining and drinks while seeing dramatic Alaska landscapes out of expansive windows.
Whether traveling in a group, as a family or solo, the Alaska Railroad does the driving so passengers can relax, enjoy and connect with those around them. It's a unique opportunity to make in-state travel between destinations a highlight of the itinerary.
The Alaska Railroad offers two classes of passenger service: Adventure Class offers comfortable seating and large picture windows, while premium GoldStar Service class features glass-dome
railcars as well as access to an exclusive outdoor viewing platform, ideal for photographers. Onboard dining is available – meals are included for GoldStar guests – and knowledgeable onboard guides are available to share the stories behind the sights. No matter what route you
take, you will have foodie favorites made with locally sourced ingredients to enjoy, including beer, wine and cocktails.
Customizable travel products allow for flexibility with your groups: book a single day of rail travel, or a multi-day rail travel package inclusive of train tickets, lodging and guided excursions. With add-on activities like river rafting, flightseeing and bear viewing that are easy to book directly via the Alaska
Railroad there's a trip for every type of traveler.
And, while creating unforgettable experiences for your clients on the Alaska Railroad, there's something for you, too – you'll earn commissions on rail, lodging and activities. Groups of 15 or more get a complimentary guide and can choose from two classes of service.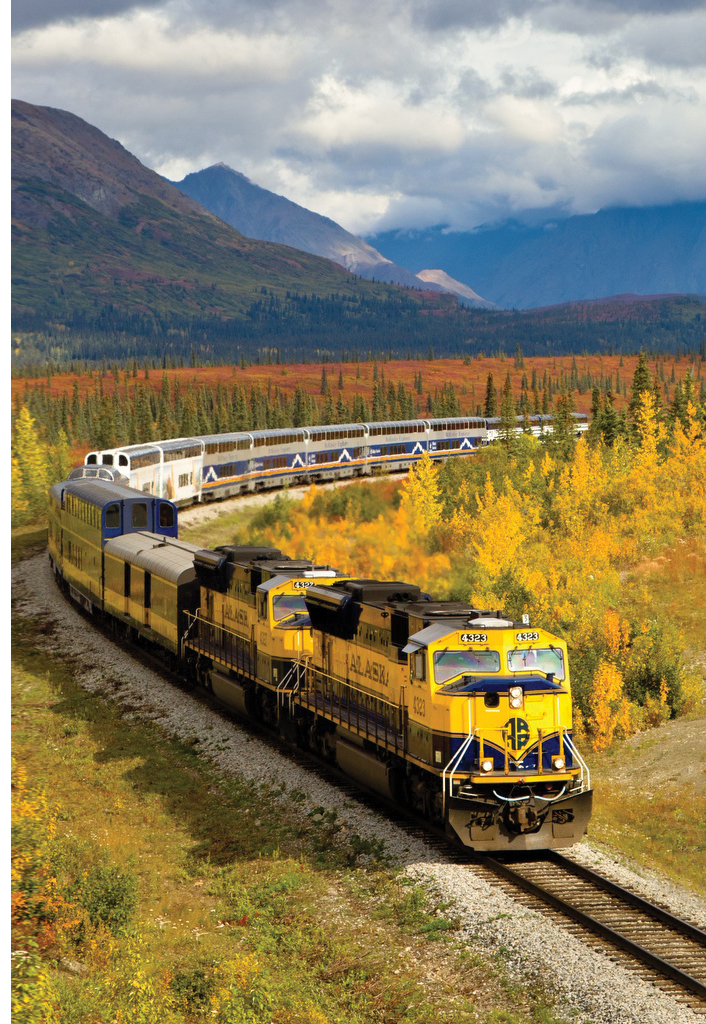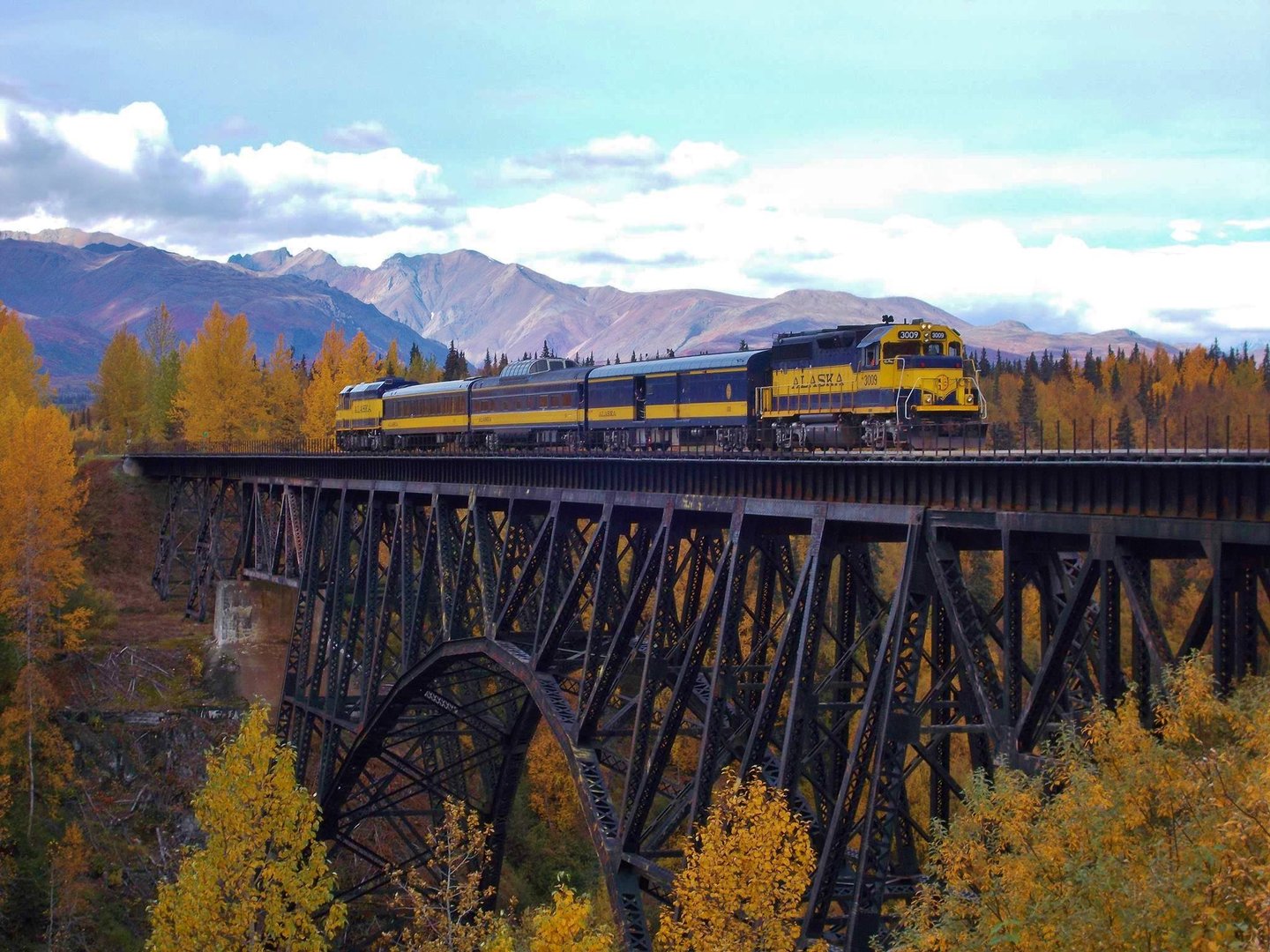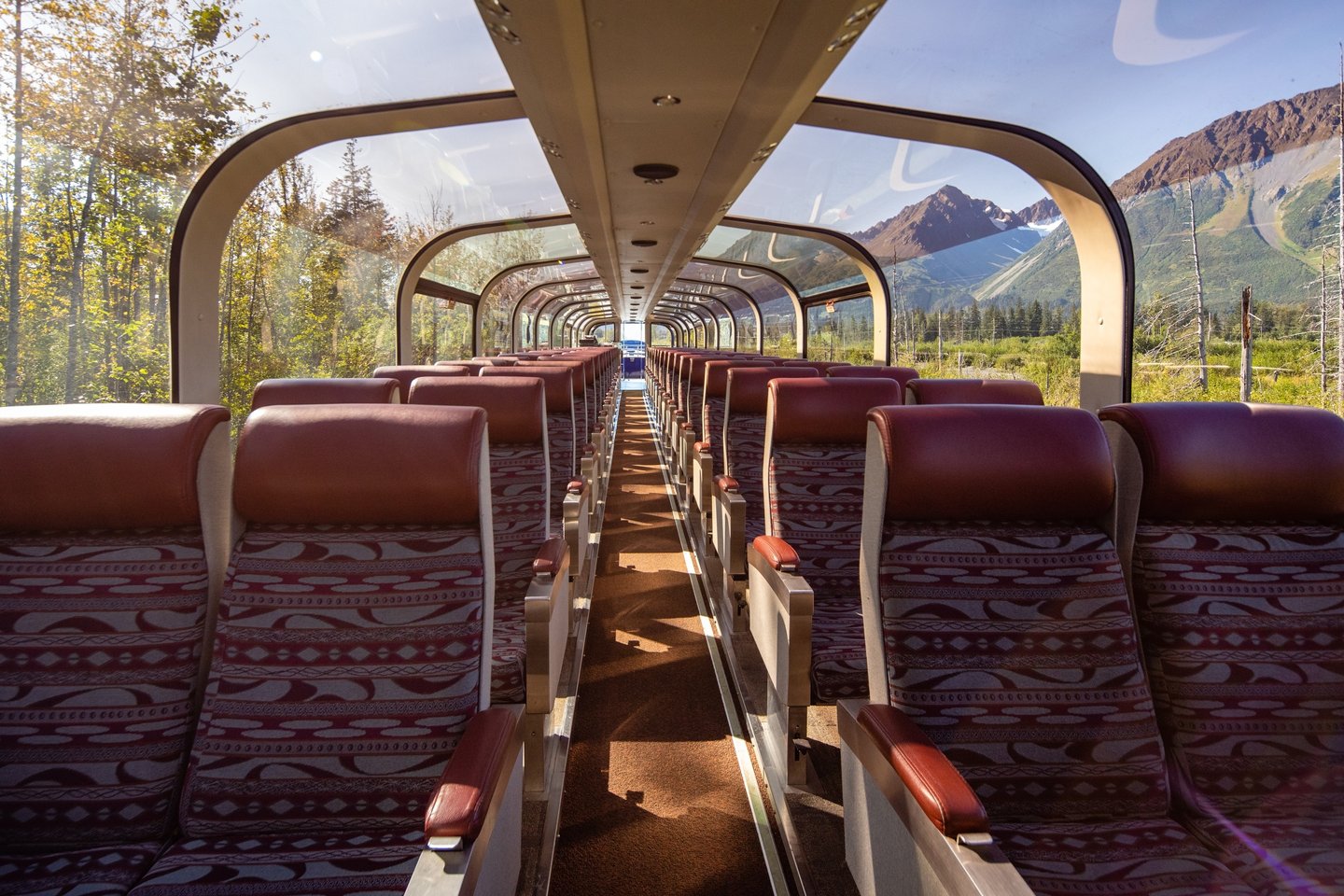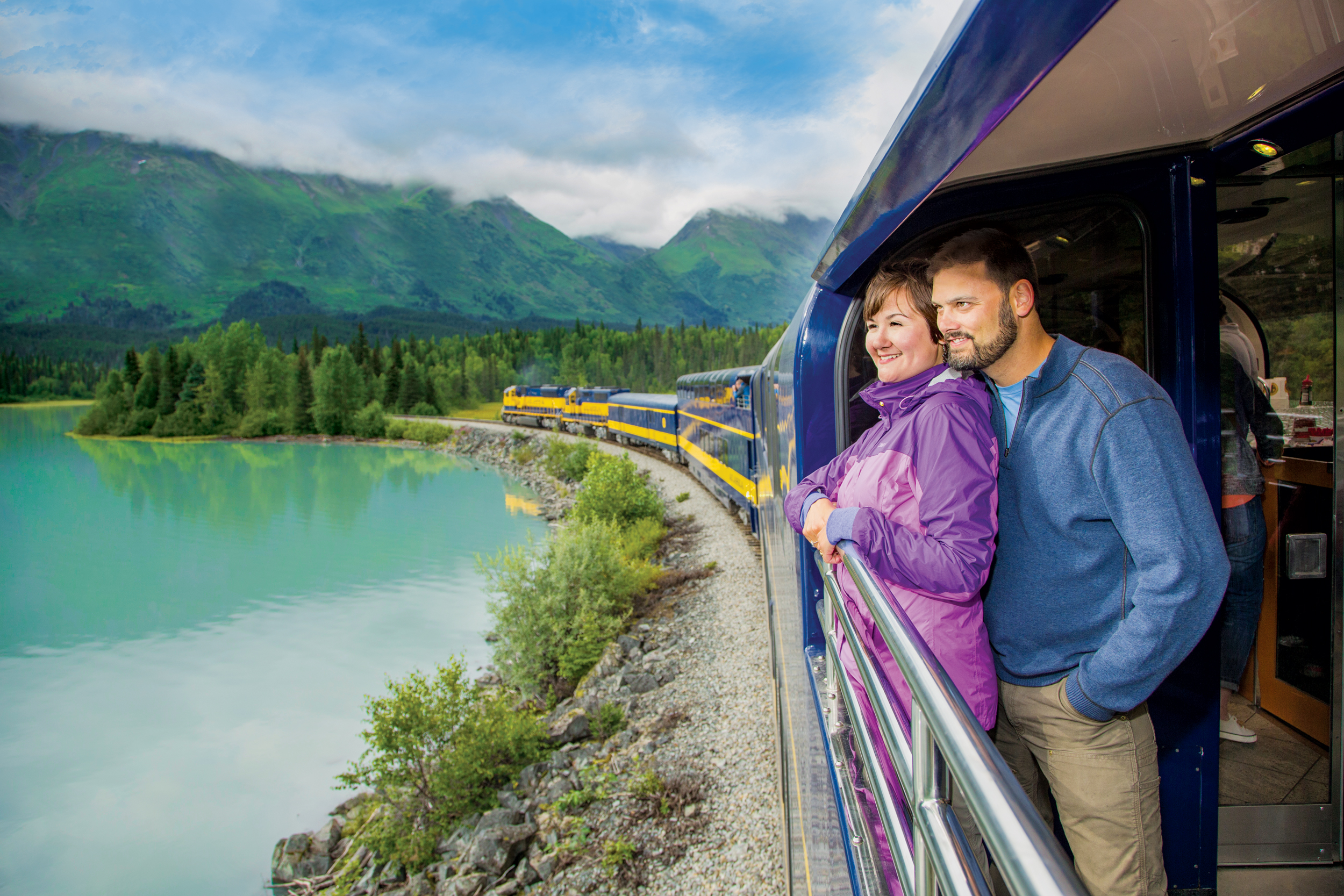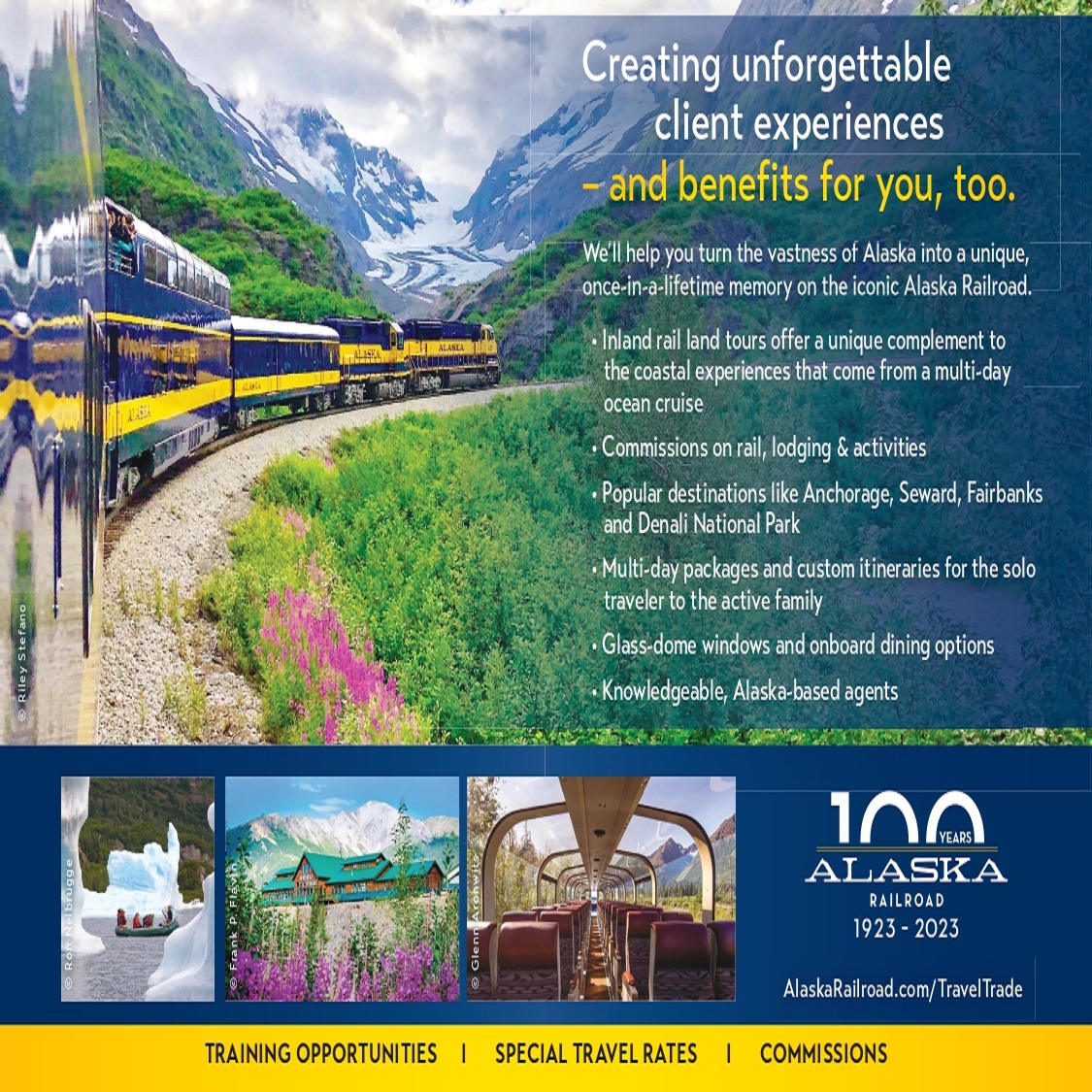 Request Information from Alaska Railroad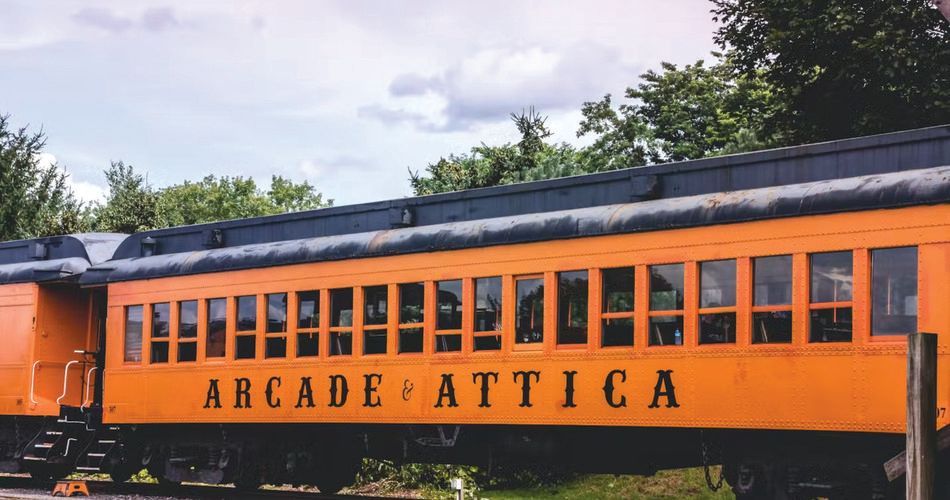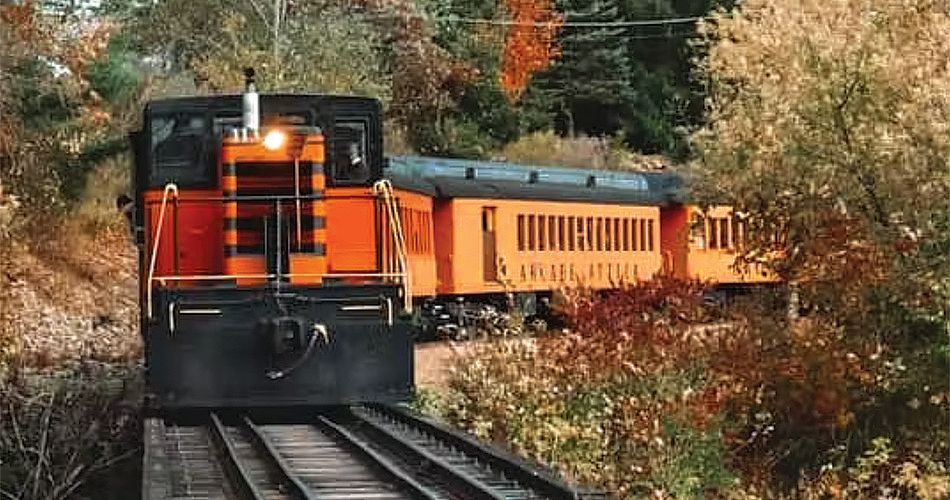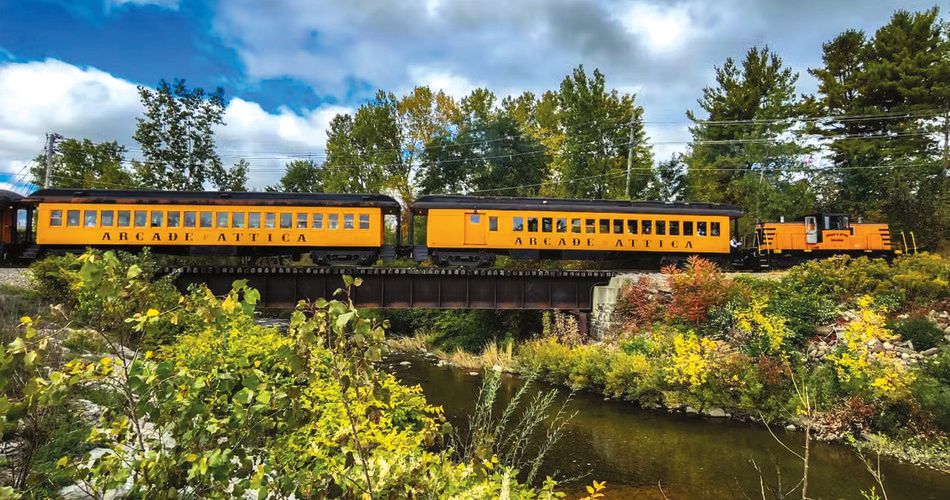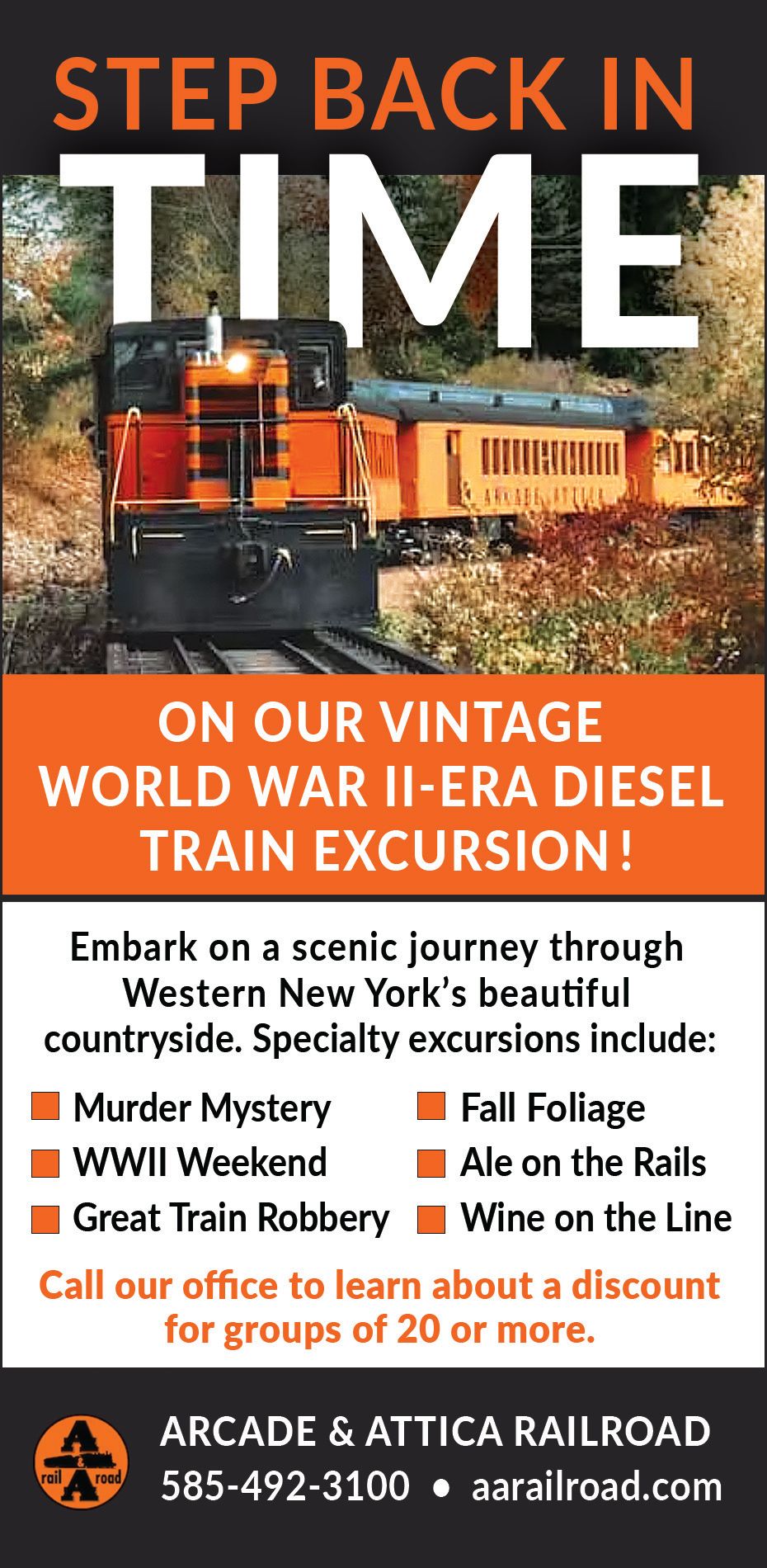 Arcade & Attica Railroad
Step back in time aboard a vintage World War ll-era diesel train excursion in New York State. Arcade & Attica Railroad is an authentic short line railroad with the distinction of being one of the last "common carriers" — running freight and passenger trains weekly. Your journey aboard the Arcade & Attica Railroad begins before you board the train. As you enter the historic station, you're surrounded by the history of railroading in America. Then you embark on a scenic journey through the countryside and farmlands that have remained virtually unchanged since the line was originally laid in the 1880s. 
The journey into the Curriers Depot is enjoyable, as there is no ride like that behind a steam engine. Once at the depot, the locomotive uncouples from the train, moves onto a siding, and stops, where you are free to look at the engine, take pictures, and talk with the crew as they prepare the diesel for her return journey. As the engine begins to move once more, moving tender first, the engineer blows the whistle for the crossing. The conductor throws the switch, and the engine moves forward once more to couple up with the end of the train.
Throughout the year, we offer special excursions, some powered by our steamer, others by our vintage World War II-era diesel engine. Our regular excursions run every weekend from Memorial Day Weekend until the last full weekend of September. The month of October is Fall Foliage month, and we will be operating on an extended schedule that includes Fridays and two trains each day on the weekends.
Our passenger excursions are powered by one of our two World War II-era diesel-electric locomotives, which are also used weekly in our freight operations. Both engines were built by General Electric at their locomotive facility in Erie, PA. The 44-ton center cab No111 was built in 1947 and delivered new to the Arcade & Attica Railroad. No112 was built in 1945 and delivered to the United States Navy. The A&A purchased the engine from the City of Colorado Springs Railroad in 1988 to supplement the ailing engine No 111.
Request Information from Arcade and Attica Railroad
Bluegrass Scenic Railroad and Museum
Versailles, Kentucky
The Bluegrass Scenic Railroad and Museum offers a picturesque 11-mile, a 90-minute train excursion through the rolling central Kentucky countryside past thoroughbred horse farms to the Kentucky River. Air-conditioned first-class cars and exciting open-air cars are available. In addition to train rides every Saturday, the museum maintains an outdoor collection of historic railroad locomotives and railcars and an indoor museum of railroad artifacts. The museum, model train layouts, and gift shop are open noon to 4 p.m. Saturdays.
In addition to the regular Saturday train ride, Bluegrass also offers special train rides including the Easter Bunny Train. The Saturday before Easter the Easter Bunny is invited to ride the train. Everyone takes turn getting bunny hugs and handshakes as the train ride down the tracks in early spring, allowing guests to savor the fresh green leaves and lovely flowers blooming. This ride is a treat for children and adults.
Bluegrass also helps families celebrate Mothers' and Father's Day by running a special train the Saturday before mom and dad's holiday. On their respective Saturday, the Parent of the Day receives half off the price of a regular ticket when accompanied by one or more of their children. Bring your mom (or mom-to-be) in May and your dad in June and treat them to a special afternoon filled with incredible early summer scenery including horses grazing in fields.
Bluegrass also presents special living history events to honor those who served in World War II and the Civil War.  Weekday chartered train rides for groups are also offered.
There are multiple ways to enjoy the train, including first-class seating, where guests can ride in air-conditioned comfort on plush reclining seats and the new hobo class, which allows guests to ride in the open air on a World War II vintage flat car directly behind the locomotive. This gives a new way and exciting way to see and hear how the train engine operates.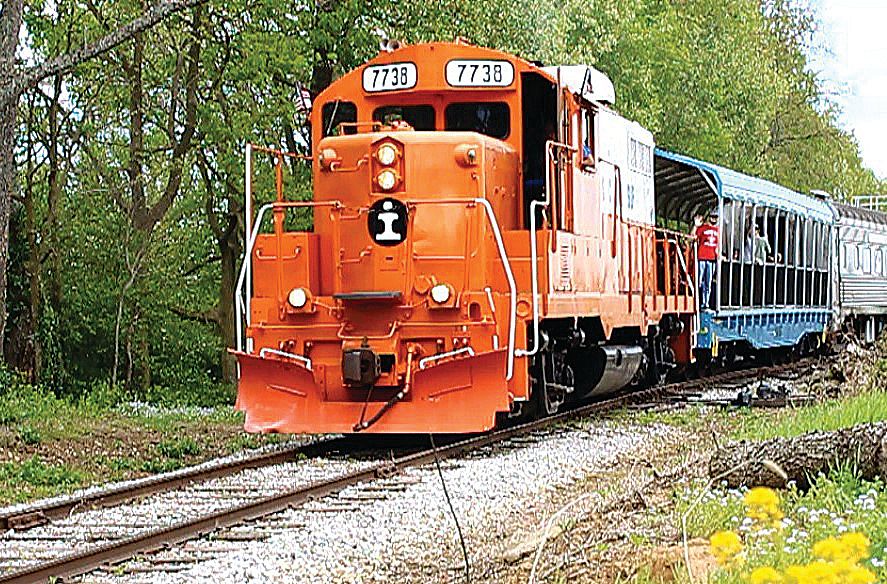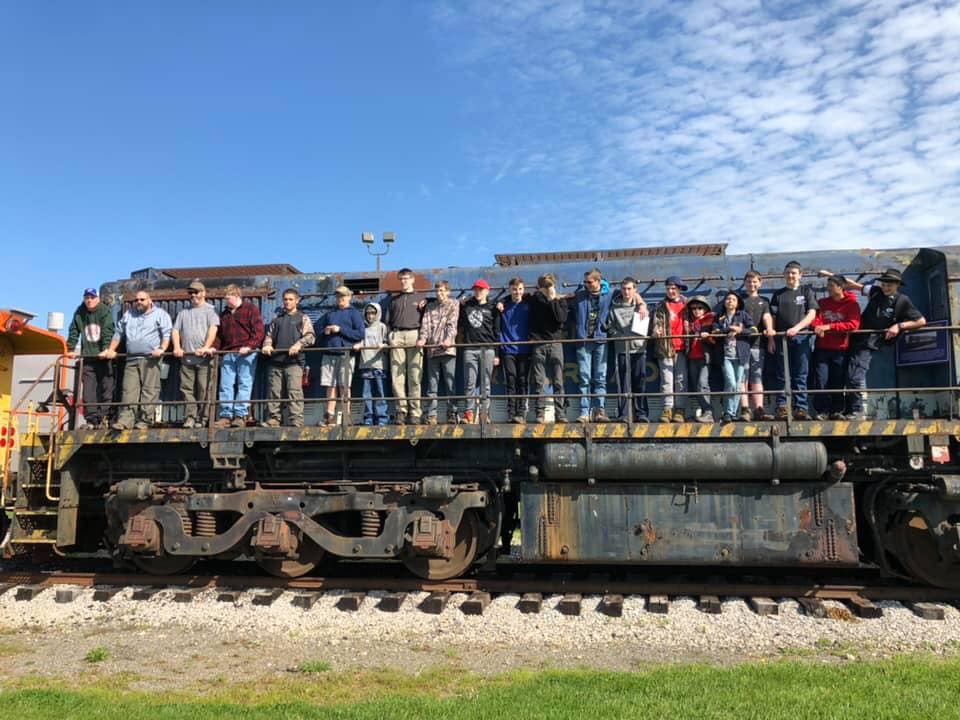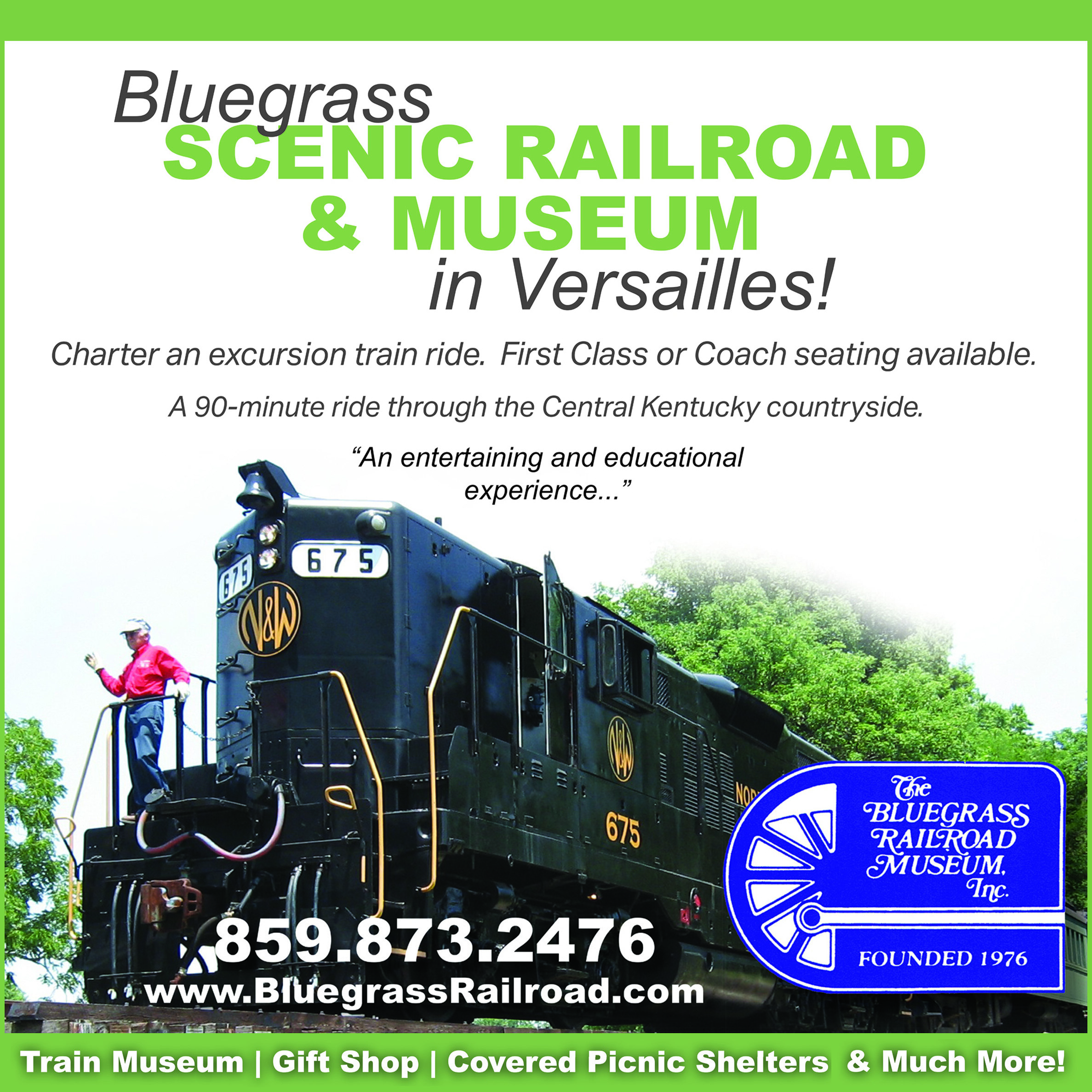 Request Information from Bluegrass Scenic Railroad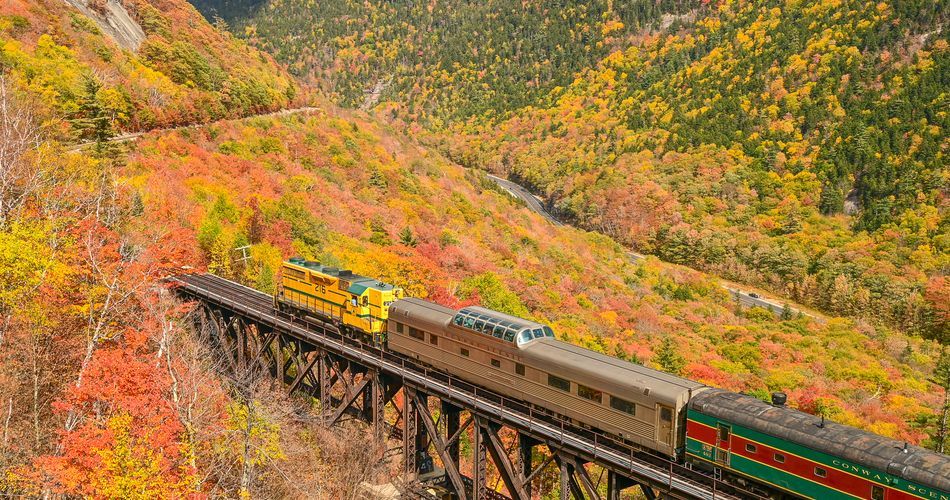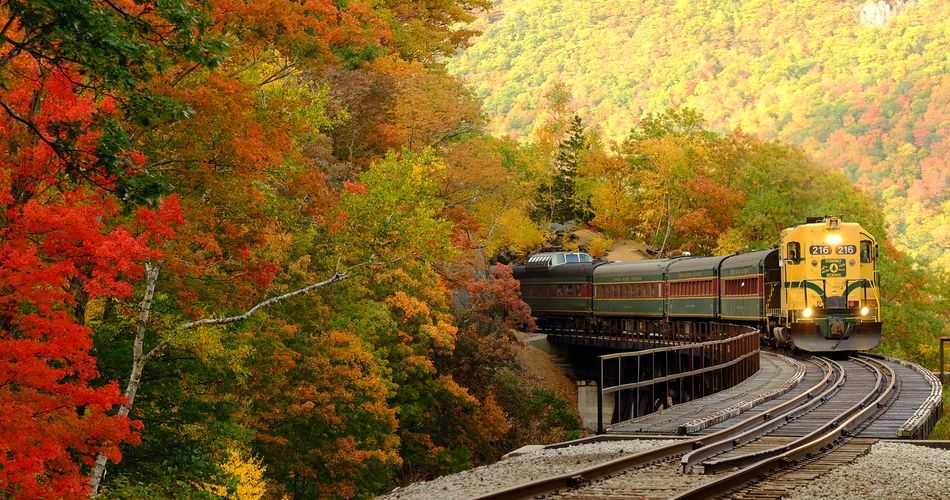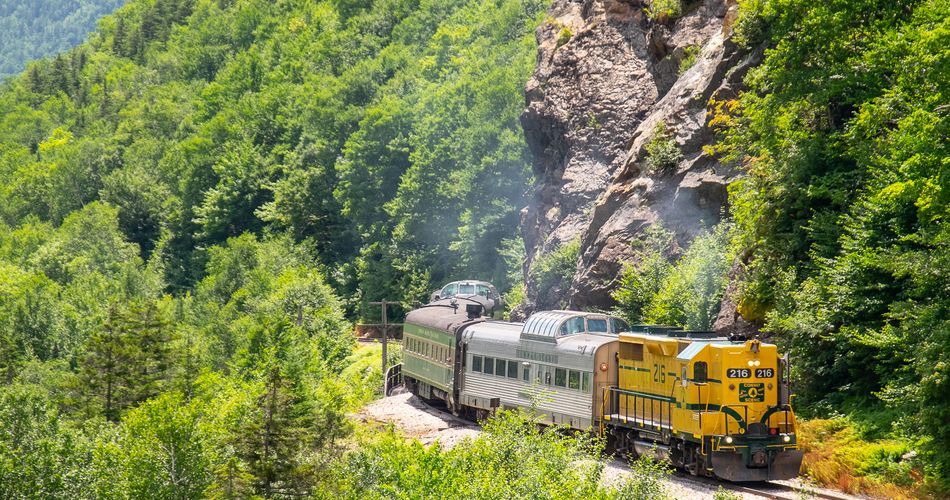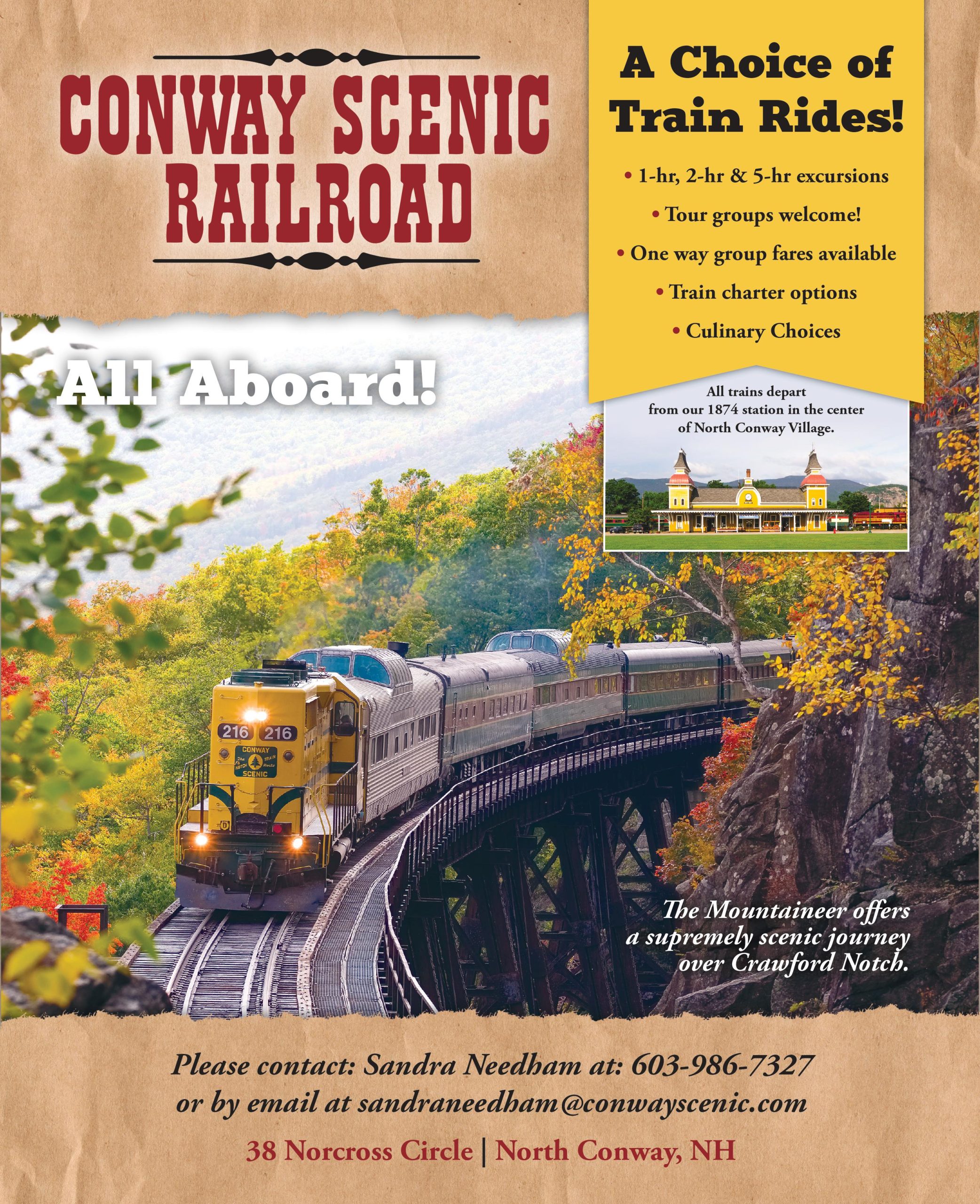 Conway Scenic Railroad
Conway, New Hampshire
Conway Scenic Railroad is unusual among North American tourist railways because
it offers a variety of excursions and railroad experiences. 
Our premier scenic excursion is the streamlined Mountaineer, which offers a 4 hour, 20 minute trip through New Hampshire's White Mountains over Crawford Notch. This train consists of 1940s and 1950s vintage cars, including Budd-built glass topped Vista Domes that offer panoramic views of the scenery. This train runs from the end of May until Mid-November. 
Our Conway and Sawyer River Valley Trains are classic heritage train rides that feature vintage railroad passenger cars from the 1920s and offer the pastoral experience of traveling by train from town to town.
Enjoy an old-fashioned railroading experience with all trains departing from an 1874 train station in North Conway Village. Whether you choose one of Heritage Valley Excursions on the Valley Train or take the Mountaineer to Crawford Notch, this is a journey back in time the whole family is sure to enjoy. 
There are a variety of fun outings to choose from. The Easter Bunny Express allows guests and their families to enjoy a photo opportunity with the Easter Bunny at our historic North Conway rail station built in 1874, along with a special goodie bag from the Easter Bunny himself. This event also includes a train ride to Conway with a scavenger hunt along the way.
Travel back in time on the Sawyer River Excursion. 
You'll enjoy riding along this historic rail route in vintage passenger cars from our 1874 train station in North Conway Village to Sawyer River and back again.
Our main station is located in historic downtown North Conway in the White Mountains region of New Hampshire. 
The classic Victorian station plus the adjacent freight house and roundhouse are list on the National Register of Historic Places and offer one of the most authentic 19th century r ailroad environments in New England.
Request Information from Conway Scenic Railroad
Cumbres & Toltec Railroad
Antonito, CO and Chama, NM
A National Historic Landmark, Cumbres & Toltec Scenic Railroad offers a train adventure you won't soon forget.
Chugging along at 12 miles an hour, the Cumbres & Toltec Scenic Railroad isn't in a hurry. And that's a good thing when you're traveling off the grid through spectacular scenery that ranges from alpine meadows and rocky gorges to deep forests of evergreens. Then there's the abundance of wildlife — think deer, antelope, eagles and perhaps a bear or two — that calls this diverse terrain straddling Colorado and New Mexico home.
What began in 1880 as a working railroad that ground to a halt in the 1920s and was abandoned in 1969, Cumbres & Toltec Scenic Railroad is now considered one of the most scenic and authentic train rides in North America thanks to its 1971 rebirth overseen by a joint New Mexico-Colorado commission. Covering 64 miles and crossing between the two states 11 times, C&T is also the longest steam railroad on the continent as well as the highest, climbing almost two miles above sea level.
For their full, half-day and express excursions, riders can board in either Chama, New Mexico, or Antonito, Colorado. For the full-day trips, riders return to their cars by the railroad's bus. Passengers also have an option when it comes to deciding which of the meticulously restored cars to ride in. But whether they opt for the Parlor, Deluxe or Coach car, the stunning scenery is the same. Unless, that is, they head to the all-passenger, open-air Gondola, which provides unobstructed views and even better photo opportunities. More adventurous traveler can opt to ride between cars, holding onto the railing as the train rolls around curves. Depending on the car, breakfast or lunch is included, with snacks and a full bar part of the onboard concessions. And should you have a question about the history, legends or lore of this region and the railroad, the onboard docents are more than happy to help.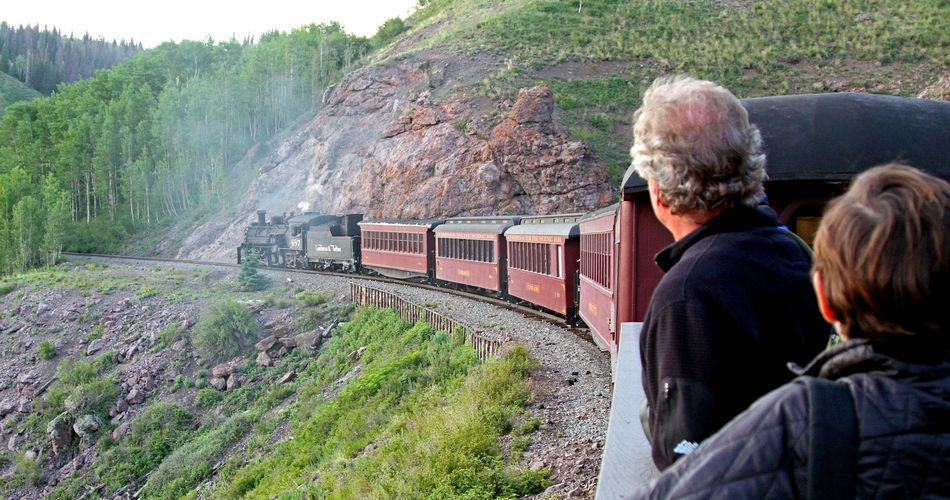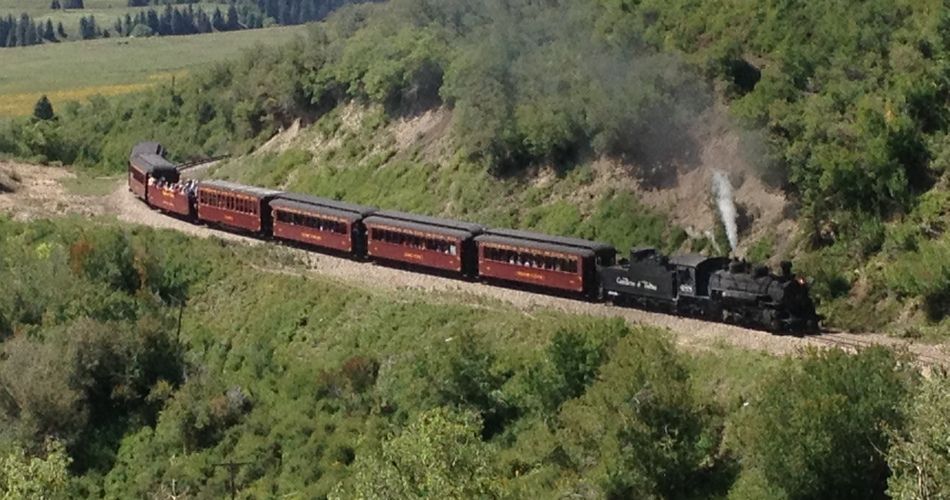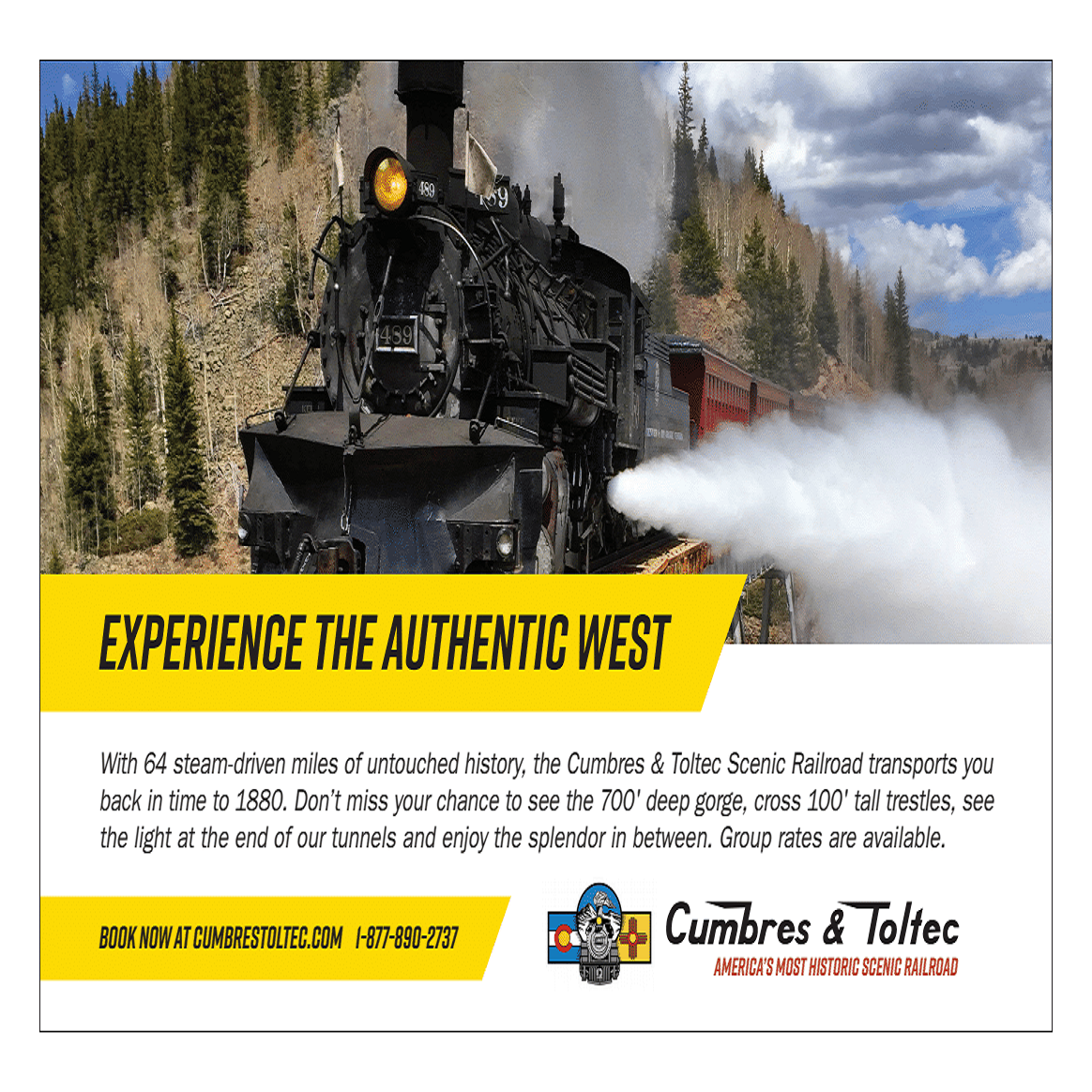 Request Information from Cumbres and Toltec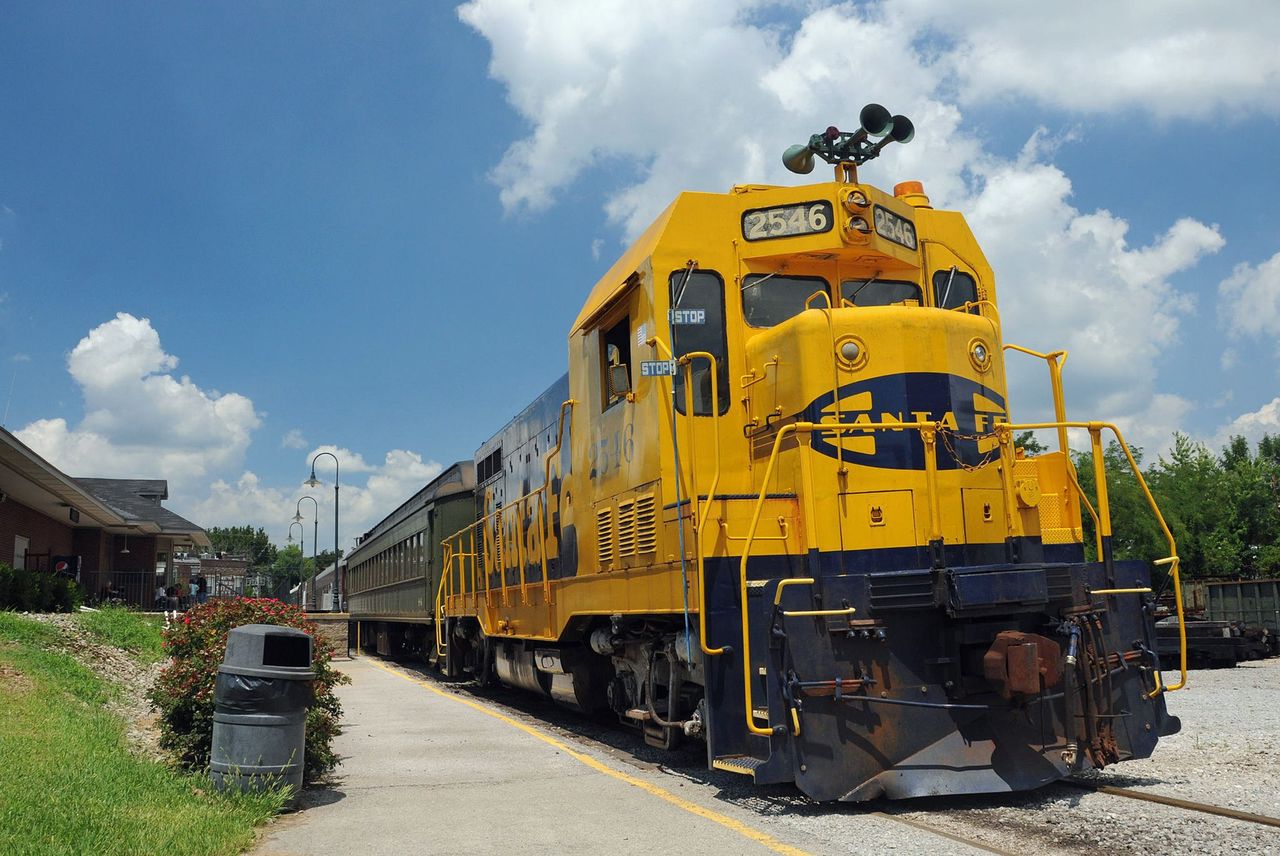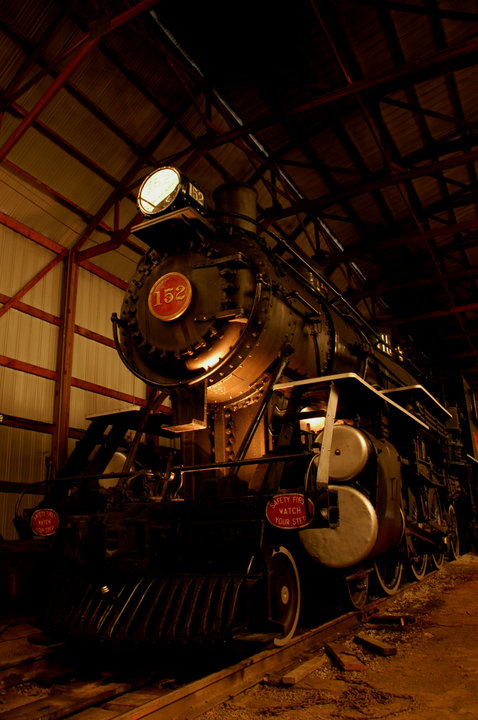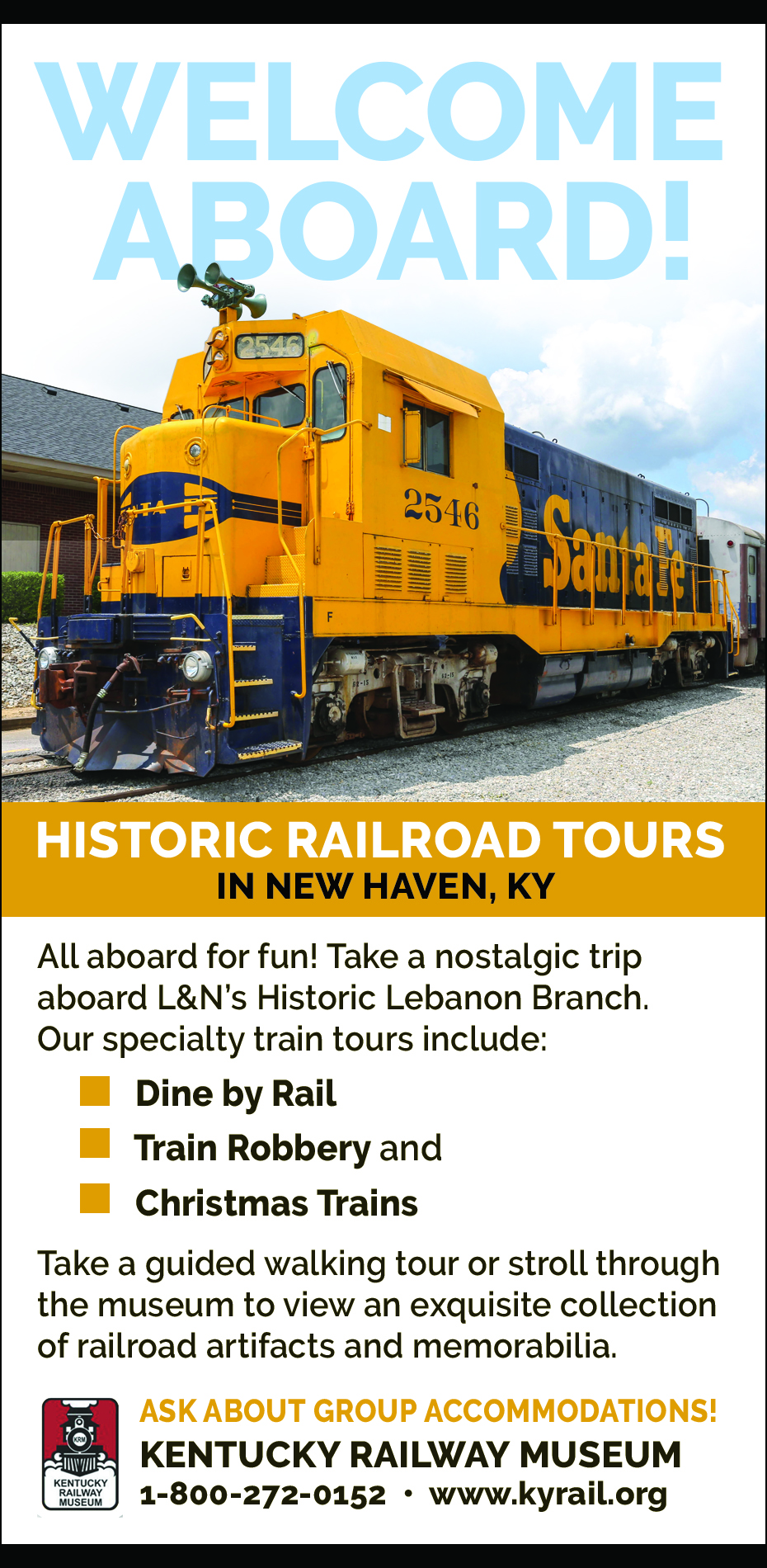 KENTUCKY RAILWAY MUSEUM
New Haven, Kentucky
It's always fun to step back in time, and when you visit the Kentucky Railway Museum, that's exactly what you get to do. The museum, which originated in Louisville, Kentucky in 1954, is one of three tourist railroads in Kentucky. The museum moved to its current home in New Haven, Kentucky in 1990. "So much of our history is being erased from our nation," said Lynn Kustes, marketing manager. "We're trying to preserve a small piece of that history."
Many families visit the museum and take a train excursion – especially grandparents who bring their grandkids to let them see and feel that piece of history they experienced during their youth.
Each year they welcome thousands of tourists to the museum to enjoy one of the train rides, visit and stroll through the museum or attend a special event. One of their most popular monthly rides is The Great Train Robbery, during which "robbers" on horseback stop the train to collect loot from passengers, which is then donated to the WHAS Crusade for Children. Because this is such a popular event, each year they collect several thousand dollars for the organization. In some years they have donated as much as $7,000 to the cause.
In addition, they offer lots of seasonal rides. For instance, the Autumn Express invites folks to welcome the crisper season with fun activities and pumpkin picking. They also have the Fall Break Express, and the Annual Car, Truck, Motorcycle & Tractor Show, an event that through the years has grown from 20 cars to over 400.
A new October event they added last year, called Whistles, Witches and Wine, became wildly popular, selling out every night.
The train runs throughout the month of December on select dates for the Santa trains. Passengers get to visit with St. Nick, enjoy cookies and hot chocolate and children can participate in themed holiday activities. It's a sellout event so purchasing tickets early is highly encouraged.
Celebrating 31 years in New Haven, the Kentucky Railway Museum gives visitors a chance to climb aboard a vintage train for a ride through the L&N's Historic Lebanon Branch.
Request Information from Kentucky Railway Museum
WHITEWATER VALLEY RAILROAD
Connersville, Indiana
The Whitewater Valley Railroad in eastern Indiana will take you back in time on a train full of vintage machinery and locomotive nostalgia. Sit back, relax and enjoy several excursions Whitewater Valley Railroad offers from April through December. How about a wild west train adventure or festive holiday-themed trip?
On the Valley Flyer excursion, meander through the scenic Hoosier countryside, over train trestles, and along the Whitewater River and restored canal on a 20-mile round-trip from Connersville to the historic village of Metamora. Discover the old-fashioned canal town where the original tow-path used for horse-drawn canal boats was transformed into the Whitewater Valley Railroad.
During the two-hour layover in Metamora, visit the oldest working water-powered grist mill in the country and observe a horse-drawn canal boat replica. See the historic Duck Creek Aqueduct, the only remaining wood-covered aqueduct in the United States, and grab a souvenir from one of the local artisans housed in original 19th-century buildings.
During the holidays, seasonal train excursions are a memorable way to celebrate with loved ones. In springtime, grab your Easter basket and hop aboard the Easter Bunny Express. Travel to the Bunny Patch and help the Easter Bunny find the Golden Egg.
For a magical Christmas experience, visit Santa Clause at the North Pole on The Polar Express™ Train Ride, a re-creation of the beloved children's classic. Sip hot chocolate and nibble on tasty treats made by dancing chefs and listen to the tale of The Polar Express read aloud. Meet Santa and his elves, receive a special Christmas gift and spend one-on-one time with the jolly man himself.
Feel the seat rumble underneath you as the Whitewater Valley Railroad chugs along on a memorable journey. Plan your next adventure on the heritage railroad that offers one-of-a-kind views of Indiana's beautiful natural landscape.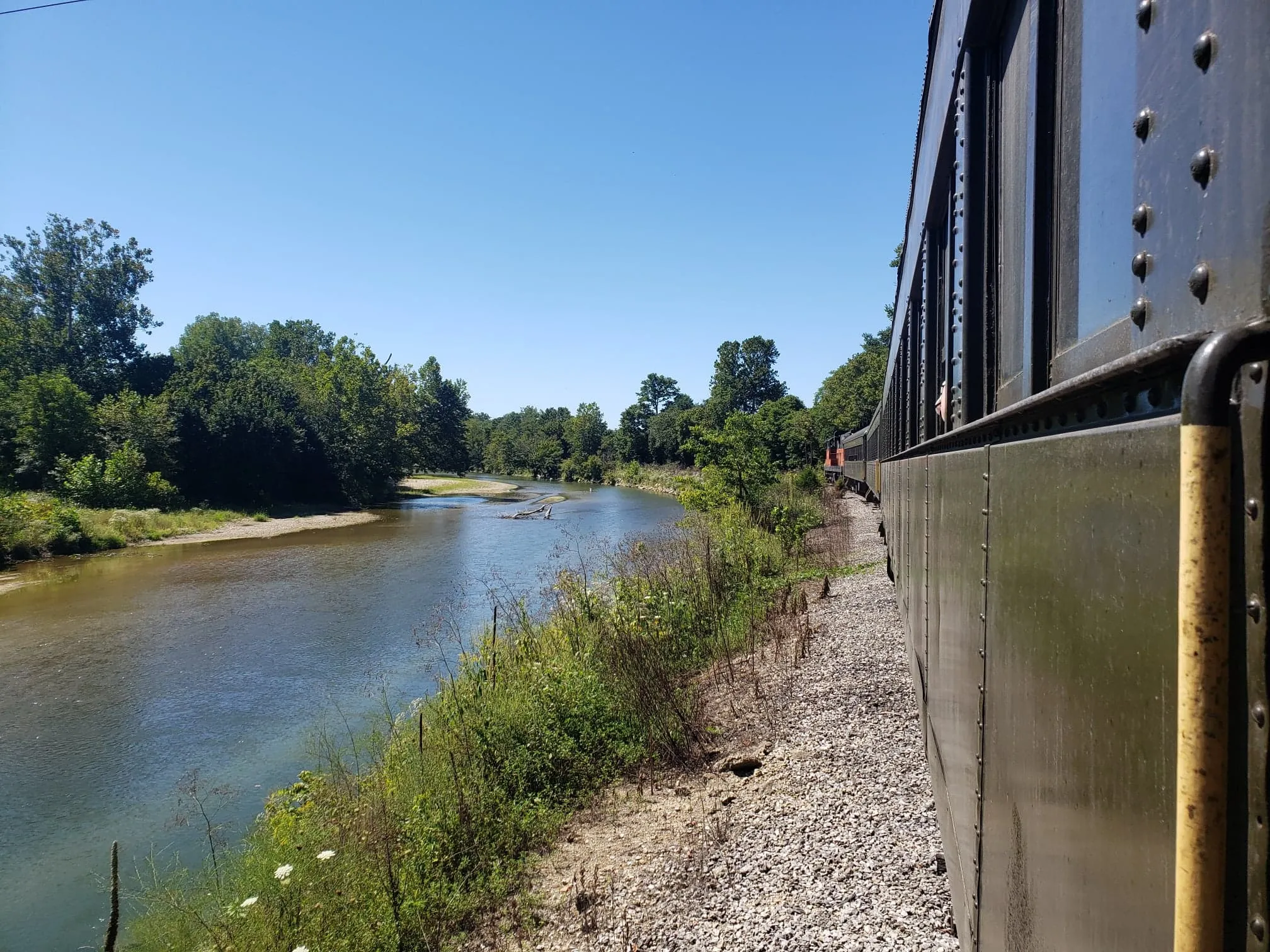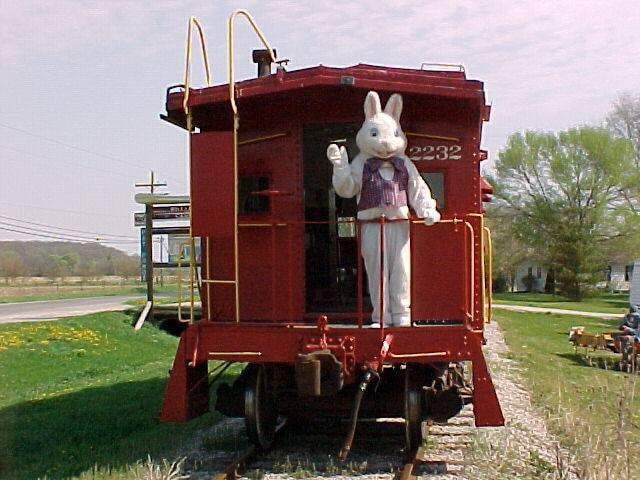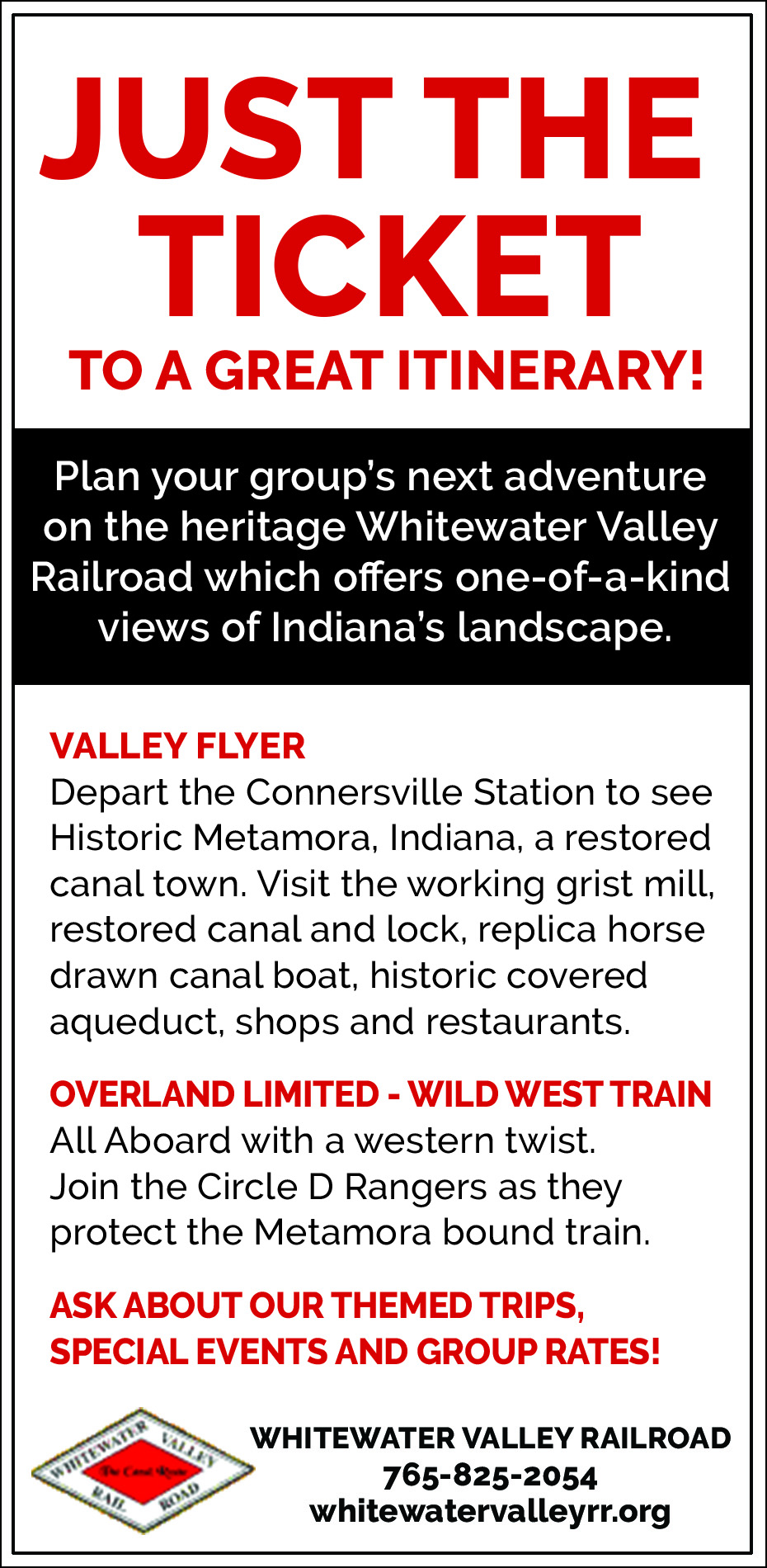 Request Information from Whitewater Valley Railroad