Offering wilderness scenery, Indian cultures and some artsy outposts, the Jemez Mountain Trail embodies the splendor and quirkiness of New Mexico. It makes a perfect side trip from Albuquerque or Santa Fe.
From south to north, the landscape goes from high desert with red rocks and cactus to pine forests with snow-capped peaks and mountain wildflowers.
The Jemez Mountain Trail, designated a National Scenic Byway in 1998, runs 120 miles through the middle of the Jemez Mountains and comprises three, two-lane roads. From Bernalillo, a Sandoval County town north of Albuquerque, our group's day trip concentrated on Highway 4, which stretches north from San Ysidro.
Our first stop—and one of the most photogenic—was the Red Rocks area across from the Walatowa Visitor Center, where exhibits tell the story of Jemez Pueblo. The gift shop sells the distinctive Jemez pottery made from the reddish earth, plus basketry, embroidery, jewelry and weavings.
The nearby village of Walatowa is home to most of the 3,400 tribal members and off-limits to visitors except on feast days. Its roots go back more than 1,000 years. Unlike many of the state's 19 pueblos, Jemez (pronounced "HAY-mess") has no casino. The pueblo is 55 miles northwest of Albuquerque.
Across the highway from the visitor center are picnic tables, stands that sell Indian breads and plenty of choice locations for photographing the rust-colored mesas. Groups can hire a guide from the visitor center who will conduct a two-hour hike through high desert landscapes (piñon trees, prickly pear cactus) on the Red Rock Canyon Trail. The sandstone ranges in hue from rich pink to deep rust. You might see cottontails, jackrabbits and mule deer, and you'll spot birds flying in and out of holes in the porous rock.
The visitor center offers a "Cultural Ed-Venture" that can be customized for any group. It includes traditional foods, artist and bread-baking demonstrations, and insights into the pueblo's history.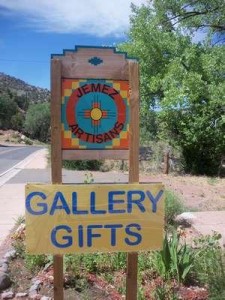 The tiny town of Jemez Springs, pop. 250, is a highlight of any journey along the Jemez Trail. Located among natural mineral springs inside the Santa Fe National Forest, it enchants wayfarers with its art galleries and bathhouses. In 1995 it became one of the smallest cities ever to receive the All-American City honor.
Jemez Artisans, housed in an old adobe post office along Highway 4, sells everything from quilts to ceramics. Across the road, Jemez Fine Art Gallery is a co-op of 14 artists that occupies a building that formerly served as a gas station, store and playhouse.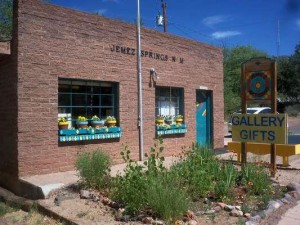 Janecka Collection, an art gallery/gift shop run by Elizabeth Janecka and her son and daughter, offers family-made body creams, ointments, balms, soap, mineral make-up and other skin care products. They even make a coffee lip balm and a tooth powder that is a natural alternative to toothpaste. Besides making jewelry, ceramics and silverwork, the Janeckas spin recycled yarn from India and Nepal into crocheted items like hats, scarves and earmuffs.
In one of eight oversized tubs at the historic Jemez Springs Bath House, built in the 1870s and owned by the village, you can enjoy a massage or soak 25 to 50 minutes in mineral water from the original hot springs, with temperatures ranging from 154 to 186 degrees. Or opt for an herbal wrap in towels infused with rosemary, lavender or peppermint spray.
At Giggling Springs Day Spa, another historic spa property, you can take the geothermal waters at an outdoor pool next to the Jemez River. Or have a massage or undergo an oxygen therapy treatment. Worth a photo is a weathered bathhouse built in the mid-1800s, an aging relic no longer in use.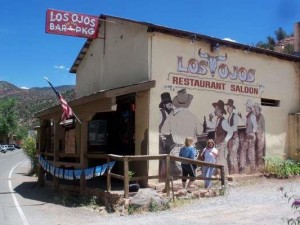 For lunch in Jemez Springs, try Los Ojos Restaurant & Saloon. Its stone fireplace, wooden floors and log-beamed ceilings give it a cozy lodge feel. Decorating the log-and-adobe walls are trappings of the Old West—rifles, saddles, sombreros, wagon wheels and mounted wildlife, including a rattlesnake.
Traveling north from Jemez Springs, our next stop was Jemez State Monument, an archaeological site. We toured the ruins of an ancient pueblo of the Jemez people and saw the remains of a 17th century Spanish mission.
Continuing on Highway 4 and ascending to an elevation of 8,500 feet, we arrived at Valles Caldera National Preserve, a working ranch with recreational opportunities. Centered around a 13-mile-wide crater created by a volcanic eruption over a million years ago, the preserve consists of forests and grasslands surrounded by 10,000-foot mountains. Elk-viewing tours spotlight the largest elk herd in New Mexico. Other activities include elk and turkey hunting, trout fishing, cross-country skiing, mountain biking and horse-drawn sleigh rides. Van tours for small groups can focus on geology, wildlife or history. Cabin-style accommodations are available at The Lodge (eight bedrooms sleeping 16) and The Bunkhouse (three bedrooms sleeping 12).
Bandelier National Monument, the site of ancient pueblo cliff dwellings, is a short drive from Valles Cadera. The ruins are just outside of White Rock, 33 miles west of Santa Fe and the easternmost point of the Jemez Trail.
For information on the Jemez Trail, contact the Sandoval County Visitor Information & Event Center at 800-252-0191 or www.sandovalcounty.org.