Multigenerational families typically gathered at Grandma's house to celebrate the festive December holiday season. Today, however, families are living farther apart from each other than ever before. Making lifelong family memories is high on holiday wish lists, but the stresses of enter-taining often get in the way.
Rather than going "over the river and through the woods to Grandmother's house," today's multigenerational families frequently reunite on a holiday vacation instead. These groups often include grandparents, parents, siblings, cousins, in-laws and friends. Tour planners can lend their expertise in organizing such trips, which are comparable to mini-reunions.
Multigenerational travel is a top luxury travel trend, according to the Virtuoso Luxe Report. Dan Austin, founder and president of Austin Adventures, has seen a significant increase in holiday multigenerational family group bookings. "Booking a multigenerational family trip can take all the stress out of the holidays and allow family members to focus on enjoying great experiences and spending time together," says Austin. One of the keys to a successful multigenerational vacation, according to Austin, is "having something for everyone – from 8 to 80." Central America and the Galapagos are among the company's most popular multigenerational holiday destinations.
Sailing Through the Holidays
Cruise ships provide activities and amenities for all interests and age groups, making them an excellent choice for multigenerational holiday vacations. "The December holidays are one of the most popular seasons of the year to cruise, providing families an opportunity to reconnect and make a lifetime of wonderful memories," says Vance Gulliksen of Carnival Cruise Line. Carnival's ships are beautifully decorated, providing a festive home base for the holiday season. Bountiful holiday feasts are served onboard, keeping family traditions alive with no cleanup necessary.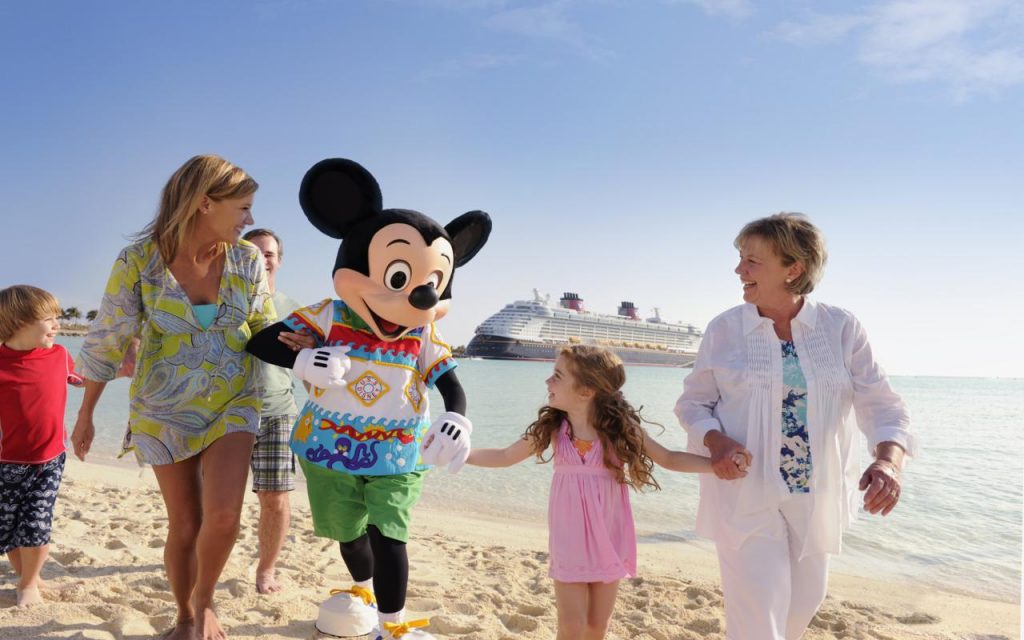 Disney Cruise Line caters to multigenerational families with Disney's mix of family-friendly entertainment and programs for all ages. "Disney Cruise Line has a strong draw for multigenerational travel with more than one-third of all parties sailing as part of a multigenerational group," says Jennifer Haile Tinn of Disney Cruise Line. Disney's Very Merrytime Cruises feature a wide variety of holiday activities including tree-lighting by Disney characters and "Santa's Winter Wonderland Ball" with Santa and Mrs. Claus.
Cruise ships also serve delicious holiday feasts onboard, keeping festive family traditions alive with no cleanup necessary. For example, guests on MSC Divina's holiday sailings enjoy a Christmas Eve Gala Dinner or New Year's Eve Gala Dinner featuring dishes created in partnership with two-star Michelin chef Carlo Cracco. The MSC Divina also offers a special lunch on Christmas Day, Christmas-themed cooking classes and tradi-tional Hanukkah foods for those celebrating Hanukkah.
Multigenerational holiday cruise vacations aren't confined to oceangoing vessels. Several river cruise lines successfully cater to families as well. "For 2016, Uniworld more than doubled the number of children booked on family cruises compared to 2014, increasing the total number of departures from five to 13," says Ellen Bettridge, president & CEO of Uniworld Boutique River Cruise Collection. Uniworld's "Classic Christmas Markets" itinerary enables multigenerational families to enjoy Europe's holiday magic and make lasting memories together.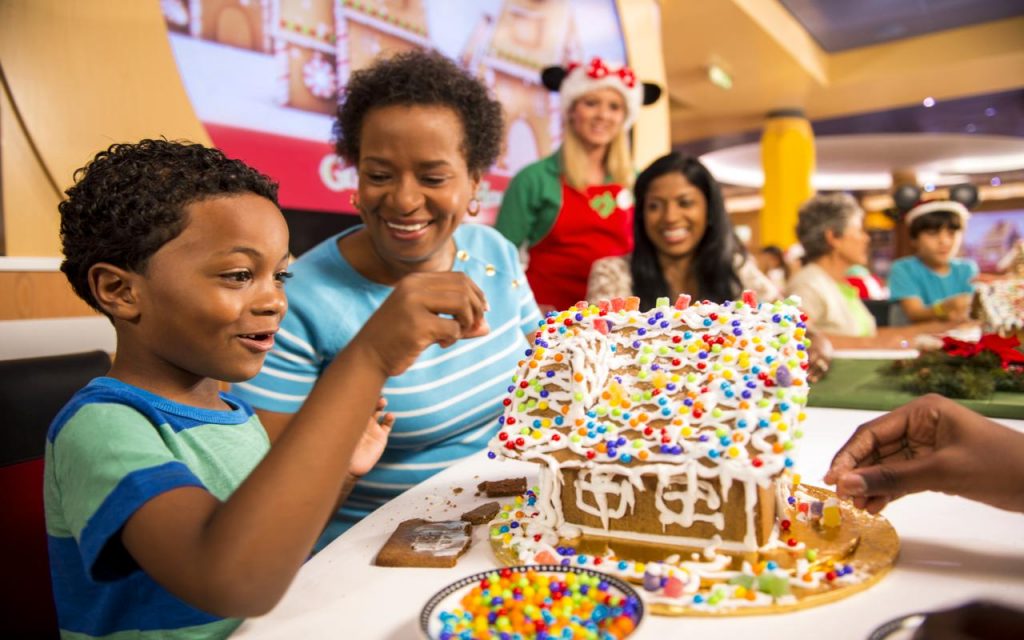 AmaWaterways has partnered with Adventures by Disney to create immersive European river cruise experiences for multi-generational travelers on their newest ships, featuring suites with convertible sofa beds and connecting staterooms. AmaWaterways' holiday cruises allow families to experience Europe's Christmas Markets and special traditions. "From tree-decorating contests and carolers to a traditional holiday dinner and Christmas Party, groups of all ages will truly have an incredible experience onboard AmaWaterways during the holiday season," says Kristin Karst, AmaWaterways' executive vice president and co-owner.
Making Memories at Festive Resorts
Resorts are popular choices for multigenerational vacations, particularly when they're decked out for the holidays. In New York State, Mohonk Mountain House's Victorian castle provides a fairytale-like setting complete with gingerbread houses, handmade wreaths and massive Christmas trees. Families staying at The Breakers in Palm Beach, Florida marvel at the resort's holiday wonderland made up of 1,750 feet of garland, 4,000 ornaments, 160,000 Christmas lights and more. Family-friendly resorts such as The Broadmoor in Colorado Springs and The Gasparilla Inn & Club in Boca Grande, Florida feature "Twelve Days of Christmas" events filled with programs, activities and culinary delights.
Related: Great All-Inclusive Family Vacations in the U.S. (destinationreunions.com)
Amenity-filled resorts cater to multigenerational families with an extensive variety of holiday programs for every age group. This allows all family members to have fun, both together and apart. In western Virginia, The Omni Homestead Resort's holiday season calendar is filled with nearly 250 entries including the Homestead Holiday Express Hayride, Nutcracker Tea and Dessert Reception and Goodnight Elf Tuck-In.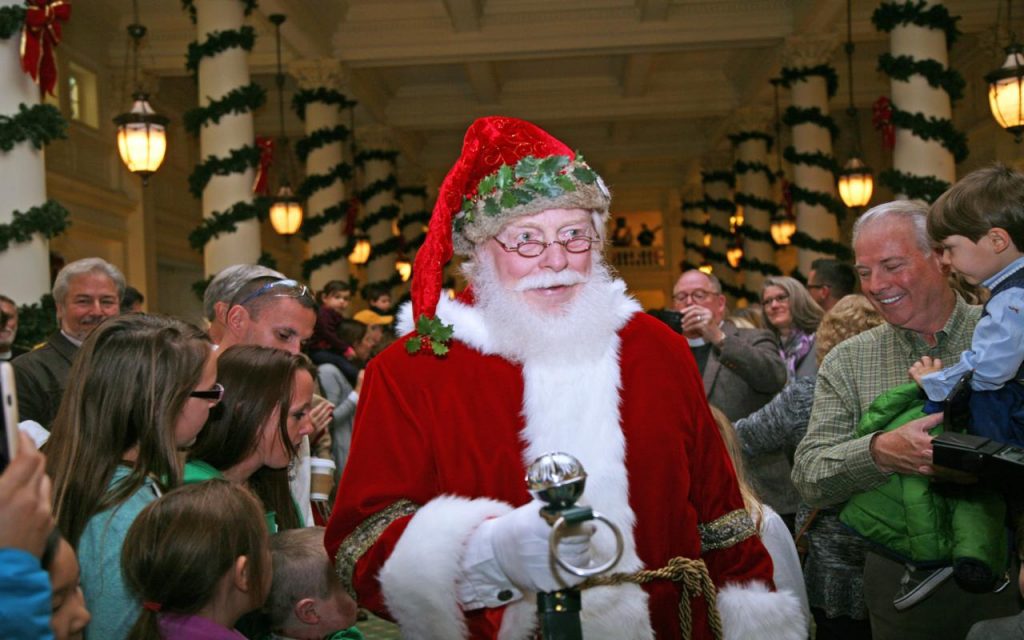 Resorts at theme parks like Walt Disney World are a popular choice for December family mini-reunions, allowing grandparents to make holiday wishes come true and share something they love with their children and grandchildren. Walt Disney World's resorts are festively decorated for the holidays and the parks feature special activities such as Mickey's Very Merry Christmas Party, Epcot's Candelight Processional and spectacular fireworks shows. In addition, personalized packages can be arranged including special holiday in-room celebrations and private holiday dessert parties.
Multigenerational groups frequently seek out tropical beach resorts with plenty of family room for their December holiday celebrations. Florida's Hawks Cay Resort caters to multigenerational groups with fully-equipped villas and special holiday programming. Sheldon Suga, Hawks Cay Resort's managing director, says, "We've always been a family destination, but we have seen steady growth in the multigenerational travel segment over the last couple of years and we've adjusted our offerings to cater specifically to families traveling together as a result."
The Somerset on Grace Bay, located in Turks & Caicos, is also seeing an increase in multigenerational travel, according to man-aging director Urmas Kärner. The property is a haven for multigenerational families traveling together with spacious one-to five-bedroom villas ranging from 1,400 to 5,300 square feet. A traditional Christmas Dinner is served on December 25 and Santa Claus brings holiday cheer to good boys and girls of all ages.
For many multigenerational families, making priceless vacation memories can be the best holiday gift of all.
By Nancy Schretter
Nancy Schretter is the founder and managing editor of the Family Travel Network (familytravelnetwork.com) and an industry consultant in family and multigenerational travel.