Itineraries from Brooklyn Cruise Terminal will feature a broad range of destinations in Bermuda, Florida, the Caribbean, Bahamas, Canada and New England
MSC Cruises, the world's third-largest and fasting-growing cruise line, is expanding its presence in the U.S. market. Besides homeporting ships in Miami and Port Canaveral, the company has added New York City. 
On the morning of April 20, the MSC Meraviglia arrived at the Brooklyn Cruise Terminal and set sail two days later on a 7-night cruise. The itinerary included Port Canaveral; Nassau, Bahamas; and Ocean Cay MSC Marine Reserve, MSC Cruises' private Bahamian island. The MSC Meraviglia returned to Brooklyn on April 29 and then departed on her next cruise.
Basic Facts About This MSC Cruise Ship
 Known as "The Ship for All Seasons," the MSC Meraviglia has expansive indoor and outdoor public spaces, including a pool deck with a roof that opens and closes depending on the weather. With a capacity of 5,714 guests and gross tonnage of 171,598, she has 19 decks and is 1,033 feet long. The ship made her debut in June 2017 in Europe.
And now, as part of MSC Cruises' commitment to bringing its most modern ships to the U.S. market, the MSC Meraviglia is providing various itineraries from Brooklyn Cruise Terminal in New York City.
Galleria Meraviglia, a promenade lined with shops, bars and restaurants, stretches more than 315 feet and is lined with a beautiful LED sky screen. The ship counts 20 bars and 12 restaurants, including Butcher's Cut Steakhouse, Kaito Sushi and Teppanyaki, Ocean Cay and HOLA! Tacos and Cantina.
Entertainment and Recreation Onboard This MSC Ship
The MSC Meraviglia features seven different shows in the 985-seat Broadway Theatre and Carousel Lounge.
Another entertainment area includes the MSC Formula Racer, a two-lane bowling alley, an interactive XD cinema, a video game arcade and a flight simulator.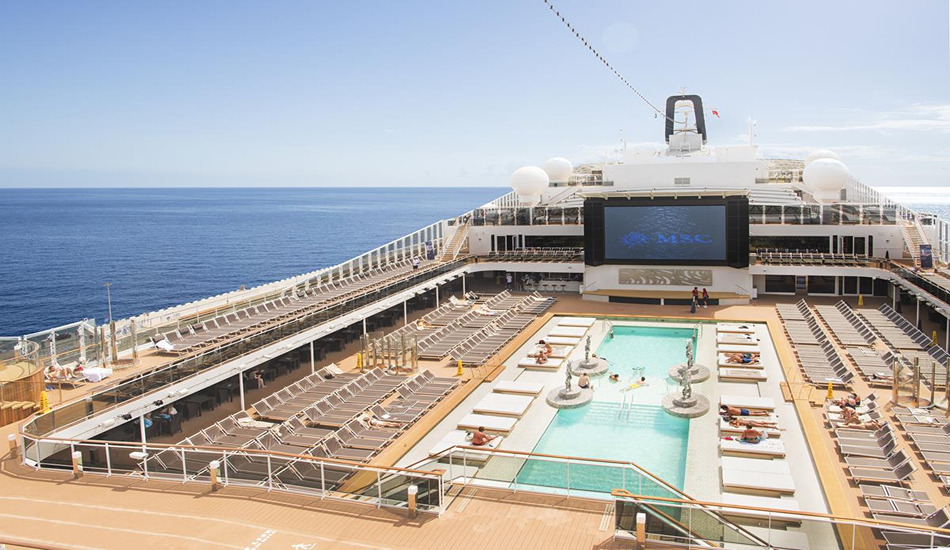 There are indoor as well as outdoor pools and hot tubs. The ship also has a water park featuring three twisting slides, plus a ropes course – the Himalayan Bridge. 
The Sportsplex has facilities for tennis, basketball, squash, volleyball, pickleball, mini golf and five-a-side soccer. 
The 6,000-square-foot gym features state-of-the-art equipment from Technogym framed with floor-to-ceiling glass walls that overlook the main pool deck. The extensive MSC Aurea Spa provides massage therapy, body treatments and facial treatments along with a dedicated thermal area.
MSC Kids Club, for children ages 0 to 17 years old, has dedicated areas for babies, toddlers, children and teenagers, plus the Lego® Experience.
Where the MSC Meraviglia Cruise Ship is Sailing
The MSC Meraviglia offers a mix of itineraries ranging from 6 to 11 nights. These have been strategically designed to take advantage of New York's geographical location. Guests will be able to enjoy sailings to Bermuda, the Caribbean and Bahamas and Canada/New England. Her itineraries include:
The Bahamas and Florida – 

Tropical 7- to-11-night sailings with a selection of destinations including Miami and Port Canaveral, Florida; Nassau and Ocean Cay MSC Marine Reserve, Bahamas; and Cozumel and Costa Maya, Mexico.

Bermuda 

– Starting in August, guests can enjoy 5- and 6-night sailings to Kings Wharf in Bermuda, with several days in port to explore the island.

Canada and New England

 – Just in time for the fall, the

MSC Meraviglia

 will offer 10- and 11-night itineraries calling at Newport, Boston and Portland in the U.S and Saint John, Halifax, Charlottetown and Sydney in Canada.
With the MSC Meraviglia sailing year-round from New York, guests have an option to choose "Stay and Cruise" packages. They can add up to three nights in New York before setting sail. Hotel choices include the Hotel Riu Plaza Manhattan, Hotel Riu Plaza Times Square and Park Central Hotel.
Diverse Stateroom Choices on this MSC Ship
The MSC Meraviglia has 10 different types of staterooms. These include solo cabins, the popular balcony staterooms and stylish suite accommodations in the MSC Yacht Club. The Yacht Club is the premium "ship within a ship" that features private butler service, along with an exclusive restaurant, lounge and pool area.
Environmental Cruise Ship Features 
MSC Cruises is committed to providing its guests with the best holiday experiences at sea in a sustainable manner. The MSC Meraviglia is fitted with solutions and technology to minimize her environmental footprint. These include an advanced wastewater treatment system; an exhaust gas-cleaning system for cleaner emissions; and smart heating, ventilation and air-conditioning systems to recover heat from machinery spaces. Also, she has LED lighting and smart devices to save energy.
MSC Cruises Will Have Five U.S.-based Ships 
MSC Cruises is continuing to drive its presence in the U.S. market, as evidenced by the MSC Meraviglia now offering year-round cruises from New York. This move expands on the regular sailings from PortMiami and Port Canaveral. 
By the end of 2023, MSC Cruises will have five U.S.-based ships. The MSC Seascape, MSC Divina and MSC Magnifica will be sailing from Miami, while the MSC Seashore will be homeporting in Port Canaveral and the MSC Meraviglia in New York.
Consider MSC Cruises for Your Next Group Cruise
MSC Cruises is the world's third-largest cruise brand. A leader in South America, Europe, the Gulf Region and Southern Africa, the fastest-growing cruise brand is forging a strong presence in North America, the Caribbean and Far East markets. And now, with five ships based in the U.S., MSC gives you more options to consider when planning your next group cruise.
By Cindy Bertram 
Cindy Bertram has 15+ years of cruise industry expertise in marketing, content creation, sales and training as well as social media. Her MBA from Loyola University Chicago complements her high creative edge and liberal arts BA.