Columbia, home to the University of Missouri, throbs with a youthful vibe and serves as a gateway to beautiful state parks a short drive away
It had been decades since I last visited my alma mater, the University of Missouri at Columbia. So, I thought an early-fall road trip from my home in Illinois to mid-Missouri was in order. I wanted to see how things had changed on campus and in the adjacent downtown.
Besides checking out my old stomping grounds, though, I also scheduled some exploration of places in the surrounding area. In this era of COVID-19, I felt a need for some fresh air and elbow room in the great outdoors, for making some new discoveries away from the crowds.
But first, the MU campus, where I spent four years. As most any first-time visitor to Columbia would do, I made a beeline to Francis Quadrangle, or
the Quad, the historic center of the first public university west of the Mississippi (founded in 1839). Right in the middle of the grassy expanse stand the noble Columns, a monumental remnant of Academic Hall. a building that burned in 1892. Jesse Hall, the domed main administration building, and other venerable red-brick edifices in the Neo-Classical style form stately backdrops to the six Ionic columns and sweeping lawns here on the Red Campus. (Neo-Gothic limestone buildings give the adjacent White Campus its own look,)
As in my day, students sit on the base of the symbolic stone sentinels (lit at night) and lounge on the grass that carpets the Quad, the spiritual heart of MU. Eighth Street, also called Avenue of the Columns, links the Quad with the old columns from the former Boone County Courthouse, a few blocks to the north.
A warm feeling of nostalgia swept over me as I walked through the Quad, but other parts of the campus made it almost unrecognizable. Many academic buildings had been remodeled or expanded, and there were new apartment buildings everywhere. My old dorm now houses MU School of Health offices. The giant parking structures were eyesores, to my eyes anyway.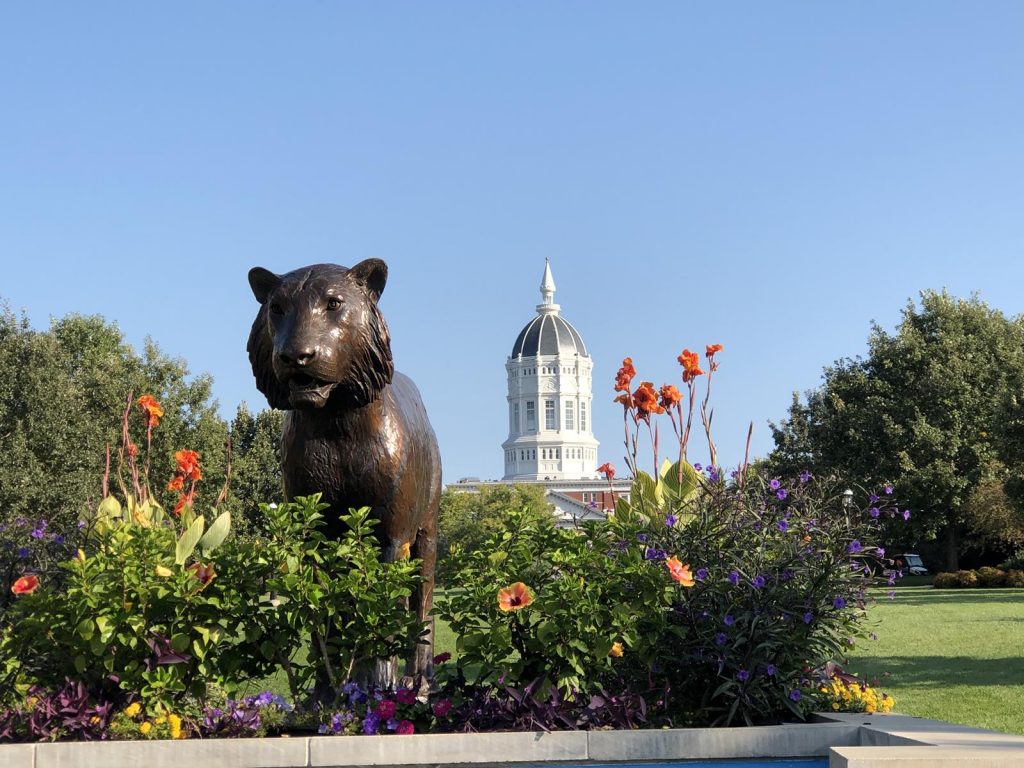 I did like the spacious "new" MU Student Center, which offers a variety of foods, including sushi. It's home to the Mizzou Store, a vast marketplace selling T-shirts, facemasks, plastic footballs and other black-and-gold logo gear for the loyal Mizzou Tigers fan.
If looking for other points of interest on the 1,262-acre campus, consider the State Historical Society of Missouri, which occupies a new, architecturally stunning building. The first-floor gallery features works by renowned Missouri artists Thomas Hart Benton and George Caleb Bingham.
As more than 30,000 students attend the University of Missouri at Columbia, the school obviously plays a big part in the city of 123,000 and lends it a youthful vibe. In addition to MU, though, the downtown area is bordered by two private colleges that contribute to community life—Columbia College and Stephens College, the latter a prestigious women's college. The Stephens College Costume Museum and Research Library, open to the public, belongs to the school's highly regarded School of Design. Its collection includes garments by famed 20th century designers Geoffrey Beene and Oleg Cassini as well as pieces from earlier eras.
Downtown was a rather sleepy place when I went to Mizzou, but it's gone hip and been rebranded as The District. The 50-square-block area buzzes with an eclectic mix of fashion boutiques, art galleries, coffee houses and restaurants. It was all right outside the door during my recent stay at The Broadway, a DoubleTree by Hilton hotel ideally situated on Broadway, the main drag. Regrettably, I never made it to its popular rooftop bar, The Roof.
Sports fans flock to the Rally House for the latest logo gear of their favorite teams—the Mizzou Tigers and Missouri pro teams like the St. Louis Cardinals and Blues and Kansas City Royals and Chiefs. Bluestem Missouri Crafts purveys fine art offerings from more than 300 artists, while the Hemp Hemp Hooray boutique can supply all your CBD needs (and would have been popular with my hippie classmates in the early '70s).
Some of The District's most popular dining spots are microbreweries—Broadway Brewery, Flat Branch Pub & Brewing (with its tree-shaded patio) and Logboat Brewing Company, which has a taproom and a family- and dog-friendly, fenced-in park.
Old warehouses and other industrial buildings on downtown's northern edge make up the North Village Arts District, where you can catch artists at work at Orr Street Studios or find one-of-a-kind treasures—from jewelry and pottery to dance hoops and tie-dyed dresses—at Artlandish Gallery (shown in featured image at top), which occupies a former cold storage area for the Wabash Railroad.
Columbia also is a hotbed for music, theater and festivals, although the pandemic has put a damper on things. Spring brings the True/False Film Fest, which draws thousands to various downtown locations for the viewing of documentary works. Big-time musical acts and the smell of barbecue attract crowds to the nationally recognized Roots N Blues Festival, held every fall at Stephens Lake Park.
My favorite excursion from Columbia was the tiny Missouri town of Rocheport (pop. 275), just 15 minutes away via I-70. I got there in time for lunch on the patio at Meriwether Cafe & Bikes, which overlooks bicycle and foot traffic on the famous Katy Trail, the nation's longest rails-to-trails development.
A linear state park running 240 miles across the middle of Missouri, the Katy Trail is built on the former corridor of the Missouri-Kansas-Texas Railroad (MKT or Katy). Closely following the Missouri River much of the way, it features 26 trailheads and four restored railroad depots, including the Rocheport depot by the cafe. From an informational panel at the depot, I learned that the trail was the vision of Edward D. "Ted" Jones Jr., son of the founder of the St. Louis-based Edward Jones financial services firm, and his wife, Pat. They donated $2.2 million to help purchase the rail corridor. (As an Edward Jones customer, that fact resonated with me.) Ted died six months after the trail opened in April 1990.
After lunch, I took a short walk along the Katy Trail. The river bank flanked one side, towering bluffs the other. Going the other direction would have taken me through the stone railroad tunnel. (The 8.9-mile MKT Trail, the backbone of an extensive trail system operated by Columbia Parks and Recreation, links to the Katy Trail.)
Scattered around Rocheport are some delightful little shops. Stockton Mercantile on Central Street offers a mix of home decor, art and antiques. Next door, Rocheport General Store and Cafe serves up ice cream creations from an old-time soda fountain and also tempts the sweet tooth with pie, cake and cookies. Down the street, Girls Nite Inn is a historic home that specializes in girlfriend getaways. Sleeping eight, it has a kitchen stocked with breakfast items.
Les Bourgeois Vineyards, with two locations, also brings travelers to Rocheport. The expansive patio and covered pavilions of LBV A-Frame Winegarden are great for sitting back and enjoying views of the Missouri River, as is The Bistro, a blufftop restaurant where classic dishes are paired with LBV wines.
Behind-the-scenes tours of wine-making operations start at LBV Tasting Room & Gift Shop, a mile from the vineyards and just off I-70. As the official winery of Mizzou Athletics, LBV makes Mizzou White and Mizzou Red, both semi-dry. I like sweet wines so I took home a bottle of Riverboat Red, their bestseller.
Rock Bridge Memorial State Park, just outside of Columbia, provides another escape for the outdoors lover, offering eight wooded hiking trails, some of them for biking as well. The Devil's Icebox Trail is a half-mile loop with several short spurs, viewing platforms and numerous stairs. The planked trail takes about 30 minutes and leads to the park's most impressive geological features, including the 63-foot-high Rock Bridge and a double sinkhole cave entrance called Devil's Icebox. Visitors can explore the cave and inside the bridge tunnel. Cold air from the cave is refreshing on a hot day.
Finger Lakes State Park, a short drive north of Columbia, was the site of a strip-mining operation in the 1960s. Nearly a dozen small, isolated lakes left by the Peabody Coal Co., which donated 1,028 acres to the state park system, were joined together by a series of dams and canals. (The finger-shaped lakes are water-filled pits created when the coal was removed.) Today's narrow, 4.5-mile water trail, divided into north and south sections, is perfect for leisurely canoeing and kayaking (rentals available at the park office).
Part of the rugged landscape of steep hills and deep ravines made by the mining company has been recycled into more than 70 miles of off-road motorcycle and all-terrain vehicle trails. A motocross track hosts motocross and motorcycle race events. Finger Lakes also has a mountain bike trail. Other activities include swimming, scuba diving and fishing. The campground, with a modern shower building, is equipped with 19 basic and 17 electric sites.
Warm Springs Ranch, the breeding farm of the Budweiser Clydesdales, makes another good side trip from Columbia. Located 10 miles east of Boonville, the facility is home to some 70 Clydesdale stallions, mares and foals. Walking tours and VIP tours in a tractor-drawn wagon shed light on these handsome work horses that pull Budweiser beer wagons in parades around the country.
For more itinerary ideas on Columbia and environs, contact Beth Mead, sales and marketing manager of the Columbia CVB: 573-875-1231, beth.mead@como.gov; visitcolumbiamo.com. Services for group tour planners include custom itinerary planning, hotel rate solicitation, step-on welcome, complimentary sheet cakes for welcome receptions, and reservation assistance for attractions and restaurants.
---
By Randy Mink, Senior Editor