I'm always scouting for unique group tour companies and when I find them it's like a good cut of steak. Luckily, Mint Julep Tours found me – I was contacted by their pr person who told me they had a compelling story to tell. Turns out they did.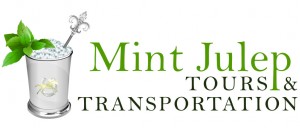 In 2005, Sean and Lisa Higgins started a weekly social on their back porch on Monday nights that included neighbors and friends who enjoy bourbon and cigars. One of the friends was the head of brand strategy at Makers Mark and another was in charge of finance at the Louisville Convention and Visitors Bureau. Another friend's wife had begun offering historic tours of bourbon country in her van.  This was the seed. In 2007 it became apparent to them that a locally-owned tour company was needed to serve the tourism industry as the bourbon folks were busy creating and launching the Kentucky Bourbon Trail. The goal was to create safe transportation for those wishing to tour and sample bourbon. Thus was born Mint Julep Tours.
Like this interview? Check out the Traveling Tribes podcast on Leisure Group Travel, or anywhere you enjoy listening to podcasts.
Can one be a teetotaler and still hop on a Mint Julep tour?
Of course! You don't have to be a big drinker to enjoy the rich tradition and proud history of "America's Official Native Spirit".  Kentucky's signature distilleries are nestled among the most beautiful scenery the Bluegrass has to offer.  Additionally we visit more than just distilleries on our tours, we'll take you anywhere from horse farms to culinary hotspots and local attractions. No matter what type of tour you're on we know you'll walk away with an appreciation for the history and culture of this great state.
How is the retail business different than the pre-formed tour business?
Being in downtown Louisville, the gift shop provides all of us at Mint Julep Tours with an easy to find spot for tourists for pick-up and drop-offs on our public tours as well as gather information about our tour offerings.  It truly is a presence that people can get their questions answered and bucket list fulfilled. On top of that, the retail business supports our corporate gifting that is a major component of handling company outings, client visits and VIP events/services.  It also gives us the ability for guests to purchase things such as a comically large flask for his groomsman to sign or a gift basket tailored to fit any occasion.
Take 3: Describe some of the group customers you're seeing on Kentucky Bourbon tours?
Whether it's a birthday, a retirement celebration, or a bachelor/bachelorette party, you name it and we've probably had them.  We see a lot of bourbon clubs, horse enthusiasts and bachelor groups coming from all over the world. Depending on the demographic of the group we'll custom build your "bourbon adventure" tailored to what you want to do, see and experience. One of the new things we recently launched are our public bourbon tours that have been very popular with weekend travelers since they allow a single person, or a small group to hop on a tour for a pre-planned day of all things bourbon visiting three distilleries for two full tours and three tastings.
What can people see and do on the Kentucky Bourbon tours that they can't do on their own?
There are two things that truly set us apart from driving the Kentucky Bourbon Trail on your own. Primarily it is our knowledgeable and entertaining drivers and guides who know Kentucky, Louisville and Bourbon and horse country from years of experience. These folks make the entire trip a memorable one as they guide and enrich your experience. The other value is that with our partnerships in place at all of our destinations, we offer detailed itineraries and a fully planned day so that our groups get to experience everything on their list that they wish. It isn't just a driving service that fly's by the seat of their pants and hopes the tour stops are available at any given time. In addition, we offer numerous "Exclusive Experiences" that include a Jim Beam Super Premium tour, Maker's Mark After Dark, Cooperage tours and Secrets of Louisville Chefs.  These experiences offer unique access and behind-the-scenes treatment that is only available through us.
Take 5: How active are you on social media and what influence (if any) does it have in your business?
Social Media is the primary way that we advertise and communicate Mint Julep and Kentucky Bourbon tours to our customers.  More than ever, and especially in our industry, people are doing their research online to determine what they want to do when they visit a city.  Through engaging with these folks we're not only able to convey what we offer and share content, but also listen to the types of things people are looking for.  Another neat thing we're doing is our "Share Your Shots" decals we have posted in our buses.  These encourage guests to engage in the conversation and share their tour experiences with us. Don't forget to check us out on Facebook, Instagram, LinkedIn, and on Twitter: @mintjuleptours!
Connect with Mint Julep Tours
Websites: MintJulepTours.com
Facebook: Mintjuleptours
Twitter: @Mintjuleptours