From Ely through the Iron Range to Grand Rapids, this tour shares much of the history and adventure of the region.
3 Unique Experiences on This Trip
[list line="no" style="style1″]
North American Bear Center
Minnesota Museum of Mining
Judy Garland Museum
[/list]
Duration: 4 Days
Available: Year-round
This Itinerary is Ideal For: All
Itinerary Details
---
Day 1
From Duluth, travel inland arriving in Ely mid/late afternoon. Stop at the International Wolf Center, an interpretive museum filled with fascinating wolf facts and a resident pack in their natural environment.
Check into your Ely accommodations before dinner at a local group-friendly restaurant.
Day 2
Following breakfast and checkout, visit the nearby North American Bear Center which features four resident bears living in a 2.5 acre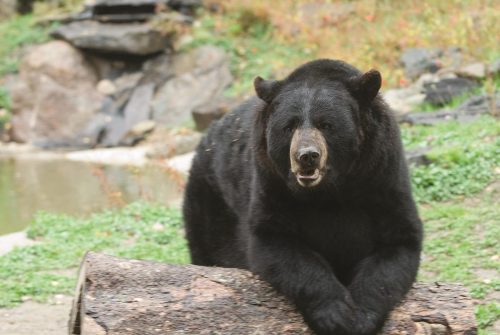 naturally forested enclosure. There's also a theater, the Northwoods Ecology Hall and an interpretative nature trail.
Take off for an underground adventure at the Soudan Underground Mine. This tour leads visitors to the world of underground mining in Minnesota's first, deepest and richest iron ore mine.
Arrive for a visit with Sisu Heritage Homestead Tours. Actual pioneer homesteads, saunas, and a rare house barn represent the Finnish heritage of the community with many buildings on the National Register of Historic Places. Depart for Eveleth.
Arrive at the United States Hockey Hall of Fame and witness the trials, tribulations and the glory of hardworking-enshrined players. Relive the 1980 Olympic Gold Medal film. Depart for downtown Eveleth for a photo op by the world's largest hockey stick, rising 107 feet and weighing three tons. Travel on to Hibbing.
Upon arriving, step inside the Greyhound Bus Origin Center, a fascinating museum that takes you through time as a 1914 hupmobile grew to be one of the largest bus companies in America.
Check into your Hibbing accommodations and relax before dinner at a local restaurant. An evening option is the Paulucci Space Theatre for stargazing and a 70 mm film shown on the 40-foot domed screen.
Day 3
Following breakfast and checkout, you're off to the Hull Rust Mahoning Mine View. More than 8 miles long and 3 miles wide, the Hibbing Taconite Company mining operation is a must see. Volunteers point out what's happening within the mine as 240-ton production trucks, rotary drills and .33-cubic yard shovels do their job. Depart for Chisholm.
Arrive at the Minnesota Museum of Mining and experience life in the mining era as you tour replicas of an underground mine and Minnesota mining town. Become a miner for a few minutes aboard super-sized mining equipment or super-speed steam shovels.
The Minnesota Discovery Center explores the history, heritage and future of the region and its people through permanent and traveling exhibits. There are galleries, a theater, a trolley and museum store. Lunch at The 43 offers both traditional and modern fare, or special order a "pasty in a pail" like the miners used to eat. Depart for Grand Rapids.
Tour the Itasca County Historical Society Museum for an introduction to its logging history, homefront and a favorite daughter—Frances Ethyl Gumm, better known as Judy Garland.
The Judy Garland Museum welcomes you to the world's largest Judy Garland and "Wizard of Oz" collection. The restored historic house, beautiful gardens, museum store and the Lincoln carriage from the movie complete the visit.
Check into your lodging and relax before a themed dinner at the Sawmill Inn.
Day 4
Breakfast at the hotel, bags packed and ready for checkout. First stop is the Forest History Center and a guided tour of a 1900s-era logging camp. Explore self-guided trails, a floating cook shack, climb a 100-foot fire tower, or just relax on the porch of a 1930s patrol-man's cabin.
Tour the University of Minnesota Research and Outreach Center. Along with Forest Management & Economics and Animal Science, the Center's northern-most location in the 48 states is perfect for researching new plant survival techniques in Zone 3.
Visit Hill Annex Mine State Park for a picnic lunch followed by an open mine tour descending into the mine's history. Arrange for a special fossil hunt.
Depart for Duluth with fond memories of your Grand Rapids and Iron Range tour.