Exploring Northern Minnesota
Scenic train rides, nature's creatures and special moments in history, from Duluth to Ely to Hibbing to Grand Rapids, make this a tour to remember.
6 Unique Experience on This Trip
Great Lakes Aquarium
Lake Superior Railroad Museum
International Wolf Center
North American Bear Center
Greyhound Bus Museum
Forest History Center
Duration: 4 Days
Available: Year-round
Ideal For: Adults 21+
---
Day 1: Explore Duluth's Great Lakes Aquarium
Visit the Great Lakes Aquarium in Duluth. Discover species primarily found in the Great Lakes Basin,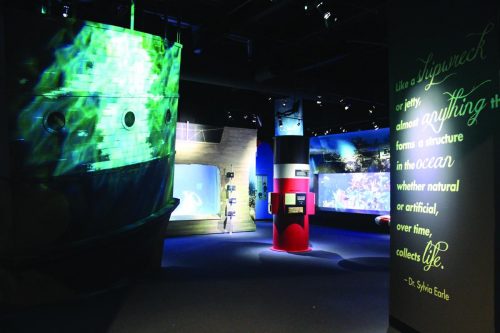 along with exhibits showcasing animals and their habitats. Educational and interpretive programs are available for groups to learn more about river otters, regional birds and freshwater fish.
Check into your Duluth hotel before departing for dinner at one of Duluth's group-friendly restaurants.
Day 2: A railway ride, wonderful waterfalls and more things to do in Northern Minnesota
Breakfast at your hotel.
What better way to see Duluth and Lake Superior than on the North Shore Scenic Railroad. The popular, 90-minute Duluth Zephyr trip takes you through downtown and along the shores of Lake Superior. The six-hour, full-day Two Harbors Turn route features a scenic ride and layover in beautiful Two Harbors for lunch, shopping and sightseeing; admission to the Lake Superior Railroad Museum is included with this ticket. The museum features 23 locomotives and more than 40 other displays of train cars. Railroads were a significant part of Minnesota's iron ore history.
OPTION: Meet your coach in Two Harbors and take a short drive to Gooseberry Falls to experience the thunderous roar of the upper, middle and lower falls. The Joseph Alexander Visitor Center features award-winning exhibits.  Enjoy dinner at one of Duluth's fine dining restaurants.
Day 3: Learn about wolves, bears and dogs in Northern Minnesota
Breakfast and check out of your hotel before departing on a scenic drive to Ely.
Visit the International Wolf Center for a close encounter with the resident wolf pack as they play, eat, sleep and tussle. Staff naturalists will guide you through educational programs, activities, or customized program content to discover the wolf/prey relationship. Wonderful exhibits share the story of this species.
Downtown Ely is perfect for lunch on your own with time to visit the city's one-of-a-kind shops and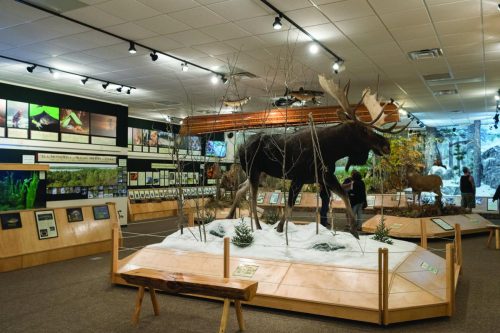 galleries.
The North American Bear Center features live black bears in natural habitat with indoor and outdoor viewing areas. More than 50 video exhibits of wild Minnesota bears and a variety of daily programs shed light on bear behavior.
OPTIONAL: Located in the Superior National Forest, Ely offers a wide range of outdoor activities. For those who cannot get enough winter adventure, Chilly Dogs Sled Dog Trips might be the answer. Along with knowledgeable guides, you'll drive your own team of sled dogs over wilderness trails with top-notch equipment. Groups are welcome. Check into your Ely hotel before dinner at one of six Ely Chamber President's Circle restaurants.
Day 4: A vintage bus museum and a historic logging camp in Northern Minnesota
Hotel checkout and breakfast before departing on a picturesque drive to Hibbing, the birthplace of the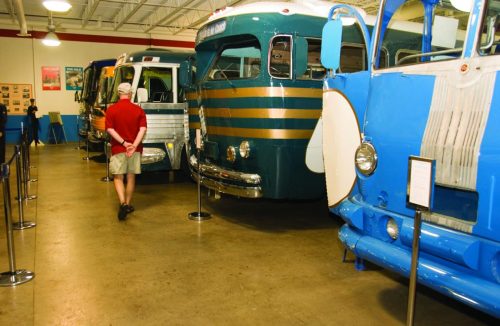 U.S. bus industry. Housed in the Greyhound Bus Museum are 13 historic buses. The story is told of Carl Wickman and Andrew "Bus Andy" Anderson, who started their bus service in 1914. Pictorial displays, artifacts, memorabilia, audiovisual presentations and the video "The Greyhound Story" tell how a 2-mile route grew to be the largest bus company in the world.
Travel to Grand Rapids for lunch and choose from more than a dozen restaurants.
Authentic recreations of history from 1900 will be found at the Forest History Center. Visit Northwood #1, a white pine logging camp. Meet the cook, clerk, blacksmith and other lumberjacks. Continue your visit with a 1934 Forest Service patrolman and get a bird's-eye view from atop the 100-foot fire tower. Browse the visitor center's interactive exhibits and gift shop featuring items special to northern Minnesota. Depart northern Minnesota with cherished memories.
If you'd like more great group travel ideas in Minnesota, check out the Minnesota Group Tour Guide and be sure to Subscribe to Leisure Group Travel to stay up to date with our latest travel news.