Remarkable museums and historical sites coupled with outdoor art and regional cuisine combine for a memorable Minnesota tour
Northeast and central Minnesota are filled with more than their fair share of unique experiences and adventures. From a replicated viking ship and a one-of-a-kind candle factory to a Paul Bunyan and Babe the Blue  aOx awesome photo opp, we offer a glimpse into all the things you can do in this special area of Minnesota.
6 Unique Experience on This Trip
Historical & Cultural Center of Clay County
Tastefully Simple
Kendall Candles
Charles A. Lindbergh Historic Site
Minnesota Military Museum
Beltrami History Center
Duration: 3 Days
Available: Year-round
Ideal For: Adults 21+
---
Day 1: Explore a connection to Scandinavia, a unique candle factory and more things to do in central Minnesota
Begin your day in Moorhead at the Historical & Cultural Center of Clay County, located in the city of Moorhead's Hjemkomst Center. A featured exhibit is the Hjemkomst Viking ship that was constructed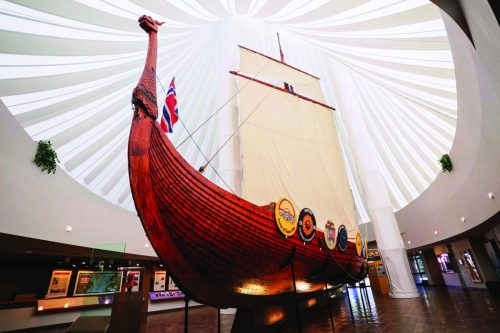 in nearby Hawley by Robert Asp, who, along with a crew of 13, sailed from Duluth to Oslo, Norway. Discover the impact that seafaring nations of Scandinavia had on western Minnesota. Another tribute to the area's heritage is the Hopperstad Stave Church, a replica of Norwegian stave churches built in the 1100s and 1200s. Tours of the church are available with guides only.
Lunch on your own at the center's Rex Cafe with time for shopping at the Heritage Gift Shop before departing.
Arrive in Alexandria for a tour of the headquarters of Tastefully Simple, a food products company. Products are offered through a network of independent consultants and the company's website. A must-stop in Pequot Falls is Kendall Candles. More than 500 candle designs, sizes and shapes, plus 70 different fragrances, are manufactured, sold and distributed at this factory. A 15-minute tour of the manufacturing facility is available for groups, or visitors can browse in the gift shop.
Depart for Little Falls.
TOUR NOTE: In the heart of central Minnesota (Morrison, Todd, Wadena and Cass counties) watch for Barn Quilts of Central Minnesota. This open-air art gallery features quilt blocks painted on wood squares and displayed on barns, businesses, buildings and fence posts. The four counties feature 63 barn quilts. How many will your group discover?
Check into your Little Falls accommodations before dinner at A. T. The Black & White, the Minnesota Restaurant Association's 2016 Restaurant of the Year.
Day 2: A Charles A. Lindbergh historic site, a military museum and more Minnesota adventures
Enjoy breakfast before checkout.
Begin your day at the Charles A. Lindbergh Historic Site. The famous aviator spent his boyhood summers at this home on the Mississippi River. Explore the exhibits, including a Spirit of St. Louis flight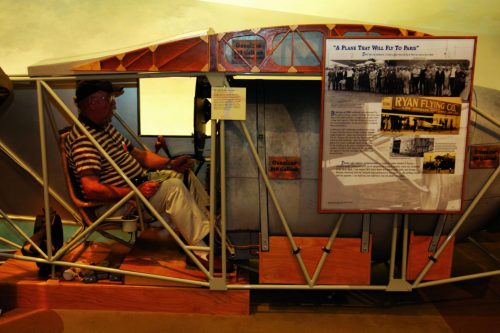 simulator, films and photographs. Walk an interpretive trail along the river. The Lindbergh house and museum is a National Historic Landmark.
Enjoy a box lunch at the picnic shelter in Charles A. Lindbergh State Park, across the street from the historic site.
The Minnesota Military Museum captures the experiences of military men and women from the 1800s to today. An outdoor exhibit of tanks, helicopters, self-propelled artillery and several jeeps greets visitors to the museum campus. Permanent and special rotating exhibits depict how armed conflicts and military institutions have shaped our nation. The largest exhibit, "America at War," walks visitors through the history of conflict from Minnesota's statehood in 1858 to the Persian Gulf War.
Arrive in Bemidji and check into your hotel before dinner at an area restaurant featuring locally sourced foods.
Day 3: Paul Bunyan and Babe the Blue Ox await in Bemidji Minnesota
Enjoy breakfast at your hotel before checkout.
The Beltrami History Center occupies a restored 1912 Great Northern train depot in downtown Bemidji. Visitors can test their telegraph skills and listen to Native American flute music while experiencing regional history in the exhibit galleries.
Before departing Bemidji, schedule a photo opportunity with Paul Bunyan and Babe the Blue Ox, an iconic roadside attraction.
Depart the North Star State with warm memories of your experience.
OPTIONAL: Groups visiting from Manitoba, Canada, or those with a special interest in manufacturing tours will want to add a stop in Warroad in Minnesota's northwest region on Lake of the Woods. Just 7 miles from the Canadian border sits the 45-acre facility of Marvin Windows and Doors, the world's largest manufacturer of made-to-order wood window and door products. A tour of the visitor center and plant gives visitors a firsthand view of the production process from rough lumber to the moment the windows are loaded on one of more than 300 semitrailers.
If you'd like more great group travel ideas in Minnesota, check out the Minnesota Group Tour Guide and be sure to Subscribe to Leisure Group Travel to stay up to date with our latest travel news.