Tourists can get an inside glimpse of Milwaukee's best-known industry on tours of breweries and a beer baron's mansion.
Names like Miller, Pabst, Schlitz and Blatz hold a revered place in the history of this Wisconsin city settled by immigrants from Germany and other parts of Europe. Though Milwaukee counts only a fraction of the breweries that it did 100 or even 50 years ago, beer is the product that made Milwaukee famous and still shapes its popular image.
On a recent weekend trip my 23-year-old son, Jeremy, and I visited two breweries in an afternoon.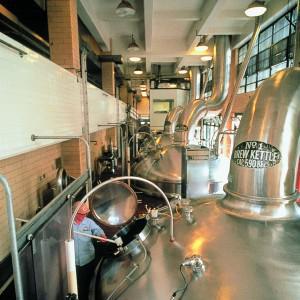 Our first stop was MillerCoors, one of the largest breweries in the world. Then we toured and sampled at Lakefront Brewery, a microbrewery. The contrast was glaring.
The historic MillerCoors plant (Milwaukee-based Miller and Colorado-based Coors merged in 2008) occupies 76 buildings on several city blocks not far from Miller Park, home of baseball's Milwaukee Brewers. Free one-hour tours start in the visitor center, which has a gift shop and a photographer who takes your picture (for a fee) in front of a photo mural.
We started our noon tour seated in a theater. Introducing a short video about the company, our guide, Mary, began, "Welcome to Miller Valley, where it's always Miller Time."
Mary said the tour would involve four blocks of walking (indoors and out) and lots of stairs. "For your patience," she said, "you will be rewarded with ice cold samples of our products." (The beer tasting, of course, was the main reason most of us were there.)
We started at the canning and bottling plant, where operations are visible from a window on the catwalk. Next stop was the shipping center, an endless space (the size of five football fields) with mountains of cases stacked 18 feet high.
A display sign at the shipping center pictures all the MillerCoors brands, including Miller Lite, Miller High Life, MGD 64, Blue Moon, Leinenkugel, Mickey's Malt Liquor and European brands like Pilsner Urquell and Peroni. Mary said Miller Lite is the best selling, Miller High Life the oldest (1903).
Across the street, we trudged up several flights of stairs to a balcony overlooking the Brewhouse's massive copper brew kettles and learned how barley, hops, yeast and water make up beer.
Crossing the street again, we entered the historic, vaulted caves that were used to store beer. Blocks of ice from rivers and lakes kept the beer cool no matter the season. Superimposed on a mural of a German beer garden, an image of an actor playing Frederick Miller (the German immigrant who founded the brewery in the 1855) gave us a little history.
Next door, at the cozy, brick-fronted Miller Inn, our free samples awaited. In a wood-paneled room with stained-glass windows, a mirrored bar, historical photos and other Old World touches, we were served glasses of Miller Lite, Miller High Life and Blue Moon, along with pretzels. Soft drinks are available for non-drinkers and those under 21.
Back at the gift shop we looked through the logo sweatshirts and T-shirts. No beer is sold, but you can buy beer buckets, beer bread mix, a bottle of beer cheese soup and dozens of other souvenirs.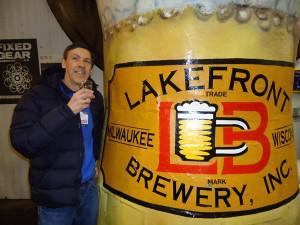 As soon as we entered Lakefront Brewery an hour later, we could tell it attracted a whole different crowd—younger, louder and in a party mode. Approaching the ticket table to report for our 2:50 tour, we heard a roar from the Palm Garden bar/restaurant and saw people filing in for the 2:20 tour with beer-filled plastic cups in hand.
The $7 tour package includes four drinks, which can be purchased before or after your designated tour time begins. There's even a point on the tour where you can get a refill using one of the four wooden drink tokens. Before leaving, turn in your plastic cup and get a souvenir pint glass.
Another perk: everyone gets a coupon for a free Lakefront beer before 6 p.m. that day at one of 15 bars or restaurants in town. Brews include Cream City Pale Ale, Wheat Monkey Ale, Fixed Gear Amber Ale and Lakefront's flagship beer, Riverwest Stein.
The tour of Lakefront Brewery (founded in 1987) is more intimate than the Miller/Coors experience. It involves walking through just one factory building. You can touch the tanks and bags of malt—there are no barriers between equipment and visitors. The guides are hip and humorous, but the acoustics are spotty, not that it bothered the free-spirited group on our tour. (MillerCoors guides use microphones.)
Two more things about Lakefront: They make a good root beer, and there's a Friday night fish fry and polka party in the Palm Garden, a cavernous room decorated with stained-glass and huge lanterns from an old hotel.
Sprecher Brewing Co., a microbrewery in the neighboring city of Glendale, also makes a premium root beer and offers tours. The New York Times proclaimed its root beer the best in the nation in 2008. Sprecher, established in 1987, is on our list for next time.
For details on Milwaukee brewery tours, contact:
In the 1890s Frederick Pabst's brewery was the largest producer of lager beer in the world, and the German immigrant was Milwaukee's leading citizen. A one-hour tour of the Captain Frederick Pabst Mansion on Wisconsin Avenue provides a peek into America's Gilded Age, a time when barons of industry built extravagant homes filled with elegant furnishings and artwork.
On our tour of the mansion we learned that the founder of Pabst Brewing Co. arrived in America at age 12 and worked as a cabin boy on a Great Lakes steamer when only 14 years old. He became a captain at 21 and used the title the rest of his life. Our docent always referred to Pabst and his wife as "the Captain and Maria."
A grand example of Flemish Revival architecture, the gabled mansion boasts gold-leaf ceiling decoration, intricate ironwork and the finest wood craftsmanship, from mahogany paneling and carved oak to birch cabinets adorned with intricately carved maple. Much of the furniture is original to the home. There were 14 fireplaces and 12 bathrooms, even an elevator.
After the deaths of Pabst and his wife in 1904 and 1906, respectively, the home was purchased by the archdiocese of the Roman Catholic Church used as the archbishop's residence until 1975. The church sold the mansion to a developer who wanted to tear it down, but a preservation group in 1978 bought the home and saved it from demolition.
The attached building that houses the gift shop was the Pabst company's pavilion at the 1893 World Columbian Exposition in Chicago. After it was hauled to Milwaukee and reassembled, the family used it as a gazebo in summer. The archdiocese transformed the side building into a chapel (note the stained glass installed by the church). Today it is falling apart, but that's a $6-million project.
The Pabst Mansion is used for weddings and other private events. In December, a popular time to visit, the rooms are decorated in Christmas finery. For tour information, call (414) 931-1005 or visit pabstmansion.com.
Exploring Milwaukee's beer-making past and sampling the brews of today, travelers can put together a blue-ribbon getaway in Milwaukee.