Stops on the Mesa Arizona Fresh Foodie Trail include a delectable peach farm, savory olive mill and juicy orange grove
Schnepf Farms Peach Estate
A peach farm like no other, Schnepf Farms is one of Arizona's great agritourism attractions, and it's is a peach of a place.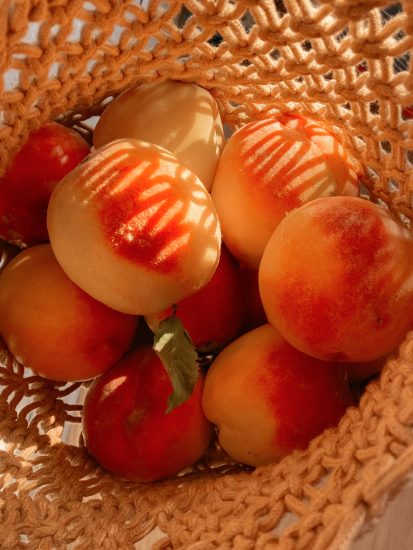 The fourth-generation family peach estate turned out to be the juicy highlight of my recent trip to Mesa, the state's third-largest city. One of the sites that make up the Mesa Arizona area's Fresh Foodie Trail, Schnepf Farms kept me well fed with peachy delights from its bakery and even provided a roof over my head for two nights.
Glamping on a peach farm
But not just any roof. I slept in a vintage, stainless-steel auto trailer in the farm's retro campground, called The Cozy Peach. It was my first time glamping (camping in style).
The Schnepf family has restored nine shiny, aerodynamic, mid-century trailers (with a 10th under renovation) and offers them to tourists for nostalgia-tinged overnight stays. Most are those iconic Airstream trailers, but my cozy nest was the Silver Streak brand's Continental model.
Manufactured in the 1940s, '50s and '60s, these early RVs have been refitted with modern comforts, including plumbing, heating and air-conditioning, but retain 95 percent of their original parts. Owners Mark and Carrie Schnepf are always on the lookout for restorable trailers to add to the collection.
My unit had the original stove and refrigerator (no longer operable). Additional touches of authenticity: a linoleum-type floor, whimsical knick-knacks from the period, cute curtains and original cabinetry. The home on wheels also featured two twin beds and a carpeted living area with an armchair and long couch. The kitchen was equipped with a microwave and coffee maker, and stocked with dishes and silverware. Upon my arrival, they brought a slice of peach pie from the Farm Fresh Café & Bakery.
Glampers booking these trailers have to expect a small doorway, low ceilings and a tiny shower-tub. (For more comfortable bathing, there's a shower building at the farm's adjacent RV campground.) A nice surprise: plush white robes in the bathroom closet.
Glamping amenities
Each trailer is hemmed in by a white board fence and has a patio with a table, fire pit with firewood and gas grill. Striped awnings and kitschy yard ornaments (like plastic pink flamingoes) lend further retro flair. Another amenity: vintage bikes for exploring the grounds.
Breakfast from the café is delivered to your glamping unit if you put out the order form before midnight. Guests who get up early enough can help the workers with daily chores in the U-pick gardens or feed the animals (turtles, cows, pigs, goats).
The Cozy Peach, which overlooks a meadow in the heart of the farm, has been popular with reunion groups, wedding parties and other family get-togethers. This includes 50th and 60th wedding anniversaries, with clans reserving multiple units. One of the trailers sleeps four (in two twins and a queen.)
Largest organic peach grower
Arizona's largest organic peach grower, Schnepf Farms encompasses 300 acres in Queen Creek. There's development all around it—this being the fast-growing Phoenix area—but Mark wants to preserve the farm his grandfather started in 1941 and has no plans to sell. Peaches from the orchard's 5,000 trees are all used at the farm or offered for U-pick (in May)—no commercial sales.
Peach farm history
Among the many structures on the grounds is the original family home, now a museum that tells the story of the Schnepfs, who started out raising alfalfa, wheat and cotton before getting into peaches in the 1960s. The farm, under Mark's parents, was 5,000 acres at one point. The ranch house where Mark grew up is now one of three wedding venues on the property. Schnepf Farms also draws visitors with a petting zoo, country store, and various special events and activities throughout the year (like community table al fresco dinners and October's Pumpkin & Chili Party with a corn maze, pumpkin patch and hayrides).
Tour the farm
Also on the grounds are a mini golf course, an antique carousel and various concessions housed in buildings rescued from local farms. The Schnepfs even acquired an old water tower, another gesture to yesteryear.
Group tours at Schnepf Farms can include a trolley or miniature train ride through the property. The family can arrange a farm-to-table meal featuring chicken salad and vegetables from the garden, with seating in a grove with picnic tables or on the patio outside the café. A cooking demonstration, such as how to prepare kohlrabi, can be part of the program.
Peach farm café
It's hard to go into the café/bakery, open Thursday through Sunday, without picking up some homemade goodies for the road (if they even make it to the car). I recommend the scrumptious cinnamon rolls, particularly the peach variety. Also tempting are the cookies, brownies and sticky buns, not to mention breads like peach jalapeno and bacon cheddar jalapeno. The store also has jellies, salsas, syrups and grilling sauces, some of them peach-flavored.
The café, with only three tables inside, serves breakfast all day. Besides omelets, French toast, and biscuits and gravy, the menu lists "Smothered Pancakes"—two small cakes in sausage gravy. Lunch items include salads, burgers, pulled pork and other sandwiches.
Queen Creek Olive Oil
The town of Queen Creek boasts another family-run farm on the Fresh Foodie Trail—Queen Creek Olive Mill. The Mesa Arizona area's combination of long sunny days and cool desert nights, along with the fertile soil at the base of the San Tan Mountains, provides ideal growing conditions for the trees.
Tours and tastings
Sign up for the 35-minute Olive Oil 101 tour/classroom session for insights into how Arizona's only olive farm and mill produces high-quality extra virgin olive oil (EVOO). From mid-October to mid-December, the operation harvests and presses 16 varieties of olives from 7,000 trees planted in groves on 25 acres.  A video in the pressing and bottling room, next to the café, shows the whole process, from blossom to bottle. Your guide explains the health benefits of olive oil and why extra virgin is the highest grade. Everyone gets to do some product sampling.
Serving breakfast, lunch and dinner
The farm's Tuscan-inspired eatery serves breakfast and lunch daily, dinner Friday and Saturday nights. Olive oil, of course, makes it into several dishes, including the Vanilla Bean Olive Oil Waffle and baked goods like cupcakes, muffins and the heavenly chocolate cake. The chicken and waffles breakfast entrée comes with olive blossom honey butter. The oatmeal, with a choice of blueberries and almonds, or brown sugar, or apples and cinnamon, is finished with a drizzle of vanilla bean or dark chocolate olive oil. Lunchtime guests enjoy the paninis, soups, salads and gelato. Besides indoor seating, the café offers al fresco dining under the olive trees when the weather is good.
Try before you buy
In the gourmet foods shop at Queen Creek Olive Mill, you can try the various oils and balsamic vinegars before buying. Anyone for Meyer lemon, blood orange, roasted garlic or Mexican lime olive oil? Also for sale are stuffed olives and EVOO-infused tapenades, barbecue sauces, and skincare products like soaps, lip balms and body butters.
Mesa Arizona Orange Grove
The area's climate also is conducive to growing citrus, and for the best orange juice you'll ever taste, go to the Orange Patch, a farm stand on the north side of Mesa. Besides freshly-squeezed juice, you can buy navel oranges, lemons, grapefruit, locally grown dates, fresh honey and other foods. Group tours of the citrus groves  and production area can be arranged.
With 110 acres of citrus and 30 acres of sweet corn, the Orange Patch is one of Mesa's original citrus growers and has stood the test of time as other area orchards have closed. Passersby can enjoy the fragrant orange blossoms each spring when temperatures begin to rise. Peak season for orange production is January and February.
Mesa Arizona Agritopia
Joe's Farm Grill in Gilbert also draws foodies touring the Mesa area. Located in an agricultural community called Agritopia, the restaurant occupies a converted 1960s farmhouse and takes pride in its local organic ingredients. (Of the neighborhood's 160 acres of urban farmland, 11 are certified organic.) Everything at Joe's is made from scratch. Waffles and ribs is a breakfast favorite. You can eat in the dining room, the Johnston family's former living room, or outside under the tamarisk, palm and citrus trees. (Several generations of the Johnston family live on the land, which counts 600 houses.)
The Coffee Shop, in a separate building at Agritopia, is famed for its cupcakes (once featured on the Food Network's "Cupcake Wars"). Whoopie pie varieties range from chocolate chip to coconut cream. Steps away is Barnone, a craftsman's community housed in a repurposed Quonset hut-style barn turned makers' space. This new addition features Garage East micro-winery, 12 West Brewing, a plant-based eatery, artisan workshops and retail shops.
For information on the Fresh Foodie Trail and other Mesa Arizona-area attractions, go to www.visitmesa.com.
By Randy Mink, Senior Editor