When MSC Cruises first introduced the MSC Yacht Club onboard the MSC Fantasia, this "ship within the ship" concept was a first in the cruise industry. It's also on their other "Fantasia class" ships – the MSC Divina, MSC Splendida and the MSC Preziosa. And it will be on their next ships.  When selecting the right accommodations for your group cruise, you might wonder, "Our group members are already booked in suites. What makes staying in the MSC Yacht Club more special?"  While sailing on the MSC Divina recently for my vacation, I stayed in the MSC Yacht Club. Yes, it provides an extraordinary, unique, exclusive luxury option for groups.
 Personal Touches Start at Embarkation
When arriving at the Port of Miami to embark the MSC Divina, the personalized touches began immediately.  At a special check-in area just for guests staying in MSC Yacht Club, I provided preliminary information. From there, one of the butlers took my carry-on bag, and personally escorted me to a special embarkation area inside where I did the rest of my check-in paperwork. The butler waited for me, then escorted me through the MSC Yacht Club Concierge lobby area on Deck 15 and to my suite.  He mentioned the butler for my suite would be stopping by and that happened just a short time later.
Bruce, the butler for my suite, made introductions and also mentioned that Chan, the junior butler would be assisting him.  I could reach out to them for any special requests, even down to additional help unpacking if needed.  Bruce provided details on the suite along with areas within the MSC Yacht Club and special VIP one-of-a-kind amenities. Within those first two hours, I could immediately tell butlers within the MSC Yacht Club took pride in roles. Professional, yet personable, and at my "beck and call," the butlers and staff were making this the beginning of an extraordinary experience.
MSC Yacht Club Reception Area and Dedicated Concierge
Located on Deck 15, the MSC Yacht Club reception area had a concierge available 24 hours a day. The concierge provided assistance from booking reservations for dining, to help with excursions, special requests and more.
When I was trying to decide on a few shore excursions to take, I talked with the concierge. He called the shore excursion desk, and they sent one of their staff members up to help me get my next excursion booked.  On the days when we were in port, guests staying in the MSC Yacht Club, including myself, were personally escorted down to disembark.
All-Inclusive Amenities for MSC Yacht Club guests
Complimentary alcohol and beverages are included for guests staying in the MSC Yacht Club.  Each suite has its own in-room mini bar, and items are replaced as needed and requested.  The One Pool, a private pool, deck and bar located on Deck 18, along with Top Sail Lounge located on Deck 15 had private hors d'oeuvres, along with continental breakfast, snacks, and more throughout the day.  Le Muse, a private restaurant just for MSC Yacht Club guests, had open dining times for breakfast, lunch and dinner, featuring gourmet cuisine by European-trained chefs.
Top Sail Lounge
Located on Deck 15 and just off the reception area, the Top Sail Lounge soon became a favorite meeting place for many of the guests in the MSC Yacht Club, including me. The friend I was traveling with and I would meet there before attending one of the evening shows and it was fun just taking in the beautiful panoramic views.
This private bar and lounge offered occasional evening music along with other amenities. Continental breakfast and snacks were available throughout the day, along with high tea served between 4pm to 5 pm. From 5 pm to 9 pm aperitifs were served, with a special "Sweet temptation" (fruits and petit four) served from 9 pm to 2am.
The One Pool
When I went up to The One Pool on Deck 18, I wasn't expecting this expansive area, complete with a pool and hot tubs. A bar with seating was located on one side, and deck chairs were carefully laid out with ample room.  It was never overcrowded, and once again the staff members came by checking to see if guests needed drinks and beverages. The One Pool provided some extraordinary views for MSC Yacht Club guests to enjoy as well as relax.
 Le Muse Restaurant
As mentioned, Le Muse Restaurant had open dining, but if guests wanted to make reservations to secure a particular dining time or perhaps request a particular waiter? That was also easily arranged. By the third day, one of the waiters at Le Muse Restaurant became a particular favorite. When I mentioned this to the concierge, he was able to request that waiter along with our preferred dining time.
In addition to having different menu selections each evening, ongoing traditional choices were available as well. With this being a private restaurant, there was no rush to get through the different courses, and was a leisure, high quality dining experience.
More Special Butler Touches
On the second morning of the cruise, a friend was in the Top Sail Lounge enjoying breakfast, and called to see if I wanted any cappuccino. I mentioned that would be great, but instead of his bringing the cappuccino back to my suite?  One of the butlers delivered it to me promptly.
One evening while leaving the reception area and saying hi to one of the butlers, I casually mentioned I was heading over to Le Muse Restaurant for dinner. This butler personally walked me over himself.
While talking to Dhunraj Jeeto, one of the junior butlers, he shared a wonderful point that was part of his work ethic. Dhunraj said, "Service has to come from the inside out."
Enjoying the Rest of the Ship
The MSC Yacht Club provides quiet exclusivity, but guests were still able to enjoy all the other areas of the ship. The MSC Yacht Club Daily Planner included services and hours for everything going on around the ship – entertainment highlights for the day and evening, services, activities and events along with hours for bars, lounges and restaurants.   With a wide array of lounges, entertainment, as well as diverse shows every evening, it was fun to take these in as well.
MSC Cruises' New "Choose and Cruise" – Where the MSC Yacht Club Fits In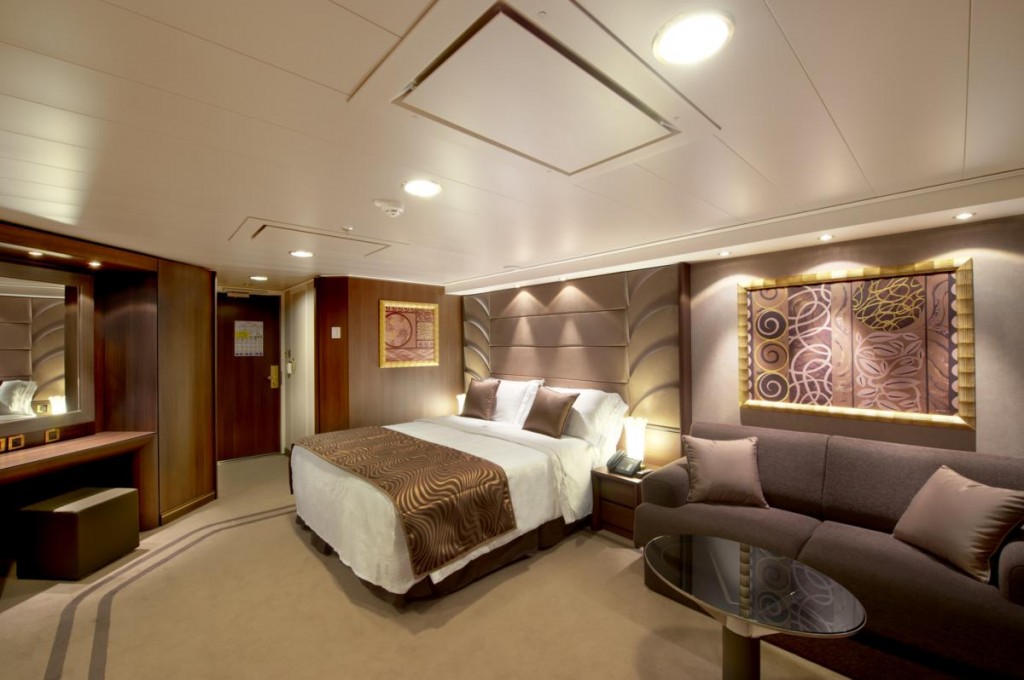 Earlier this fall, MSC Cruises launched their "Inclusive Experiences,"   four pricing levels which range from a la carte to all-inclusive.  This not only simplifies the pricing, but gives guests choices on what they want included. The MSC Yacht Club, their elite VIP Club level with all-inclusive amenities, isn't priced substantially higher than their Aurea category, which is premium located balcony staterooms and suites. The all-inclusive amenities MSC Yacht Club includes as well as the "ship within the ship" ambiance are where this level shines.
A Terrific Option for Groups
If your group is looking for a bit more exclusivity, along with all-inclusive amenities, then the MSC Yacht Club is definitely one to consider. It's taking the suite experience to a new VIP inclusive level. And after having had a chance to experience and enjoy it first hand, I'm admittedly a new fan. The MSC Yacht Club does provide the best of both worlds, and gives a refreshing definition of "The butler did it!"