Experience Indiana wineries and vineyards on this culinary trail that is perfect for groups looking to explore the culture of this famous wine region
The first state to grow wine commercially, Indiana's viticultural heritage dates back to 1802, when immigrants in the "New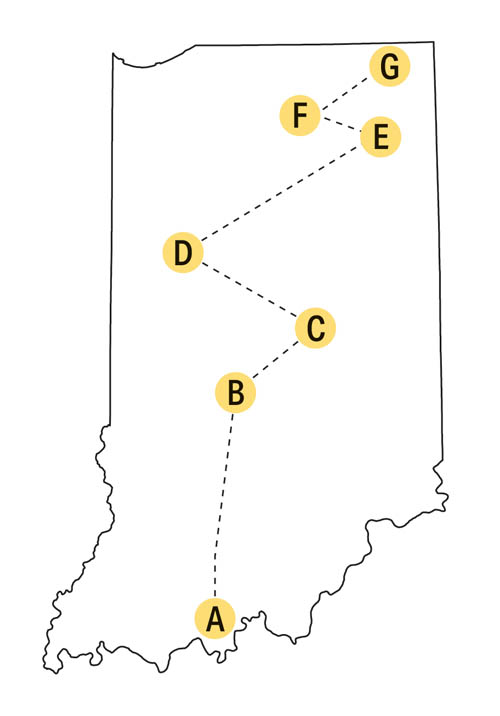 Switzerland" region began growing grapes along the Ohio River. Today, Indiana boasts over 100 wineries, and many welcome groups to tours and tastings. The Wine, Wine, Anytime™ Culinary Trail, created by the Indiana Foodways Alliance, highlights some of the best Indiana wineries.
Southern Indiana Winery
Featuring stunning views of the Ohio River, Blue Heron Vineyards & Winery (A) in Cannelton specializes in French-American hybrid grapes like Marechal Foch (which is used in sturdy reds) and Chambourcin (used in sparkling reds and ports). Visitors can enjoy the rustic tasting room and views of the Southern Indiana hillside.
Central Indiana Wineries
Group members can try 18 wines in a French countryside-inspired tasting room at Cedar Creek Winery (B) in Martinsville, which grows its grapes on-site, offers live music and local art to pair with your glass. Offerings include the Crimson Red Cabernet Sauvignon, Serendipity Riesling and sweet fruit wines that come in blueberry, watermelon and peach.
Combine culinary with camping at Madison County Winery (C) in Markleville, which offers hook-ups and drive-through sites for easy bus parking. Visitors can sample unique creations like Chocolate-Covered Pear and the signature Candy Apple, and the winery hosts glass-painting classes for groups. Whether your group prefers dry, sweet or fruit wines, the selection at Wildcat Creek Winery (D) in Lafayette will satisfy any palate. Groups can lounge in a restored farmhouse that has transformed into an welcoming tasting room and sample delicious creations like Prophet's Rock Red (a medium-bodied red with hints of vanilla and oak), Cayuga White (a floral white with apricot and apple flavors) and Aunt Minnie's Cherry Tree (a "cherry pie in a glass").
Northern Indiana Tastings
Country Heritage Winery (E) — located in the town of LaOtto north of Fort Wayne—has been refining its craft for over 100 years. The family-owned farm welcomes visitors to embark on a guided tour and tasting with a resident wine expert. Consider sampling popular creations like the Cranberry Riesling, Heritage White (which offers subtle tropical fruit flavors) and the Heritage Red (promoted as "Concord grape jelly in a glass"). Country Heritage also has tasting locations in Nashville and Plainfield.
Enjoy live music, play a game of corn hole or lounge on couches beside a welcoming fireplace at Tippy Creek Winery (F) in Leesburg. Groups can sip on a wine slushie or partake in a tasting flight that can include sparkling and fruit varieties. Located on the gently rolling hills of Country Meadows Golf Course in the city of Fremont, Briali Vineyards & Winery (G) offers tastings that are $5 for six one-ounce pours, and be sure to try exceptional wines like the Bourbon Barrel Malbec and Sparkling Riesling.
For even more group travel itineraries SUBSCRIBE FOR FREE to our newsletter.