Indiana breweries provide fun group tours for beer lovers and create an exciting culinary trail through the state
The craft beer movement has swept through Indiana, and many of the Midwest's premier brew pubs and microbreweries call the Hoosier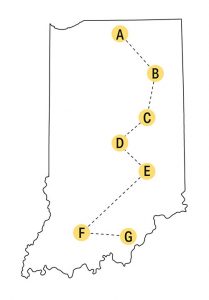 State home. Whether your group is interested in a behind-the-scenes beer tour or a beer tasting, the Hoosier Brews™ Culinary Trail offers thirst quenching options throughout Indiana. Learn more about the Midwest craft beer scene and get your group ready for an epic beer tasting adventure of Indiana breweries.
Northern Indiana Breweries
Begin your Indiana brewery adventure at South Bend Brew Werks (A) in South Bend, Indiana, where you can sample a five-beer flight that includes a Black IPA, Amber, Wheat, Oatmeal Stout and Smoked Porter. All the local beers are crafted directly beneath the taproom in a basement brew room, and groups can also enjoy a meal of locally sourced gourmet flatbreads, pastas and grilled cheeses.
Continue south to Bad Dad Brewing Co. (B) in Fairmount, which houses a wood-fired pizza oven to pair with the eight beers on tap. Groups can relax in a restored industrial space and enjoy original creations like the King of the Castle Scottish Ale and Back Scratcher IPA.
Central Indiana Beer Stops
While enjoying a day in Muncie, Indiana, be sure to stop at Elm Street Brewing Company (C), which combines the industrial accoutrements of modern industrial brew pubs with the welcoming atmosphere of a cellar pub. Fill out a flight card to sample some of Elm Street's popular creations, including the Bantam Light Cream Ale, Mr. Worldwide Pale Ale and Braided Rat Tail Sour.
A great addition to a Hamilton County Indiana itinerary is Grand Junction Brewing Co. (D) in Westfield. Located in an old lumber company building, the two-tiered taproom allows guests to enjoy house beers and a variety of retro arcade games in addition to popular Indiana beers on the guest taps. Try the Grand Junction 1520 Hefeweizen, Grand Junction Mulligan Scotch Ale and the Hitching Post Pale Ale.
After a day of admiring the mid-century modern architecture of Columbus, depart for 450 North Brewing Company (E), a brewery, taproom and restaurant located on a welcoming family farm in Columbus, Indiana. The brewery's 10-barrel system produces some of the finest fresh beer in the state, and its specialty is fruit-based Weisse beers like Slushy XL and Tropic Juice.
Southern Indiana Brew Pubs to Visit
The city of Jasper's rich German heritage is on full display at the Schnitz Pub (F), which is connected to the iconic Schnitzelbank Restaurant. Pair your pizza or burger with a flight of the pub's finest creations, which includes the award-winning Schnitz Blonde, made from German hops, and an Indiana Pale Ale brewed with all-Indiana ingredients.
Continue with a European-style pub experience at Pints & Union (G), a New Albany Tavern decorated with exposed wood and Edison lights. You won't find any TVs here; instead, enjoy a good old fashioned conversation and a pint.
Stay up to date on group travel ideas by subscribing to Leisure Group Travel for free today!