Indiana's agricultural bounty tastes best right from the source. Many of Indiana's orchards and farms offer tours that provide behind-the-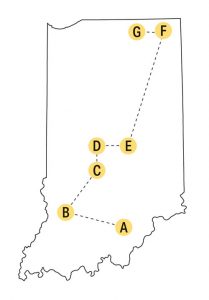 scenes glimpses at harvesting and the opportunity to sample the fresh produce on-site. The Farm to Table™ Culinary Trail offers group-friendly activities and dining experiences with Midwestern hospitality.
Begin at Huber's Orchard and Winery A in the town of Borden. Currently in its seventh generation of ownership, the property includes an award-winning distillery, farmers' market and winery that produces over 30 unique brands. Groups can embark on a winery tour, sample distilled whiskey and gin in the expansive barn loft or ride a tractor through the Hubers' fields.
Continue north to the town of Bruceville and the Big Peach B, a family-owned farm market that is open daily May through October. After you admire the 20-foot peach (a classic roadside attraction accompanied with a Washington Monument replica), take your group inside for a market that sells fresh produce, local honey and homemade pies.
Hunter's Honey Farm C in Martinsville is operated by fourthgeneration beekeepers and offers multiple group tours that show the process of honeymaking. Group members can shadow a beekeeper to see how honey is extracted from apiaries, roll their own beeswax candle and bottle their own bear of honey with a personalized label to take home. Be sure to tour the gift shop and browse a selection of lip balms, candy and honey candles. Beasley's Orchard D in nearby Danville specializes in award-winning apple cider, and you can see the property's fruit press and bottling machinery before enjoying a fresh sample.
Tuttle Orchards E in Greenfield sells over 200 locally grown produce options and gourmet fruit products. Party members can explore the pumpkin patch and apple orchard and can also purchase honey, candy and tea. The Tuttle greenhouses offer perennials and herbs for purchase, while the free beehive observatory grants visitors behind-the-scenes glimpses at beekeeping.
For a quirky agritourism tour in northeastern Indiana, Sechler's Pickle Factory F offers a tour and samples. Groups will see how cucumbers are pickled in vats of salt brine before being sliced and sorted, and a separate room demonstrates how sweet and candied pickles are created.
Finally, settle in for a hearty family-style meal in the adjacent Blue Gate Restaurant & Bakery G. This traditional Amish spread encourages diners to pass food from communal serving dishes and enjoy fried chicken, mashed potatoes and farm-fresh vegetables. Almost every ingredient—from the fruit pie filling to the salad greens—is locally sourced, and meat comes from local farms.