Getting your travel group a good steak is no trouble in Frisco, Texas
Anyone who has done group travel planning knows that the world can pretty much be divided into two kinds of people: those who love steak, and those who don't. And when people who love steak are hungry, the best way to make them happy is to give them their slab of glorious beef. If you're planning a group getaway for steak-lovers, visiting Frisco, Texas is an ideal option.
Historically, you might say that this Dallas-area city was born on the path to great beef. When the town that became Frisco was established, it was located alongside Preston Trail (now Preston Road), which was frequently used for cattle drives. Today's Frisco might be somewhat further from actual beef production, but there's no doubt that this is a land that takes its hearty cuisine seriously.
Fortunately, steakhouses – even in former cowboy country – know that non-steak-lovers gamely accompany their carnivore counterparts in for a bite. This is great for travel groups that have a variety of tastes to accommodate. But let's not waste time. Let's go straight to the beef – or, in this case, the steakhouses of Frisco.
Where Steak Lovers Go to Eat In Frisco
While you can score a steak at various national chains and non-steakhouses in the area, we're going to stick to the places that are totally enthralled with their main product. Of course, we'll give a nod to non-beef options as we go along. But if your travel group is hungry for some Texas steak, the following restaurants should be on the top of your list.
Texas Land & Cattle
3191 Preston Rd., Frisco, TX 75034
972-668-2832
Texas Land & Cattle is serious about what they refer to as Texas Craft Dining – using local ingredients and putting care into their preparation and presentation. The Frisco location is one of several in the state.
The Menu Features influences from various Texan regions, including the Coast, Hill Country, Plains and Mexican Border. Look for steaks ranging from a 6-oz. filet mignon to a mighty 20-oz. ribeye or porterhouse; the house-smoked sirloin is a specialty.
Non-Steak Options are plenty, starting with some upmarket side dishes (jalapeno grits, 5 cheese mac & cheese, balsamic-roasted Brussels sprouts) and moving into smoked chicken, stuffed quail, grilled salmon, seared Ahi tuna and gourmet-influenced Tex-Mex favorites.
Estilo Gaucho Brazilian Steakhouse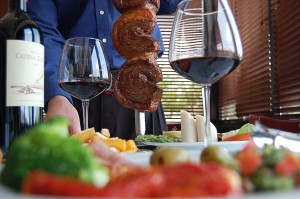 8650 State Highway 121, Frisco, TX 75034
214-618-6150
Estilo Gaucho represents another kind of cowboy tradition – the kind that springs from southern Brazil. This restaurant has garnered some serious attention and lots of positive reviews, and its different take on the grilled steak tradition is well worth a visit.
The Menu Features a traditional buffet of meats brought to the table, churrasco-style, after it's been seasoned and cooked over an open flame. There's also a Harvest Table loaded with 45 different types of salads and sides to complement the 15 meats being served. You don't have to eat everything, but you might be tempted to try.
Non-Steak Options are readily available. Several of the meats brought to table are not beef, so if you're in the mood for chicken or pork you can simply select those meats. For vegetarians, the Harvest Table also functions as a salad bar.
Perry's Steakhouse and Grille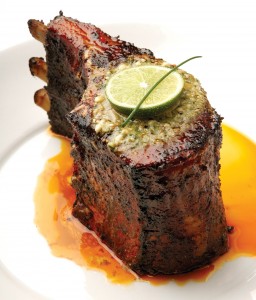 2440 Parkwood Blvd., Frisco, TX 75034
214-494-4645
Since 1979, Perry's has staked its claim to restaurant fame on having food that's 'Rare and Well Done' – referring to the quality and prep. The Frisco location of this multi-state chain offers live music, an outdoor patio and private dining rooms that your group can book.
The Menu Features a nod to the decidedly classy and cosmopolitan. Among their Signature Selections, you'll find the Symphony Kabob (combining beef tenderloin, lobster and shrimp) rubbing shoulders with a truffle- and wine-sauced Chateaubriand. Straight-up steaks include popular cuts like New York strip and ribeye, with a smorgasbord of optional sides to liven things up.
Non-Steak Options reflect the same gourmet touch. Fresh seafood includes red snapper, shrimp and sea bass, while signature non-beef dishes like chicken served with béarnaise sauce, double-cut lamb chops and a slow-smoked caramelized pork chop might just distract the steak-eaters.
Randy's Steakhouse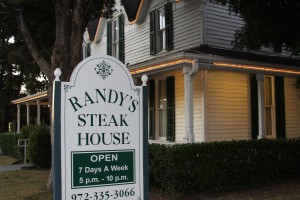 7026 Main St., Frisco, TX 75033
972-335-3066
Randy's definitely puts the house in steakhouse – the restaurant is located in the historic 1869-built T. J. Campbell home in Frisco's downtown. Private rooms are available for parties, or join the crowd in the dining room.
The Menu Features traditional old-school steakhouse fare, from a shrimp platter to stuffed mushrooms. You'll also find some interesting nods to the past in the shape of turtle soup and a walnut-and-feta salad. Steaks range from an 8-oz. filet mignon to a 12-oz. New York Strip; the chef can also prepare steaks sauced with blackberries or stuffed with blue cheese or crawfish.
Non-Steak Options are also tasty. Once again, tradition is represented here by favorites like chicken Marsala, bourbon-glazed pork chops, beef tournedos and fire-roasted salmon.
Silver Fox
1303 Legacy Dr., Frisco, TX 75034
214-618-5220
If your group is in the mood for elegance, you'll find it at the Silver Fox's Frisco location, where modern chandeliers, mahogany and marble set the tone. A wine cellar housing over 2,000 wines can only add to the festivities.
The Menu Features a mélange of traditional steakhouse fare and local favorites, with a few surprises like Ahi tuna appetizers and beef croustade thrown in. Steaks range from a 6-oz. petite filet to a 28-oz. bone-in aged ribeye. Any steak can be customized by requesting an addition, such as au poivre peppercorn gravy or Silver Fox's own saucy blend of garlic, shallots, red wine and blue cheese.
Non-Steak Options also favor this blend of traditional and local favorites. Sides like off-the-cob creamed corn and Maker's Mark mushrooms share billing with peach-serrano glazed pork, roasted game hen, lamb with shallots, lobster and an assortment of seafood.
So when your group heads to Frisco and feels the need for steak, you know just where to go. If you've been to Frisco and have a favorite steak place, let us know about it in the comments section. Thanks!