Three Idaho vineyards combine their signature wines and menus for a taste that's sure to please your next group
The Idaho wine industry is both fast growing and highly respected. An ideal growing season and cold winters are a consistent balance for the health of the vines. No stranger to farming, some of the first grapes planted in the Pacific-Northwest can be attributed to Lewiston during the 1860s.
In 2007, the Snake River Valley American Viticultural Area (AVA) in Southwest Idaho, was federally approved as a grape-growing region. Eight years later, the Eagles Foothills AVA federally designated a grape growing sub-AVA of the Snake River Valley AVA.
The year 2016 saw the Lewis-Clark Valley AVA approved as a federally designated grape growing region. Thus, you can mix quality wines from these Idaho vineyards with hospitality and wonderful dining options for a truly memorable experience.
PARMA RIDGE WINERY
A fabulous combination of superb wines and delicious cuisine are brought to your table. It's certainly not a coincidence that trained chef and winemaker Storm Hodge is a hands-on owner of Parma Ridge Winery. As is partner Stephanie Hodge whose original artwork complements the tasting room and is featured on the winery's labels.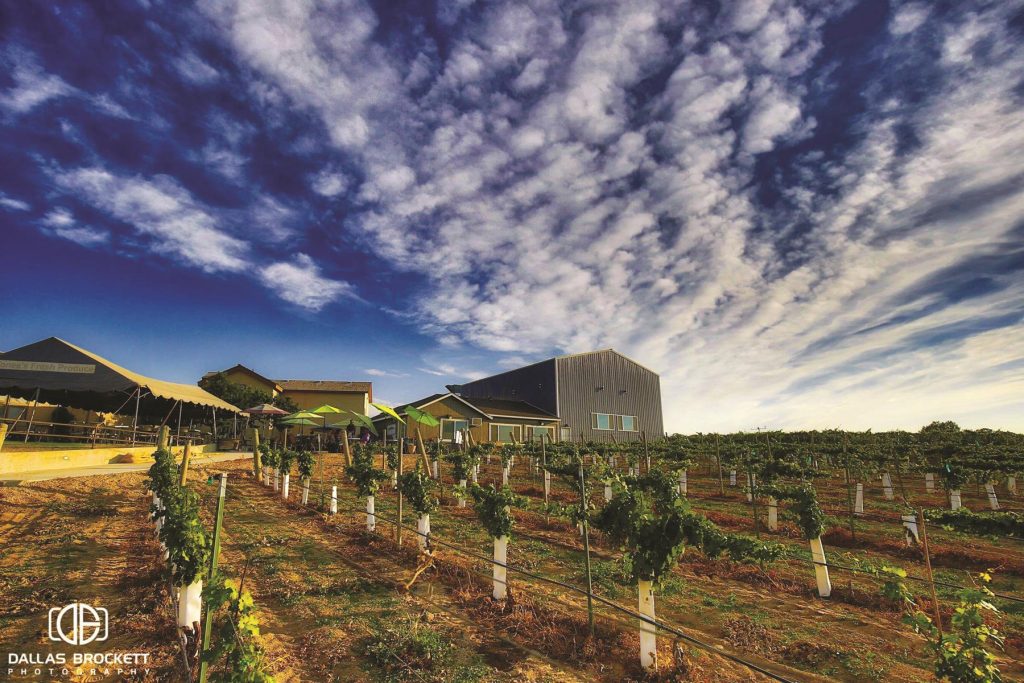 Parma Ridge Wines include its own 2019 Avielle Rose of Merlot, 2019 Dry Gewurztraminer, 2016 The Last Zin and the 2016 Estate Grown Merlot. A wide variety of Snake River Valley and Yakima Valley grapes are also featured. In addition to entrée specials, Storm's famous salmon and a 16 oz. ribeye steak, there are a half dozen sides and shareable foods on the menu along with a scrumptious selection of flatbreads and wonderful burgers and sandwiches.
VINE & BRANCH RANCH
In Caldwell, there's a fascinating concept in the heart of Idaho wine country. Vine & Branch Ranch brings wines from Snake River Winery and a small plate menu inspired by local ingredients from nearby Peaceful Belly Farm and almost a dozen other local farms to their tasting room. The annual Farm to Fork Dinners in a farm setting is spectacular. The climate elevation at Snake River Winery's vineyard mirrors many old-world regions, including the Rhone Valley, the Douro Valley, Austria and Northern Italy.
Snake River Winery practices the best-handcrafted wines that are created from the best grapes. Owners Scott and Susan DeSeelhorst believe food and wine should be enjoyed year-round, not just on special occasions. On the tasting room menu at the Vine & Branch Ranch, changes are made with the seasons. Breads are paired with seasonal butters and the grilled cheese sandwich with French onion soup is a favorite.
COLTER'S CREEK WINERY
From 2007, Colter's Creek winery has been crafting wines from Lewis-Clark Valley AVA grapes. The long list of acclaims shows their commitment to the integrity of their wines.
From the Idaho Wine, Cascade Wine, and Riverside Wine Competitions to the Great NW Wine Invitational and Finger Lakes International Competition, Colter's Creek Winery has shined. The award-winning wines pair nicely at their Main Street, Juliaetta restaurant and tasting room, located just 30 minutes from Lewiston or Moscow.
More than a dozen wines can be available for tasting and considered for pairing, including the award-winning 2016 Arrow Rim Re, 2017 Cabernet Franc and the Colter's Creek Signature 2017 Koos-Koos-Kia Red.
For a summer day, the 2019 Signature Estate Riesling is perfect when chilled. The restaurant uses locally sourced ingredients whenever possible for both their signature offerings and seasonal menus. A half-dozen starters and salad lead to a very nice variety of small plates. The main course items make choosing difficult and it won't get any easier when you get to the dessert offerings.
You're probably wondering how we could get to this point in an Idaho story, especially one where local food sources were mentioned, and not say something about Idaho's most famous farm product, the Idaho potato.
At the Colter's Creek Winery tasting room and restaurant, don't pass on the Yukon Wontons. A cheese-Yukon filling blends seamlessly with shredded cabbage and pistachio-pepper pesto in wonton shells. At the Vine & Branch Ranch, the Irish stew with colcannon is excellent. The pasture-raised beef with veggies in a savory beer stew is served over mashed potatoes with leeks and kale. At Parma Ridge Winery, both Bistro Menu entrée specials feature garlic mashed potatoes.
Add great Idaho vineyards to group travel itinerary. There are more than 50 wineries & cideries operating in Idaho. Developing your own Wine & Dine Trail begins by visiting the Idaho Wine Commission online at idahowines.org.
For more Idaho travel information go to visitIdaho.org.
---
By Dave Bodle