Loosen your belt and bring your appetite to the Amish Country of Indiana and Ohio
Tender, juicy fried chicken….buttery smooth mashed potatoes…slow-roasted beef…thick, savory egg noodles…freshly baked bread and rolls….generous dollops of gravy.
That's just a sampling of the bounty of the Amish table.
Oh, and save room for pie.
Groups traveling through Amish/Mennonite communities in Indiana and Ohio have a cornucopia of choices when it comes to Amish-style dining. From restaurants with sumptuous buffets to private homes that welcome tourists, the choices are almost endless in these agricultural counties where horse-drawn buggies go clip-clopping down the roads and people live perfectly contented lives without electricity and other modern conveniences.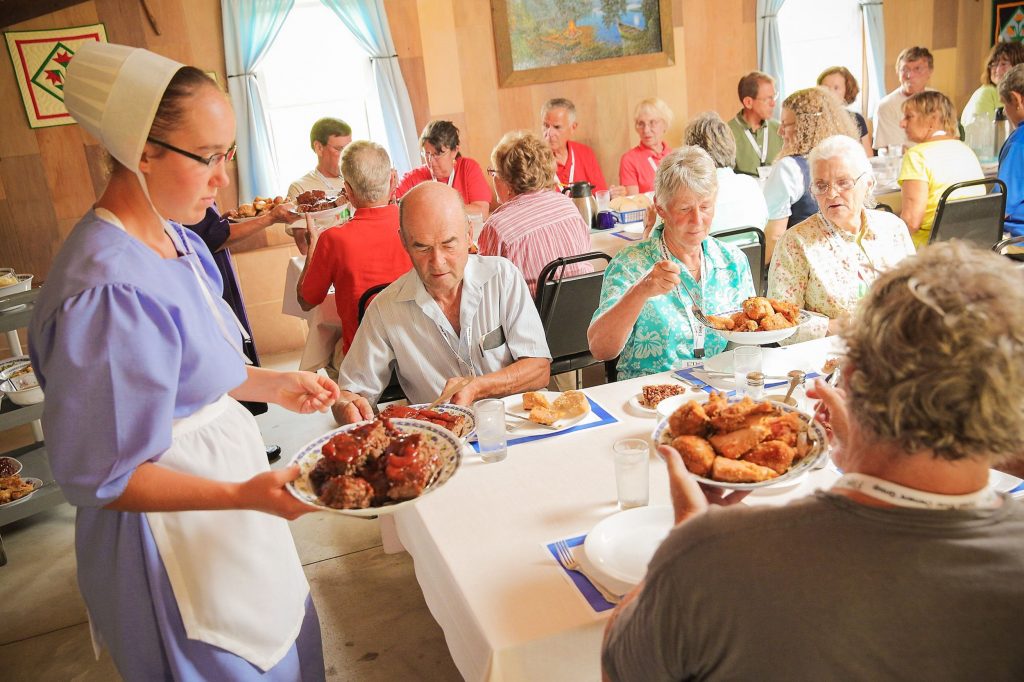 Local tour companies weave meals and tastings into excursions that provide revealing insights on the Amish way of life. These tours may include visits to Amish farms and workshops. Cooking classes and demonstrations can be arranged as well.
On rambles through the peaceful countryside, your culinary-minded tour members also will have fun shopping in bakeries, meat and cheese shops, and grocery stores that specialize in bulk foods—places where the Amish and Mennonites shop.
To me, Amish cooking brings back memories of the simple, meat-and-potatoes meals my mom and grandmas used to make—wholesome, filling, uncomplicated. When I have time for cooking and baking, I often rely on one of my two Amish cookbooks because I usually have the ingredients, and there aren't too many of them. Whenever I'm anywhere near an Amish enclave, I'll go out of my way to enjoy lunch or dinner at a restaurant buffet or at least hit a bakery to buy cookies, sweet rolls, and hand-held fry pies to take home.
Having a meal in an Amish home, on the other hand, is something available only to groups. An individual cannot just walk in off the street and partake in this special experience.
In Ohio, home to the country's largest Amish community, Carol Glessner, owner of Country Coach Adventures (CCA), works with several Holmes and Tuscawaras County families that serve up heaping helpings of food and fellowship for her travelers. She is celebrating 30 years in business in 2022.
"People tell us eating with an Amish family was the No. 1 thing they enjoyed about their trip," says Glessner, whose tours (from one day to one week) are "designed around food." Some group leaders ask for the same family year after year.
It's not that a whole busload crams into the dining room of a farmhouse, though. A separate building, which the Amish term a "shop," accommodates the hungry visitors, giving them plenty of space and access to restrooms. The food preparation facilities are regularly inspected by local health departments and follow all government safety protocols, with extra precautions being taken during the current pandemic, Glessner states.
A typical home-cooked meal on a CCA tour includes two meats—usually pan-fried chicken and roast beef or ham—plus noodles or dressing, salad, vegetables, and homemade bread. To slather on your bread, there's Amish peanut butter spread (made with marshmallow cream and corn syrup). Bowls and platters of food are passed around the table, family-style. For dessert, the choice of three pies might be coconut cream, peanut butter crumbs, and a seasonal fruit pie. "Strawberry pie is a huge hit in June," Glessner says, while pumpkin is commonly served in fall.
Glessner has had two or three busloads eating at once, but the hosts make serving big groups look easy, she says, noting Amish wedding celebrations can number from 500 to 800 guests. At one farm, the venue used for groups had been built specifically to hold the wedding feasts for the family's daughters. Some meals for tour groups, in fact, take on a wedding theme, and three couples are chosen to sit at the head tables. The Amish hosts get up and talk about wedding customs and other aspects of their lifestyle. Glessner says that her groups are so full of questions and so enthralled with their time at the home that "it's hard to get everyone back on the bus."
Besides meals, CCA can arrange hands-on experiences at homes that could include making whoopie pies or Amish peanut butter. Another option is the day-long "Eating Your Way Through Amish Country," a progressive dining experience that can be customized for the group. It might start with cinnamon rolls at an Amish home or a pie-making demonstration at Dutch Valley Restaurant in Sugarcreek, famous for its peanut butter crumb pie. The tour continues with stops at places like Hershberger's Farm & Bakery in Millersburg, a cheese fondue party at Chalet in the Valley (Millersburg), an Amish home for salads, and Swiss Heritage Winery (Dover) for sangria sampling. The day ends with the dinner buffet at Dutch Valley. Other Amish-style restaurants ideal for large groups are Der Dutchman in Walnut Creek, Berlin Farmstead in Berlin, and The Amish Door in Wilmot.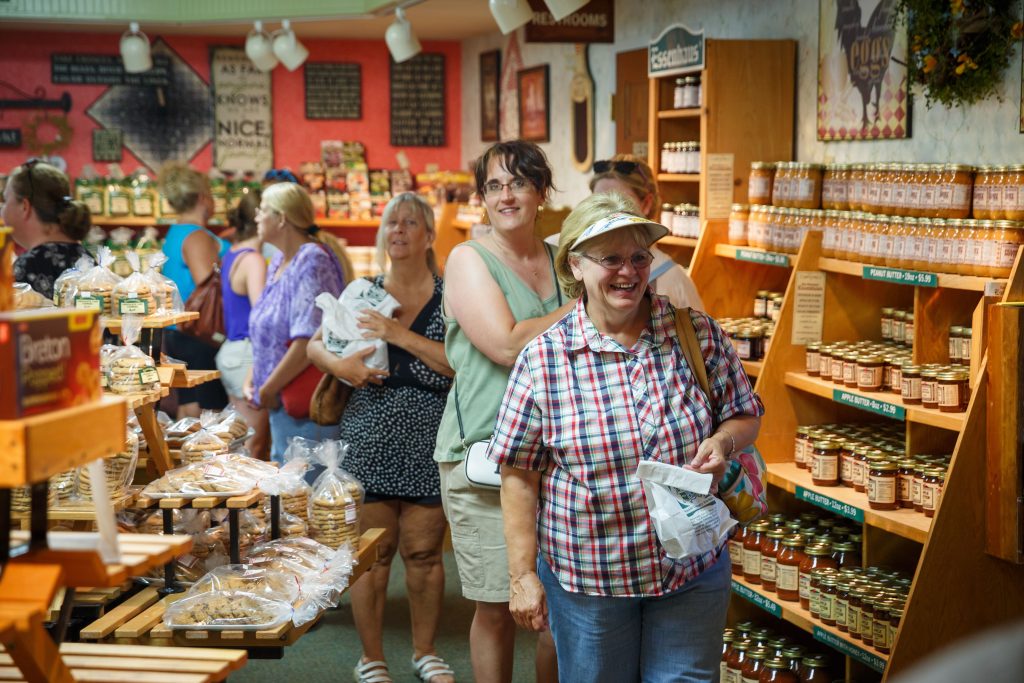 Das Dutchman Essenhaus
Northern Indiana's Amish Country, concentrated in Elkhart and LaGrange counties, has several Amish-style restaurants that work well for motorcoach groups. Das Dutchman Essenhaus in Middlebury, the state's largest restaurant, is famed for ample portions of hearty, made-from-scratch dishes based on authentic Amish recipes. Owned and operated by three generations of the same family, it offers three types of service: buffet, menu, and family-style.
On a recent visit to Das Dutchman Essenhaus, I piled my plate high with delectables from the all-you-can-eat buffet, which featured plenty of meat—beef, pork, turkey, and the must-have broasted chicken. Other temptations: soups, mashed potatoes, stuffing, egg noodles, macaroni and cheese, lasagna, and vegetables like green beans and buttered carrots, not to mention a full salad bar with homemade dressings. A big fan of gravy, I liberally ladled on beef and chicken gravy for the meat, potatoes, and stuffing. (I noticed that many people put the noodles and meat on the mashed potatoes.)
My favorite dish was the melt-in-your-mouth chicken and dumplings. And I loved the warm dinner rolls—extra scrumptious when spread with apple butter and sweet Amish peanut butter. In fact, I bought a dozen rolls at the Essenhaus bakery, along with a peach pie, chocolate whoopie pie, and cinnamon rolls. They make 30 different pie varieties, from banana and coconut cream to shoofly, pecan, and rhubarb-custard. The buffet did not include pie, but its dessert bar offered apple crisp and chocolate chip cookies. (And the salad bar had Pumpkin Caramel Delight with whipped cream, which passes for dessert in my book.) Besides gift shops in the restaurant/bakery complex, the Essenhaus campus has shops housed in original farm buildings.
Blue Gate Restaurant & Bakery
Blue Gate Restaurant & Bakery in Shipshewana also appeals to groups touring Northern Indiana Amish Country, the third-largest Amish community in the country. As at Das Dutchman Essenhaus, guests can choose from the buffet, menu, or family-style dining and a staggering variety of pies. Just down the road is the Shipshewana Auction & Flea Market, the largest flea market in the Midwest.
The Barns at Nappanee
The Barns at Nappanee, the region's other big-time restaurant/bakery with a formidable buffet, occupies the historic Nappanee farm attraction once known as Amish Acres. Groups, there can pair a meal with a Broadway-style musical or other fares at the neighboring Round Barn Theatre. Blue Gate and Essenhaus also have theaters.
Dutch Country Market
Another good stop in Middlebury is Dutch Country Market, which is run by Norman and Katie Lehman and their six children. Many of the products in this grocery store, including Katie's Homemade Noodles, are made in-house daily. You can watch oodles of noodles being made most weekdays from 8:30 a.m. to 1:30 p.m.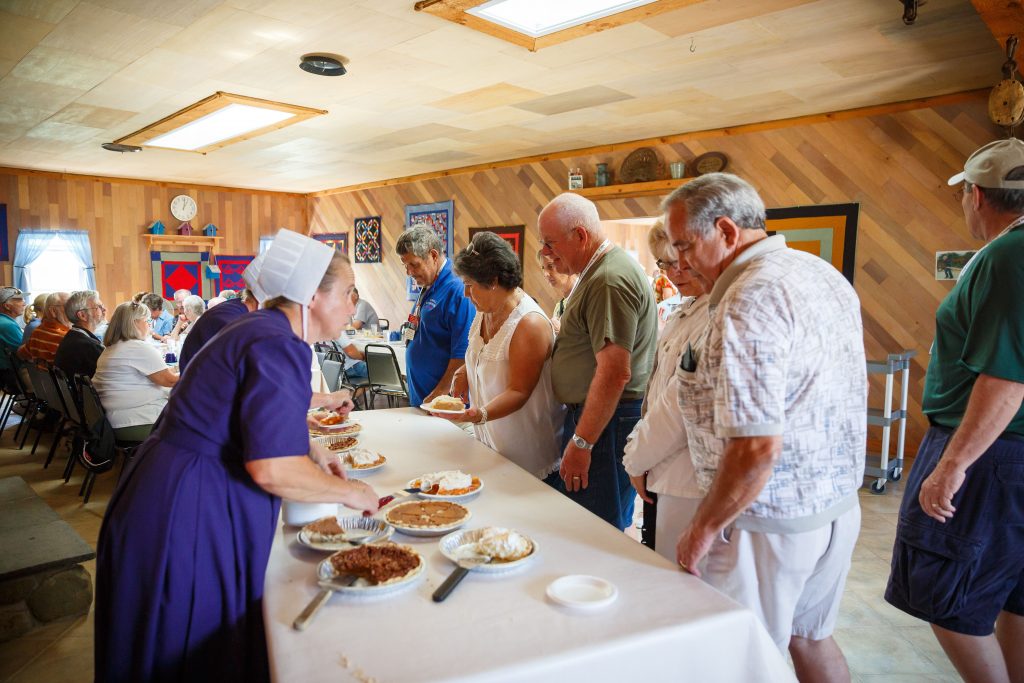 Bus passengers like to stock up on bulk foods in plain packaging—like candy, nuts, snack mixes, and salad toppings—plus a grandma's pantry of jarred jams and jellies, apple butter, salsas, relishes, BBQ sauces, and pickled fruits and vegetables. Katie's Peanut Butter Spread comes in seven varieties, including honey, butterscotch, and cappuccino. In one aisle you will see a live bee exhibit; the unpasteurized honey for sale is derived from the family's own bees and others. The honey aisle also features beeswax candles, soap, lip balm, and hand cream.
Among area companies offering Amish home, meals are Buggy Lane Tours, Great Life Tours, and Hoosier Banquets.
From private homes to restaurants to food shops, tasty times await travelers in the Amish Country of Indiana and Ohio.
For more stories about the Amish community, read https://leisuregrouptravel.com/quilt-gardens-musical-theater-in-amish-country/ and https://leisuregrouptravel.com/treat-yourself-to-a-trip-to-amish-country/
By Randy Mink