From a a dazzling spectacle of equestrian artistry and big-top seasonal performance to outdoor theater performances, groups can appreciate Wisconsin's millennia of rich history and diverse artistic heritage
Wisconsin is home to internationally acclaimed art museums, diverse live theater, and engaging museums that bring the state's rich history to life. From homestead recreations to sophisticated galleries, there are numerous cultural attractions to experience throughout the Badger State.
Norskedalen Nature & Heritage Center
Learn about the state's Scandinavian heritage at Norskedalen Nature & Heritage Center, a Norwegian homestead in Coon Valley. Set in the dramatic Driftless Area of high hills and green valleys, this site focuses on the Norwegian immigrants who settled here in the 19th century. Tour a 1890s restored log cabin, take a refreshing walk along the trails, and enjoy a box lunch in an open-air shelter. The Northern Great Lakes Visitor Center near Ashland educates guests on the region's Native American heritage and mining history. Guests can enjoy interactive stations, a movie theater, and the Community of Life Mural: six large vignettes that depict humans interacting with nature over thousands of years. A park ranger can accompany groups on boardwalk trails that pass through the restored wetlands that surround the center.
North Point Lighthouse
The Great Lakes' rich maritime history is best appreciated at the dozens of preserved lighthouses that line the Wisconsin coast. North Point Lighthouse, located in Milwaukee's Lake Park, dates back to 1888 and has been restored to appear as it did in 1912. Customized tours allow groups to explore the keeper's quarters, admire the Lake Michigan shoreline from the observation deck and enjoy a picnic on the grounds. The city of Manitowoc is home to the Wisconsin Maritime Museum. Explore the nation's most completely restored WWII submarine, stroll 19th-century streets of a shipbuilding town, sail a boat down the river and browse an assortment of exhibits.
Peninsula Players Theater
Live theater performances are an excellent option for your group's Wisconsin experience. Circle Wisconsin's theater members offer generous group discounts, and venues are often located near restaurants to minimize motorcoach stops. Best-known for its cherry tree groves and charming resort towns, Door County is also home to the nation's oldest resident summer theater. Founded in 1935, Peninsula Players Theater stages comedies, dramas, and musicals in a unique woodland amphitheater with heated floorboards. Arrive early for sunset views of Green Bay or a drink in the beer garden before enjoying a performance. Productions range from murder mysteries to uplifting Broadway musicals, so there will be a selection every season to appeal to your group's taste.
Northern Sky Theater
Northern Sky Theater is a summer theater experience outdoors under the starry sky and is located in the beautiful Peninsula State Park in Door County. Only original musical shows are presented that have been created specifically for Northern Sky audiences. Shows are performed here before being seen anywhere else. In the fall season, head indoors to enjoy an original show at the new Creative Center Gould Theater.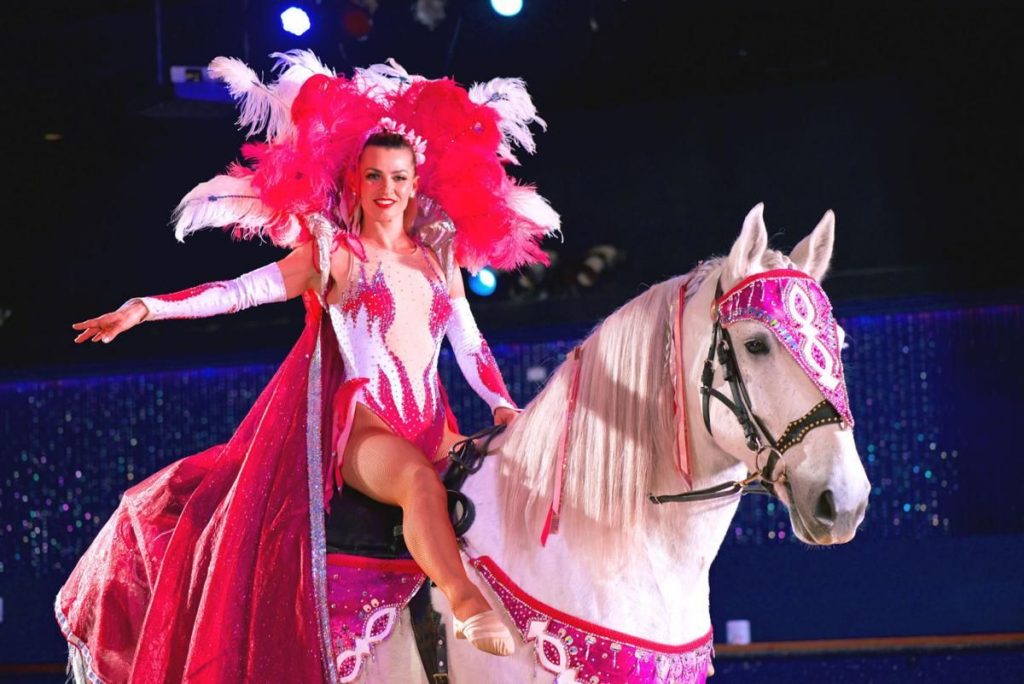 Dancing Horses Theatre
Groups staying in the Lake Geneva area will want to stop by the Dancing Horses Theatre in Delevan, which presents a dazzling spectacle of equestrian artistry. Furthermore, horses in a variety of breeds perform with exacting precision alongside their trainers in a 90-minute show that concludes with Dancing Waters, which features hundreds of water jets choreographed in a kaleidoscope of changing lights. Special holiday shows are available from November to January. Packages include the performance, a meal, and an exotic bird show with parrots singing, roller skating, and playing basketball. On backstage tours, visitors meet the trainers and horses up-close. Also in Delavan is Rosewood, which offers lunch, brunch, and dinner packages (with a choice of plated or buffet menus) that include a cabaret show by entertainers Mark and Gretchen Hladish. New to Rosewood is "Picnic on the Patio," where guests sit around firepits and enjoy grilled entrees while performers stroll through the cabana environment.
Marcus Center for the Performing Arts
The Marcus Center for the Performing Arts, a cultural magnet in downtown Milwaukee, is home to the Milwaukee Ballet Company and Florentine Opera Company. The venue also hosts the popular Broadway series, and 2022 productions will include Pretty Woman, Cats, and Charlie and the Chocolate Factory. In Baraboo, audiences can watch live performances at venues that recall the town's legacy as the former winter quarters of the Ringling Bros. Circus and base of operations for other circuses early in the 20th century. Moreover, Circus World, a themed attraction set on the banks of the Baraboo River, offers Big Top performances every summer, complete with elephants, horses, dogs, clowns, acrobats, jugglers, and aerialists.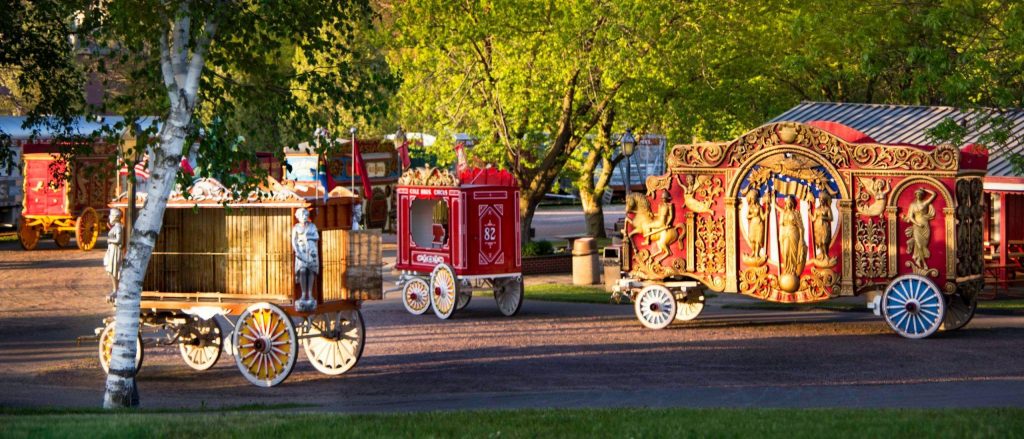 The annual Big Top Parade will pass downtown's Al. Ringling Theatre, built-in 1915 by the eldest of the world-famous Ringling brothers. The beautifully restored playhouse features live touring shows, classic films, local theater productions, facility tours, and demonstrations on its Mighty Barton Organ.
Historic Milwaukee
The Milwaukee region in particular brims with museums and cultural centers to illuminate visitors about the great artists and immigrants who have contributed to the state's heritage. Orient your group to the city with Historic Milwaukee, which offers a chartered group tour of the city's diverse neighborhoods. Discover the German heritage of Old World Third Street, learn about the city's counterculture legacy on the East Side and the Tudor mansions in North Point. You can also register for a step-on guide who will lead groups past the opulent homes and factories owned by the city's beer barons.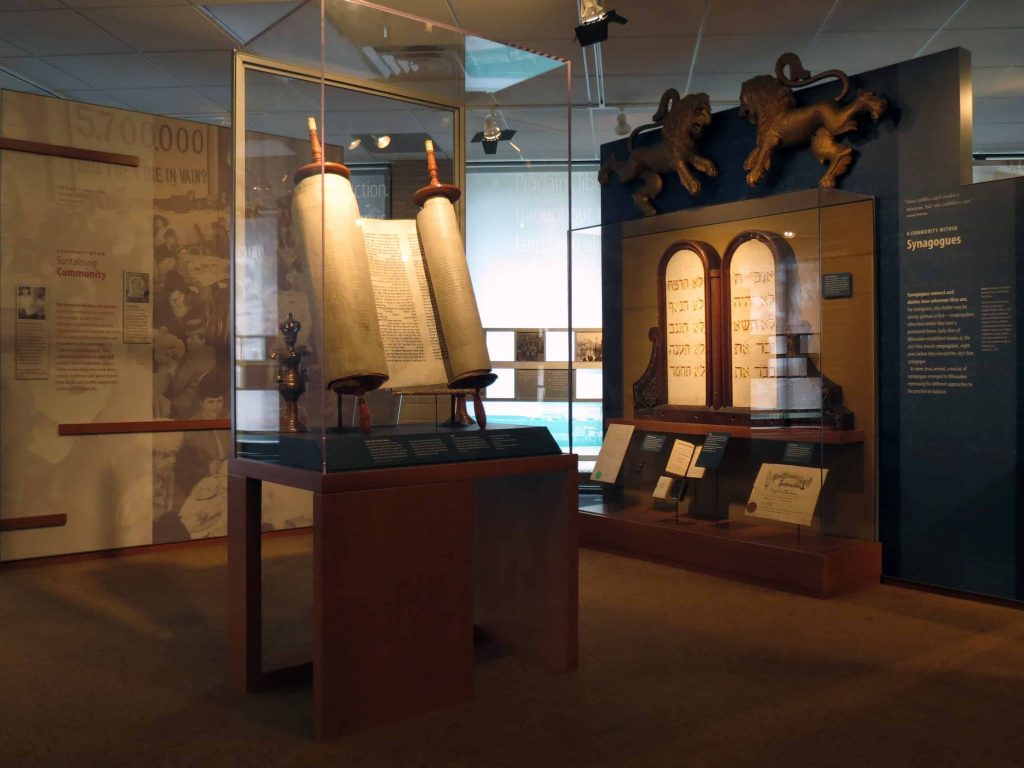 Jewish Museum Milwaukee
Also in the city is Jewish Museum Milwaukee, where you'll explore themes of immigration, intolerance, diversity, respect, and freedom. Appealing to people of all faiths, this museum features a soaring Chagall tapestry, interactive exhibits, films, and photos. Located on the Milwaukee School of Engineering campus is the Grohmann Museum—the world's most comprehensive art collection depicting organized work. The museum has three floors of galleries and a rooftop sculpture garden containing a dozen large bronze sculptures of men toiling in a field and foundry. South of Milwaukee is the Racine Art Museum, which boasts the largest contemporary craft collection in the United States. Docents will guide you through a building that features over 5,000 pieces of ceramic, fiber, and metal.
Paine Art Center and Gardens
Visitors to Oshkosh will not want to miss Paine Art Center and Gardens, which includes 20 themed areas across four acres that surround an English country mansion. Paved walkways pass by elegant fountains, sculptures, and impeccably manicured beds that recall the elegant British estates of the 19th century. The property also hosts a rotating collection of art exhibitions and festive holiday displays. Across the street is the award-winning Oshkosh Public Museum, which houses interactive exhibits in a renovated Edwardian-era home. Visitors can explore the richness of prehistoric life in the "People of the Waters" exhibition and marvel at the beautiful interiors designed by the famous Tiffany Studios.
Rahr-West Art Museum
A Queen Anne-style mansion completed in 1893, the Rahr-West Art Museum in Manitowoc welcomes groups who want to admire the original furnishings or walk through the gallery spaces that rotate eight times a year. Moreover, the museum's permanent collection includes works by Georgia O'Keeffe, Pablo Picasso, and Andy Warhol. And you can see the replica of a Sputnik IV satellite fragment that fell to Earth outside the museum.
John Michael Kohler Art Center
The John Michael Kohler Art Center in Sheboygan houses six large gallery spaces that showcase the connection between art and industry, with exhibits made from iron, enamel, and brass. Guests will want to stop in the famous bathrooms, whose tiles depict everything from medieval murals to farm animals. Stop in at the Wisconsin Museum of Quilt & Fiber Arts in Cedarburg and be awed by the exhibits that are dedicated to educating and celebrating the artistic, cultural, historic, and social importance of this form of art. Enjoy a docent-led tour and then be inspired to create your own piece of fiber art to show off to your friends and family.
For more travel ideas, download our current issue of Leisure Travel Guide.
Discover what else the Badger State has to offer with the Circle Wisconsin 2022 Group Tour Planner!