Helena, Arkansas is a must-visit city to trace the musical past of the Delta Blues and celebrate modern-day blues
Helena, Arkansas is a quaint town located on the eastern border of the state, settled on the banks of the Mississippi River.
Helena is known for many things, like being the site of one of the deadliest Civil War battles and an ideal location for avid birders. But the most remarkable thing about Helena is this town's role in the creation and spread of the Delta blues. This particular style of blues is heavily influenced by the religious music of the enslaved African-American community of the South and became beloved through musicians like Ma Rainey and Robert Johnson.
For fans of this soulful and melancholy music, Helena is a must-visit to both trace the past of Delta blues music to its roots as well as celebrate the blues in its modern-day embodiment.
KING BISCUIT RADIO SHOW
"King Biscuit Time," broadcast from Helena, Arkansas, is the longest-running blues radio show in the nation. This renowned broadcast had its first show on November 21, 1941, and has since grown to feature live audiences, live performances and even host its own annual music festival.
This music station has seen the likes of blues superstars come through its broadcasts for decades, like The Fabulous Thunderbirds, Lightnin' Hopkins and B.B. King to name a few. Now broadcast from the Delta Cultural Center, visitors to Helena have the opportunity to be a live studio audience during a King Biscuit Time show, hosted by Thomas Jacques.
KING BISCUIT BLUES FESTIVAL
The King Biscuit Blues Festival is held every year in Helena, Arkansas, hosted over a four-day period in October. As one of the largest showcases of blues music in the nation, this event attracts thousands of fans to Helena for a weekend of fun and amazing music from the best blues musicians in the nation. Each day has its own unique attractions. The VIP Biscuit Bash is hosted on Thursday and features a meal of biscuits and gravy and samplings of the best craft beer in the state. There is also the Flour Power 5K run and the Tour Da' Delta Bike Ride, both hosted on Saturday.
LEGENDARY BLUES FESTIVAL
Another festival that brings blues fans together is the Legendary Blues Festival, a one-night event hosted every year in September. This event takes place at Cherry Street Pavilion, flanked by historic buildings in downtown Helena, making for a picturesque background for an evening you won't soon forget. The Legendary Blues Festival also invites local comedians to showcase their chops in between band sets.
DELTA CULTURAL CENTER
The Delta Cultural Center is not only the broadcasting home of the King Biscuit Radio Show, but a home to the preservation of culture unique to Arkansas' Delta region. With free admission, this center welcomes anyone to visit its permanent exhibits. "A Heritage of Determination" describes the hardships of the people of the Delta though the events of slavery, the Civil War, Reconstruction and more. The "Delta Sounds" exhibit goes in great detail about the history of Delta blues and the great names in the genre that made their way through Helena.
While visiting Helena, it would be a shame if your group did not visit one of many town-favorite restaurants that will top off your dive into Delta culture.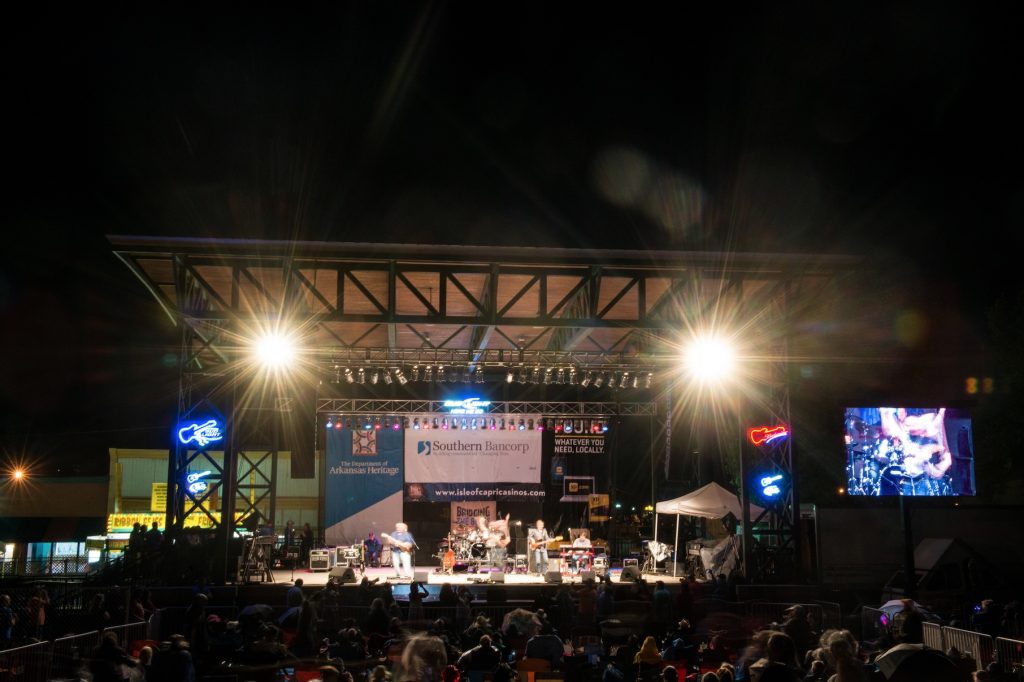 LACEY'S
Lacey's Restaurant is located just beyond the city, tucked away in a quaint, homey building set to bring you all the comforts of Southern eating. Try breakfast classics like chicken and waffles, homemade biscuits and gravy or grits. Other menu favorites served all day include fried catfish, butterfly shrimp or one of their many classic burgers.
PASQUALE'S ORIGINAL TAMALES
Pasquale's is a famous concession stand only open on Fridays and Saturdays, offering up handmade tamales, tamale plates, muffulettas, chili pies and more. The owner, Joe St. Columbia Jr., was inspired by his Italian immigrant grandfather who settled in the Delta region as a merchant. He began swapping recipes with the Mexican immigrants he met and began making the "Delta tamales" that these men and women took with them to work every day. St. Colombia Jr. promises that his homemade, all-natural tamales that soak for six hours in a spicy broth will "taste so good you'll suck the shuck." This well-kept promise has kept locals and tourist coming back to this location for years. The demand is so high that Pasquale's is fulfilling and shipping out online orders for their tamales.
---
By Isabella Wilkes
For more travel ideas, download our current issue of Leisure Travel Guide.