Group Guide to Theaters in 2020
Looking for an activity to keep the whole group entertained? These live entertainment options add life to any group itinerary. Whether your group is in the mood to see a Broadway show, be wined and dined or take a behind-the-scenes tour, these theaters have something for everyone.
Barter Theatre
Abingdon, Virginia
Barter Theatre is the State Theatre of Virginia and is located in historic Abingdon Virginia. Open since 1933, Barter is one of the longest running professional theatres in the nation. With various year-round productions, the theater has been entertaining guests for generations.
Today, Barter is one of the last year-round professional resident repertory theaters remaining in the United States. Many well-known stars of stage, screen and television have performed early in their careers at Barter, including Gregory Peck, Ernest Borgnine, Patricia Neal, Ned Beatty, John Glover and Wayne Knight.
The theater's location, Abingdon, is a lovely town in the Blue Ridge Mountains that has a rich history, culture and majestic scenery and is an ideal destination for a motor coach. Located within the Abingdon Historic District, Barter Theatre provides a sensational on-site dining and catering experience for guests.
In 2020, Barter will present a variety of entertaining shows, including Dolly Parton's 9 to 5 The Musical; Grace and Glorie, a funny and moving play about two strong and stubborn women; The Wizard of Oz; The Charitable Sisterhood of the Second Trinity Victory Church, a play featuring a multitude of laughs; Mary Shelley's Frankenstein, A Christmas Carol and many more.
Barter Theatre is group-friendly as it offers group rates that vary, but can be as much as 50 percent off single ticket prices. Barter also offers complimentary tickets to the organizers of groups and media organizations. Barter provides complimentary services such as group itineraries you can customize, a free step tour guide to welcome your group, assistance with lodging needs and more. Guests can arrange their visits in advance and be introduced to lodging, dining and attraction partner experiences. Barter also provides behind-the-scenes tours, actor-led talk-backs and even workshops that can be adapted to the needs of your group.
Barter offers easy access for everyone in your group, including ramp entrances, fully handicapped-accessible buildings and assistive listening devices for the hearing impaired.
Website: bartertheatre.com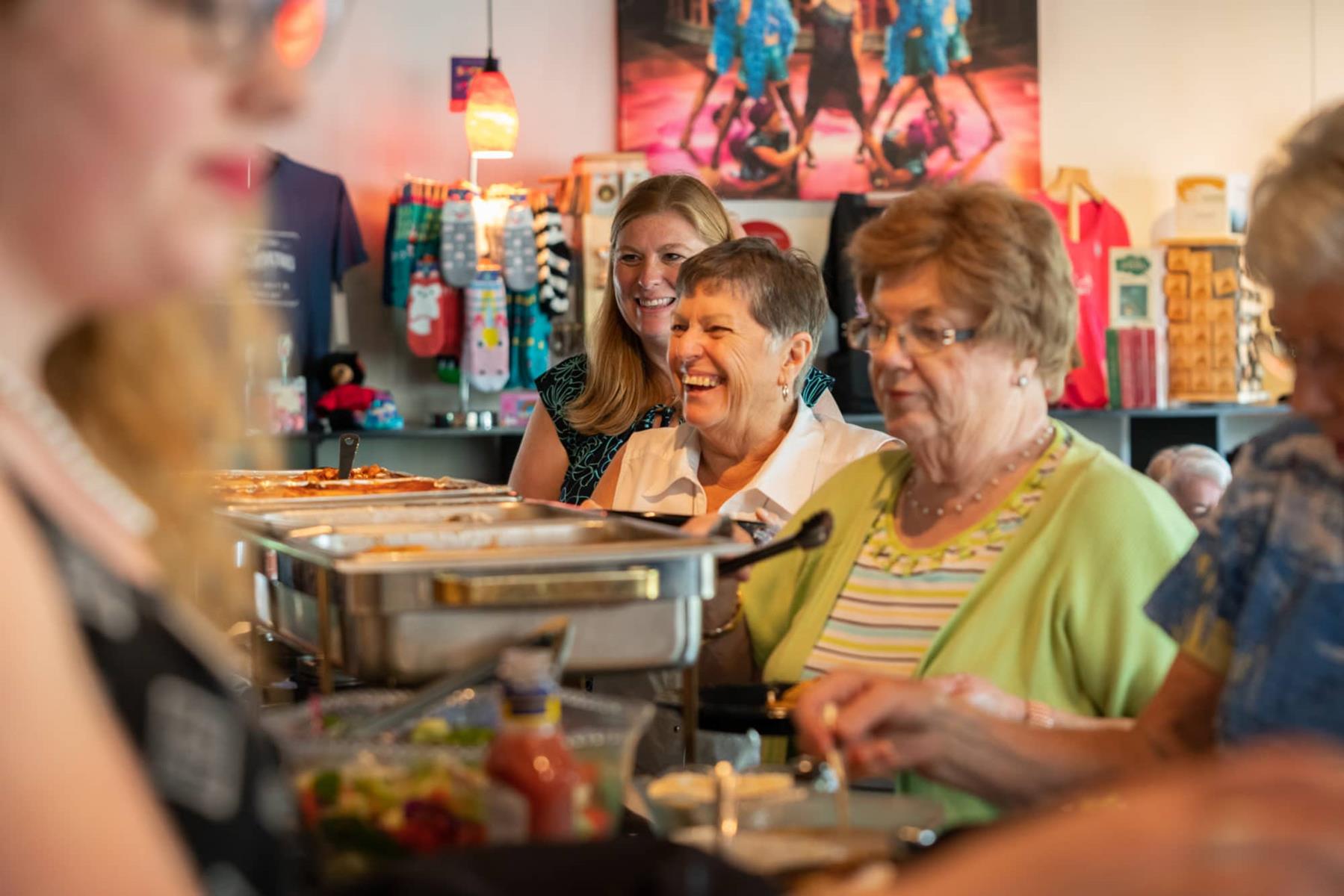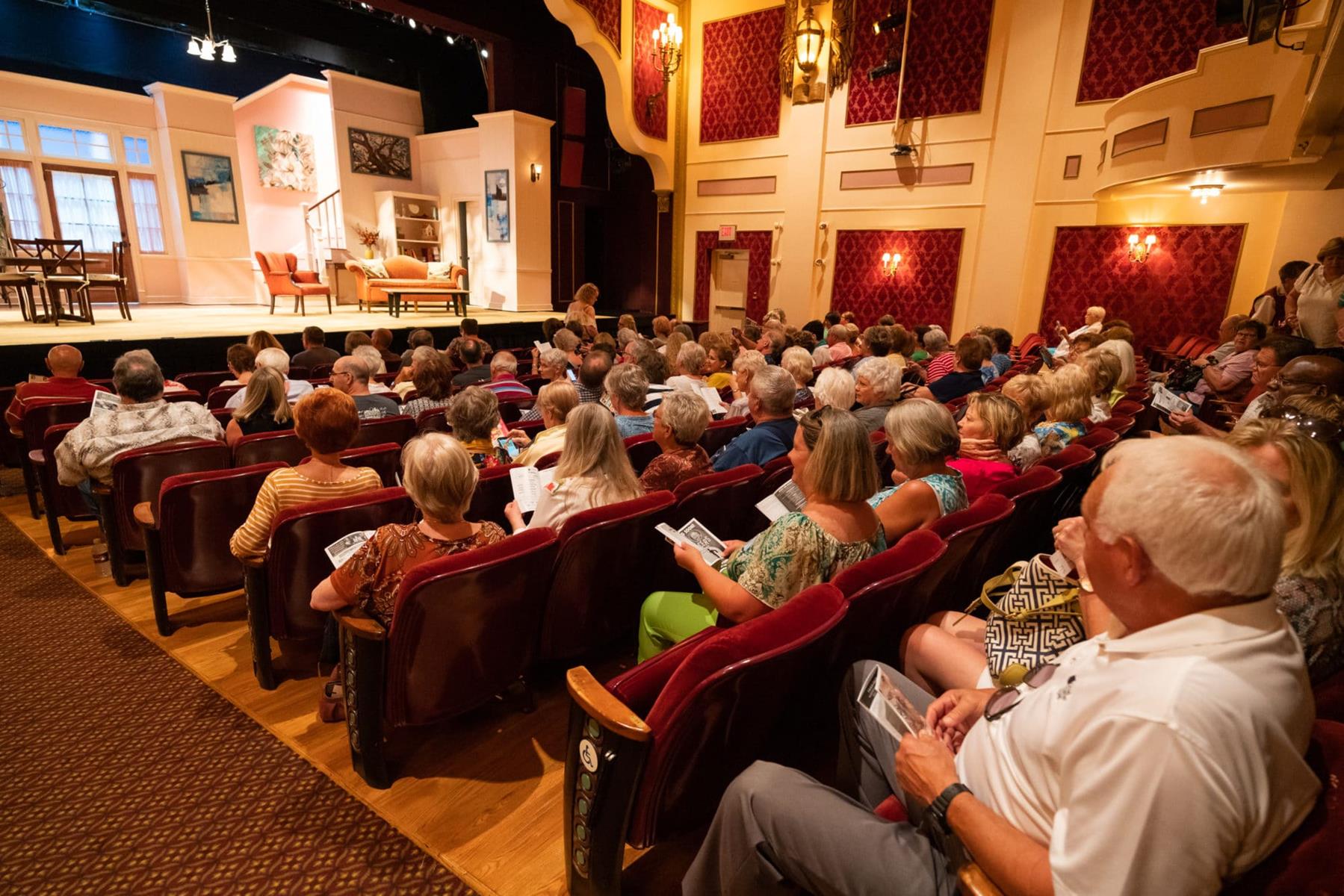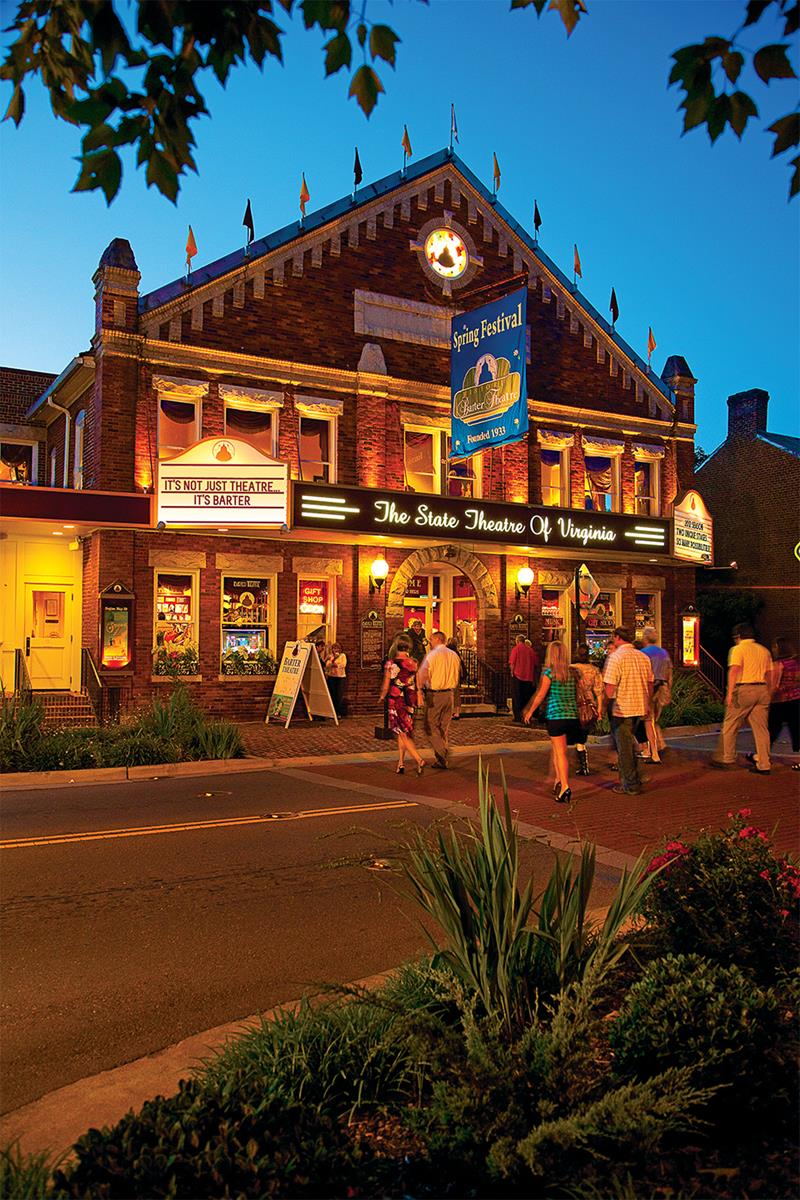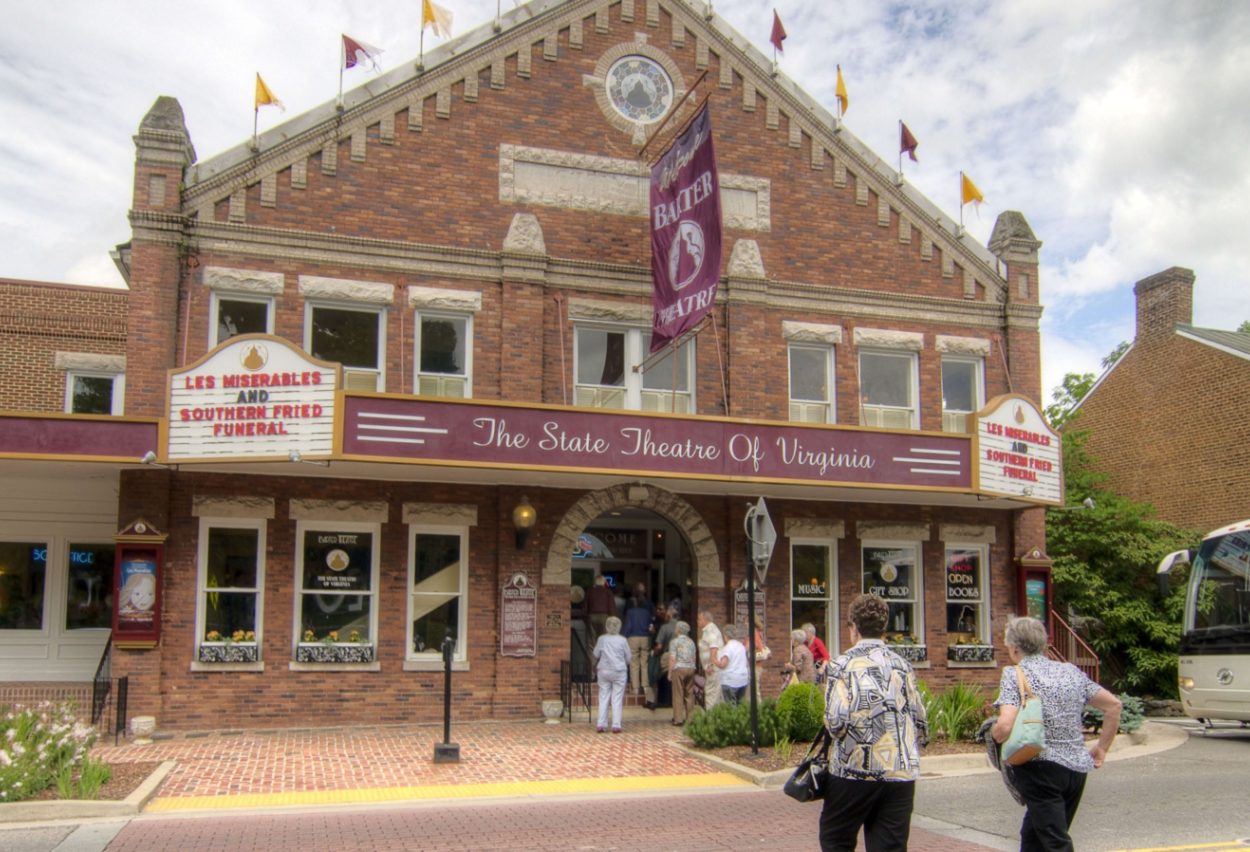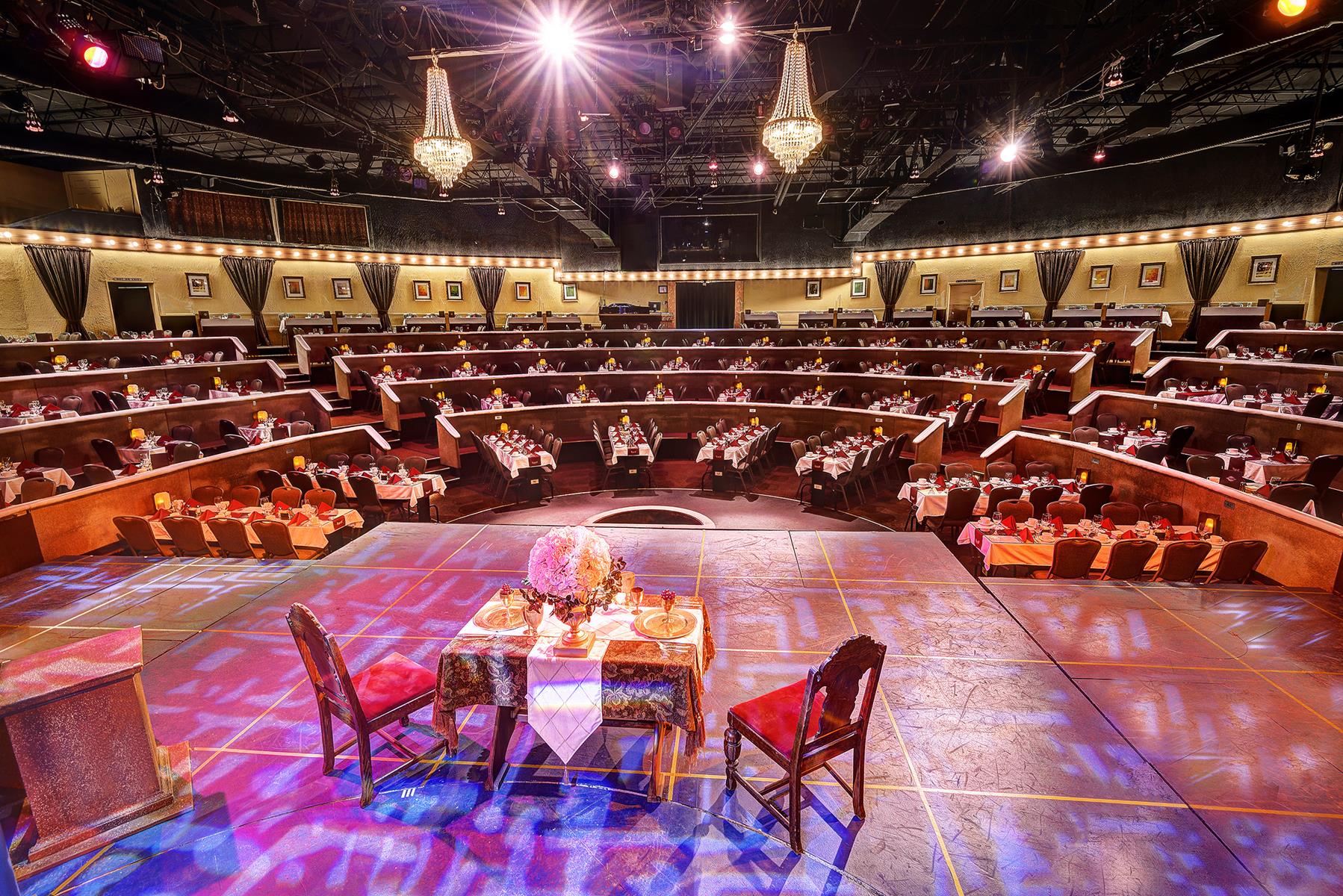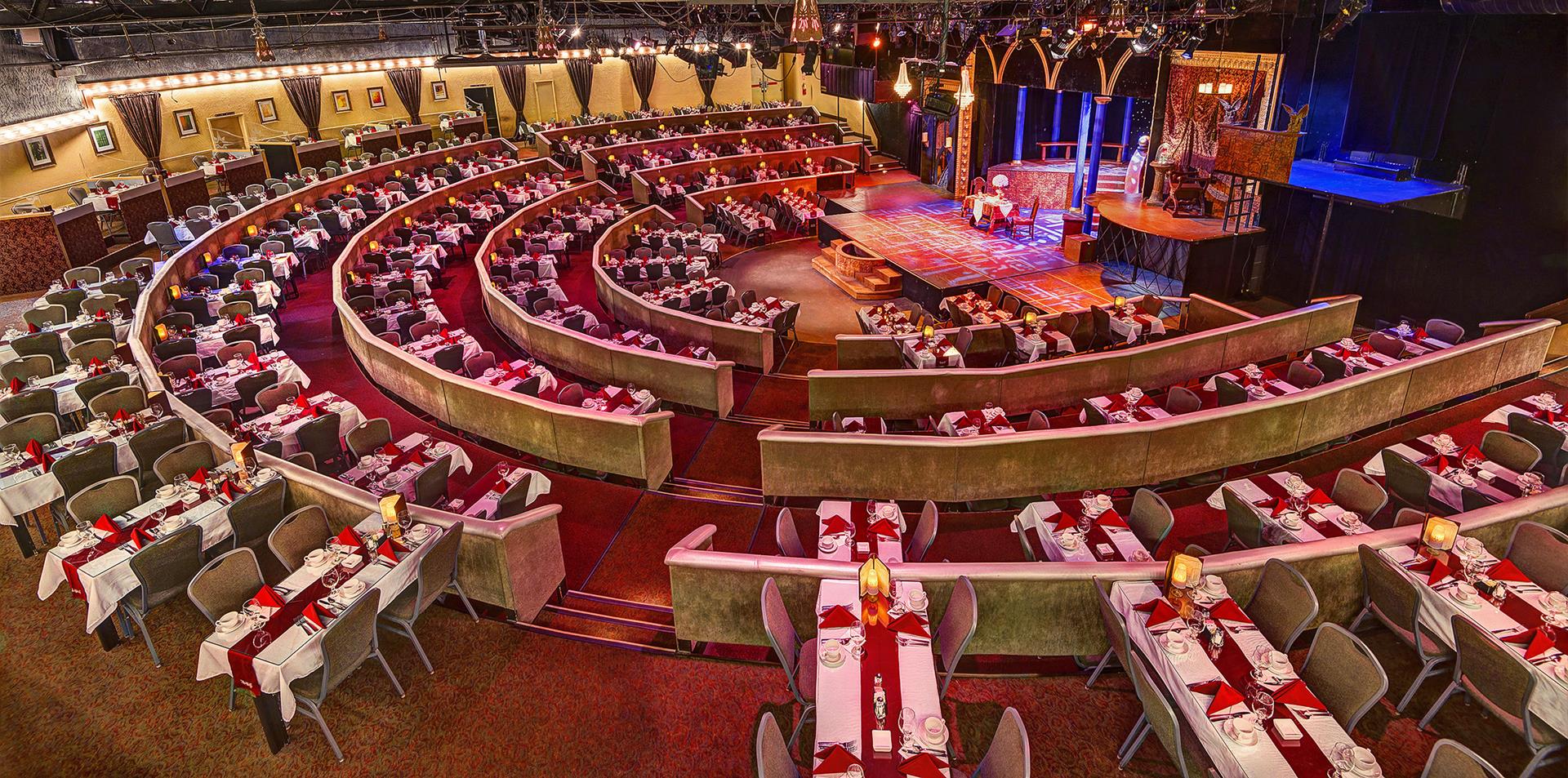 Beef & Boards Dinner Theatre
Indianapolis, Indiana
Beef & Boards Dinner Theatre is a family-owned professional dinner theater producing eight mainstage shows every season and two Live Theatre for Kids productions. The theater auditions both locally and in New York City, which brings incredible talent to its Indianapolis stage in a variety of Broadway favorites. Beef & Boards has been serving food, fun and fabulous live entertainment since 1973. The Indianapolis location entertains more than 155,000 theatergoers annually.
This season's show schedule will present audiences with a wide variety of talent. From April 2-May 10, An American in Paris will run, followed by Beehive, the '60s Musical (July 8-August 9),
Disney's Newsies (August 13 – September 27), Yeton and Kopit's Phantom (October 1-November 15) and It's a Wonderful Life (November 19-December 23). The next Live Theatre for Kids production is Disney's Aladdin Jr. from July 18-August 8.
All tickets to mainstage shows include a dinner buffet prepared in-house by an executive chef that features signature hand-carved, slow-roasted beef, chicken, fish and vegetarian options. Also served are potatoes, a vegetable option, a fruit and salad bar and select beverages. Gourmet desserts and bar beverages are also available.
Groups will receive the option to have a question and answer session with the cast after the performance, which is especially popular with school groups that want to know more about the actors and show. Group rates for parties of 20 or more are available. On average, the ticket cost is decreased by about $7.50 for groups. Student group rates are also available. All groups receive special considerations from the Group Sales Department, with a variety of options to include gratuity or desserts. Group Sales representatives will work with each group leader to create a package that is best suited for their group.
Website: beefandboards.com
Chaffin's Barn Dinner Theatre
Nashville, Tennessee
Chaffin's Barn Theatre was conceived in the early 1960s and eventually expanded to 27 locations during its heyday. Today, Chaffin's Barn in Nashville and The Barn in Greensboro, North Carolina, are the only remaining properties for the original chain and are still performing shows and serving delicious food for audiences.
This coming season offers a variety of spectacular performances for both on-stage shows and backstage shows. Some on-stage shows include Ray Stevens' Mississippi Squirrel Revival (May 14-23),The Sound of Music (June 18- July 18) and Holiday Extravaganza: Irving Berlin's White Christmas (November 19-December 20). Backstage shows will include The Detective Diaries (June 12-13), Red, White and Tuna (July 30-August 22) and Cookin' With Gus (October 8-29), to name a few.
Chaffin's Theatre offers educational classes and student show programs throughout the year and dance classes are offered on Tuesday and Wednesday evenings. Chaffin's hosts a variety of events throughout the year including a Barn Big Band fundraiser (July 24), a Barn Dating Game Take Two (July 25) and a fabulous New Year's Eve Party.
Tickets are sold separately from the dinner. A full menu or buffet is offered with soup and a salad bar. Dinner is served during Friday and Saturday evening shows and on Sundays the food is served from noon to 1:30 p.m.
Group rates include show only and gratuity ($36 per person for groups of 12 or more). Dinner and show with gratuity is $55 per person for groups of 12 of more and is available for evening/Sunday matinee shows only. Individual rates are $47 for a show ticket per person and dinner is sold separately. Student tickets are offered for $25 and children who are 12 years and younger for $18.
Website: chaffinsbarntheatre.com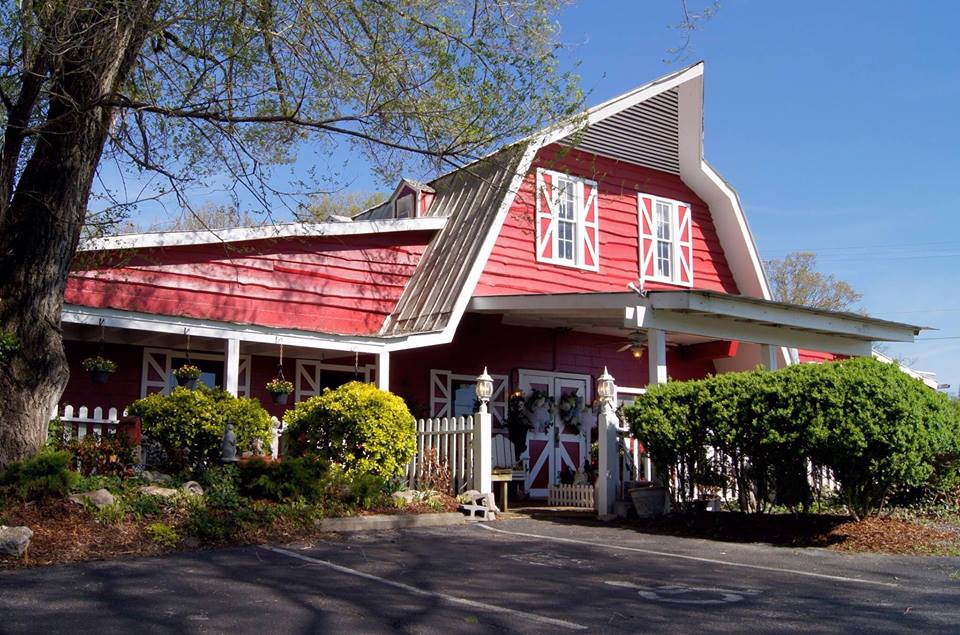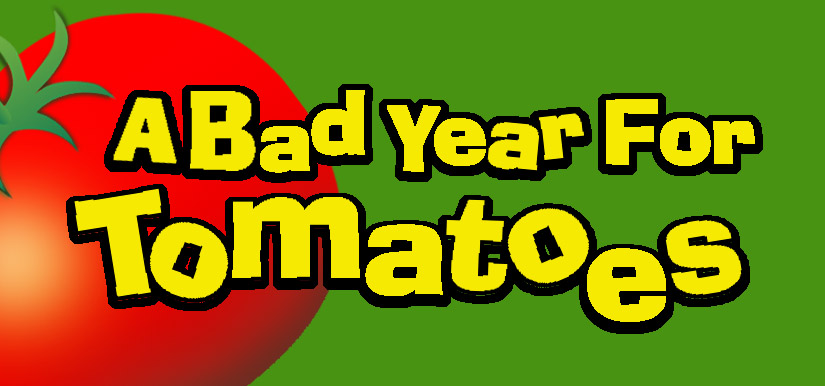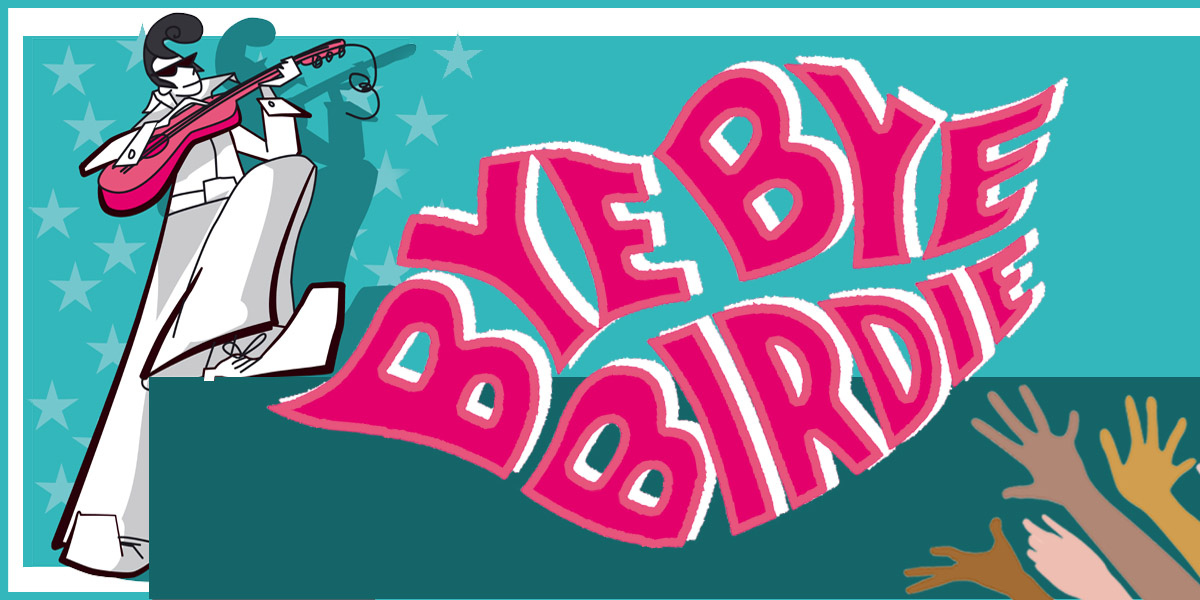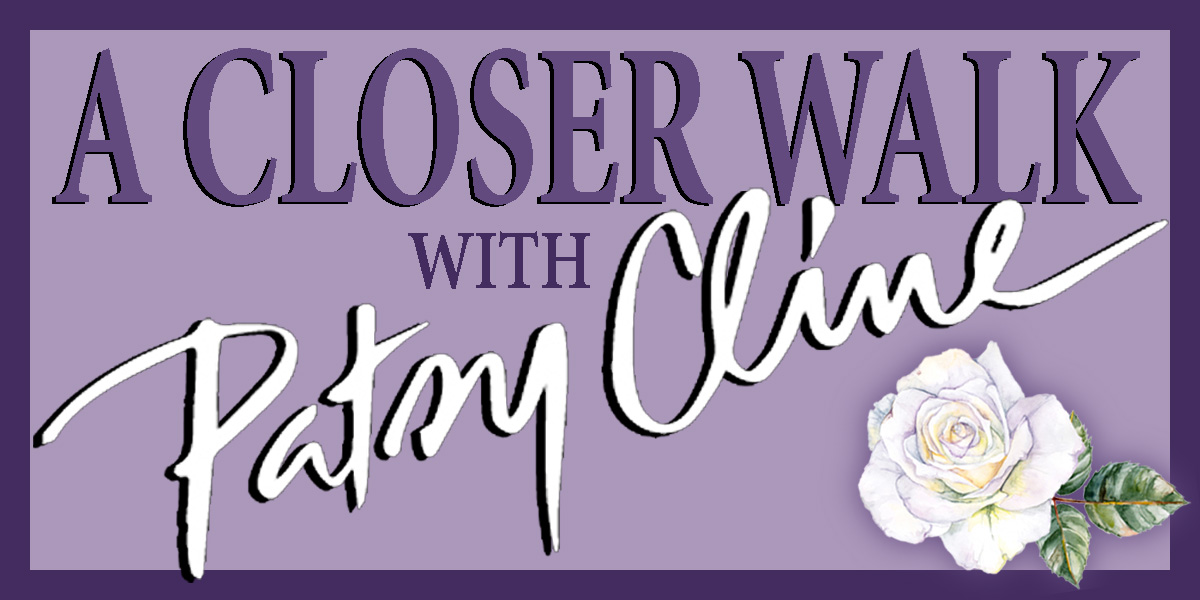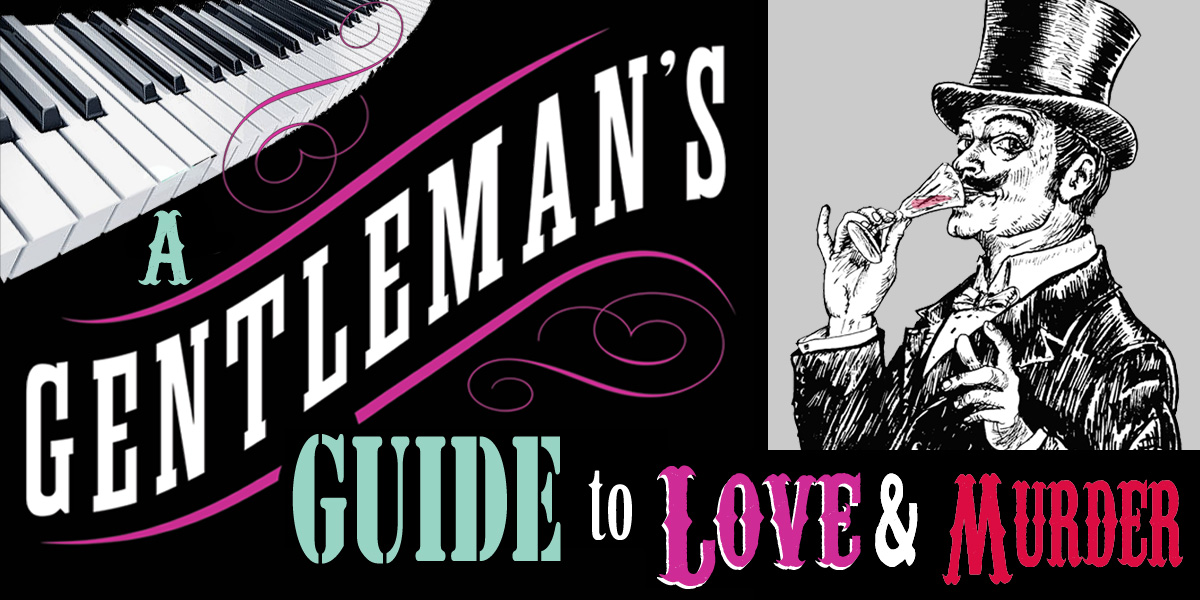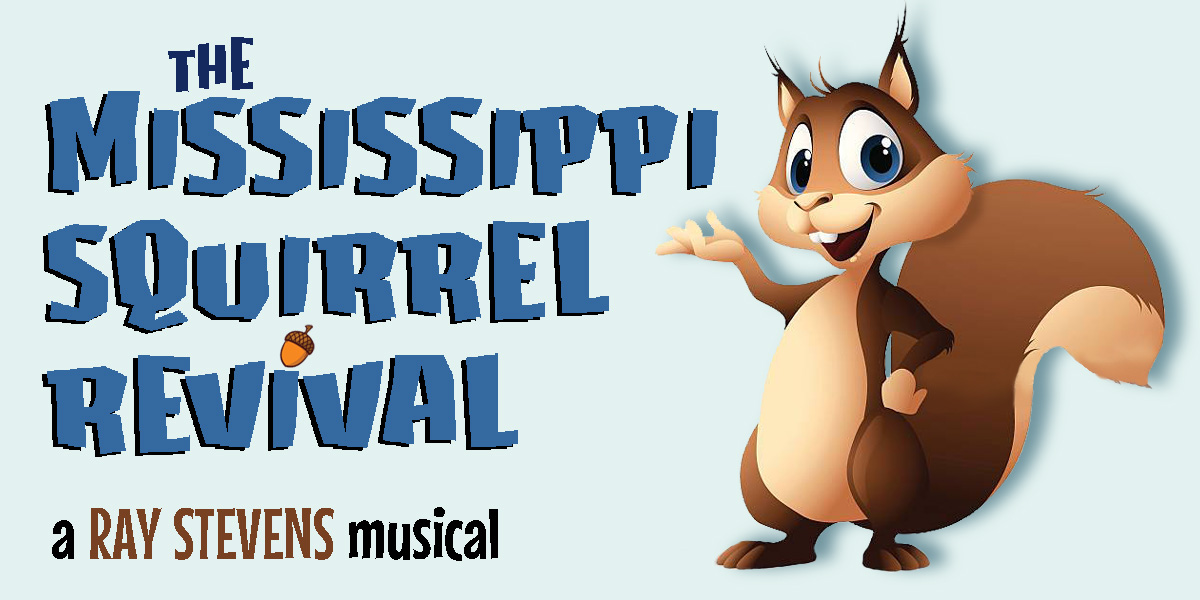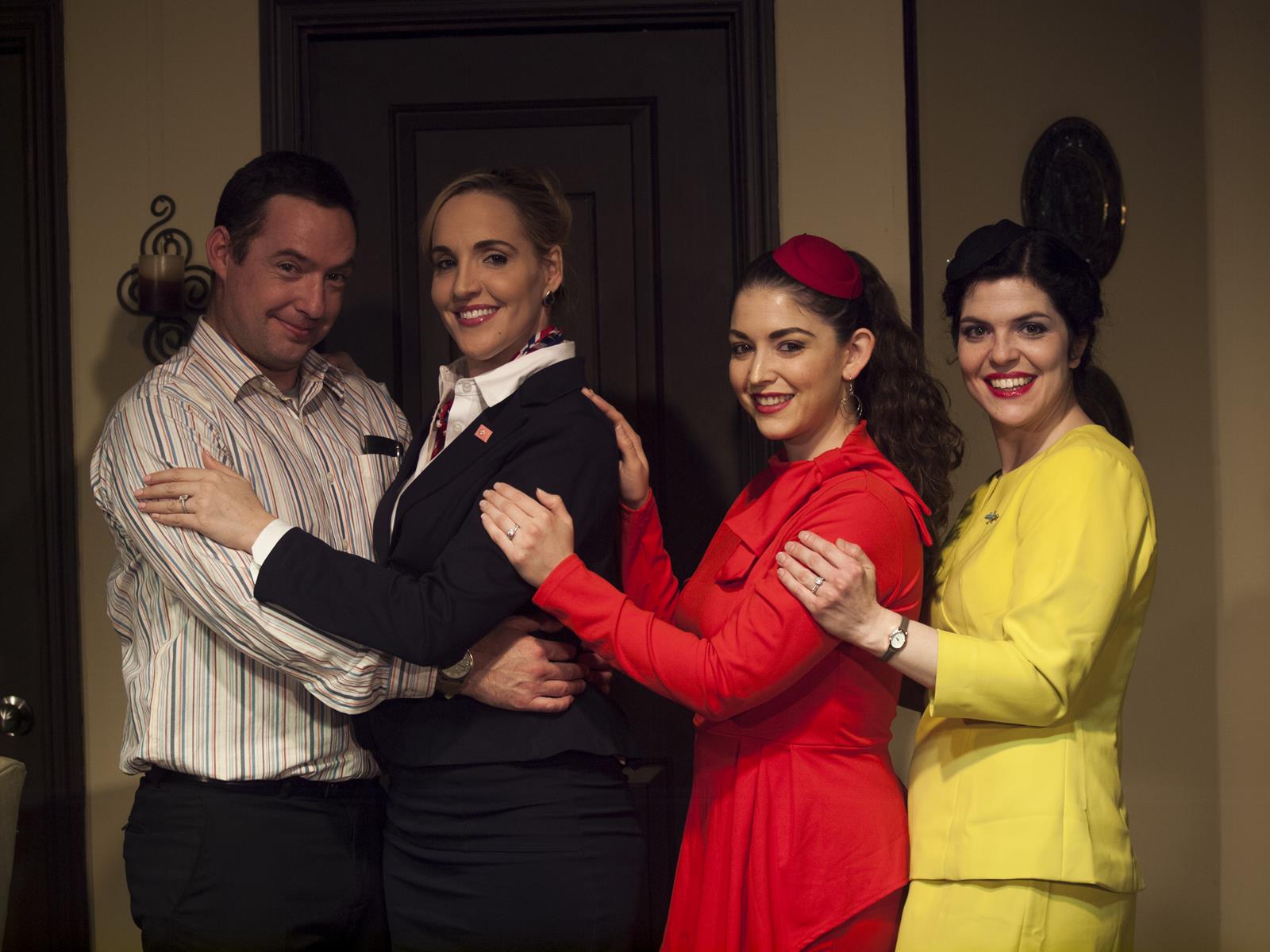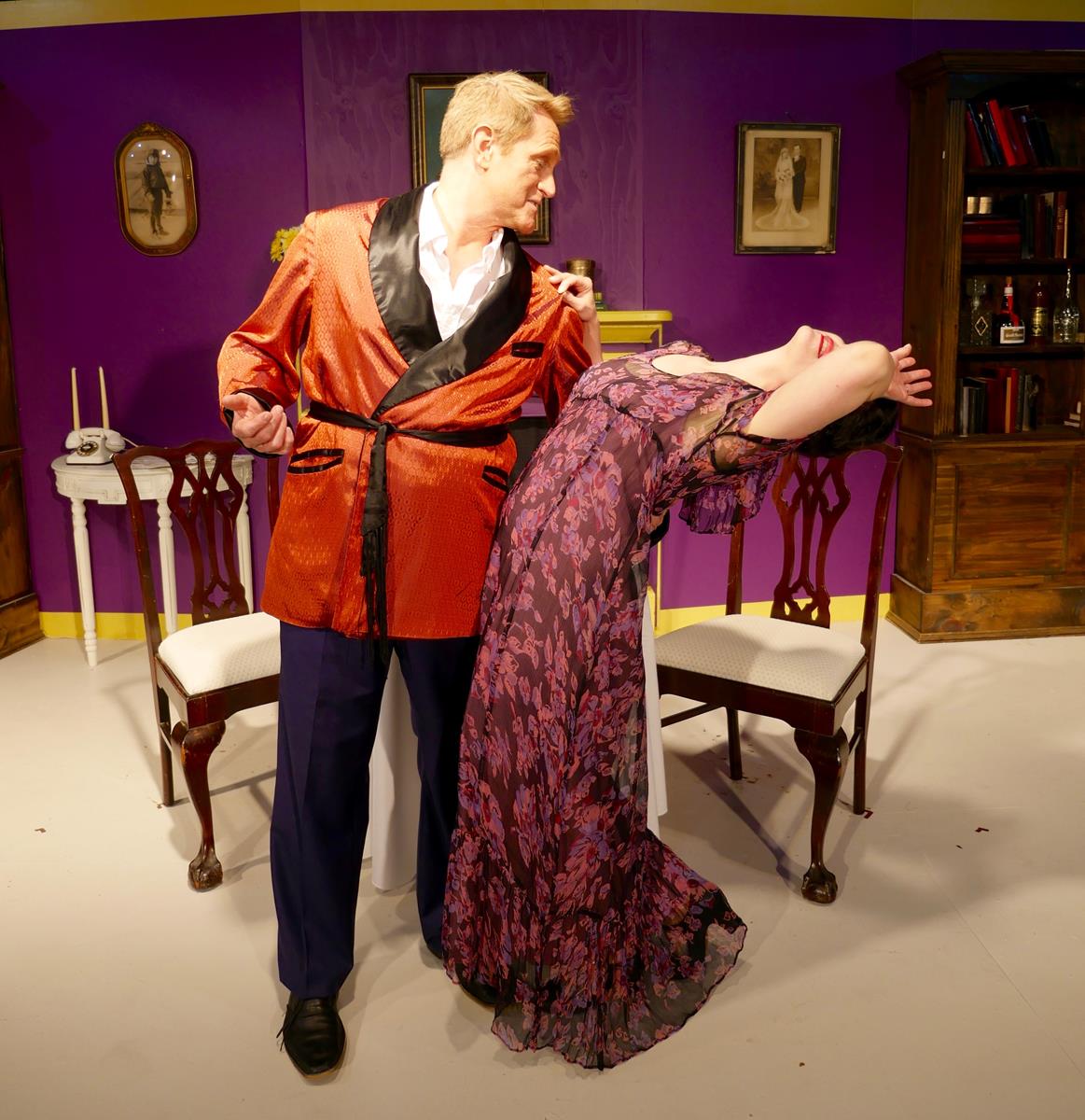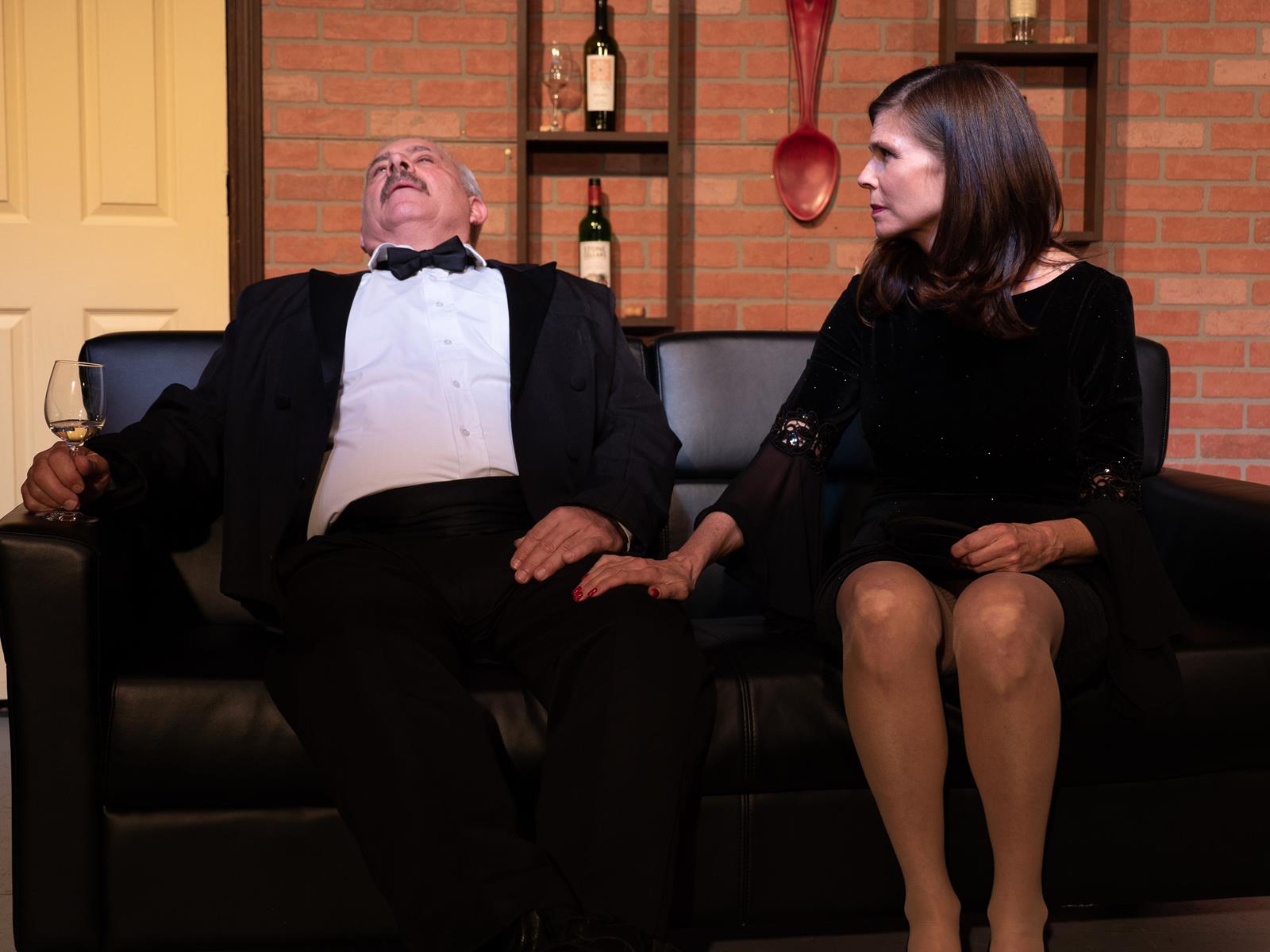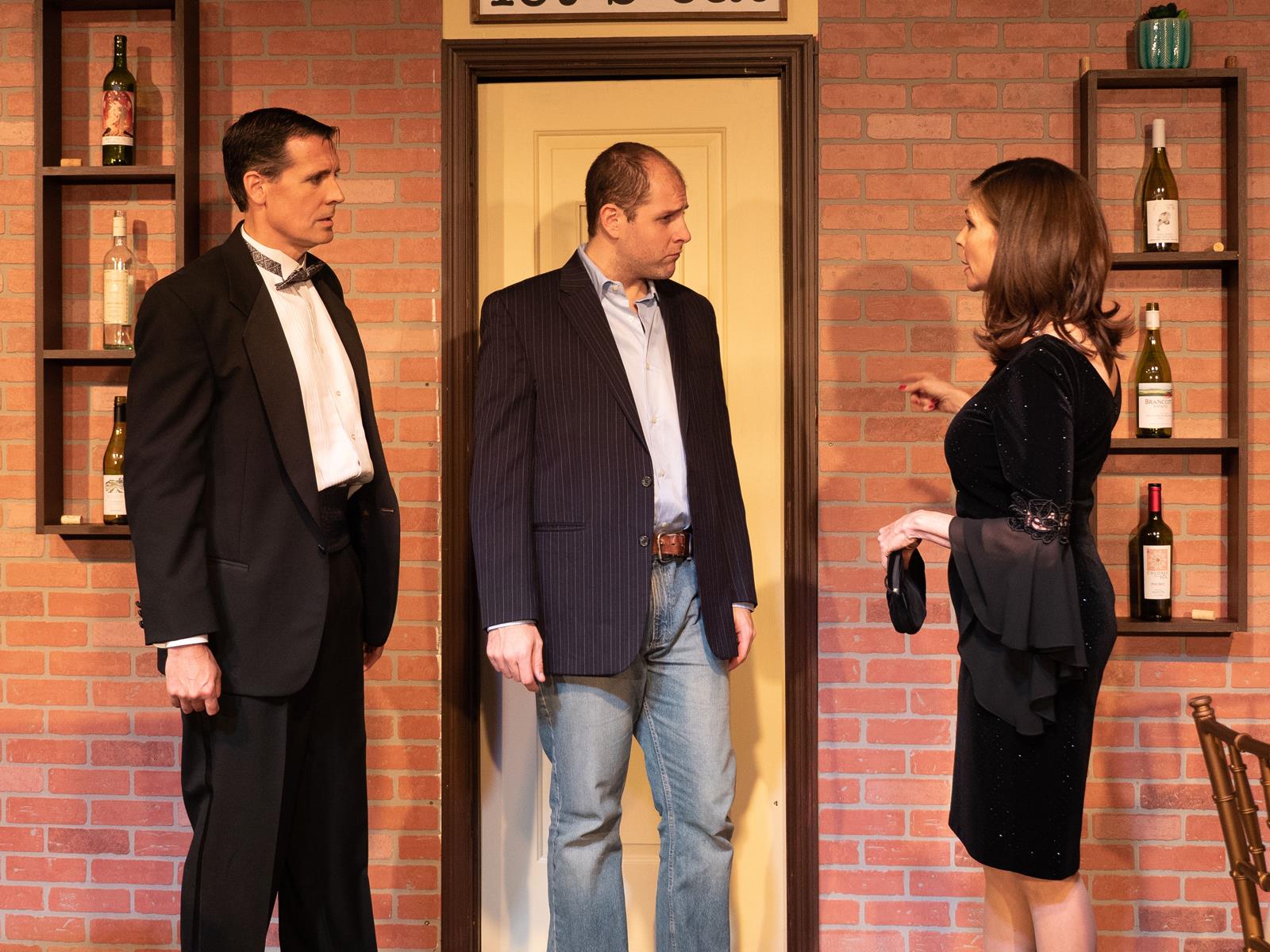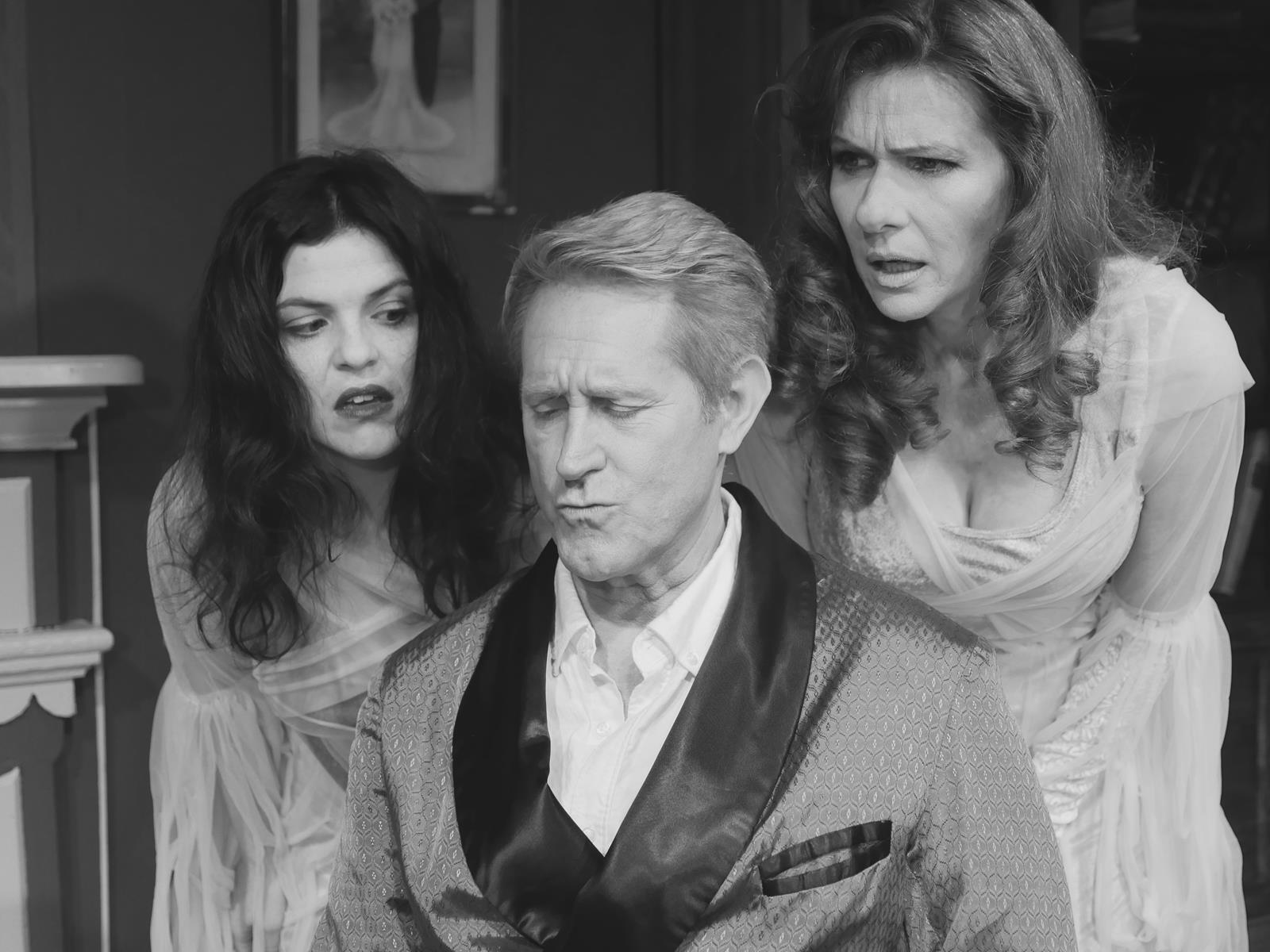 Clove Creek Dinner Theater
Fishkill, New York
Clove Creek Dinner Theater in Dutchess County, New York offers groups an evening to remember. In its fifth season, Clove Creek puts on a variety of entertaining shows your group will love.
This season, Clove Creek is presenting these shows: Over the River & Through the Woods (April 2-May 24), a story about an Italian-American man from New Jersey who is offered a dream job across the country forcing his family to scheme to keep him around; Downtown Abbey-Murder Mystery (April 30) will old Dowager Violet put an end to a family feud or start a new one of her own?; Boeing, Boeing (June 4-June 21), a well-traveled man gets involved with his lovers' hijinks; Blithe Spirit (July 9-August 23), a novelist is haunted by his late first wife; The Great Kooshog Hollis McCauley Fishing Derby (September 10-September 27), a quirky story complete with romance, broken hearts and a shark attack; The Dinner Party, by Neil Simon (October 8-November 15), five people are invited to dine at a first-rate restaurant, but develop a suspicion this party will change their lives; and World War II Radio Christmas (November 19-December 20), a moving holiday show that recreates the experience of attending a recording of a 1940s radio show broadcast on Christmas Eve during World War II.
Clove Creek's mission is to promote the arts, create jobs, boost tourism, enhance the economy and host fundraisers for local nonprofit organizations in Dutchess County. Clove Creek won the Arts Award of Distinction from Dutchess County Tourism and its mission is to promote the arts, create jobs, boost tourism, enhance the economy and host fundraisers for local nonprofit organizations in Dutchess County. It also allows local companies to sponsor its veterans table.
Tickets are $59.99 plus tip and tax and include dinner and a show. Dinner includes salad and a delicious entrée and dessert prepared by chefs from the Culinary Institute of America. Groups of 10 or more get $5 off each ticket. Groups of 20 or more get two comp tickets.
Website: clovecreekdinnertheater.com
Dallas Summer Musicals
Dallas, Texas
Dallas Summer Musicals is the preeminent nonprofit presenter of Broadway theater in North Texas. Dallas Summer Musicals presents and promotes excellence in live musical theater with year-round performances for diverse audiences of all ages, impacting the lives of children and families through community outreach and education.
In 1941, Dallas Summer Musicals was founded, originally calling itself Opera Under the Stars in the Band Shell at Fair Park. Without the aid of modern air conditioning, performances were better enjoyed in the fresh air outdoors. Today, Dallas Summer Musicals has made advancements in many ways, including student programs, special events, backstage tours, and more, but has maintained its original charm throughout the years.
Dallas Summer Musicals has a rich history of performances, awards and stars that have been involved in productions. In years past, these shows have included amazing performances of classics like The Sound of Music, Peter Pan, The King and I, and Cinderella Hamilton and Disney's The Lion King and Frozen. Stars such as Blake Shelton, Vanessa Williams, Cathy Rigby and many more have performed at Dallas Summer Musicals and have won numerous awards including Tony, Olivier and Drama Desk awards.
Upcoming shows include exciting newer musicals like Hadestown, which tells the Greek Mythology of Orpheus from May 18-30. Other great musicals that will take place this year include To Kill A Mockingbird, Frozen, Jersey Boys, Oklahoma, and Wicked.
Groups will receive 10-15% off individual pricing depending on the show. Student rates and scout rates are also offered and military veterans and their families are also given discounted prices. Since 2015, DSM musicals have incorporated a Seats for Vets initiative to ensure war
veterans feel appreciated for their service. DSM offers two fantastic dining options: The Crystal Terrace presents a large beautiful buffet and The Bistro, which presents a casual setting and open dining area.
Website: dallassummermusicals.org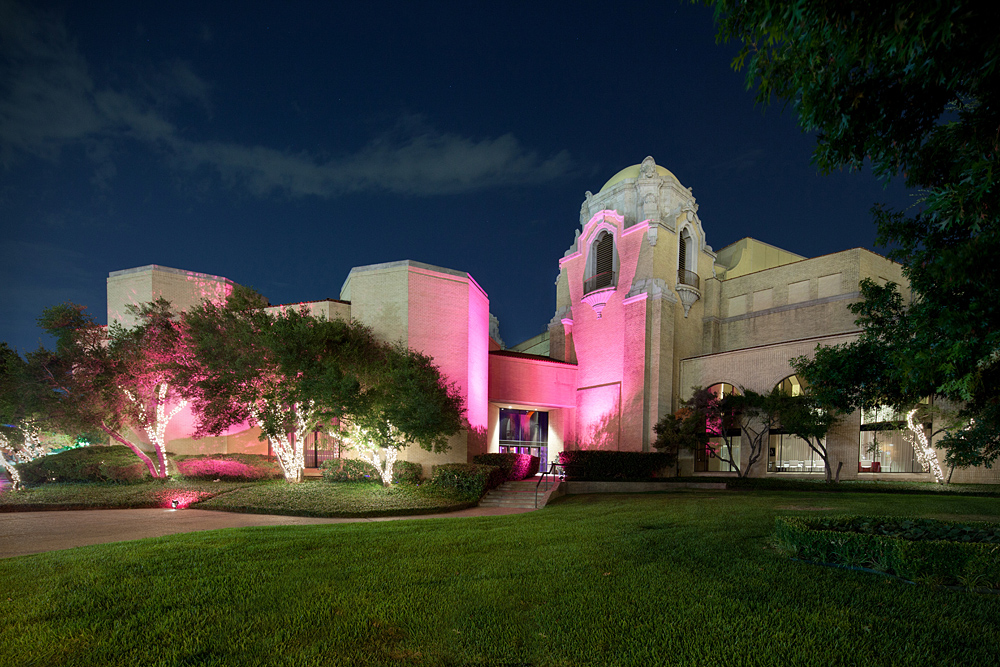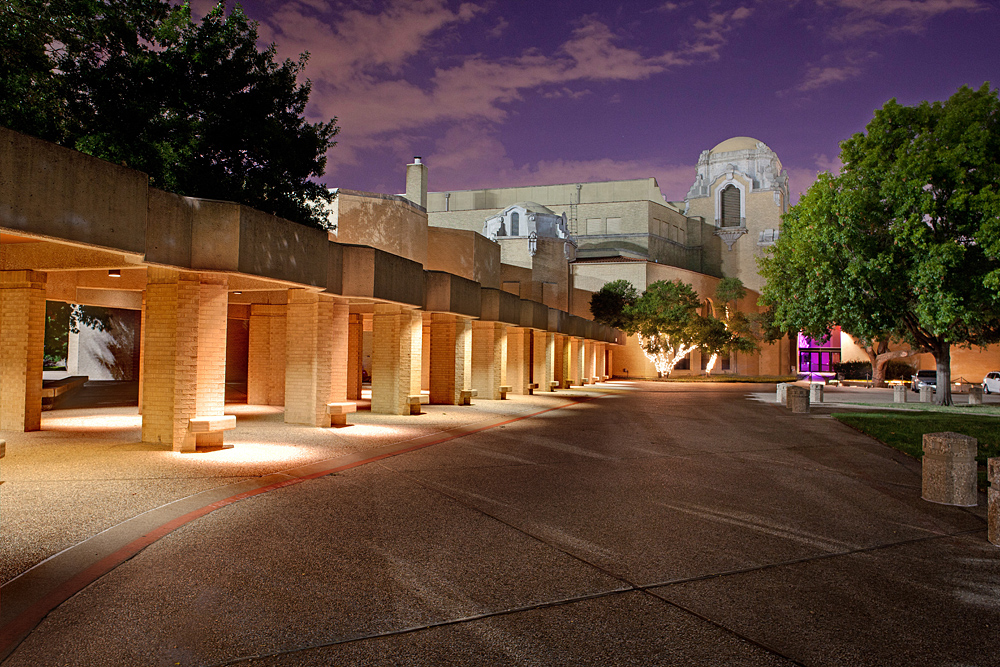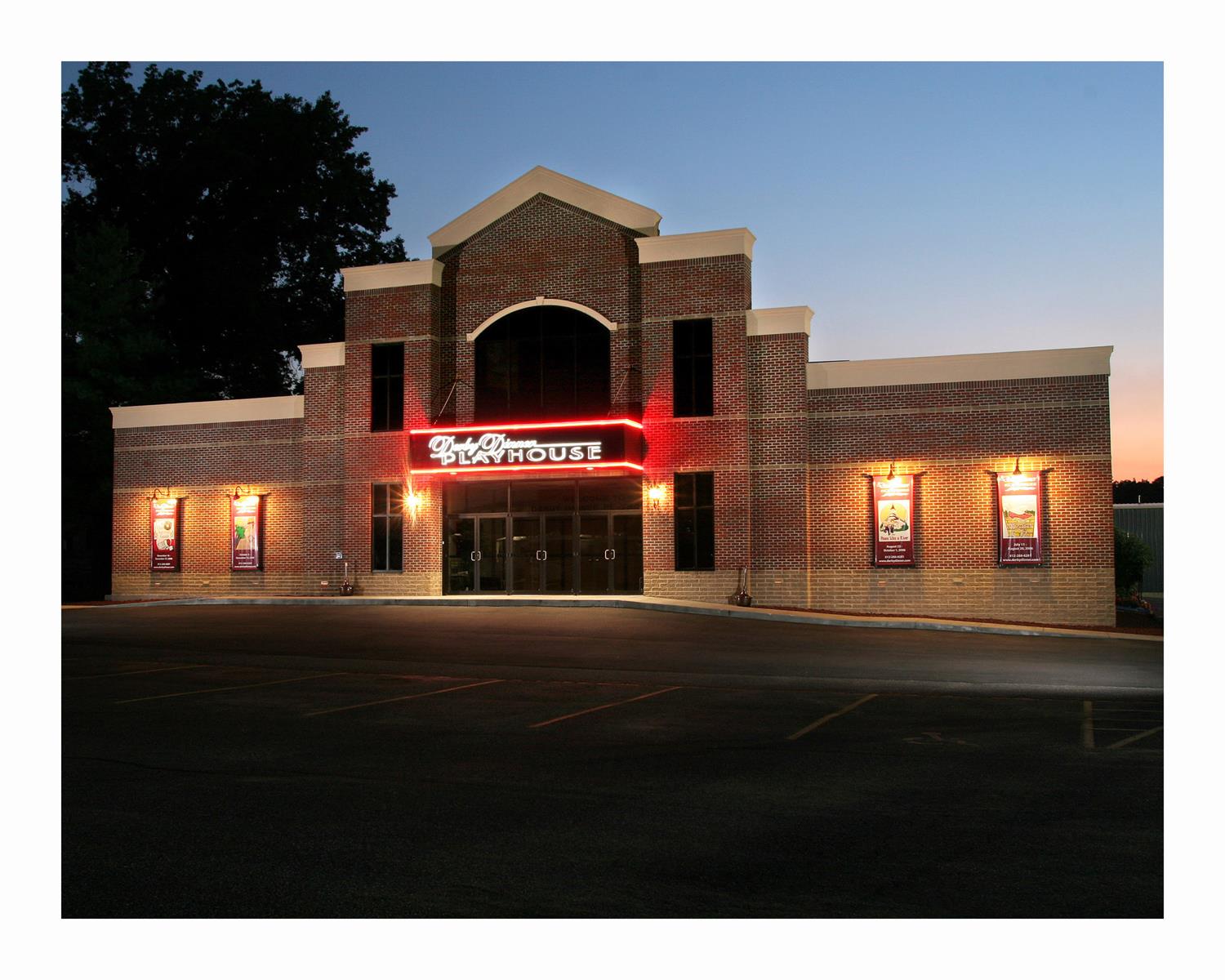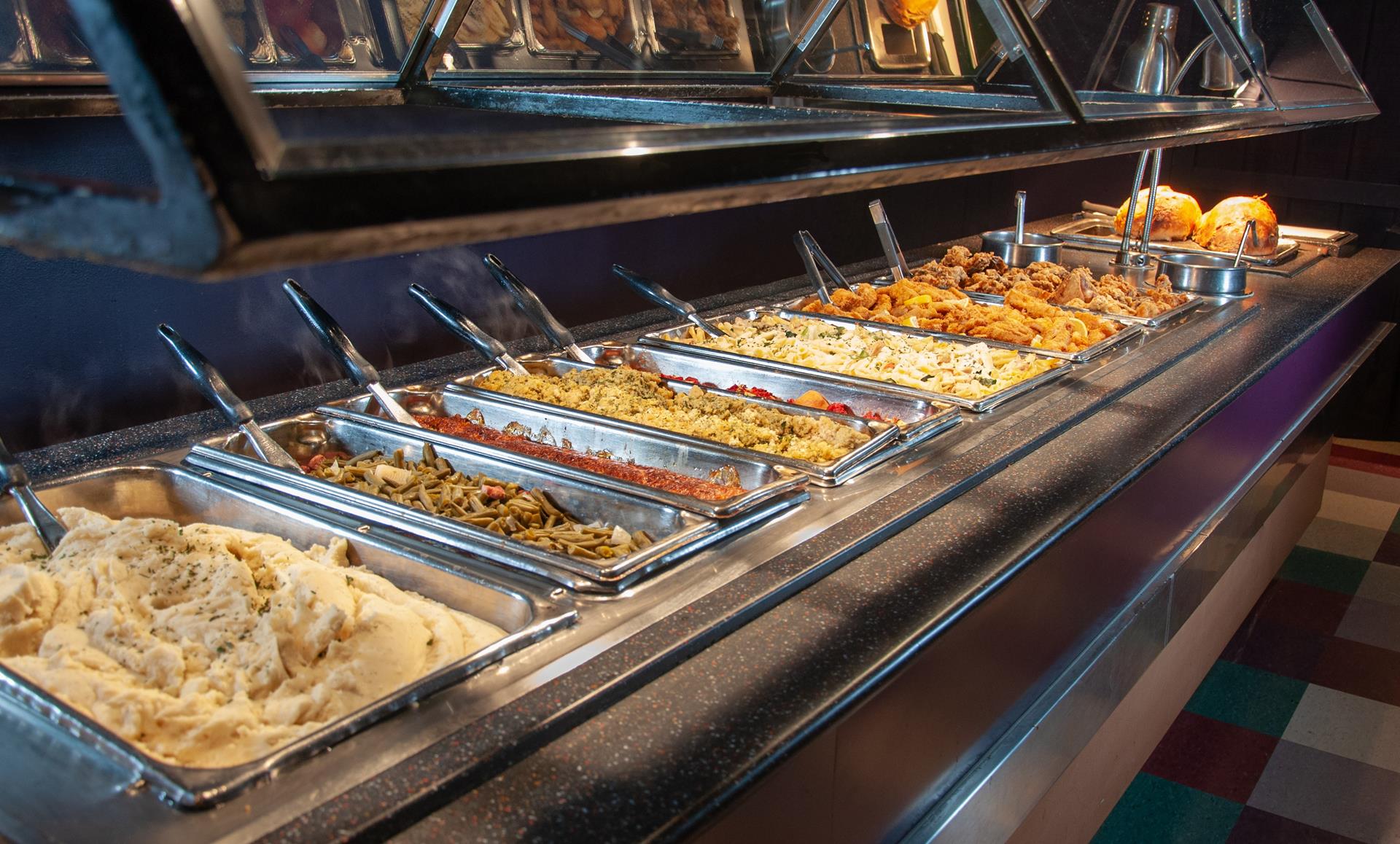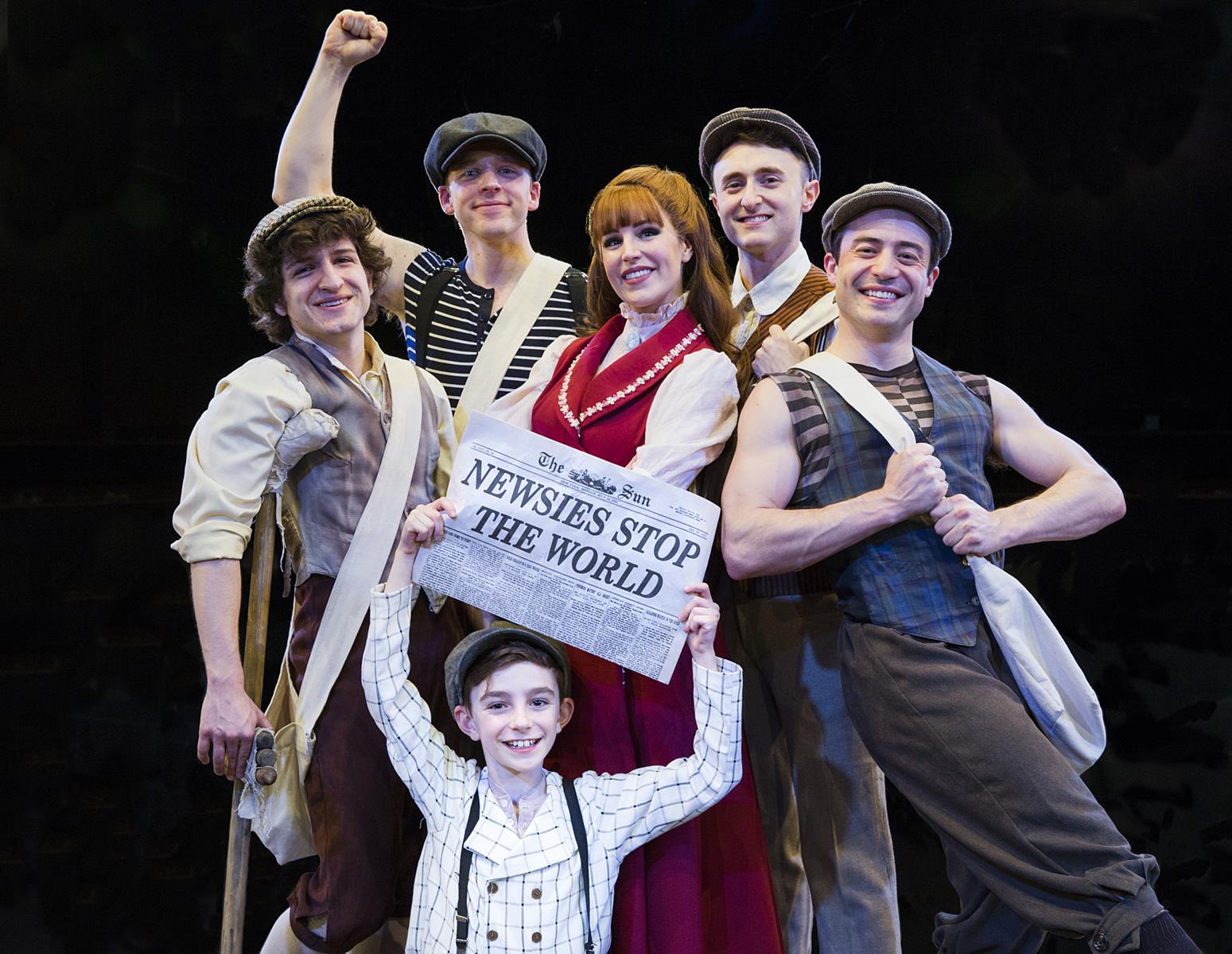 Derby Dinner Playhouse
Clarksville, Indiana
Derby Dinner Playhouse is a theatrical entertainment leader located in Clarksville, Indiana. With its wide variety of shows, excellent food service and intimate facility, an evening at the Derby Dinner Playhouse is something everyone can savor.
Opened in 1974, the playhouse has been entertaining guests for more than 45 years. The playhouse is rich in tradition, being one of the oldest and largest operating professional dinner theaters in the country. Derby Dinner Playhouse puts on professional performances of comedies and Broadway musicals that come to life with the work of the performers, light crew, costume crew, and live orchestra. Guests enjoy great food as they watch high-quality entertainment with live music and professional performances.
This season, Derby Dinner Playhouse will perform Dearly Beloved from May 20 to June 28. Starring a Texas theme that centers around three feuding sisters, a grand scale wedding, and a church full of loony small-town characters, it's a comedy that will have the audience laughing with delight. The cost of the ticket will not only include the show itself but also the freshly prepared home-style buffet, tax, coffee, tea, water and gratuity. There will be plenty of free available parking for guests.
Group rates are $5 off the original pricing for groups of 20 or more and bus drivers and group leaders receive free tickets. Overnight hotel packages and recommendations to nearby attractions are available to guests. Itineraries for guests staying overnight for one or two days are available. This includes location suggestions such as The Culbertson Mansion, which features the affluence of the once wealthiest man in Indiana; The Vintage Fire Museum, which is nationally known and includes restored fire engines, hand pumpers and chemical engines; and Falls of the Ohio State, which showcases fossil beds and is open year-round.
Website: derbydinner.com
Disney on Broadway
New York, New York
Disney's first Broadway musical, a stage adaptation of its popular animated film Beauty and the Beast, forever changed the theatrical landscape when it opened on April 18, 1994. Twenty-five years later, Beauty and the Beast is remembered as the show that not only introduced Disney to the stage, but revealed the magic and enchantment of Broadway to many audiences for the very first time.
With Beauty and the Beast, Disney launched a commitment to Broadway and New York City, anchored by the power and delight of live theater. Nowhere is this more evident than at the New Amsterdam Theatre in Times Square. Built in 1903, the theater was long considered the crown jewel of Broadway houses. In 1995, after two years of extensive renovation and restoration, the New Amsterdam reopened with King David, followed by The Lion King. Today, it's the home of the hit musical Aladdin, and remains an example of Disney's dedication to ensuring that Times Square continues to thrive as a hub for creativity and entertainment. 
Disney on Broadway has proudly introduced audiences on Broadway and around the world to musicals filled with wonder and joy, including the Broadway hits Aladdin and Frozen, as well as Aida, Mary Poppins, Newsies, Tarzan, The Little Mermaid, The Hunchback of Notre Dame and Peter and the Starcatcher. Looking back on 25 years, Disney is proud to be part of the Broadway community.
All of Disney on Broadway's shows perform eight times a week and guests can enjoy a Behind the Magic Tour, where they can explore how a Broadway show comes to life in a private tour. Disney on Broadway's comp policy is 1 per 50 paid tickets, subject to block outdates. When booking directly, Disney does not add any order or service fees.
Website: disneyonbroadway.com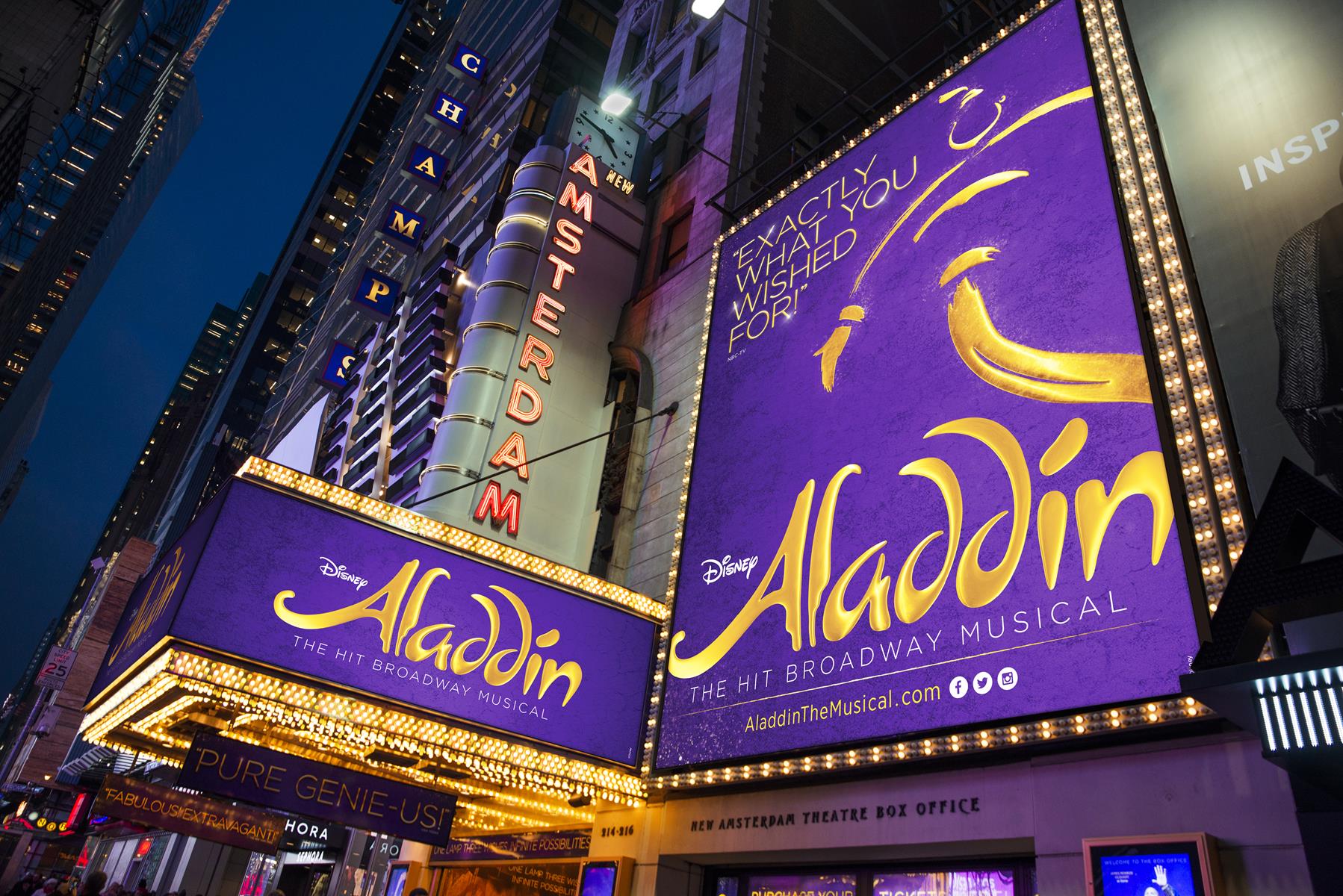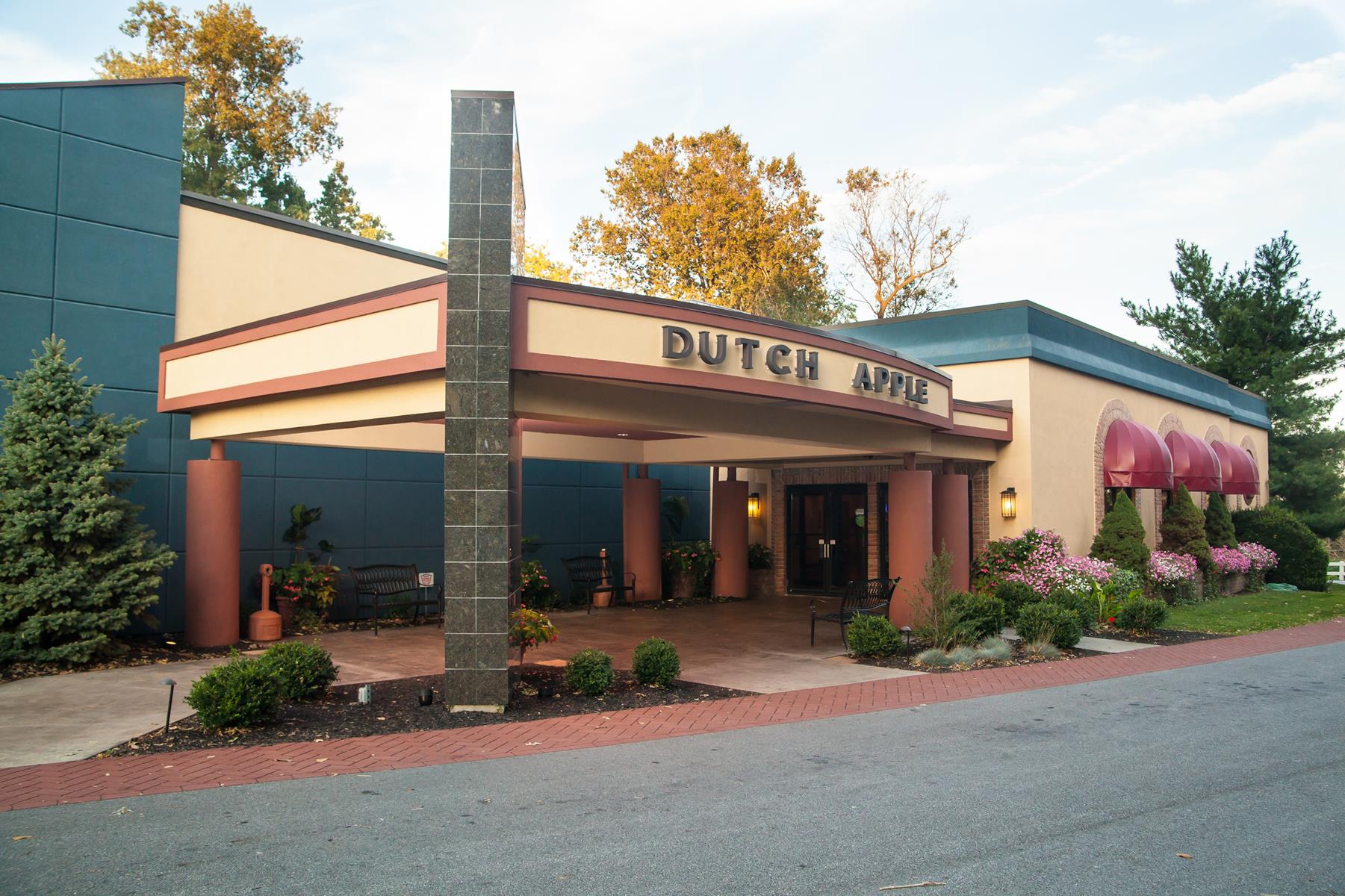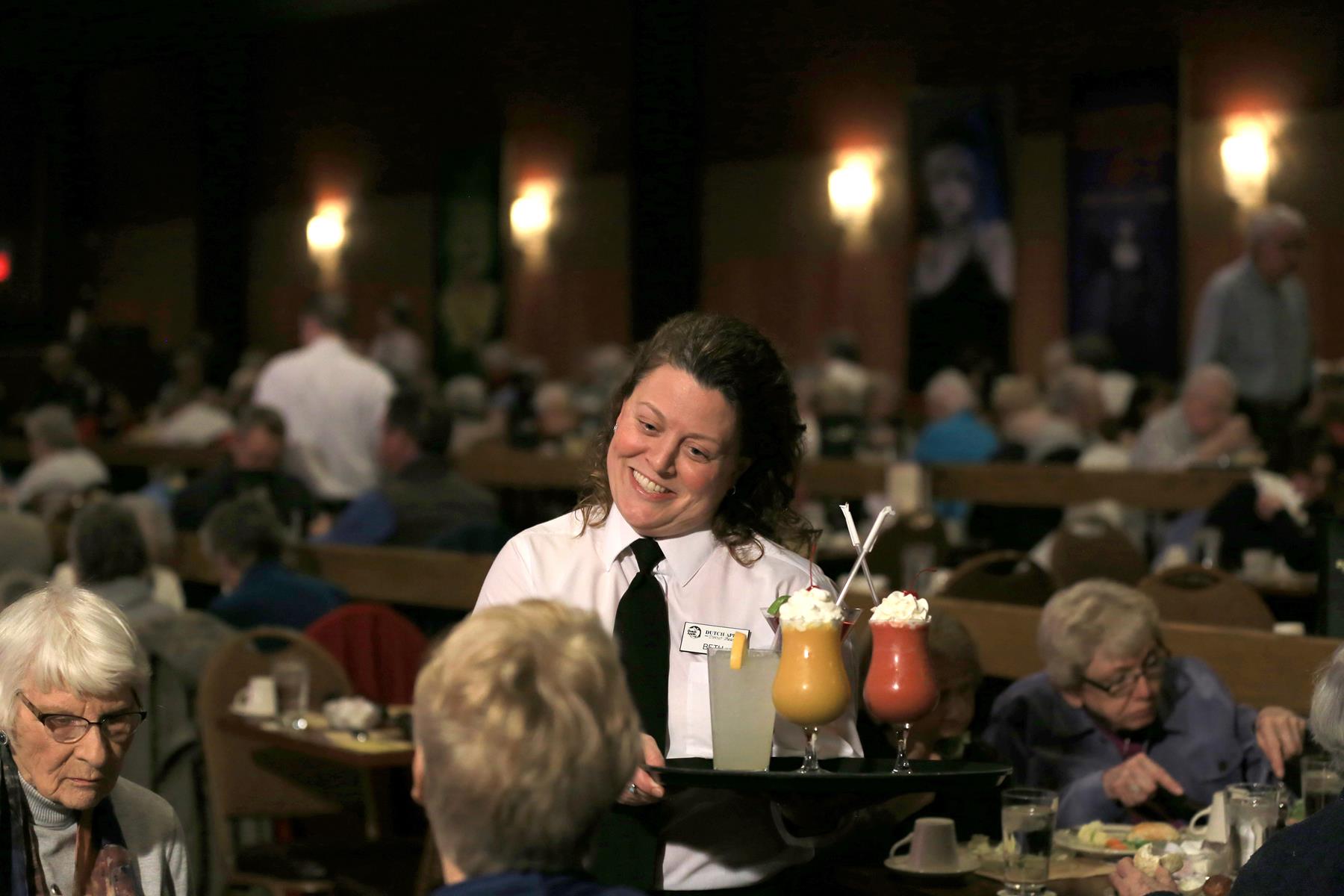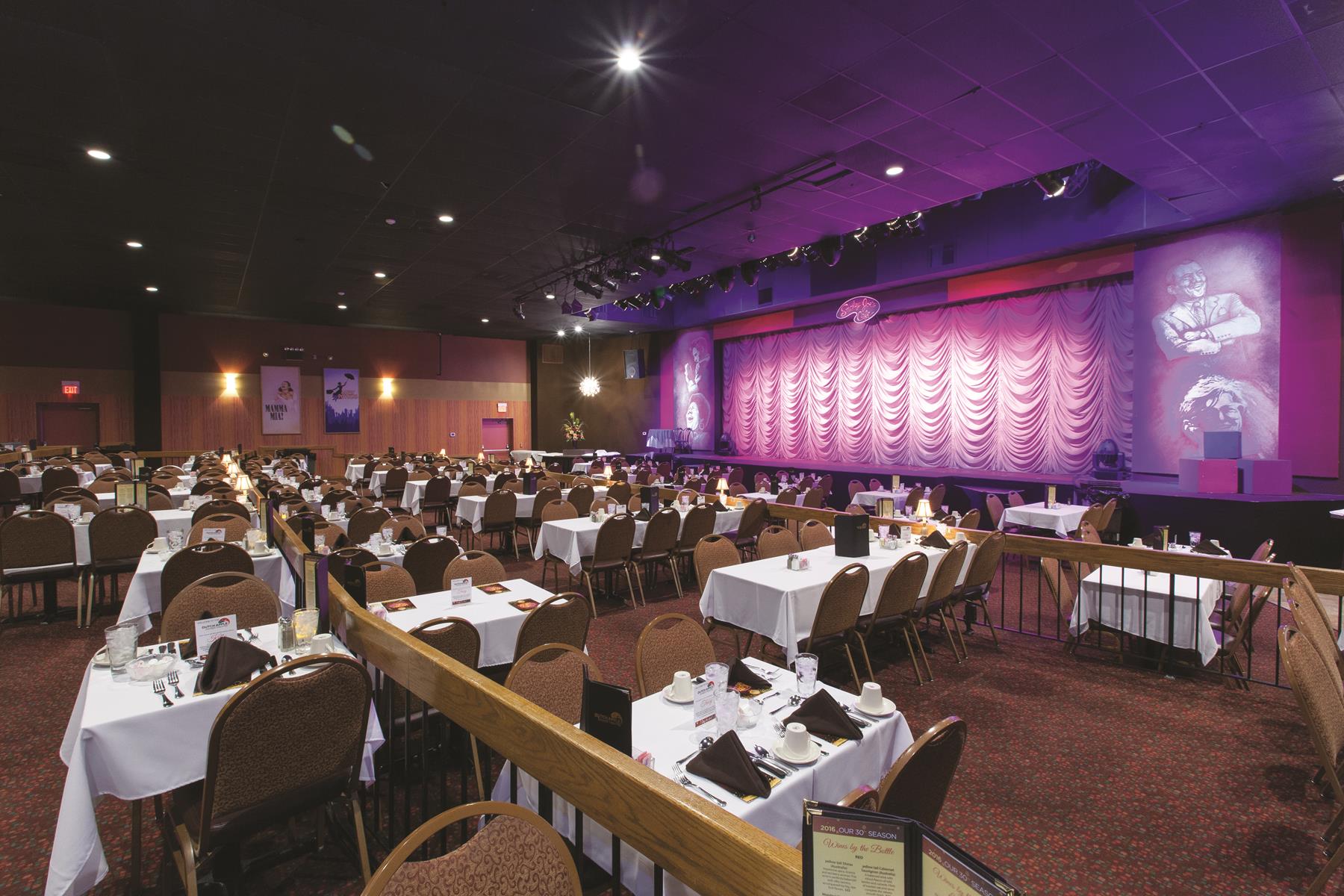 Dutch Apple Dinner Theatre
Lancaster, Pennsylvania
The Dutch Apple Dinner Theatre in Lancaster is a 328-seat theater located in the heart of Pennsylvania Dutch Country.
In its 34th season, the Dutch Apple Dinner Theatre consistently provides high quality productions, award-winning food and exceptional service to more than 150,000 guests annually. The theater features a simple, yet sophisticated charm that can't be found in many other locales. The theater is owned and run by the Prather family, a theatrical family that has produced quality theater for more than 50 years.
Groups and group leaders love Dutch Apple's special group rates for every party of 16 or more. This includes dinner, show, tax and gratuity. Dutch Apple offers a group add-on experience for only $9.99 per person. The experience gives your group a welcome from a cast member upon arrival to the theatre, cheese and cracker appetizer on your table, a Dutch Apple logo glass, Q&A after the show, onstage group photo and an autographed program from the cast. Among the shows Dutch Apple will perform in 2020 are Guys & Dolls (which will take place between April 2 and May 16), Something Rotten (May 21-July 3), The Little Mermaid (July 9-August 15), Saturday Night Fever (September 17-November 7), and Elf the Musical (November 12-January 3). 
Website: dutchapple.com
The Fireside Dinner Theatre
Fort Atkinson, Wisconsin
The Fireside Dinner Theatre in Fort Atkinson, Wisconsin is one of the Midwest's most popular entertainment destinations and the only Actor's Equity dinner theatre in Wisconsin. Celebrating its 56th year of Klopcic family hospitality and its 43rd season of professional theatre, The Fireside is a favorite destination for couples, families and tour groups. Its facility-wide renovation is underway with most of the dining rooms completed and looking fabulous.
This season, The Fireside has an abundance of quality shows that will entertain its patrons. The show schedule includes A Mighty Fortress is Our Basement (April 16-May 31); What Happens in Vegas (June 4-July 19); Rodgers & Hammerstein's Cinderella (July 23-September 6); Joseph and the Amazing Technicolor Dreamcoat (September 10-October 25); and Irving Berlin's Holiday Inn (October 29-December 27).
Tickets include dining options so guests can enjoy dinner and a show. The menus vary by show and performance times. Most shows come with the offer of a three-course dinner and on Thursday evenings, Fireside will feature a signature buffet. Sunday matinees feature a provided brunch buffet.
Fireside provides groups with rates of $2 off the individual ticket price available to parties of 18 or more. Further discounts of an additional $3 off are available when guests attend a performance within the first four weeks of the show's run. Groups can also be exempt from paying gratuity and ticket processing, saving up to 20% overall. Fireside also gives a complimentary ticket with every 18 tickets for weekday matinees and 21 purchased for other performances. Fireside is accessible to guests with disabilities and provides guests with on-site free parking.
Fireside offers educational seminars to medium to large school groups of 18 or more on weekday matinees, pending staff and the availability of space. It is a fun opportunity for passionate students to join in and learn more about theatre.
Website: firesidetheartre.com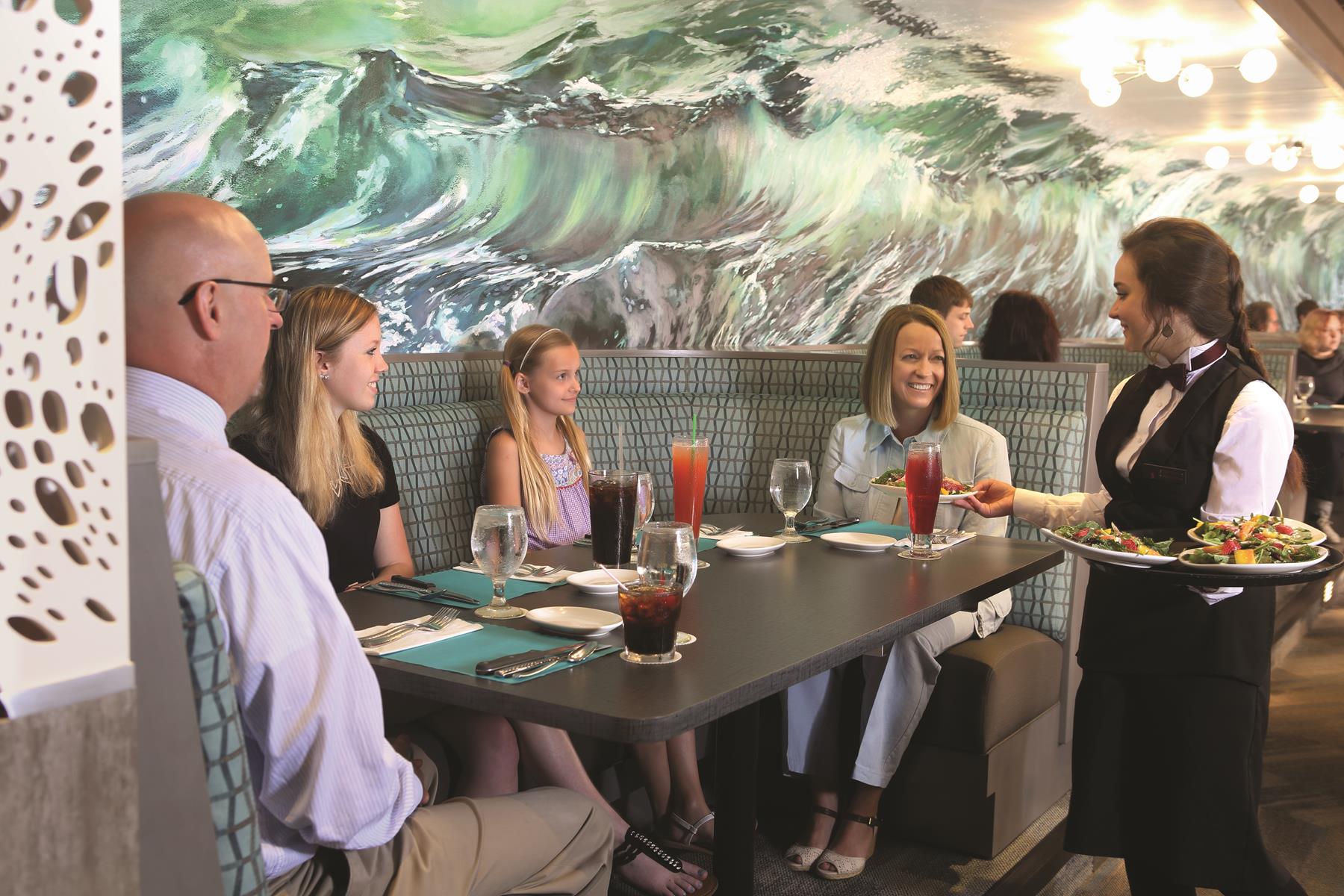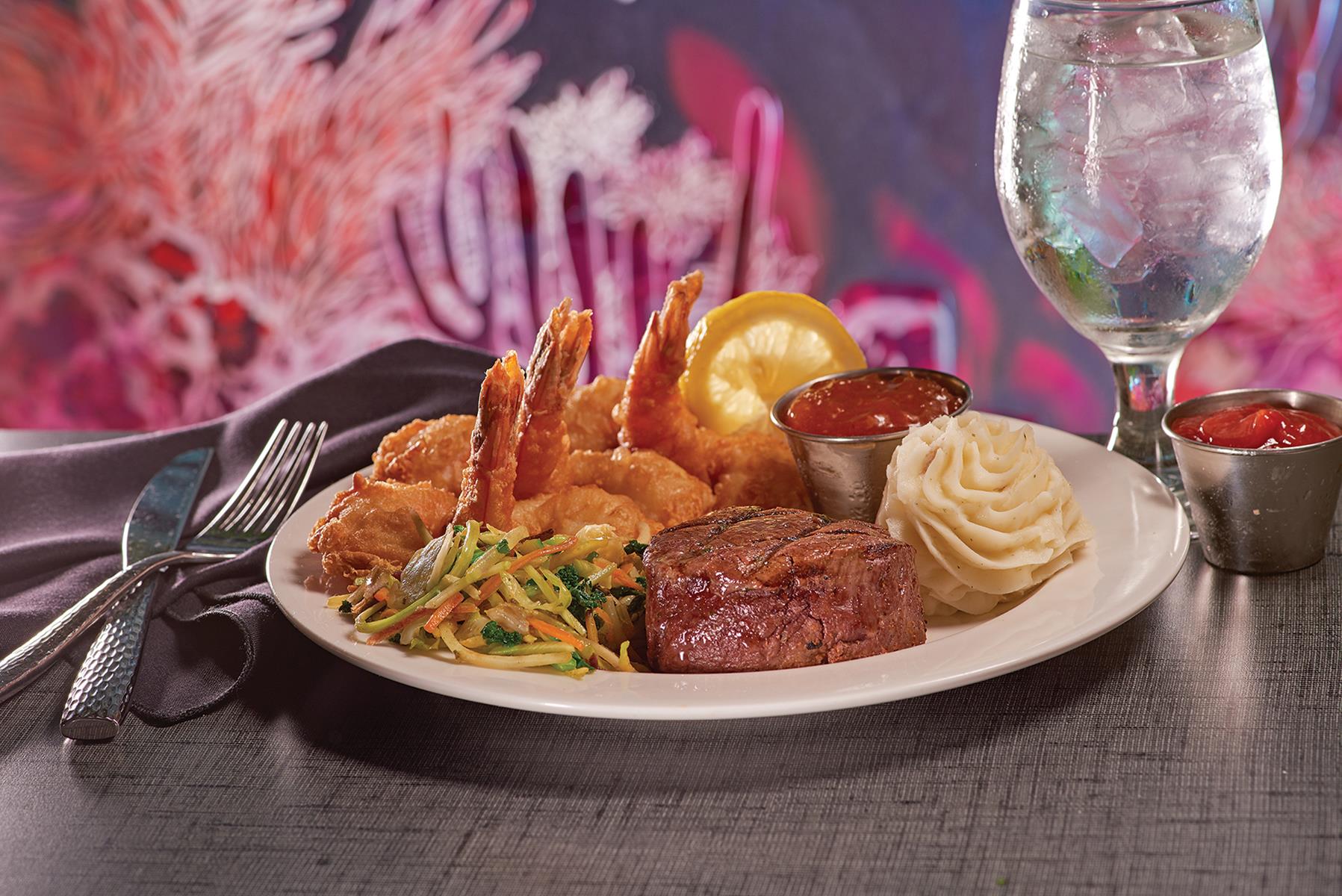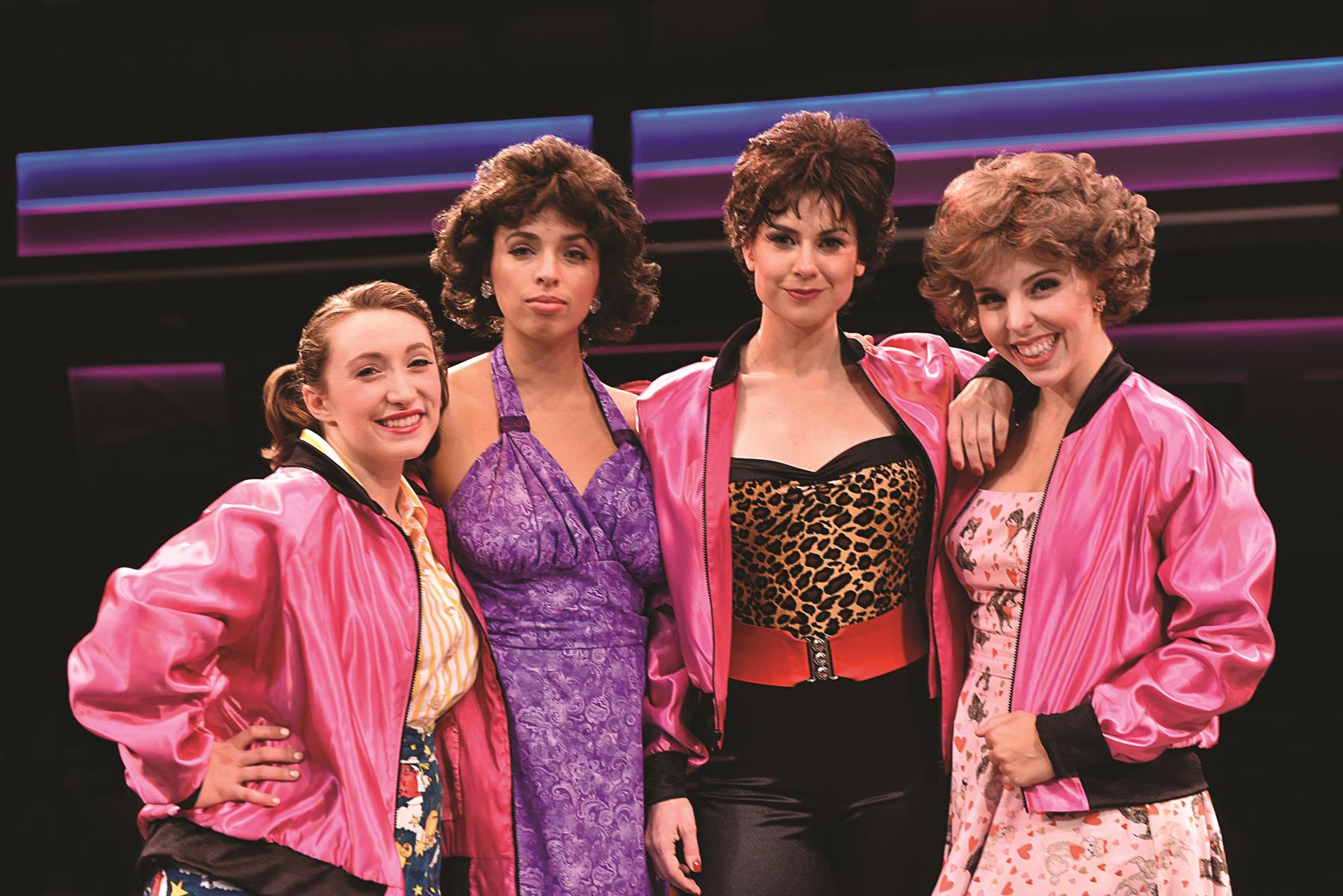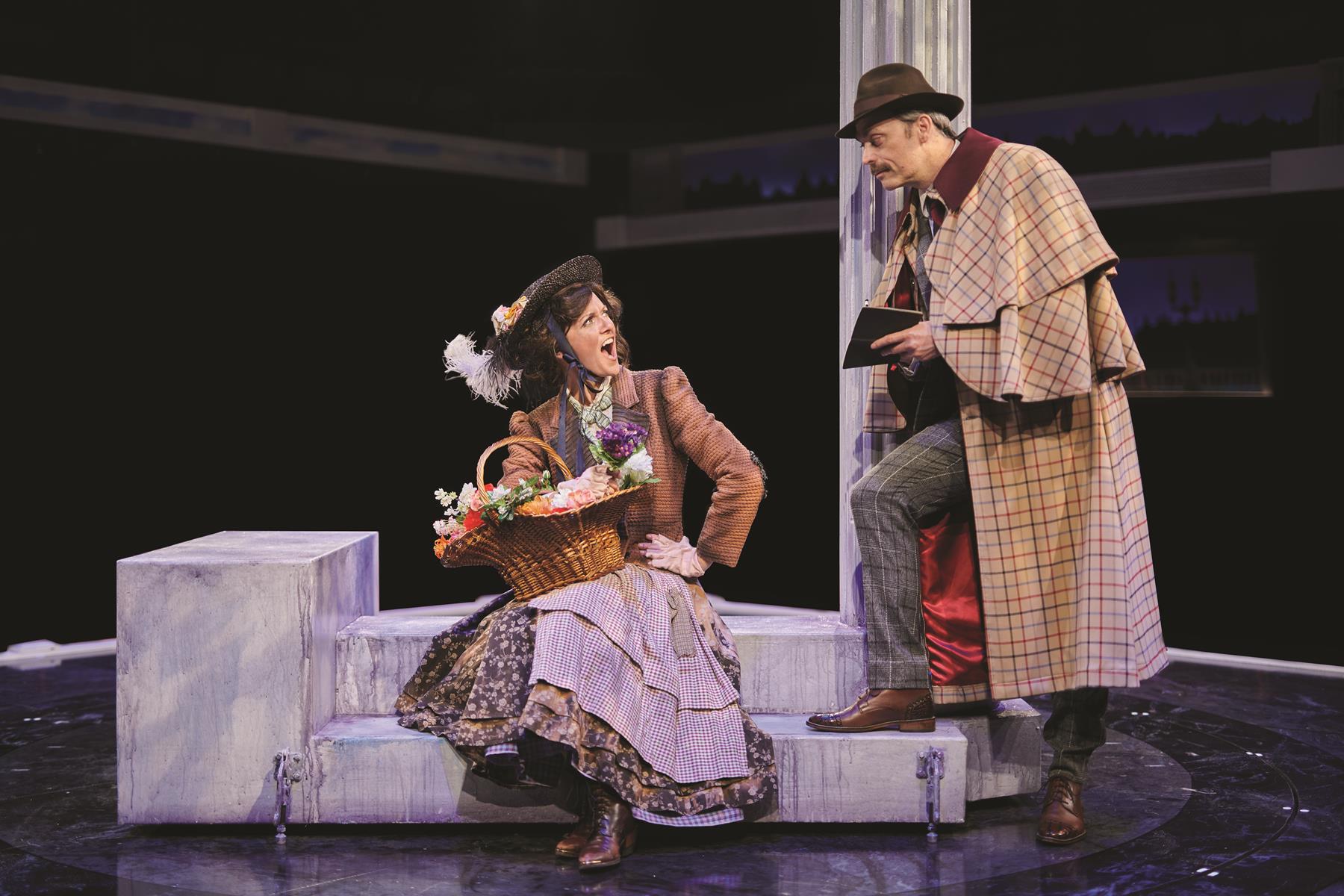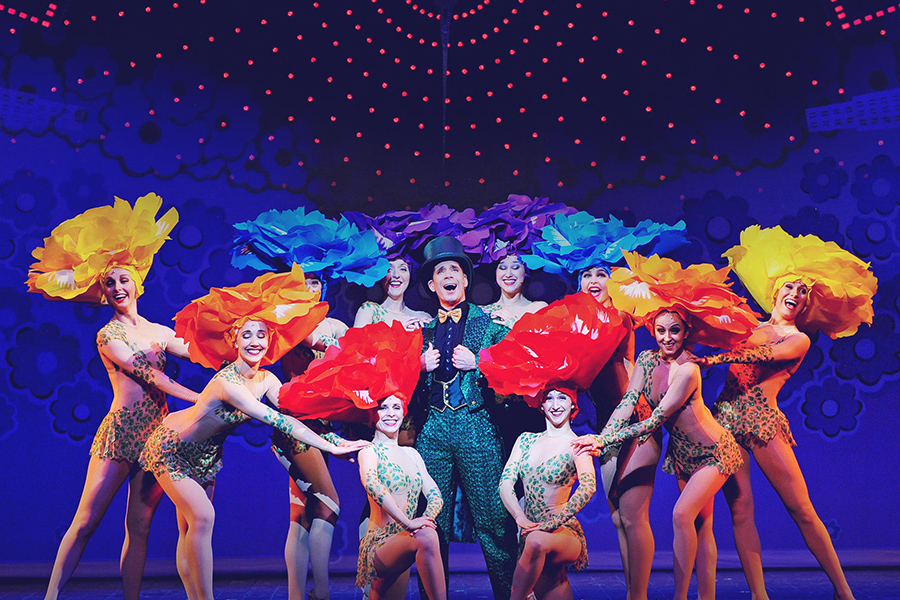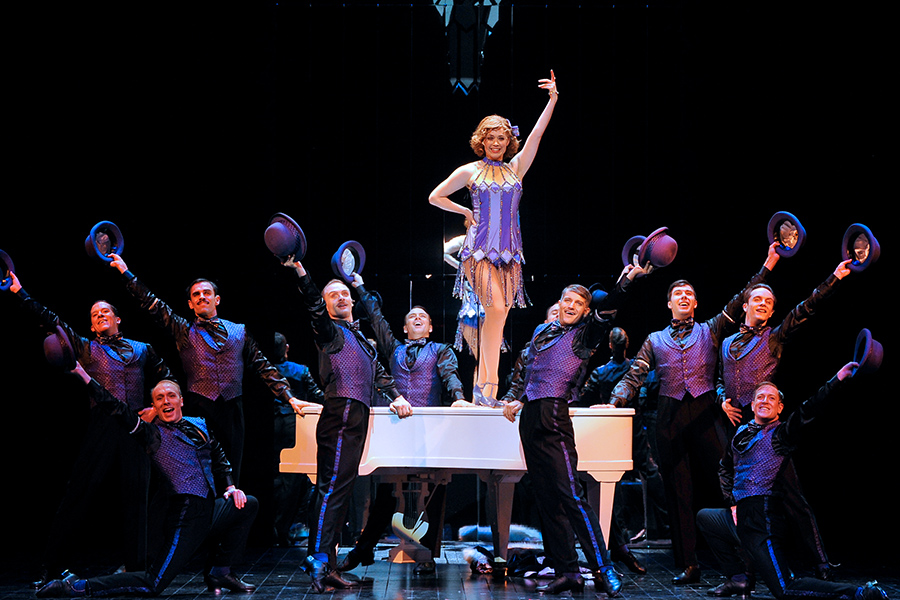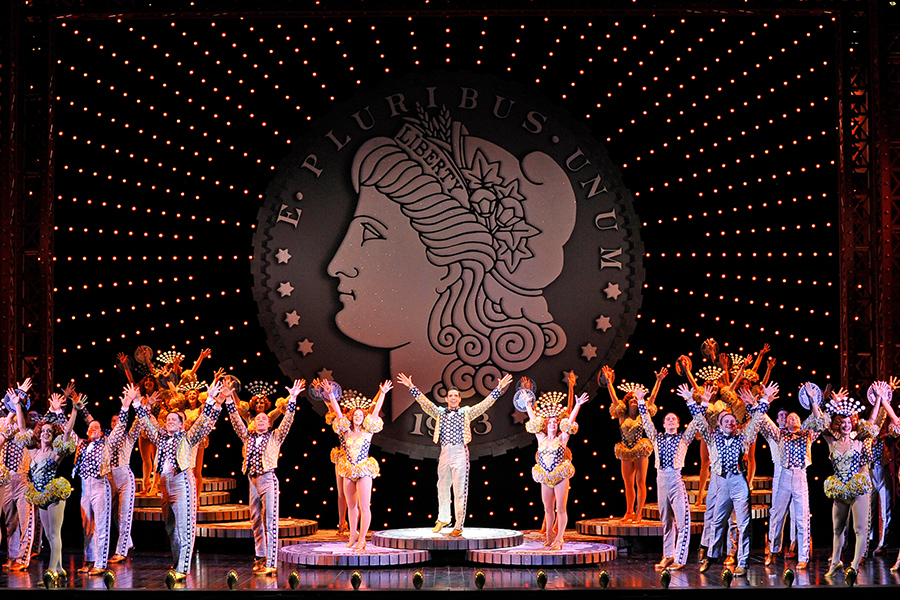 Lyric Opera of Chicago
Chicago, Illinois
Experience the best of music and theater with Lyric. Whether your group is interested in grand opera, classic Broadway musicals, behind-the-scenes experiences or a combination of the three — you can find it at Lyric Opera of Chicago.
This May and June, the Tony-winning song-and-dance spectacular 42nd Street takes center stage, starring Broadway legends Norm Lewis and Faith Prince. Your group will love the sensational tap numbers and memorable melodies like "Lullaby of Broadway," "We're in the Money," and the famed title song, in a high-energy, new-to-Chicago production that is as beautiful to see as it is to hear.
Next season will sizzle with Tosca (November 2020), Puccini's political thriller about a Roman diva and the men who love her. This entire opera bursts with a theatricality that makes Tosca a favorite with audiences everywhere.
Prepare to laugh along with The Marriage of Figaro (March/April 2021), Mozart's sublime comedic masterpiece about relationships and human nature. The Marriage of Figaro is full of the hilarity and charm that makes Mozart so memorable.
The best way to enjoy Chicago's changeable weather? By Singin' in the Rain (June 2021). Revel in the glamour of Hollywood in the Roaring Twenties, when the "talkies" were taking over from silent films. From the title song to the upbeat "Good Morning," and the heartfelt "You Are My Lucky Star" — your group will revel in the classic Broadway magic.
Groups of 10 or more enjoy these special savings and perks:
20% off standard ticket prices with tickets as low as $26 per person
Student group tickets starting at $20 per person
One complimentary ticket for every 20 tickets purchased
Flexible payments — book now and pay later
The second-largest opera house in North America with over 3200 seats
All foreign-language operas have projected English translations and all musical shows are sung in English
Website: lyricopera.org
Pines Dinner Theatre
Allentown, Pennsylvania
Escape the ordinary at the Pines Dinner Theatre, Lehigh Valley's most unique dining and show experience, celebrating its 11th season in Allentown, Pennsylvania.
Located in Allentown's West End Theatre District, Pines Dinner Theatre will provide guests with a great afternoon or evening of entertainment at a price that won't break the bank. Your ticket includes almost everything you need, including a full-course dinner including fresh-baked bread, salad, choice of entree and dessert followed by an uproariously entertaining production performed by professional entertainers from across the country. The Pines Dinner Theatre has been consistently ranked among the top dinner theaters in the country including one of the Top 10 unmissable dinner theaters by culturetrip.com.
Your visit begins with dinner, where the culinary staff prepares the entrée fresh for every guest. While the menu is always changing, guest favorites include the slow-roasted homestyle pot roast, honey Dijon pork loin or chicken caprese, to name a few. If you're still hungry, make sure to try some of our the a la carte options including made-from-scratch French onion soup or grilled shrimp skewers. For dessert, upgrade to a decadent triple chocolate brownie sundae or sampler trio. After dinner, sit back, relax and enjoy a show performed and directed by professionals from across the country. Pines' 2020 season includes Nunsensations: The Nunsense Vegas Revue from March 20 – May 10, Red Hot and Country from May 22 – June 21, Dirty Rotten Scoundrels from July 3 – August 23, and Midlife: The Crisis Musical from September 11 – October 25.
No matter what time of year you visit, you're guaranteed an evening of entertainment that you'll be talking about for weeks to come.
Website: pinesdinnertheatre.com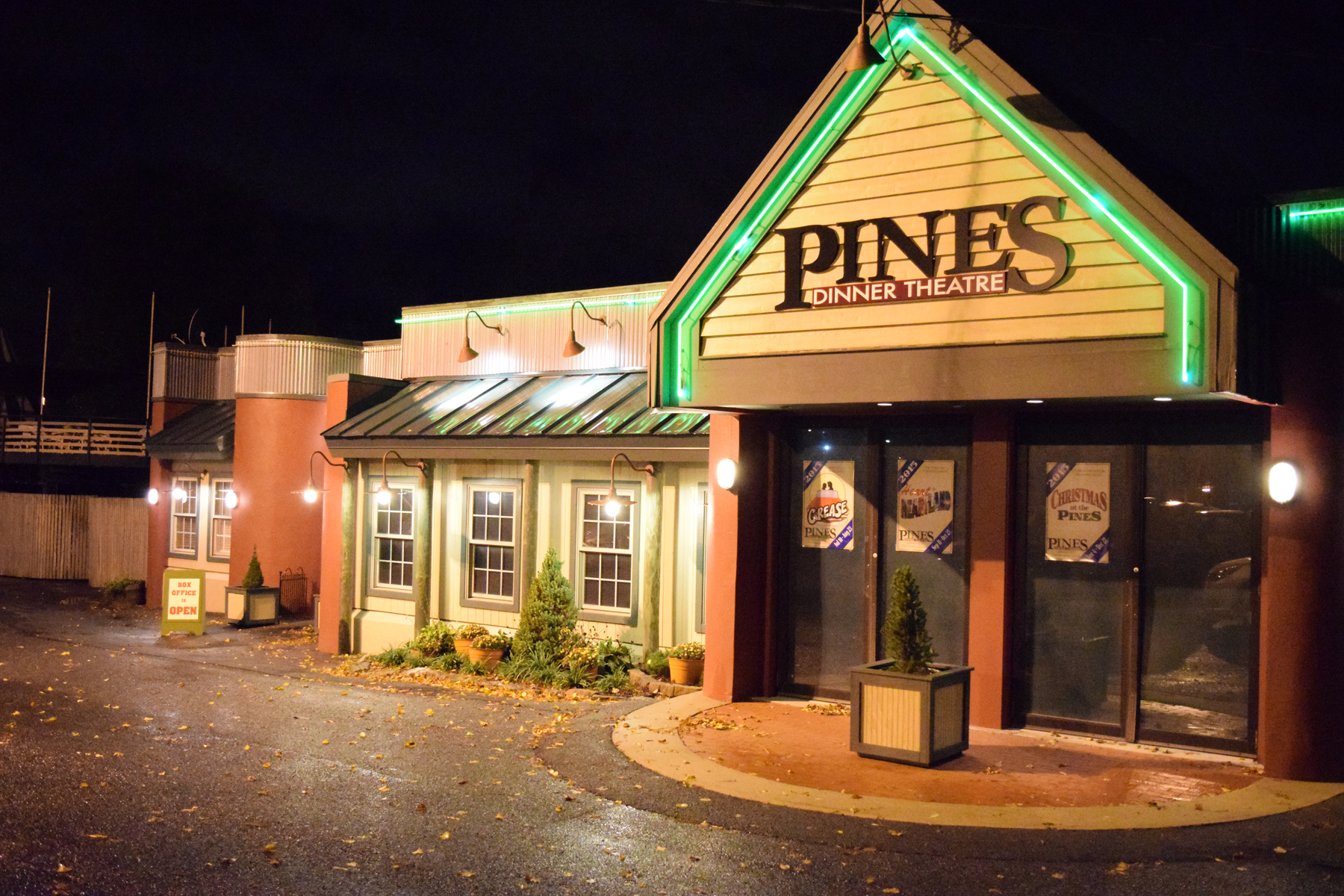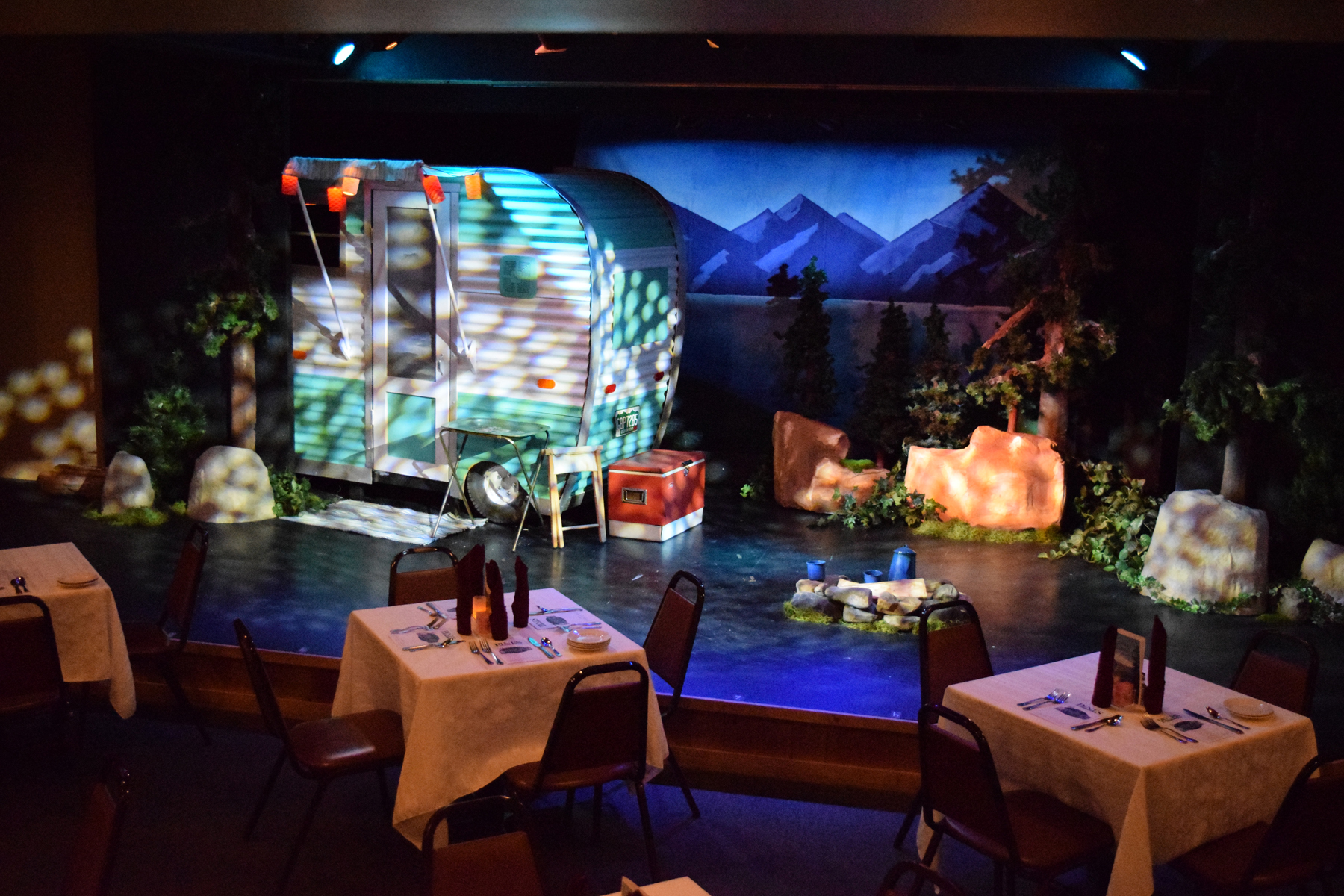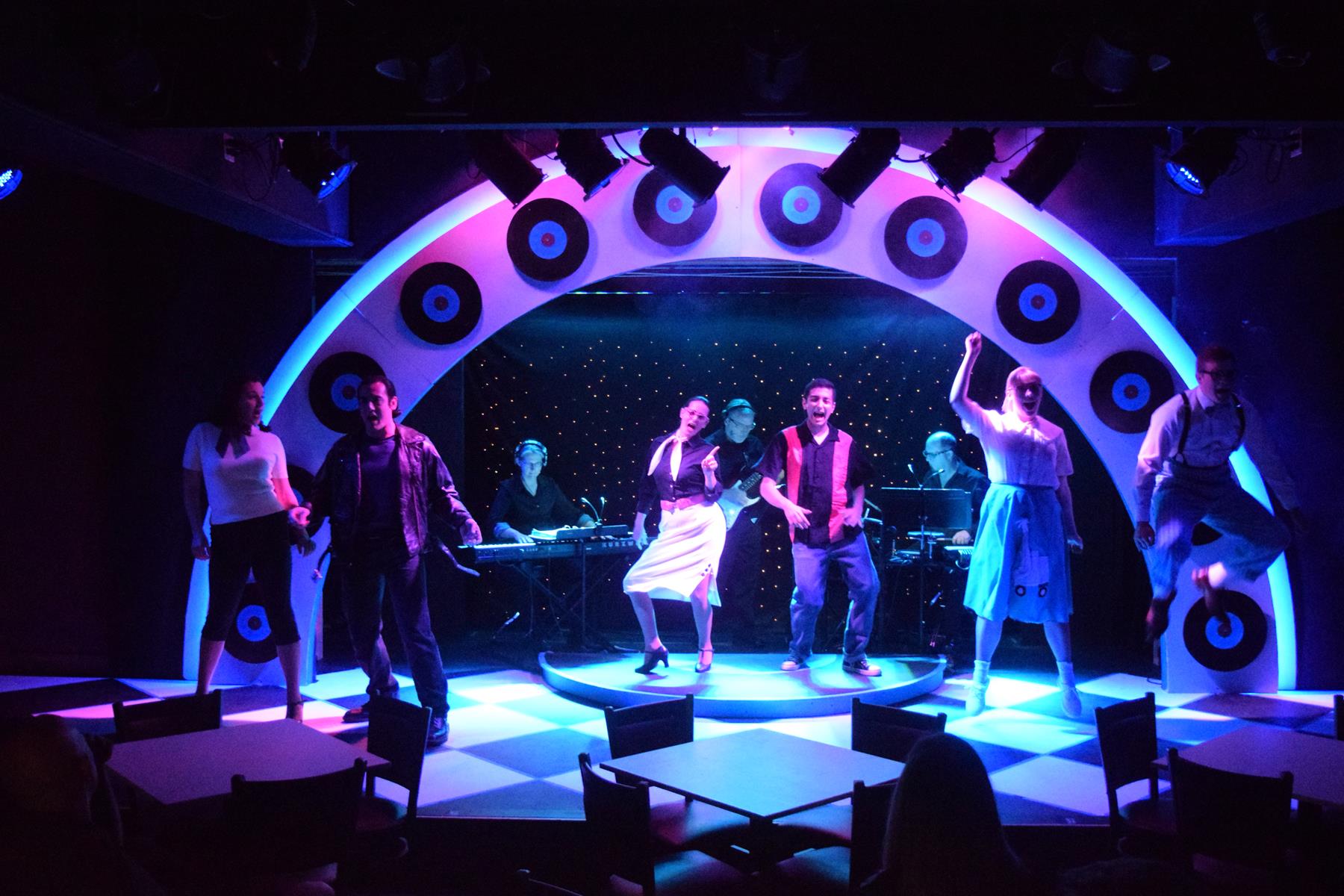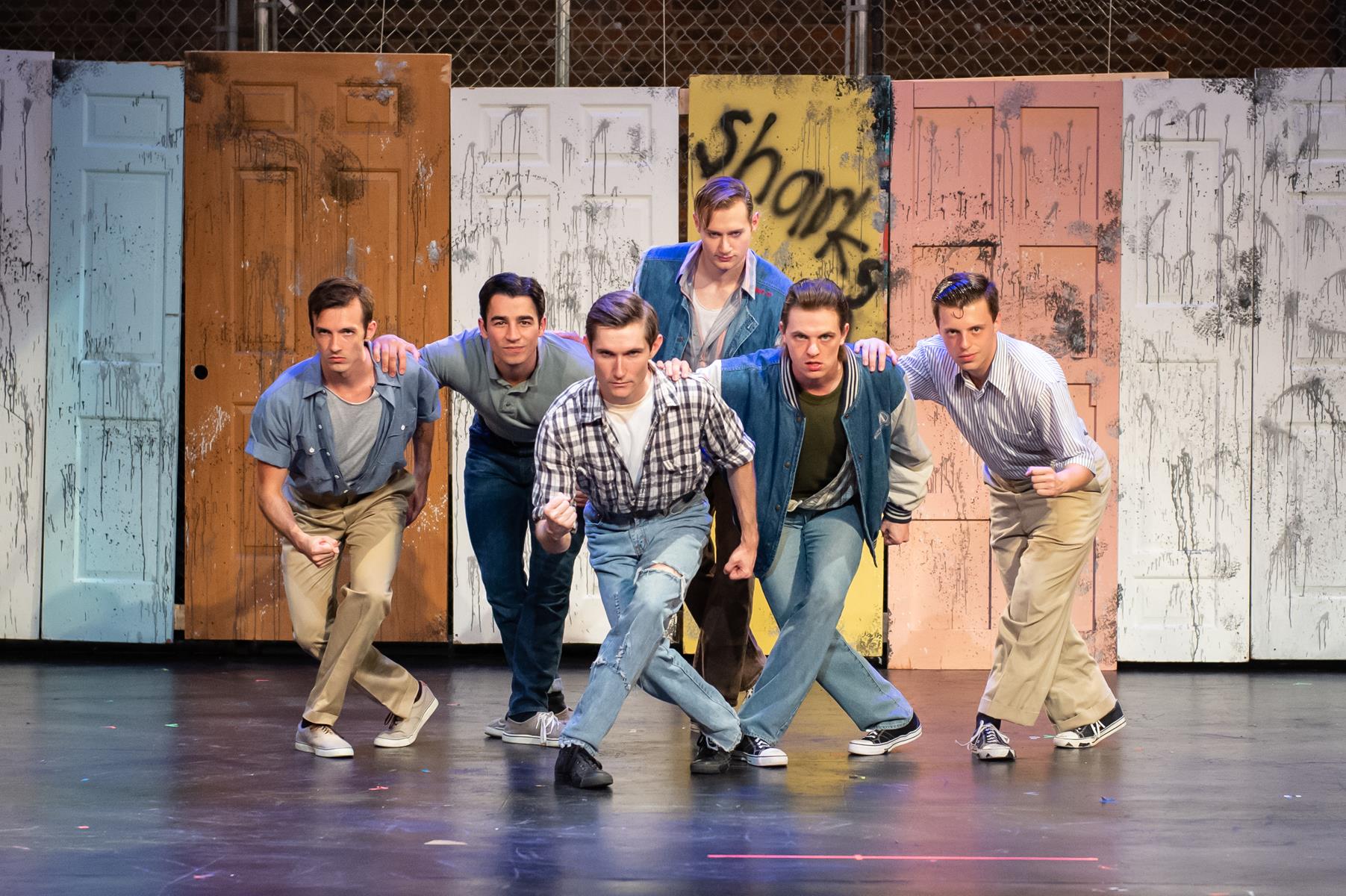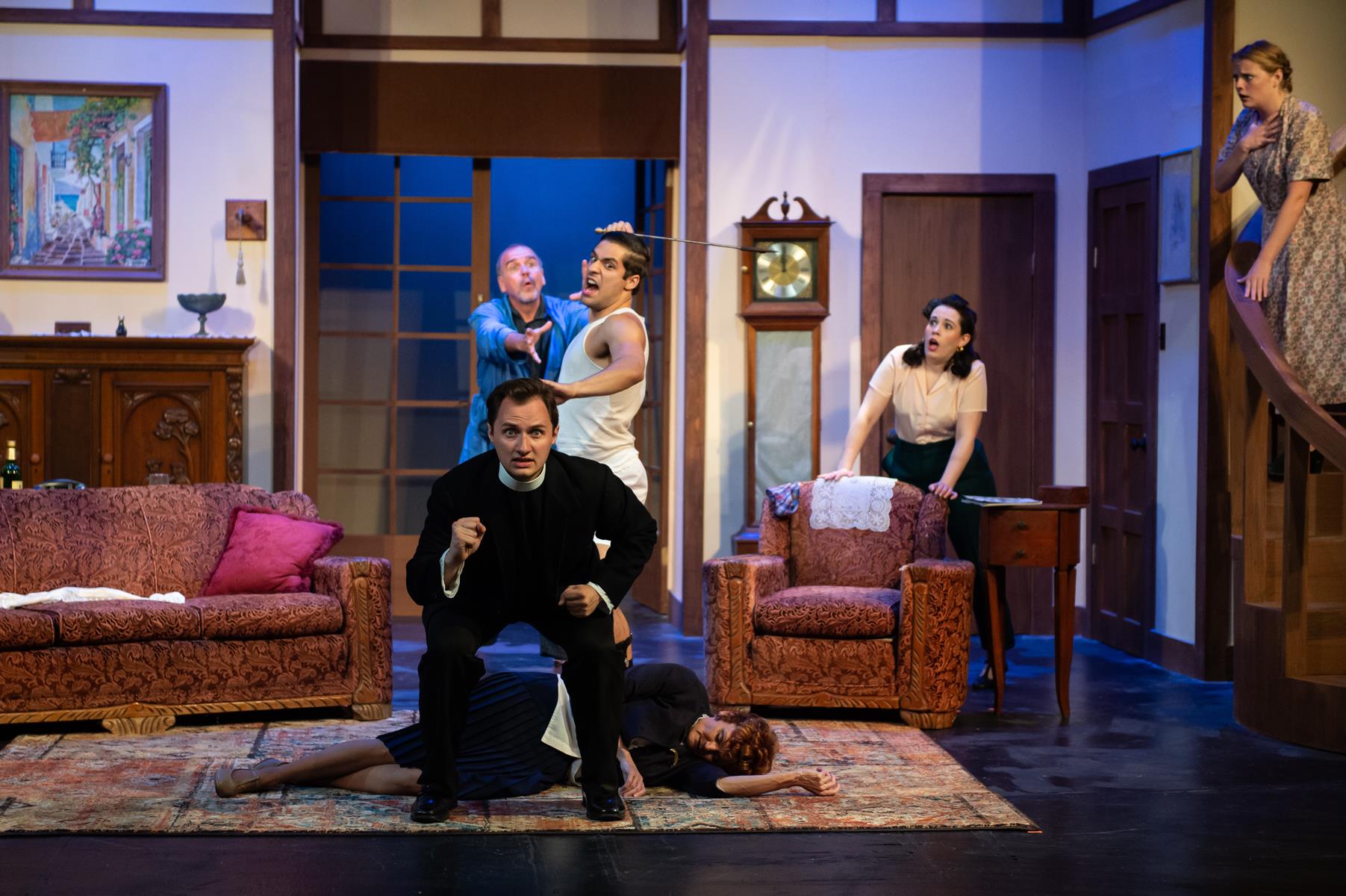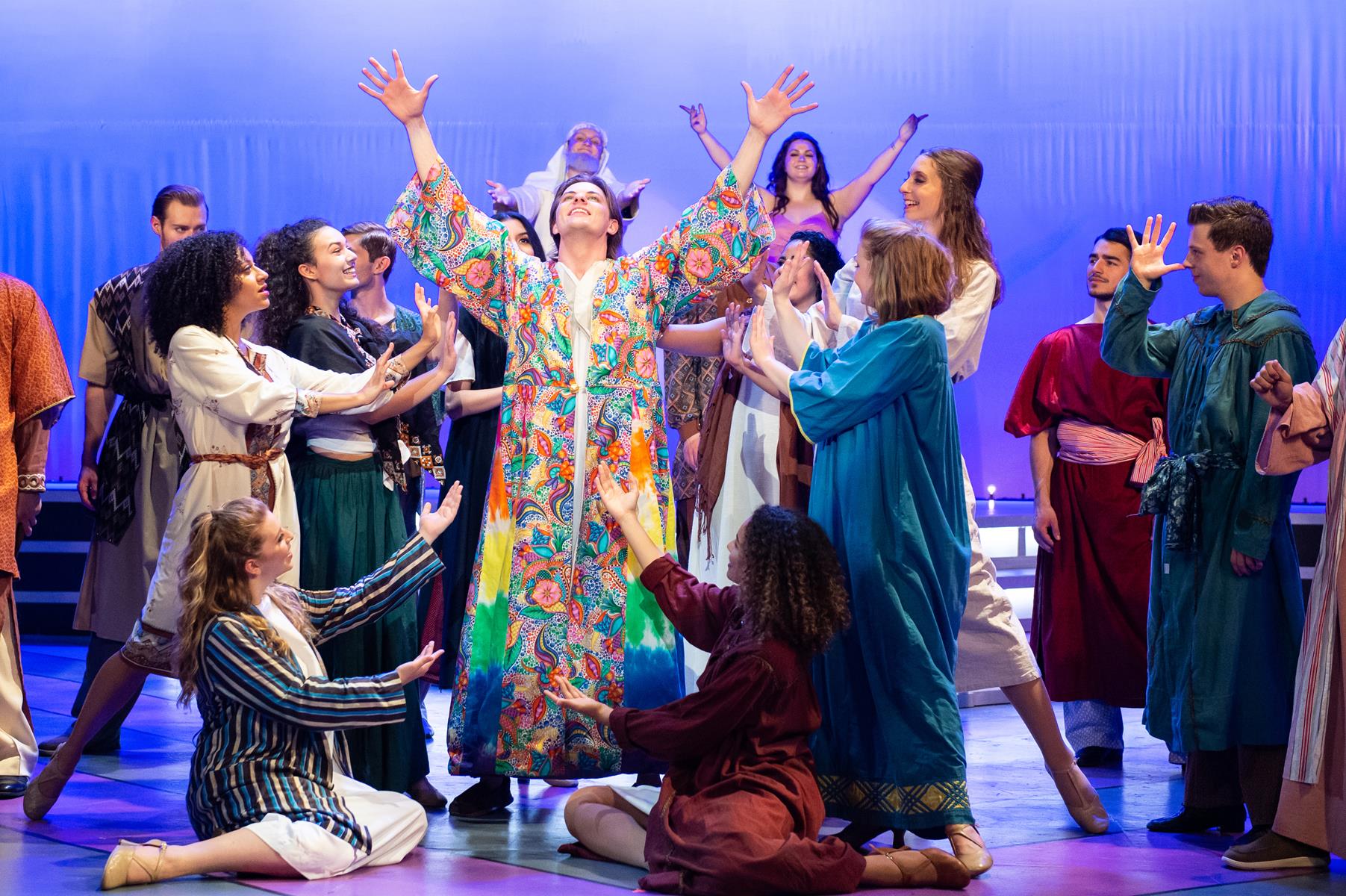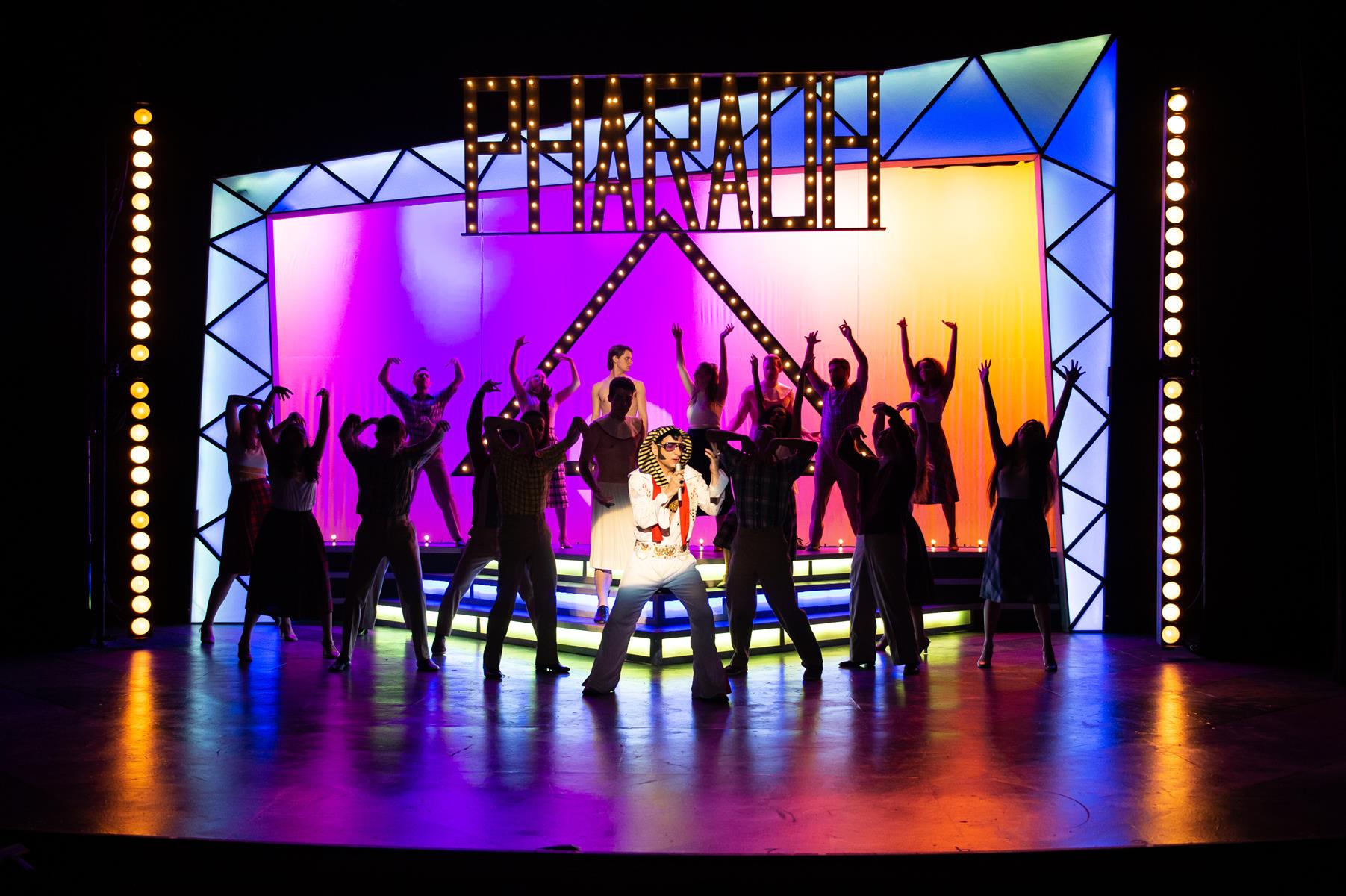 Tibbits Opera House
Coldwater, Michigan
Built in 1882, Tibbits Opera House is one of the oldest theaters in Michigan. Rich in history and ambiance, the theater features an exquisite restored French Second Empire façade. The intimate 499-seat theater offers nearly perfect acoustics and great entertainment year-round. It is the center for arts in Branch County.
Tibbits is now in its 57th season of offering outstanding summer theater. USA Today has called it one of "10 Great Places to See the Lights Way off Broadway." This summer brings another chance for Tibbits to entertain, as the theater has another strong list of shows. Among them include Ain't Misbehavin', Annie, Man of La Mancha, Ken Ludwig's A Comedy of Tenors and special performances of Love Letters, all at reasonable prices.
During summer, Tibbits offers families the wildly popular Popcorn Theatre, classic stories presented by the professional resident company on Fridays and Saturdays from mid-June through early August. Tibbits even hosts a Kids Theatre Workshop, where students go on an artistic adventure exploring the world of theatre and honing their own skills through theatre games, role playing and performance activities. Throughout the rest of the year, Tibbits presents the Tibbits Entertainment Series, which features a wide variety of performers on tour, and the Classic Film Series, which offers free double features each month from Oct through May.
In addition to the performing arts, Tibbits also provides an active visual arts presence in Branch County with Arts Alive, an organization devoted to furthering opportunities in the visual arts for the community, hosts activities and gallery exhibits which are open to artists of all mediums. Arts Alive also features special events such as The Downtown Artwalk, which hosts artists, musicians and food trucks.
Summer theatre groups receive special rates with groups of 10-25 receiving $5 off of the original $40 ticket. Groups of 26-50 receive $6 off each ticket, and large groups of 51+ get $7 off each ticket. Entertainment Series group rates vary as well.
Website: Tibbits.org
Wolf Trap Foundation for the Performing Arts
Vienna, Virginia
Wolf Trap National Park is the only National Park dedicated to the performing arts. As partner to the National Park Service, the Wolf Trap Foundation provides an extensive array of over 200 performances of diverse artists, dance, opera, and theater at three distinctive performance venues. It is dedicated to creating a wide variety of excellent performing arts experiences for the enrichment, education, and enjoyment of diverse audiences. 
Wolf Trap National Park is a majestic natural setting and home to the architecturally stunning Filene Center. Surrounded by rolling meadows and tall trees, the 117-acre Park offers dining and hospitality amenities throughout the summer season, and year-round recreational opportunities, including hiking trails, picnic areas, and sledding. Three event decks overlooking the scenery are available for rental.
Shows this summer include, The SpongeBob Musical (6/12-13), Riverdance 25th Anniversary Show (6/18-21), Indigo Girls with Ani DiFranco (6/23), Fantasia (7/26), Steve Martin and Martin Short (8/1-2), and Grace Potter (8/8).
Groups, kids, and families can share the thrill of live performances each summer at the 700-seat Children's Theatre-in-the-Woods—located just across the meadow from the Filene Center in beautiful Wolf Trap National Park.
The Barns at Wolf Trap, built from two restored 18th-century barns, is an intimate 382-seat theater offering performances year round. One barn serves as the theater and the other as a cozy gathering area. Like the Filene Center, The Barns offers performances from all genres. In the summer, it is home to the Grammy-nominated Wolf Trap Opera, one of America's outstanding resident ensemble programs for early career opera singers.
All Groups save on tickets! Groups of 20+ for Filene Center or 10+ for The Barns or Children's Theatre-in-the-Woods receive personalized service and perks including: waived service charges and fees, flexible payment options, priority ticketing, transportation and event planning, as well as additional discounts on in-house seats for select shows.
Website: wolftrap.org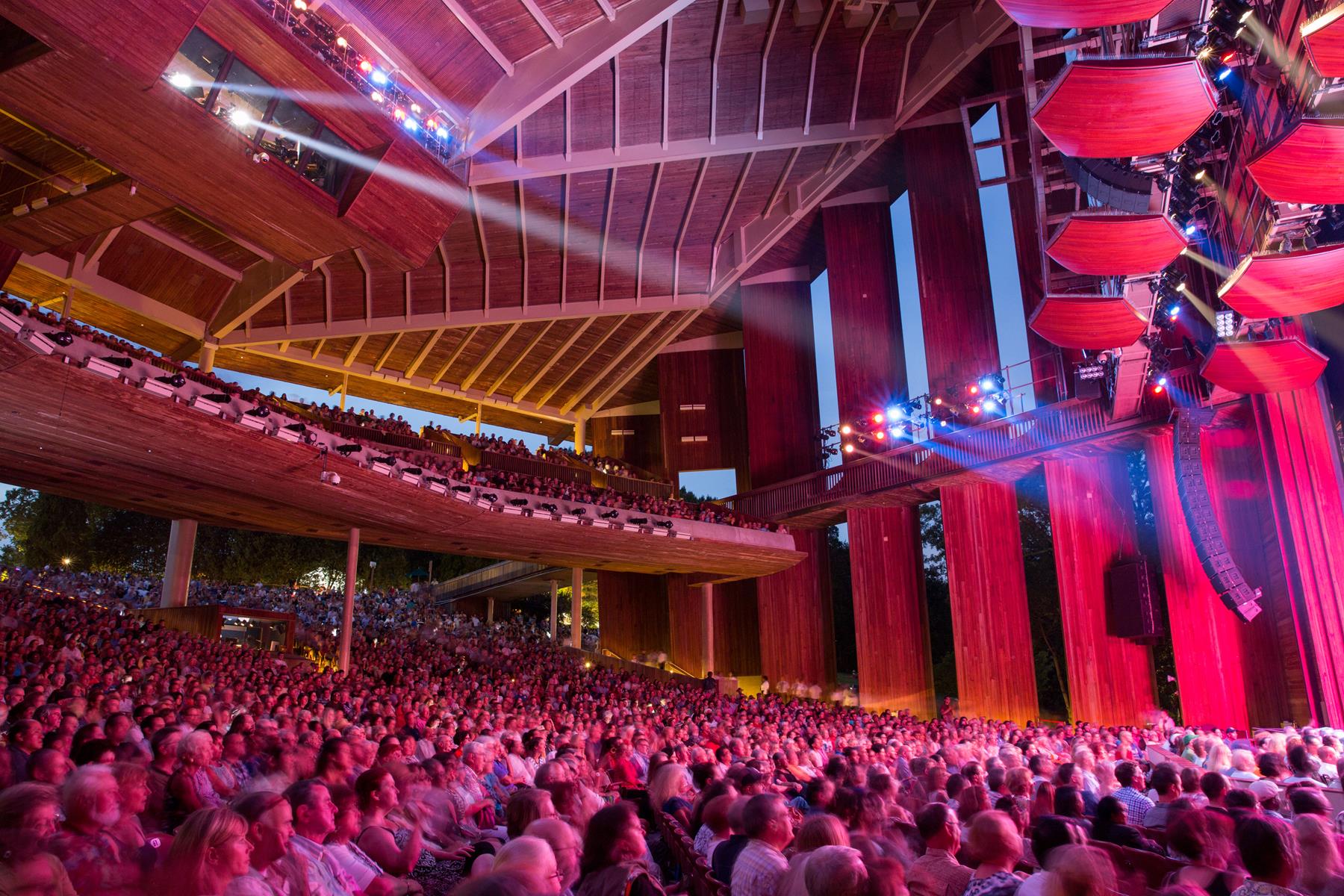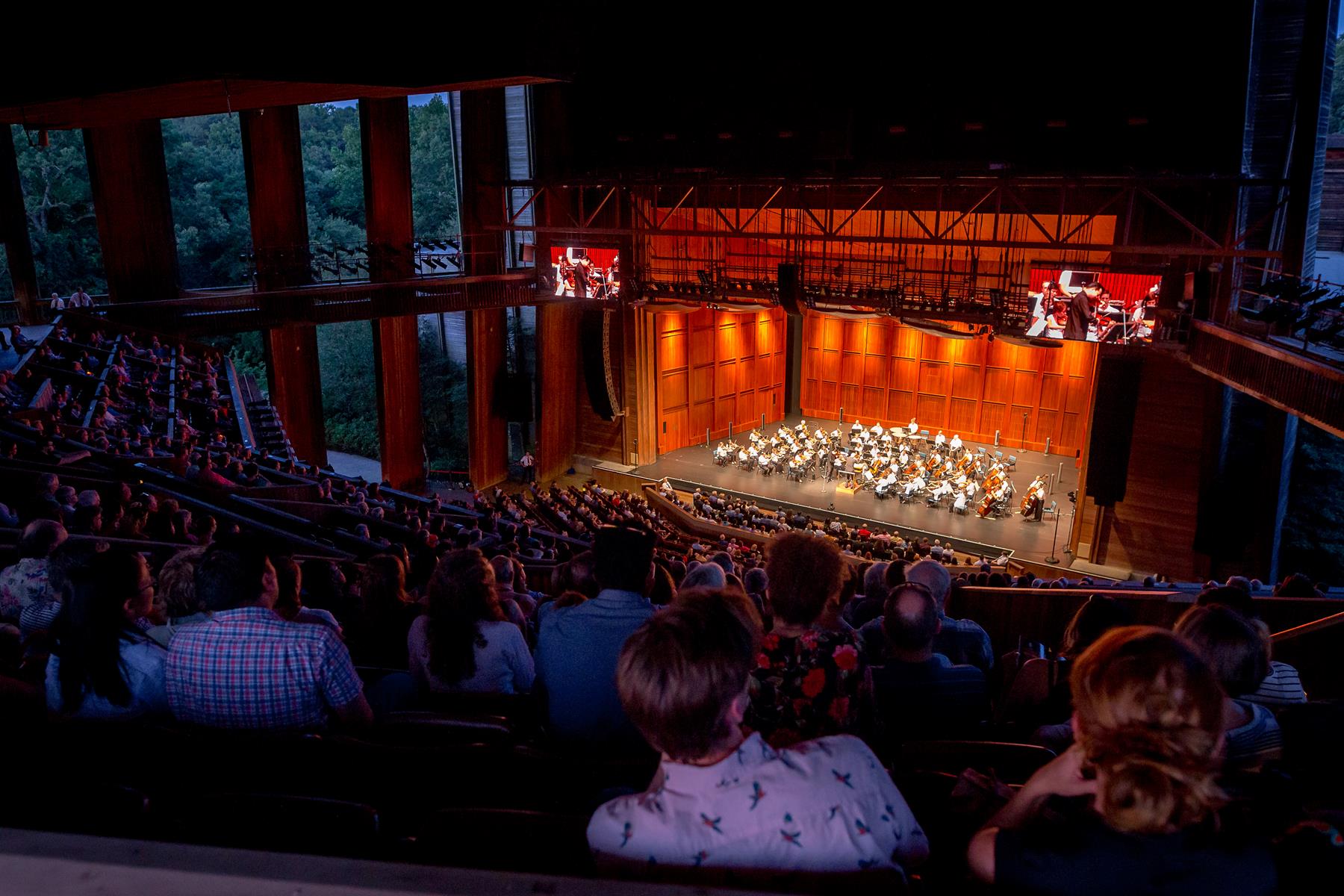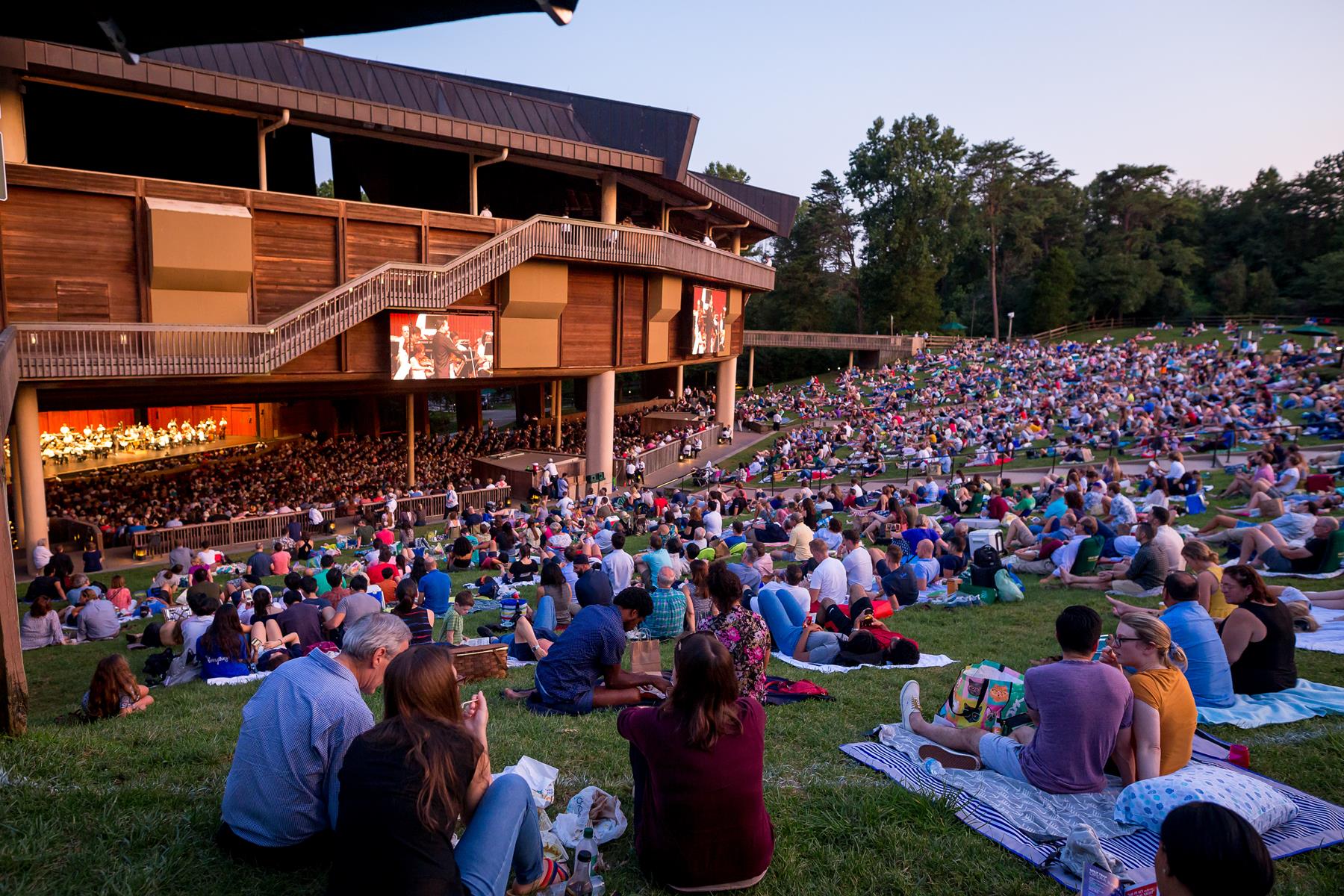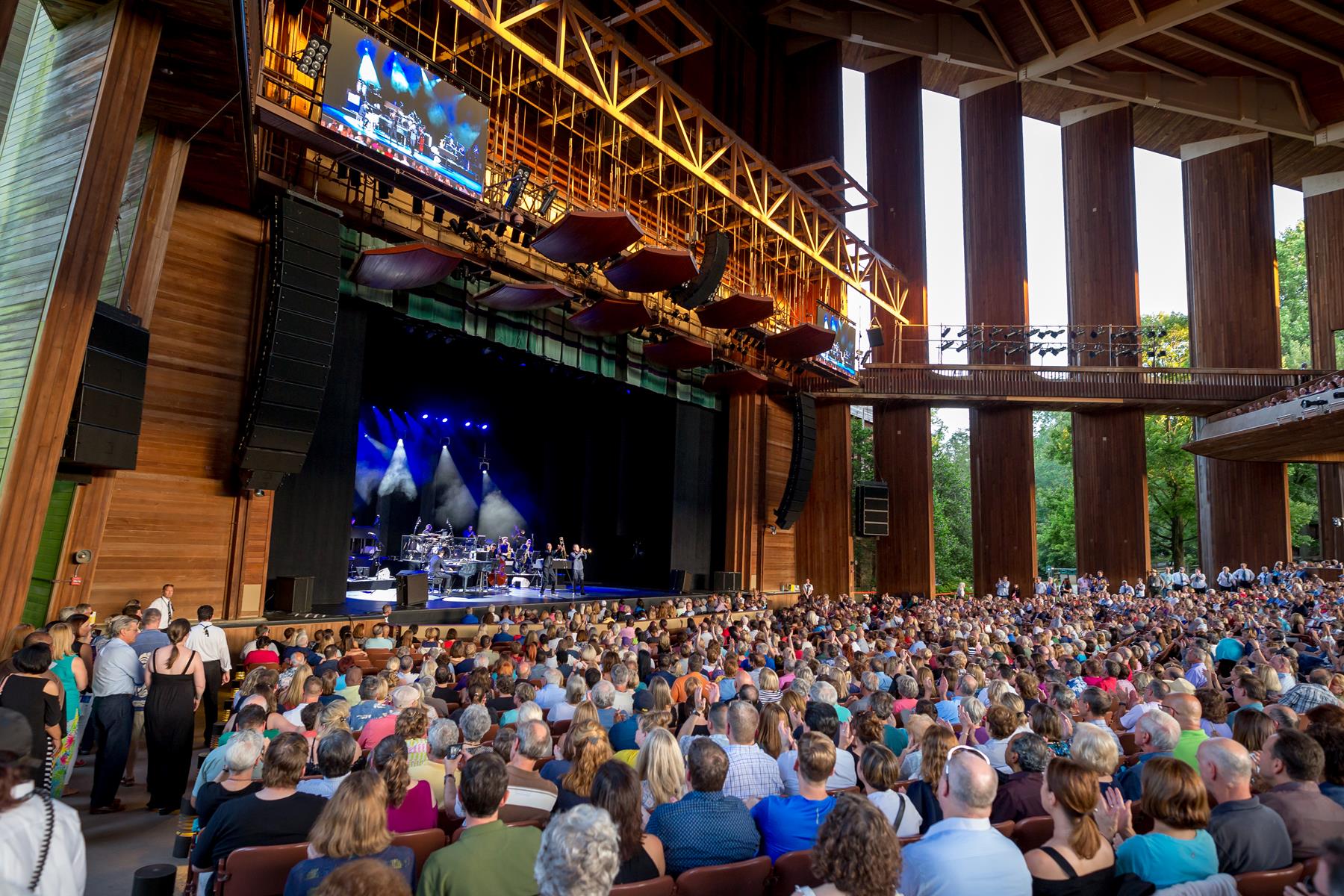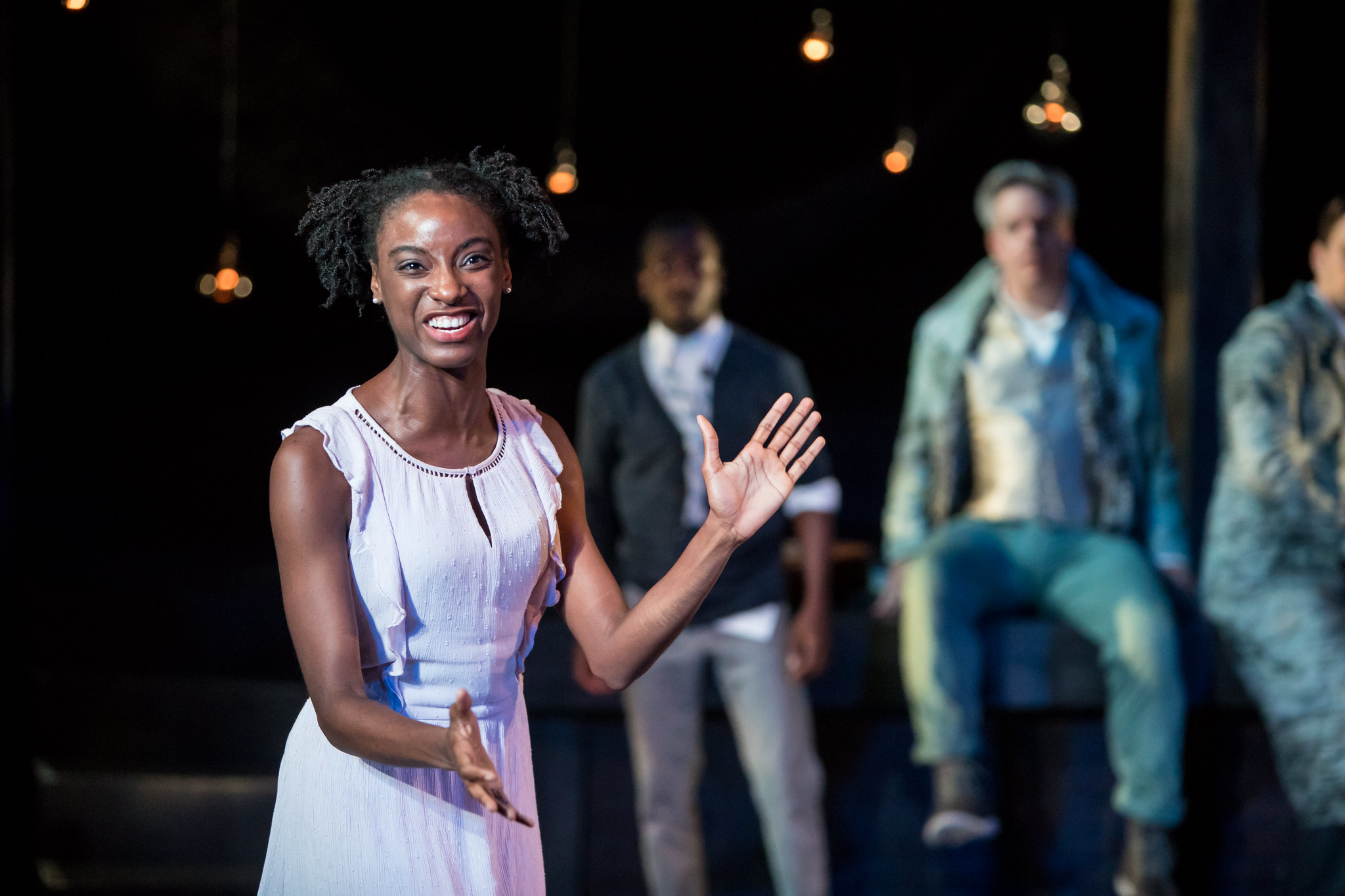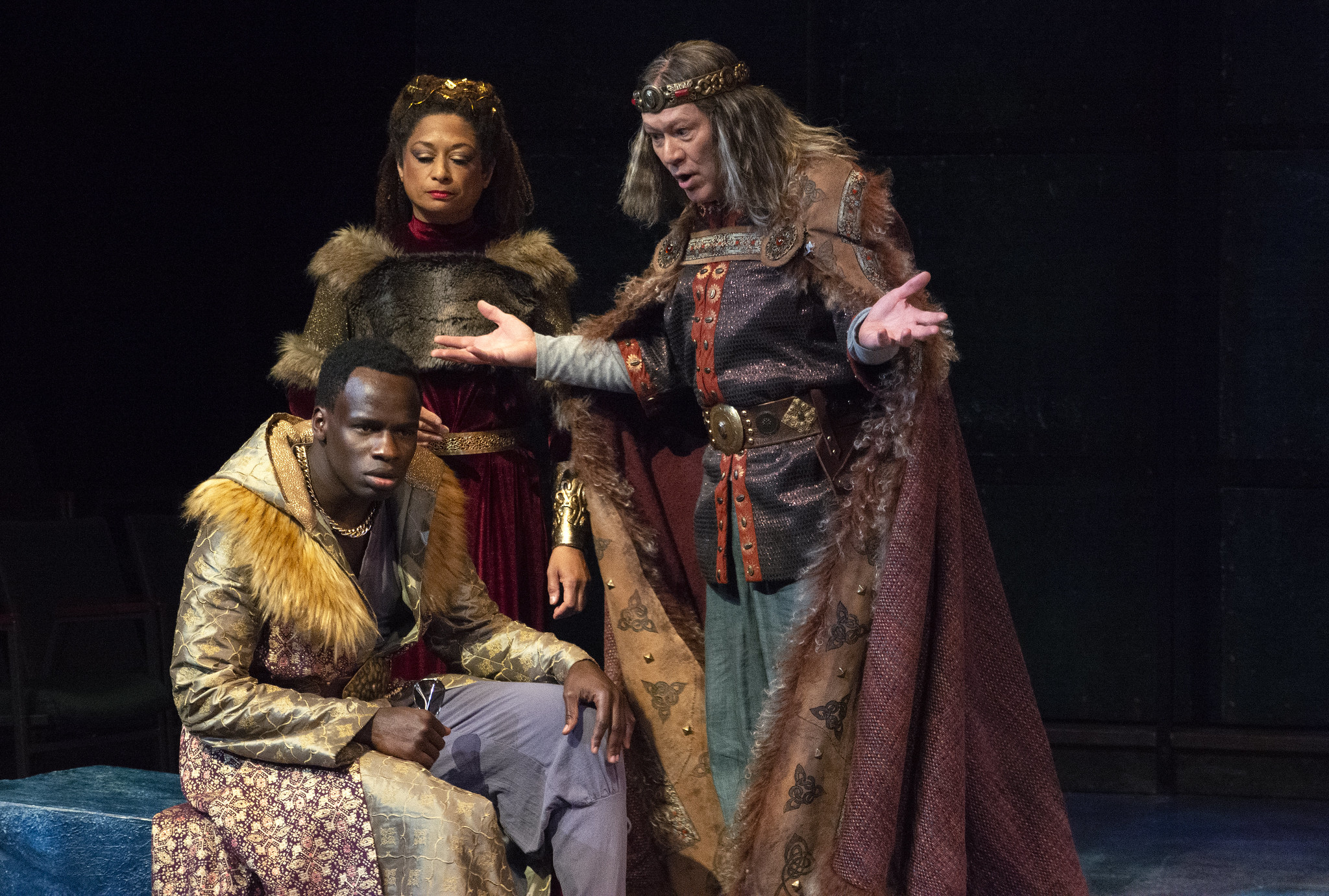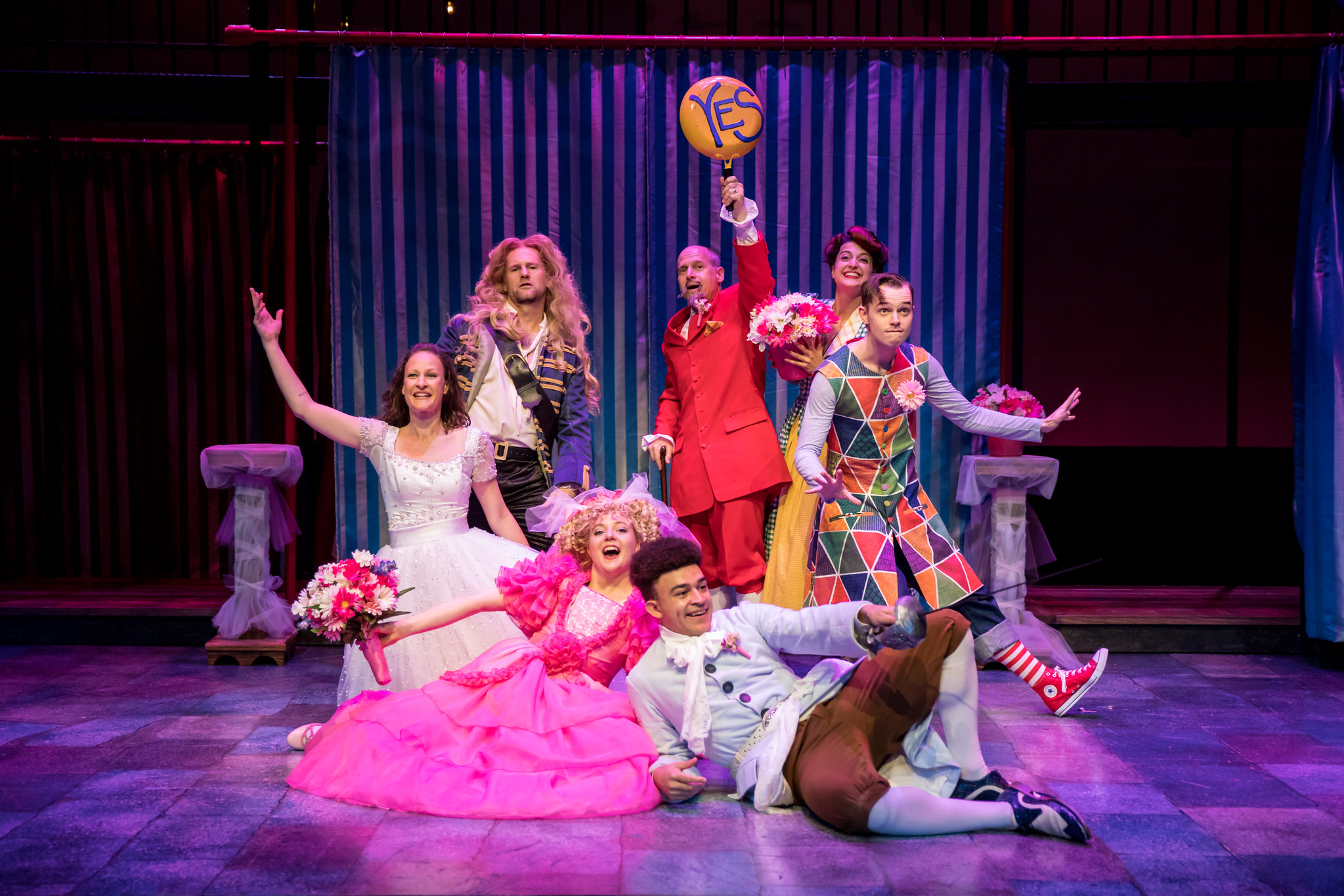 Great River Shakespeare Festival
Winona, Minnesota
Great River Shakespeare Festival is a nonprofit, professional Equity theater company in Winona, Minnesota and the perfect place to bring a group of any size, age or experience.
But they are more than just great plays. The Great River Shakespeare Festival is part of a fantastic community that discusses ideas and celebrates all art forms. With features like stage combat workshops, backstage tours, panel discussions with the company and crew, and even coordinated visits to other attractions in the area like seeing Monet, O'Keeffe, and Picasso at the Minnesota Marine Art Museum, or paddling the backwaters of the Mississippi River, your group will get the experience of a lifetime with our incredible variety of tailored activities.
During the festival season, there is always something to do. Stop by the Front Porch every Saturday morning for stimulating lectures, solo performances, and discussions with artists, academics, and community members to deeply explore the themes and ideas that begin in the theater. Walk the morning Tree & Garden Tour at the Arboretum and run the Festival's annual 5k around the beautiful Lake Winona.
GRSF believes everyone should have access to the arts. If you're looking for discounted tickets, they have countless opportunities for you. They offer programs such as Pay-What-You-Will Previews where you get to choose the price that is best for you, and their new program, 10 for $10 where they will be selling 10 tickets at $10 for every performance.
To come, or not to come should not be the question. Don't miss out on the incomparable Great River Shakespeare Festival running June 20 to August 2.
Website: grsf.org