These museums get groups off the beaten path and into some fascinating exhibits
The word museum often conjures up images of classic themes: Art, history and science. Alabama has its fair share of these, each with intriguing and educational exhibits. However, there are a handful of Alabama museums that get groups off the beaten path and introduce them to a unique world. Groups looking to experience something just a little different should definitely give these museums a look.
Cook Museum of Natural Science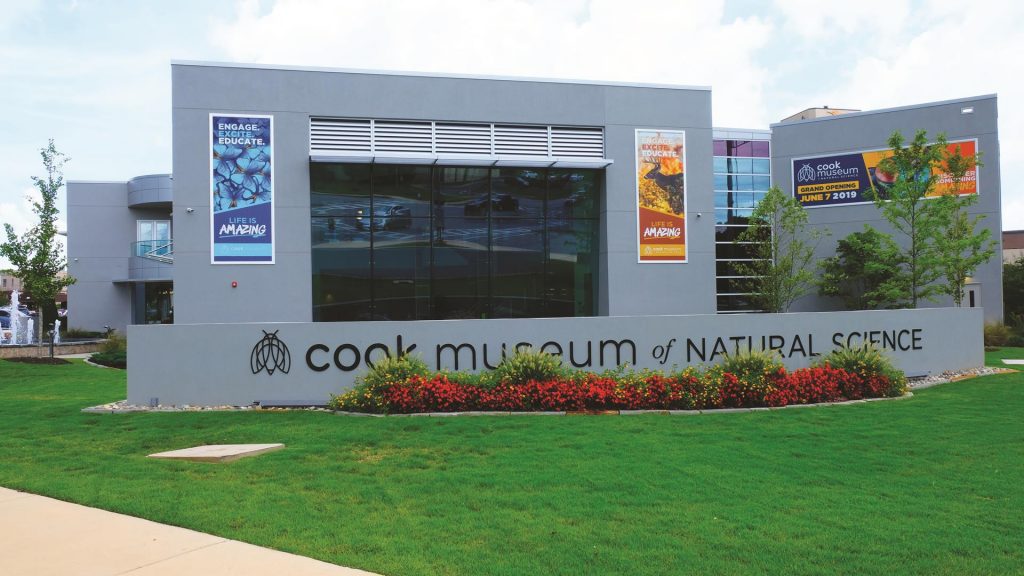 Located in downtown Decatur, Alabama, The Cook Museum of Natural Science is a new facility opened in June 2019. However, its roots date back more than 50 years. Back in 1968, John Cook, Sr. opened a small insect collection to the public. The collection soon grew to include fossils, minerals, seashells and mounted wildlife, and was officially named Cook's Natural Science Museum in the 1980s. While the new museum still houses an impressive insect display, it also features several other interactive and immersive exhibits to teach groups about the natural world.
Groups can wander through an authentic replica of an Alabama cave, filled with hidden animals and winding pathways. Guests can learn all about the cave environment and the species that call it home. The forests exhibit transports groups into the wilderness of the Southeast, introducing them to the flora and fauna that inhabit these magical worlds. Groups can get hands-on in the Foundations exhibit, which features a kinetic sand table where guests can create natural structures to their hearts' content.
Digital Edition Sponsored by
Tim Hollis' Pop Culture Museum
In Dora, Alabama, just outside Birmingham, groups will find a small, but mighty museum filled with some fun and unusual pop culture items. Tim Hollis' Pop Culture Museum is housed in the home of the local author and showcases more than 11,000 pieces of memorabilia collected by Hollis. Over the years (Hollis has been growing his museum collection since 1981), the writer picked up everything from toys and games to lunch boxes and cereal.
What began as a testament to a man's childhood transformed into a full-blown museum that captures the everyday joys of generations. Hollis' collection fills a twostory addition to his home and features some funky and memorable items including board games and children's books that will almost certainly fill you with nostalgia.
Groups can travel through time as they see what's gathered here: a 50-year-old Kentucky Fried Chicken bucket, shopping bags from local grocery stores, a Bugs Bunny lunchbox, and an original Mr. Potato Head kit where kids used real potatoes to create the character. (Visits are by appointment only.)
Berman Museum of World History
Don't let the name fool you, this is no ordinary history museum. Located in Anniston, The Berman Museum chronicles the story of Farley and Germaine Berman, two world travelers who collected artifacts from the places they visited. By the end of their traveling years, they had collected thousands of unique pieces, from weaponry to sculptures.
The museum, which opened in 1996, houses the couple's extensive collection, as well as the Dr. Oliver and Pei-hwa Foo Asian collection. Groups can peruse the exotic weapons in the Deadly Beauty gallery, filled with Berman's collection of spy and combination weapons.
The Persian Scimitar of Abbas is a must-see, encrusted with 1,295 diamonds, 50 carats worth of rubies, a 10-carat emerald, and three pounds of gold. In the World Wars galleries, groups can view artifacts and images from both World Wars, including Adolf Hitler's personal silver tea service. The American West gallery includes firearms and weapons dating from the American Revolution up to the Spanish-American War.
Barber Motorsports Museum
Motorcycle enthusiasts looking to find the biggest collection of the two-wheeled machines should look no further than the Barber Motorsports Museum in Leeds, Alabama. That's right, the world's largest motorcycle collection can be found here, along with some rare transportation vehicles. Started by business executive and motorsports racer George Barber, the museum opened in 1994 showcasing the engineering and design behind motorcycles. Today, it's home to more than 1,600 motorcycles, some dating back more than 100 years.
Groups visiting the Barber Motorsports Museum can see how the machines transformed over time, from a steampowered motorcycle built back in 1867, to the military Harley dubbed The Ginny built in the 1940s, to The Britten V1000, an innovative carbon fiber beauty built in 1995.
By Vanessa Day