The religious shrines of Israel are inspiring, the archaeological sites thought-provoking. But some of the most memorable moments from my recent FAM trip to the Holy Land were the open-air markets, snack stands and "oriental" restaurants that typify street life in the Middle East. They add passion, drama and spice to any itinerary.
In fact, when I got back home I realized that half my photos were of vendors hawking fresh-squeezed juices, corn on the cob, sticky Arab pastries and the almighty falafel, considered the national dish of Israel. How could I pass an orange juice vendor without getting a shot of him surrounded by those pyramids of brilliant oranges? Some juicemongers also crush grapefruits, carrots and pomegranates in their industrial-strength devices.
We stopped for fresh O.J. after a warm morning visiting the City of David dig site and Western Wall in Jerusalem. It was our first taste of the Old City's exotic Muslim Quarter and its Arab bazaars, or souks. I could have spent hours wandering the alleyways lined with hole-in-the-wall shops lit by bare bulbs and crammed with shoes, fabrics, leather bags and tourist trinkets. Spice shops displayed sacks brimming with cinnamon and ginger, cumin and coriander.
For lunch our guide chose Abu Shukri restaurant, a cozy place tucked under vaulted ceilings. Glazed tiles and wall hangings of the Dome of the Rock decorated the stone-block walls, and canary cages seemed to be in every corner. We shoved a few tables together and had a big Middle Eastern feast (meze in Arabic), complete with chopped cucumber and tomato salad, pickle chunks and bowls of creamy spreads for scooping up with pita. Everyone raved about the restaurant's famous hummus (a chickpea paste with olive oil, lemon juice and garlic), and some got their first taste of tahini, a silky sesame seed paste with olive oil and lemon juice. Other savory spreads included baba ganoush (eggplant) and cheesy white labneh, which is similar to yogurt. We also had a fava bean spread (ful) and a red pepper dipping sauce. I barely had room for falafel—greenish, deep-fried balls of ground chickpeas blended with herbs and spices. We washed it all down with mint lemonade.
Lunch in Tiberias a few days later was at cluster of streetside eateries, where we ordered individually. Some opted for a falafel sandwich, but this was my big chance to try shawarma, the fast-food staple found throughout Israel and the Holy Land. Shawarma, a meat-eater's delight comparable to the Greek gyros that most Americans know, is marinated turkey, chicken or lamb slices stacked and grilled on a vertical spit, then sliced off and stuffed into pita. I asked for turkey and got a pita pocket spread inside with hummus and then filled with slivers of meat. Customers add their own accompaniments and condiments, which include everything from salad and pickles to pickled cauliflower, carrots and beets. The same extras are available for falafel, and the squirt bottle of tahini comes in handy. (Falafel can refer to the deep-fried balls or the whole sandwich production; the same with shawarma.)
In Arab-flavored Old Jaffa, the highlight of our day in Tel Aviv, we poked around the restored port area and Jaffa Flea Market, then popped into Dr. Shakshuka for a taste of its specialty—shakshuka. The pan-fried casserole of eggs and spicy tomato sauce is nicely absorbed with thick bread. Soon after sitting down a table in the courtyard, we caught sight of the open kitchen and got up to take pictures of the cook firing up skillets bubbling with eggs and red sauce. Our lunch was ready in minutes. We shared three pans of shakshuka, one with shawarma in the mix. Other variations include chicken, turkey and eggplant shakshuka. We also had the Israeli favorite one morning at a hotel breakfast buffet. (Shakshuka, which has North African roots, means "all mixed up" in Hebrew.)
Carmel Market is Tel Aviv's great outdoor produce market and has cheap clothes and souvenirs as well. I bought Coca-Cola and Chicago Cubs T-shirts emblazoned in Hebrew. If you go on a Tuesday or Friday, you can visit the arts and crafts fair on Nakhalat Binyamin, a pedestrian street steps away from Carmel Market.
Machane Yehuda, Jerusalem's famed produce market, is a gourmand's paradise with more than 250 food stalls. Our journalist group (invited by the Israel Ministry of Tourism) spent an hour there on a lunch/shopping stop, devoting much of our time to taking pictures—of piles of red peppers and giant strawberries, trays of tempting Middle Eastern pastries, mounds of olives, and displays of dates, figs, nuts and dried apricots. Conveniently located just steps away from Jerusalem's city center, the market was first established in 1887 and today buzzes with espresso bars, photography galleries and fashion boutiques sitting alongside butchers, fishmongers, vegetable vendors and repairmen. Street musicians provide entertainment.
The Machane Yehuda market has launched a new website, featuring interactive maps, interviews with vendors and options to book special themed tours. Groups can arrange a cooking workshop that involves picking out ingredients with a chef on a tasting tour and then helping prepare courses for a meal. Log on to www.machne.co.il.
Machane Yehuda, with cheek-by-jowl shops crowding covered alleyways and a wider pedestrian lane out in the open, is a real slice of Jerusalem life and not tourist-oriented like the Old City's souk. It was especially crowded on our Friday visit because shoppers come out en masse before Shabbat (the Sabbath), which starts Friday at sundown. We really had to elbow our way through some of the tight spots. One group member got lost in the chaos and returned to the bus a half hour late. We were just about to send out a search party.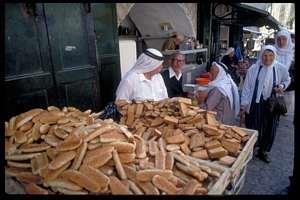 I was most interested in the sweets (as I am everywhere I go) at Machane Yehuda. At a bakery I tried a piping-hot square of kanafeh, a pastry of stringy white cheese topped with bright orange threads that reminded me of shredded wheat. The vendor put a generous slice on my paper plate, gave me a plastic fork and poured a light syrup over the whole thing. This was my lunch and I was in heaven but wished I had room to try other pastries, many of them drenched in honey and studded with walnuts or pistachios. Baklava, the nut-filled, filo pastry dipped in honey, is the one that most Americans are familiar with.
Several of the market vendors offered free samples of halvah, a dense confection of ground sesame seeds and honey. It comes in many flavors. Another sweet treat is rugelach—two-bite-size twists rolled up with cinnamon or oozing with chocolate or jam. One group member brought back a tray of chocolate rugelach to share.
There aren't enough meals or snack times in the day to sample the full bounty of Israel's food scene. The smart tour planner will sprinkle in plenty of these culinary experiences—key ingredients in a well-rounded itinerary.