Jefferson City, Columbia and Lake of the Ozarks together form the Heartland Triangle, a destination full of natural beauty and attractions perfect for groups
In Central Missouri's Heartland Triangle region you will find natural beauty met with a wide variety of attractions giving way to an interesting past. The area's three top destinations, Jefferson City, Columbia and Lake of the Ozarks, reside within an hour of one another in a triangular pattern. All three locations have impressive history and lots to do for groups of all ages, whether you're looking for history, arts, dining or outdoor adventures.
Columbia
Columbia has been referred to as the cultural hub of Central Missouri and has established itself as a celebrated place for groups to anchor their mid-Missouri sojourns. Much of Columbia's history and culture is tied to the University of Missouri, established in 1839. It is the oldest state land-grant university west of the Mississippi River. Groups looking to explore the campus will appreciate a visit to the Francis Quadrangle, the university's historical center. Known as the Quad, it is the oldest part of Red Campus, the university's original core, and is adjacent to downtown Columbia. The site of Thomas Jefferson's original tombstone, the Quad is also home to Jesse Hall, whose dome has towered over the campus since 1895, and Switzler Hall, the school's oldest academic building (constructed in 1867). Perhaps the university's most recognized landmark resides in the center of the Quad. The Columns, six limestone pillars standing 43 feet tall in the center of the Quad, were once the supports for the original Academic Hall and are all that's left after the Hall was destroyed by fire in 1892. They are now one of the most photographed sites in Missouri. A Museum of Art and Archeology and Museum of Anthropology are part of the university, but located off campus at 115 Business Loop 70.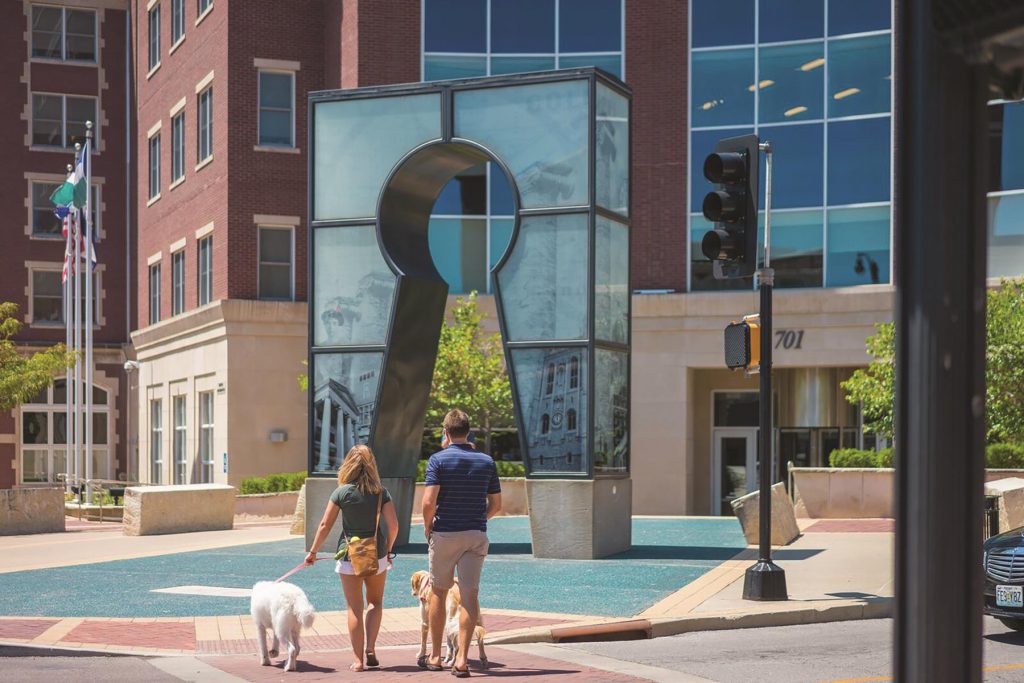 A short walk from campus is The District, a 50-square-block downtown area that features a lively mix of historic architecture, sidewalk cafes, retail shops, bars, restaurants, coffee shops, parks and art galleries. With more than 110 unique shops and more than 70 bars and restaurants, The District is the perfect place for your group to enjoy great food, drinks and entertainment.
Jefferson City
Decommissioned in 2004, the Missouri State Penitentiary in Jefferson City offers a variety of tours at the site once called "the bloodiest 47 acres in America" for its many riots and executions. Groups can visit the cells of former heavyweight champion Sonny Liston, who learned to box while behind bars; Charles "Pretty Boy" Floyd, who wreaked havoc across the Midwest robbing banks; and James Earl Ray, who went on to assassinate Martin Luther King, Jr. Dominating the city's skyline, the Missouri State Capitol covers three acres and has 500,000 square feet of floor space. The structure, built in 1917, rises 238 feet and offers incredible views of the Missouri River. It houses offices for the Governor, Senate and House of Representatives, and is home to a variety of priceless artwork, including a mural by Thomas Hart Benton. Free guided tours are offered year-round and last approximately 45 minutes to an hour.
History buffs can find a number of important monuments in Jefferson City, including the Cole County World War I Memorial, a bronze plaque and stone memorial that honors World War I veterans; the Lewis & Clark Monument, honoring the famous explorers in a serene setting featuring waterfalls; and Freedom Corner, which pays homage to members of the U.S. armed services. Another history-filled stop is the Cole County Historical Museum, which collects and preserves records, documents and artifacts directly related to the history of the region.
Jefferson City's restaurants, sidewalk cafes, locally-owned coffee shops and live music venues will keep your group satiated and entertained. And don't forget to save room for dessert with a visit to Central Dairy, a venerable shop that began serving its famous ice cream in Jefferson City in 1934.
Lake of the Ozarks
Located in the heart of Central Missouri on the northern edge of the Ozark Mountains, Lake of the Ozarks is the Midwest's premier lake resort destination, offering world-class boating, golfing, shopping and fishing.
Given that the lake is a 92-mile-long outdoor paradise, many of its historical attractions are rooted in nature. One popular destination is Bridal Cave, the lake area's number one year-round attraction. One-hour guided tours take visitors through the cave's 60-degree environment, where they will see giant columns of stone, delicate soda straw formations, massive draperies of limestone and pristine Mystery Lake. The cave has been around for centuries and received its name from an old Osage legend in which a maiden from a local tribe married a brave from another tribe in a room filled with stalactites and stalagmites.
With a surface area of 55,000 acres, Lake of the Ozarks is one of the largest man-made lakes in the country. The lake was created by the construction of Bagnell Dam, built between 1929 and 1931. Named for the closest town when construction began, the concrete gravity dam is 148 feet tall, 2,543 feet long and has a 520-foot-long spillway. The dam is an architectural marvel, and the surrounding area is an entertainment destination filled with restaurants, candy stores, ice cream parlors, nostalgic gift shops, music and classic arcades.
One of the most popular excursions in Lake of the Ozarks are scenic cruises on the famous and picturesque lake. Groups can choose from a variety of cruises, including a lunch lake cruise, an evening sunset cruise and a candlelight dinner cruise.
If you'd like more great group travel ideas in Missouri, check out the Missouri Group Tour Guide and be sure to Subscribe to Leisure Group Travel to stay up to date with our latest travel news.
---
By Jason Paha