Eat, drink and be merry at medieval banquets in England, Wales and Ireland
For period music, bawdy fun and a hearty meal, take your group back to the Middle Ages, to the days of kings and queens, lords and ladies, and knights in shining armor. Troubadours, court jesters and serving wenches are all part of the revelry staged at dinner attractions in castles and other historic buildings in the British Isles. To enliven your next itinerary with doses of history, fantasy and sheer entertainment, here are a few places worth considering for a special night out.
The Medieval Banquet
London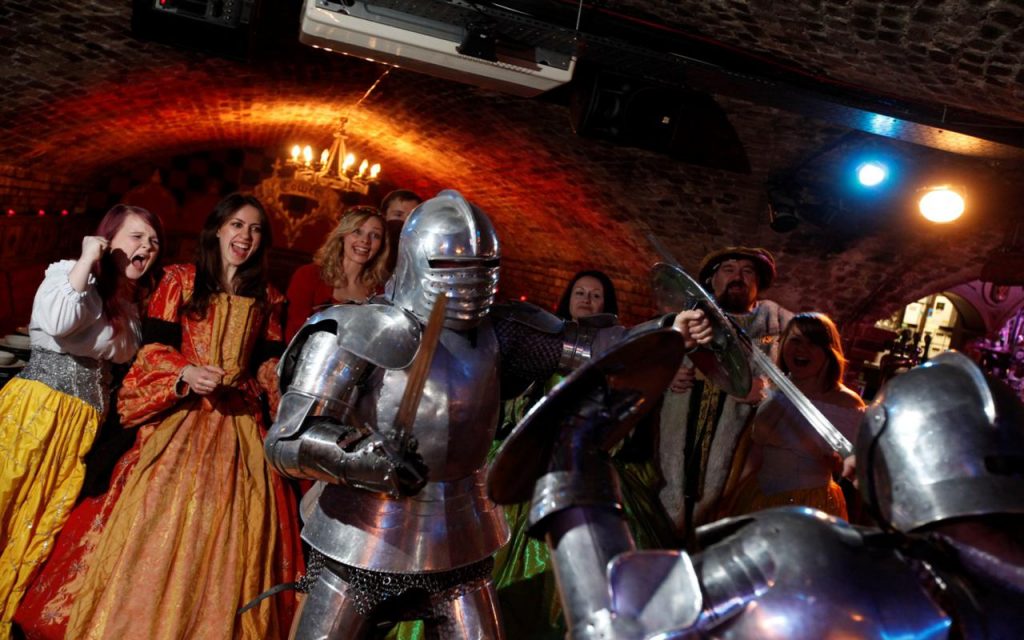 This theatrical dinner experience is a permanent attraction located in the vaulted cellars of 200-year-old Ivory House at St. Katharine Dock, alongside the River Thames near the Tower of London. Guests have a raucous time singing, dancing and banging their firsts on the table as they cry for more food and drink. The four-course feast, with wine, ale and juice brought throughout the meal by dancing wenches, starts with vegetable soup and a platter of meat, pate and cheese with salad and pickled vegetables. Then comes the roasted chicken with potatoes, followed by fruit pie topped with cream.
Entertainment at The Medieval Banquet might include sword-fighting knights, contortionists, acrobats, balladeers, minstrels, magicians, jugglers and tumblers. Music harks back to the medieval and Renaissance courts of Europe, covering periods from the 12th to 16th centuries.
Guests can dance with the cast and meet them afterwards for photos. To get in the spirit, some guests rent costumes to look the part, becoming lords, ladies, jesters or wenches for the party, which lasts over two hours and can accommodate 450.
(medievalbanquet.com)
Warwick Castle & Knight's Village
Warwick, England
At Warwick Castle, located on the River Avon in Shakespeare Country, groups can dine in the Undercroft with the Earl of Warwick at the Kingmaker's Medieval Banquet. The earl (Richard Neville) was known as the Kingmaker during the 15th century War of the Roses. The meal starts with a sourdough loaf and a marinated lamb "steke" with mint yogurt dip, followed by beef and venison pie with garlic and rosemary roast potatoes and green vegetable. Dessert is an apple blondie with caramel sauce.
Perched on a cliff overlooking the Avon, the castle has two soaring towers bristling with battlements dating to the 1300s. Guests can walk the ramparts, tour the lavish state rooms, view medieval weapons in the armory and stroll grounds patrolled by strutting peacocks. The eerie dungeon has wax creations of decaying bodies. "War of the Roses Live!," a live-action show pitting the House of Lancaster and House of York in an epic battle for the English throne, features stunt horse riding, jousting and state-of-the-art special effects.
Owned by Merlin Entertainments of Madame Tussauds wax museum fame, Warwick Castle is located nine miles north-east of Stratford-upon-Avon, the birthplace of William Shakespeare. (warwick-castle.com)
---
---
Coombe Abbey Hotel
Binley, England
Located in Warwickshire, not far from Warwick Castle, Coombe Abbey Hotel hosts Medieval Banquet Nights most Fridays and Saturdays of the year. Situated on 500 acres of parkland with formal gardens and surrounded by a moat, the four-star hotel occupies a 12th century Cistercian abbey.
Feast-goers, seated on long benches at tables illuminated by candlelight, are cast as local peasants and begin the evening as guests of the abbot and his provost. Enter the king's commissioners, and before the horrified eyes of the peasants, they ransack the abbey of its treasures and banish the monks. The scene then shifts to 1595 as guests are now being hosted by the family that took over after dissolution of the monastery. In a dinner party presided over by Sir Robin, they're plunged into a story that involves treachery and deceit, an outbreak of the plague and a country that needs men for the upcoming war.
The meal begins with mead (honey wine). Next is a procession of hooded servers
("monks") carrying bowls of steaming broth, Gregorian chants following in their wake. Guests drink the soup and eat the quarter roasted chicken with their hands—there are no forks or spoons. An apple-and-apricot crumble with elderflower cream rounds out the meal, which comes with a one-third bottle of wine and three beakers of ale per person. Music and bawdiness accompany the themed meal, which has been running for more than 40 years. (coombeabbey.com)
Cardiff Castle
Cardiff, Wales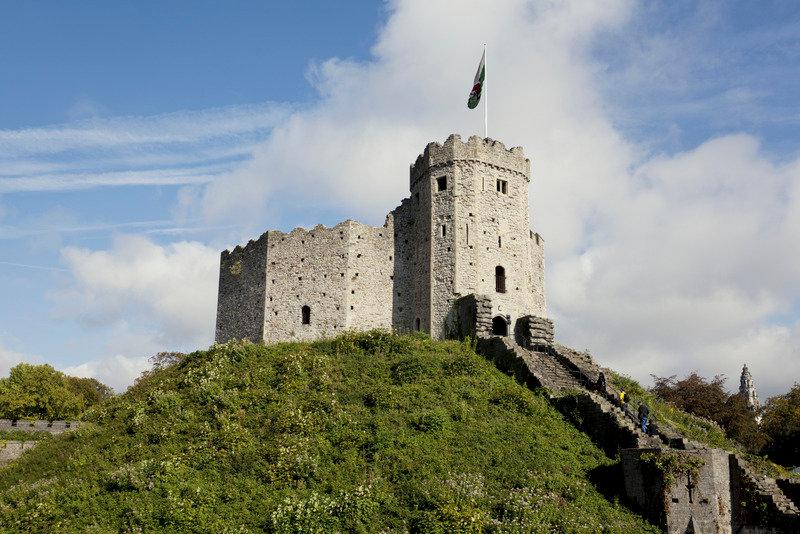 Surrounded by parklands in the heart of Wales' capital city, Cardiff Castle offers a Welsh Banquet with costumed entertainers every month, except December, from Sunday through Thursday. Featuring traditional and contemporary songs in English and Welsh, the three-course meal starts with mead on arrival and includes a half bottle of wine per person. Then comes a bowl of lamb cawl, the stew-like national dish of Wales; supreme of chicken stuffed with cheese and cream sauce; and welsh cakes (little cakes flavored with spice and dried fruit, baked on a griddle and sprinkled with sugar) and honey cheesecake. According to the castle's website, "you won't be able to resist joining in the hwyl (Welsh for a stirring feeling of emotional motivation and energy)."
Banquets are held in the stone-vaulted, 15th century Undercroft or the Interpretive Center, with its blend of contemporary slate interiors and 4th century Roman walls. Noted for its fairy-tale towers, picturesque Cardiff Castle was the site of a Roman fort before the Normans built their stronghold in 1091. It later became a Victorian-Gothic fantasy palace created in the 1860s for one of the world's wealthiest men. Tours showcase opulent apartments adorned with gilding, elaborate wood carving, murals and stained glass. (cardiffcastle.com/welsh-banquets)
Ruthin Castle Hotel & Spa
Ruthin, Wales
Singing and dancing by the Ladies of the Court, along with the antics of a court jester, highlight a Medieval Feast modeled on those given by the Earl of Warwick in the 16th century. Located in the medieval town of Ruthin in North Wales, 22 miles west of Chester, England, the castle was the first in Britain to host a medieval banquet when it opened as a hotel 40 years ago. Banquets are held on weekends two or three times a month.
The evening starts with a tour that includes sections of the 13th century walls, dungeons, whipping pit and drowning pool. Then guests assemble in the Presence Chamber for the partaking of bread and salt, age-old symbols of hospitality. Seated at candlelit tables, feast-goers eat with a dagger and their fingers. Accompanied by wine and mead, the menu includes vegetable broth with herb dumplings; platters of meat terrine and chicken; pork pie with chutney and pickles; two spit-roasted meats with accompaniments, salads and potatoes; and a selection of seasonal desserts including fruit pies with creamy custard.
(ruthincastle.co.uk)
Bunratty Castle & Folk Park
Bunratty, County Clare, Ireland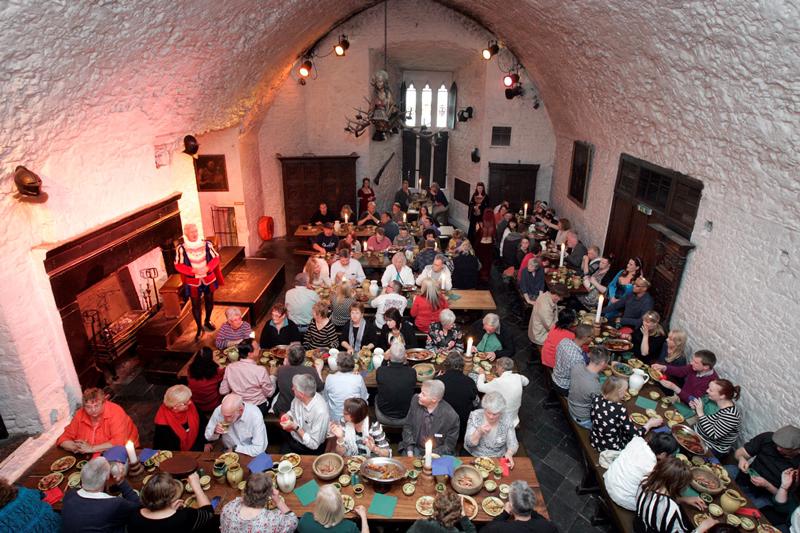 With nightly sittings at 5:30 and 8:45 p.m. year-round, Bunratty's medieval banquet is world-famous. The evening starts with a reception featuring mead made from fermented honey, apple juice, clover and heather. At long, candlelit tables in the Great Hall, guests join the Earl of Thomond as they chow down on a four-course meal using their fingers. On the menu: spiced parsnip soup, spare ribs with honey and whiskey sauce, chicken with vegetables and baby roast potatoes, and apple and cinnamon crunch with Chantilly cream, plus wine, coffee and tea. After the feast, actors and musicians in medieval garb put on a show that includes songs by the Ladies of the Castle, accompa-nied by harp and fiddle.
Distinguished by four square towers, Bunratty Castle was built in 1460 and has been restored and decorated with 15th to 17th century furnishings. The Folk Park on the castle grounds, a re-creation of a 19th century village, is a living history museum with animal exhibits and demonstrations of candle making, bread baking, blacksmithing and thatching. Folk music sessions are held nightly from April to October. Bunratty lies 10 miles west of Limerick on the road to Shannon Airport. For details, contact Shannon Heritage at shannonheritage.com.
Shannon Heritage also offers medieval banquets at Knappogue Castle, 13 miles north of Bunratty, and Dunguaire Castle, a tiny storybook castle on the shores of Galway Bay.