Lobsters and lighthouses… cavorting whales and colonies of seabirds… forests, farmlands, and fishing villages. A maritime kingdom all its own, the Atlantic Coast of Canada seems inaccessible from the rest of the world, yet it's a tailor-made cruise destination within easy reach of New York or Boston.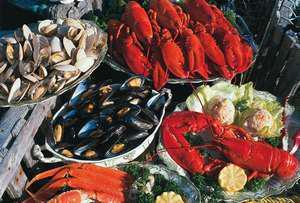 Surrounded by the Atlantic Ocean and Gulf of St. Lawrence, Canada's Maritimes welcome cruise ships on their way to and from New England ports and St. Lawrence River cities like Quebec City and Montreal. The southern Maritime Provinces—New Brunswick, Nova Scotia and Prince Edward Island—are clustered together, while the large, ruggedly individualistic island of Newfoundland sits by itself to the northeast.
Canada's eastern coast was first settled by Europeans in search of fertile cod fishing grounds, with the English, Scottish, Irish, and French the most dominant groups. French-speaking residents can be found in pockets of New Brunswick and Prince Edward Island, and to a lesser extent, Nova Scotia, but the Scots had the most influence on the region's culture, noted for its strong Celtic flavor.
In search of adventure in a foreign country that's not too foreign, more than a half million Americans on some 15 lines cruise the waters of Atlantic Canada between May and October. Halifax, Nova Scotia, and Saint John, New Brunswick, garner the lion's share of port calls. Their newest visitor will be the Disney Magic, which begins a series of nine, five-day trips from New York this June.
Carnival Cruise Lines and Holland America Line both offer a full slate of summer Canada-New England cruises as well as fall foliage departures in September and October. Lines with fall sailings include Celebrity Cruises, Crystal Cruises, Cunard Line, Oceania Cruises, Princess Cruises, Regent Seven Seas Cruises, Royal Caribbean International, Seabourn Cruise Line and Silversea Cruises.
Saint John, New Brunswick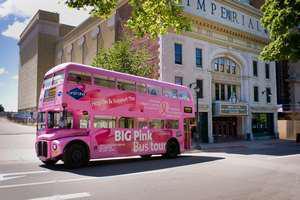 Serving as the gateway to Canada's Maritimes, Saint John is only 70 miles from the Maine-New Brunswick border and seriously courts cruise ship business. Arriving ladies are given a rose in the cruise terminal, while gentlemen receive a lapel pin. Awaiting in the parking lot are Gray Line's double-decker "Big Pink" buses that offer guided hop-on, hop-off service throughout the day (also available in Halifax). A portion of proceeds is donated to the Canadian Breast Cancer Foundation. Happily for those who like to explore on their own, the city's top attractions are just blocks from the berths.
A metro area of 130,000 on the Bay of Fundy, Saint John expects about 200,000 cruise guests this year and predicts some 240,000 by 2015, thanks to a berth expansion project that will accommodate ships carrying more than 5,000 passengers. The 2,974-passenger Carnival Glory makes the most calls.
Saint John began to flourish after British Loyalists fleeing the American Revolution settled there in 1783, becoming Canada's first incorporated city two years later. Tour guides dress as Loyalists (Tories), and an Anglo feel pervades the Trinity Royal preservation area of Victorian buildings centered around Prince William Street, an easy walk from the dock.
Most tours of Saint John include the New Brunswick Museum, which tells the story of lumbering, shipbuilding, fishing and other industries that shaped the province. At the block-long Saint John City Market, Canada's oldest farmers market (dating from 1876), you can shop for blueberry and maple products, have a salmon sandwich and sample dulse, a leafy sea vegetable dried in the sun and eaten as a snack food by locals. From Fallsview Park, tour passengers can witness Reversing Falls, a phenomenon in which Bay of Fundy tides (the highest tides in the world) battle the St. John River twice a day and force it to flow backwards in a series of whirlpools and rapids.
Halifax, Nova Scotia
For cruise visitors, the best part of Halifax is its tourist-friendly boardwalk, a harborfront promenade that invites leisurely strolls past shops, kiosks, and marinas thronged by seagulls. Halifax (metro pop. 400,000) is Atlantic Canada's largest urban area but doesn't feel big. Most of it can be seen on foot.
Pier 21, a museum right next to the cruise terminal, is Canada's version of Ellis Island and preserves the hall where thousands of immigrants first set foot on Canadian soil. A movie, video interviews and push-button displays tell their stories.
The Maritime Museum of the Atlantic, a 10-minute walk from cruise docks, spotlights Halifax's role as the center of rescue and recovery operations following the 1912 sinking of the Titanic. A film, plus relics like a deck chair and piece of the grand staircase, recall the tragedy, which gets extra attention this year, its 100th anniversary.
Many city tours make a stop at Fairview Cemetery, the final resting place of 121 Titanic victims. Another staple is the hilltop Halifax Citadel, a 19th century British naval fort. Visitors can roam the ramparts for panoramic views and witness the sentry-changing ceremony featuring 78th Highlander re-enactors resplendent in kilts and bearskin hats.
A city tour is often combined with Peggy's Cove, a picture-perfect fishing village with a storybook lighthouse. For those seeking outdoor adventure, the Carnival Glory offers a tall ship sailing experience, a lobster boat trip and sea kayaking followed by a lunch of lobster rolls and mussels.
Sydney, Nova Scotia
Sydney (pop. 30,000), known for its steel and coal mining heritage, serves as the gateway to Cape Breton Island, the Celtic heart of Nova Scotia. Settled by Scots in the early 1800s, the Cape Breton Highlands, with rocky inlets and mountains that plunge to the sea, rivals the rugged splendor of the Scottish Highlands. Excursions from Sydney include a drive along the scenic Cabot Trail, which follows the coastline and loops through Cape Breton Highlands National Park, an especially awesome drive in autumn.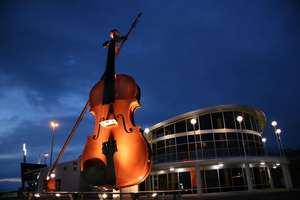 Greeting passengers at the Joan Harriss Cruise Pavilion is the World's Largest Fiddle, a 60-foot sculpture of a Scottish-style fiddle. The pavilion's Lighthouse Theatre shows a video of its construction, and the Big Fiddle Market sells tartan products, hand-knitted creations and Celtic music CDs.
From Sydney, a popular shore excursion travels 22 miles to Fortress of Louisbourg National Historic Site, a recreated settlement that portrays French colonial days. Built in the 1960s, the stone-walled village is North America's largest historical reconstruction. Journeying back to 1744, guests meet soldiers, sailors, and servants, encountering barnyard animals, musket fire, bread baking and other slices of life in this former outpost of France.
Charlottetown, Prince Edward Island
Charlottetown, a city of 33,000, is the capital of P.E.I. and accounts for a quarter of its population. A patchwork of green pastures and potato fields, quaint villages and fishing ports, red earth and white beaches, the bucolic island (121 miles long by 38 miles wide) is by far the smallest province in Canada.
Last year Charlottetown drew ships from 13 lines, with Holland America's Maasdam the most frequent caller in this town of Victorian buildings and tree-shaded squares.
Fiddlers and step dancers greet cruise passengers, and there's a portside photo op with Royal Canadian Mounted Police. Along the boardwalks of Charlottetown's waterfront, you can shop for souvenirs, listen to buskers and enjoy fresh seafood (mussels are a specialty).
Maasdam passengers get their lobster fix on several shore excursions, including "Cinderella Carriage Ride & Lobster Lunch." Those who opt for the "Lobster Fishing Excursion" join a crew headed for the lobster pots set in Northumberland Strait. Other P.E.I. shore tours visit Anne of Green Gables homestead, the setting that inspired Lucy Maud Montgomery's novels about the misadventures of a red-headed orphan girl.
St. John's, Newfoundland
Dating back to the 1620s, St. John's is North America's oldest English-settled city–and its most easterly. Here in Canada's "Far East," the day's first rays of sunlight bathe the continent at Cape Spear, a national historic site with Newfoundland's oldest lighthouse, circa 1832.
The lively arts scene and cosmopolitan outlook of this metro area of 180,000 contrast with the rest of Newfoundland, a remote island that is overwhelmingly rural and conservative. St. John's is the capital of Newfoundland and Labrador, two distinct landmasses administered as one province and much larger than the other Maritimes.
The city's chief attraction is a museum complex called The Rooms, a cultural oasis with works of Canadian artists and exhibits on Newfoundland's natural and cultural history, from moose and polar bears to native crafts and Irish fishing heritage.
Signal Hill offers great harbor views and is crowned by Cabot Tower, a castle built in 1897 for Queen Victoria's Diamond Jubilee and the 400th anniversary of English explorer John Cabot's arrival in the New World. It was on Signal Hill that Guglielmo Marconi ushered in the era of wireless communications, receiving the first transatlantic signal in 1901. Exhibits at two places chronicle Cabot's and Marconi's accomplishments.
Corner Brook, Newfoundland
Located among the Long Range Mountains on the Humber River, Newfoundland's second largest city (pop. 27,000) is the hub of the island's west coast. The 22-mile sail into Corner Brook, nestled at the end of a fjord in the sheltered Bay of Islands, enthralls cruise passengers, especially when the mountains are ablaze with fall colors. Corner Brook has been a cruise stop for more than 30 years, thanks to its proximity to the Gulf of St. Lawrence, a springboard to ports along the St. Lawrence River.
City tours visit the Captain James Cook Monument, perched atop Crow's Hill. Before British explorer James Cook ventured to the South Pacific, he charted the Newfoundland coastline in the 1760s. A tour along Captain Cook's Trail visits scenic points of interest, including the charming fishing village of Lark Harbour.
Full-day excursions from Corner Brook visit Gros Morne National Park, a geological wonder and a UNESCO World Heritage Site. Its most prominent feature is the bleak, barren Tablelands, an eerie, rust-colored moonscape.
For information on Canada cruises, contact Atlantic Canada Cruise Association, www.atlanticcanadacruise.com.